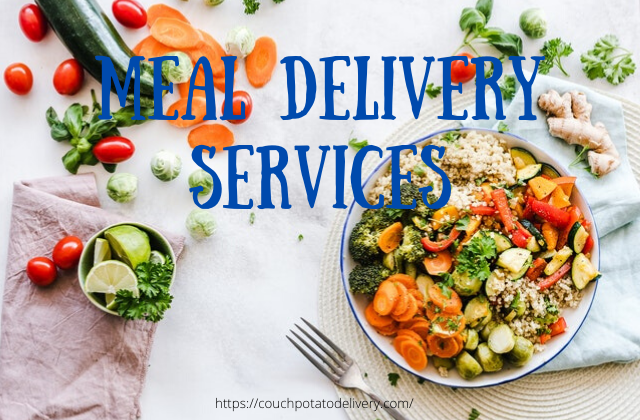 Finding the best meal delivery services is not easy to do. There are more companies that jump on the bandwagon but that does not mean they are good.
Click on one of the links to read more!
I had a good look at some of the top-rated meal delivery services and how they stand out in a crowd. I will keep adding more reviews of prepared and meal kit delivery services to help you find the one that fits your needs.
Top Chef Meals
One of the first prepared meal delivery services I will have a good look at is Top Chef Meals. Their mission statement mentions that they want to deliver delicious ready-to-eat meals that fit people's lifestyles and wellness needs.
The prepared meals are made of fresh ingredients and contain no preservatives, antibiotics, or chemicals. They are also trans-fat-free. This all ensures healthy clean food.
Are You Ready? Have A Look At Top Chef Meals Reviews!
Fresh and lean
I found this food delivery service and read many of the opinions that the customers have and liked what I read.
The reason to do a Fresh n lean review on its own page to find out more
Home Bistro
It seems like I find new ones every day. This meal-delivery service has been around for a long time and delivers high-quality and nutritious meals.
I did Home Bistro Reviews on its own for you.
RealEats
One other meal-prepping and delivery service is the RealEats company.
You can read my RealEats Review here
Sun Basket
Sun Basket is a meal delivery company that delivers organic meals to your doorsteps. Although a little higher in price compared to other companies I found some great ratings.
Find the whole Sun Basket review here
Diet To Go
for people who are looking for a meal delivery service that caters to weight loss I highly recommend having a look at this one.
Find the whole Diet To Go reviews here
CrateJoy
I am not sure if you can call Cratejoy a meal delivery service. It is more of a hub page where you can find any delivery service available. If you can not find what you are looking for here on the Couch Potato Delivery website I suggest looking at them.
Find The Cratejoy review here
Magic Kitchen
If there is one meal delivery service that kind of stands out in a crowd it is the Magic Kitchen. There are so many options they have in prepared meals that are ready to heat up that is hard to choose the right one.
Find my Magic Kitchen reviews here
Try The World – Food box
As the name already gives it away the Try the world website offers subscription boxes that contain food from all over the world. If this is considered a meal delivery service I am not sure but is definitionally worth having a look at.
Find the Try The World Box Reviews Here!
Flexpro meals
Flexpro offers meal delivery for all types of diets and part of life.
Read my Flexpro review here!
Factor 75 Meals
I had a good look at the Factor meals and think they are a good option for meal delivery. My next step was to have a look at them on their own page.
Find The Factor Meals Reviews Here!
Fresh Meal Plan
The Fresh Meal Plan offers three easy steps to order freshly prepared meals to your doorstep.
You can find my Fresh Meal Plan Review here!
Freshly
Freshly is doing a lot of advertising lately and more people are having a look at their meal delivery service. This link will give you $15 off.
The Freshly reviews can be found here!
Gobble
The Gobble food reviews are still in the process of being written at this time. But if you like to check out their website click on the link below.
Have a look at the Gobble Reviews here!
Veestro
the Veestro plant-based organic meal delivery services come highly recommended and are great for any vegan.
Have a look at the Veestro reviews here!
Every Plate
Every plate meal kit delivery is the one I suggest you have a look at if you like to receive quality products and cook your meal with them.
Have a look at the Every Plate review here!
Hello Fresh
HelloFresh is a meal kit delivery service that sends you all the ingredients you need to cook a good meal at home.
Have a look at my Hello Fresh reviews here!
Splendid Spoon
Splendid Spoon is a plant-based meal delivery service that sells also smoothies and a lot more
Have a look at my Splendid Spoon reviews here!
Trifecta Meals
Have a look at my Trifecta Meals review here!
Trifecta meals are organic and offer great quality and nutrients for active people but are not limited to such people alone.
More About The Best Meal Delivery Services
I am busy finding more companies that offer home meal delivery or snack options but am very picky with what I recommend as the best food delivery service as I stated on my home page.
On this page, I have compiled a list of some of the top-rated services that could be at the top.
Diet Meal Delivery
Sometimes the standard meal delivery service does not offer what you need for your special diet.
I found companies that offer diet meal delivery services tailored to your needs. Just click on the links below and it will take you there
How Do I Do My Meal Delivery Services Reviews?
Through my job, I am very experienced in doing and writing reviews and this helps me to do the same here on this page to help you find the best meal delivery services,
There are many things I take into consideration before I even think about writing about them here and many of the companies don't make it here because of the criteria I have.
Some of the things I look for in an online meal delivery service are:
Customer service
Customer reviews
Cost of shipping
Prices
On-time delivery
Reputation
Packaging
Environmental impact
As you will understand these is just a few of the thing I take into consideration in my research to come to a final decision.
When I have doubts or questions I do not hesitate to contact the company and ask them for an explanation.
My experience is that most of them do not have a problem with that and answer my questions very promptly and sometimes even call me on the phone.
What You Should Do After Your Meal Is Delivered
Although I wrote this before and you can read my 5 things to know about meal delivery here there are some things you have to do right away after you received your package.
Open the package to see if it is still frozen or if the temperature is cool enough to refreeze.
You can have a good look at the packed meals and see if they are appealing to the eye and do not look defrosted, re-frozen, or damaged.
If you use these tips you can be sure that you can enjoy the meal without having to spend hours grocery shopping and cooking.