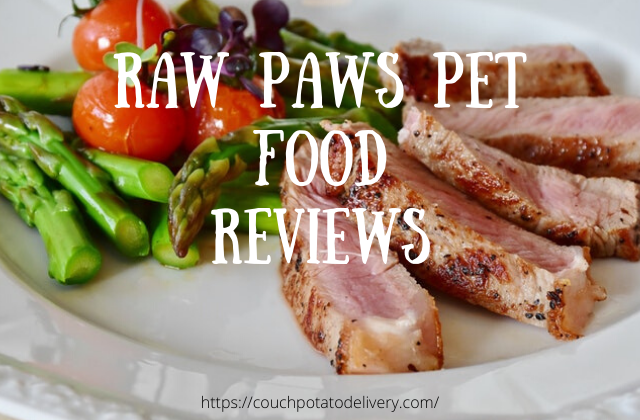 Before even starting on the raw paws pet food reviews I have to first tell more about the company itself.
About the Raw Paws company
Raw Paws is based in Indianapolis and is in the market for raw dog and cat food. They also offer several other products. They were founded back in 2014 and use only antibiotic and hormone-free meat that comes from American sources. They deliver their products to their costumer's homes.
Their Raw Paws Pet Food Mission.
It is their mission to produce affordable and accessible food for pets. All their products are minimally processed without any additives or fillers.
A video can probably explain it better than I do.
Raw Paw Foods Website
When you visit the website at https://www.rawpawspetfood.com/ the first thing you notice is the large menu options. The basic categories are:
Food
Freeze-dried
Treats
Chews
Sales
Each category opens up with many sub-menus with almost too many pet food to choose from.
5 reasons to shop at raw paws food
I can think of many more reasons than just the five I mention here but I like to keep it simple for now.
They offer many types of meat like sheep, goats, rabbits, venison, pork, and some other ones that will give a variety in the types of protein to feed your pet.
From raw bones, freeze-dried beef tripe, bully stick ears and there are many treats to choose from.
What I like most is that they carry high quality and in combination with all the things I mentioned in my intro, this should actually be the number one reason.
By signing up for the newsletter you are the first one to find out about the specials they have available on a monthly basis.
There is free shipping for orders over $200 and although this seems like a lot of money I believe that ordering in bulk will save money and free shipping is an extra bonus.
Why feed pets raw food?
Raw foods for pets are controversial and have pros and cons. The pros are that your pet comes from a line of animals that only ate raw food and their stomachs are made for that.
Just remember that your pet comes from wild animals and can handle much more bacteria than you might think. Especially compared to us humans.
According to the experts, every dog still has 95% wolf in its genes. I know it is hard to believe when you see certain small dogs, but they say every dog, so also the little ones.
But for the last warning, it is important to order raw pet food from a reliable source.
Benefits of raw food
Increases energy levels
Smaller poop
Better to keep teeth clean
Skin and Fur are healthier
Cons of raw food
Possible bacteria in raw meat
Might be not a balanced diet
Potential of bone fragments
Raw Paws Pet Food Prices
The raw paws pet food reviews and delivery shows that prices are higher than a regular bag of dog food you buy at your local grocery store. It is, however, the quality and convenience you pay for.
The quality I mentioned several times so there is no need to go over that again.
The convenience comes from ordering pet food online and having the food delivered to your house. No longer dragging heavy bags with pet food from the store to your car and from the car into your house.
Transition To Raw Paws Pet Food
If your cat or dog has never had a raw food diet it might need some time for their digestive system to get used to it. found a 4-week schedule to help your pet transit to raw pet food.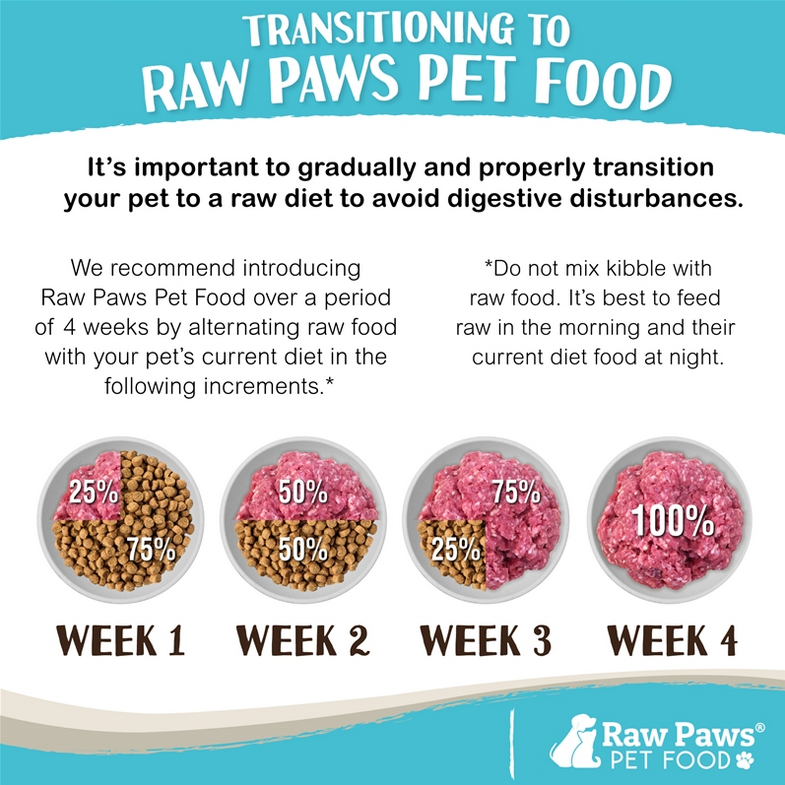 First week: 25% raw and 75% original food
Second week: 50% raw and 50% original food
Third week: 75% raw and 25% original food
Fourth week: 100% raw and no more original food
These are just general guidelines and you shouldn't change to the next step until your pet's stools are back to what it normally was.
If you are not sure start with a slower transition such as 10% raw and 90% original food in the first week.
Click Here! To See All Raw Paws Dog Food Deals!
Raw Paws Dog food
There are about 150 products to choose from just in the Raw Paws dog food category.
From 1 lb. green beef tripe and 3 lbs. wild-caught ground venison to complete blend packages that contain the meat or type of fish you like to order.
Raw Paws Cat food
In the Raw Paws cat food category, I found about 50 products to choose from to feed your cat.
With the same signature blends, I mentioned on the dog food part and then all the way to chicken, Turkey, and Salmon just to mention a few flavors.
Raw Paws Pet Food Shipping
All the food is shipped by FedEx and contains enough dry ice to make sure that the meat stays frozen. This is the same principle used in the meat delivery store reviews I did for human consumption.
Froze food ships free on orders over $69
Fresh food ships free on orders over $199
Depending on your location and how far away you are from Indiana it can take between 1 and 5 days before the pet food will be delivered.
It can even be delivered on the weekend depending on the shipping date. You will receive a tracking number by email to keep up with your shipment.
When you order on weekdays before 2 Pm Eastern Time your package will ship the same day. Orders placed after Friday at 2 PM and on the weekends will ship on Monday.
Click Here! To See All Raw Paws Cat Food Deals!
Raw Paws Pet food Pros and Cons
Although I strongly support the Raw Paws pet food mission and I believe that pets are better or eating raw food it is not all pros, there are also a few cons to this pet food delivery company.
Pros
Ethically sources
No hormones
No GMO's
No antibiotics
Cons
A high free shipping threshold
More expensive
How To Contact Raw Paws Pet Food
If you ever feel that you have to contact them with any questions about one of their products you can do that by phone at 317-509-9811 or 866-368-3369. Monday through Thursday from 8 AM to 8.30 PM and Friday from 9.30 to 4.00 eastern time.
By email, you can contact them at customerservice@rawpawspet.com day and night
Raw Paws Pet Food Reviews – My Opinion
After doing these raw paws pet food reviews I like to share my opinion with you.
What I like most is the quality of the food and the way it is delivered to your doorstep. I read that it arrived frozen and you can just place it in your freezer to keep it frozen if you are not going to use it for the next couple of days.
I read several stories of people using Raw Paws pet food and are very satisfied with it. If you switch to raw food from regular food you might have to introduce it slowly to your pet to have their digestive tract get used to it.
With more people getting interested in eating a more natural diet without additives and all types of things to keep food fresh longer it makes sense that we also look at what we feed our pets.
Raw Paw pet food is one of them, in my opinion, better options to feed your pet a more natural diet.

Before ordering I suggest having a look at their deals and possibly saving money on your order.
I just spent about half an hour scrolling through all options on the Raw Paws pet food website and