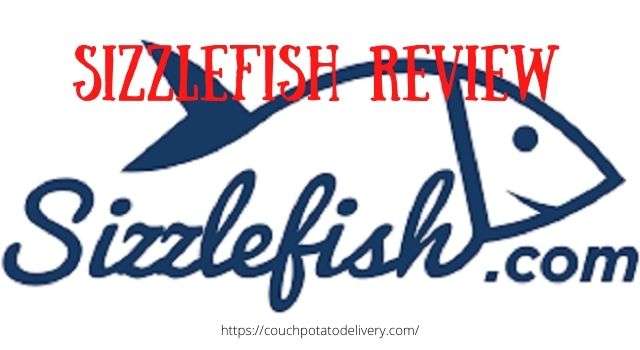 Remember when enjoying seafood meant going to a beach resort or an uptown restaurant with a fancy menu? Well, thanks to seafood delivery services like I write about in my Sizzlefish reviews, I don't have to do that anymore.
This seafood company, whose founder had been supplying quality seafood to some of the top US grocery companies, is now making waves in the consumer market.
Given that 2020 has been operating by its own rules, delivering fresh and quality seafood right to consumers' doorsteps has proven to be an excellent thing for both Sizzlefish and customers.
A lot more people have tried to find the best online seafood delivery services, and if you are a lover of seafood, you have probably heard of Sizzlefish. If you are yet to hear about this company, take a moment to read my honest review of their services before you go to a crowded grocery store to grab your favorite fish.
What is Sizzlefish
Sizzlefish is an online company offering seafood delivery services right to your door. The company's ultimate goal is to provide fresh and healthy seafood to everyone; even those without immediate access to it. So how did Sizzlefish start?
The idea for the service came to the founder Rob Mayo as he was on a training run. Before that, Rob Mayo worked as a seafood supplier for natural grocery stores for 30 years. As he was contemplating the idea for Sizzlefish, it dawned on him that his fresh and natural fish were the ultimate health and training food.
Therefore, Rob Mayo decided to use his three decades of experience to source, prepare, package, and deliver the best seafood. At the core of this idea was his desire to deliver pure, high-quality fish that gives people "real performance" and many health benefits right to their doorsteps. And with that thought, Sizzlefish.com was born.
Today, my Sizzlefish review still shows that the company is still true to its founding principles. It delivers natural and healthy seafood to its customers in the most delicious form possible. They are so good at this that they recently made it to the best places to buy fresh seafood online by CNET.
Are You In A Hurry? Find The Sizzlefish Website Here!
How Does Sizzlefish Work

In general, every food delivery service works in the same way; you order online and deliver it to your doorstep. But to understand Sizzlefish, we have to go a little bit deeper than that.
Ordering
As you order seafood from Sizzlefish, you are presented with two options; you can either subscribe to the various meal programs and receive regular deliveries of seafood or shop commitment-free whenever you wish for whatever you want.
The second option is suitable for people who want to avoid commitments and maintain a high level of flexibility and choice in their food choice. Here, customers can choose their desired seafood from over a dozen fish types like salmon, catfish, walleye, and so many more. There are also eight types of shellfish products, including shrimp, lobster, crab cakes, and calamari.
Once you are satisfied with the seafood in your cart you proceed to checkout where you fill in your shipping details, make your payment and place your order.
Nonetheless, that doesn't mean that their subscription service is not worth your consideration and money. It is also quite flexible and offers you three options;
Ready To Order? Find The Sizzlefish Website Here!
Sizzlefish subscription
The Sizzlefish Prime subscription where you receive 14 portions of shellfish and fish of your choice. The seafood is delivered to your home every 1-5 weeks.
The Sizzlefish Prime Plus subscription provides 14 portions of your seafood of choice every 1-5 weeks. Sizzlefish Prime Plus gives you a wider range of delicacies to choose from than Sizzlefish Prime.
The Wild Seafood Favorite box lets you enjoy 12 portions of shellfish and wild fish every month. Apart from the delivery frequency, this subscription differs from the others since the Sizzlefish team curates the contents.
Therefore, it is quite an excellent option for those not entirely familiar with seafood delicacies.
Here are some of the flexibility benefits you will enjoy if you opt for their subscription service;
· You can modify your seafood subscription directly from your Sizzlefish account.
· The subscriptions allow you to skip up to seven deliveries in advance
· They allow you to choose a different delivery frequency
· You can edit your account details and frequency whenever you want
· The subscriptions also allow you to alter the contents of your upcoming boxes.
Nonetheless, these changes are applicable if your shipment is yet to be processed and prepared for delivery. You also cannot cancel your subscription straight from your account; you must first contact Sizzlefish via phone or email and make a request to have your subscription canceled.
Find All Subscription Option Here!
Packaging
Once your order has been placed, Sizzlefish starts the packaging process. Whereas packaging may seem like just another procedure in the food industry, it is vital and should be a determining factor when choosing who to order from. This is because packaging affects the taste of your seafood and its overall quality.
On that note, Sizzlefish implements one of the best packaging techniques in the industry. Whether the order is a la carte or subscription, they start by flash freezing the product. This flash freezing technique effectively preserves the freshness and taste of the seafood, even in the long term.
Once the staff has flash-frozen the seafood, they proceed to vacuum seal it in individual portions. This individual packaging is very convenient, especially if you plan on having one portion at a time. It also allows you to avoid issues like freezer burn later on.
The food is then shipped in recyclable containers with dry ice.
I have found a video that shows the unpacking of a Sizzlefish box and also shows that packaging.
Returns
While it's relatively easy to make returns for non-food items, things tend to get quite complicated with perishable items. Surprisingly though, Sizzlefish does offer free replacement shipping. This replacement will only happen if you receive seafood that has been damaged, thawed, or raises some quality concerns. Therefore, you can comfortably order from Sizzlefish, knowing that they have your back if something goes wrong when shipping.
In case of a damaged package, the process of asking for a return is relatively easy; contact their support email within one week after the package has arrived. You can also include a photo of the package if possible.
What is the Sizzlefish Difference
By now, you must have already guessed that Sizzlefish isn't your typical seafood delivery service. The company has taken specific measures that set them apart from other seafood companies. For instance, Sizzlefish is in a partnership with the Monterey Bay Aquarium Seafood Watch program. Together, the two are actively moving towards environmentally responsible seafood sourcing.
Another way that Sizzlefish tries to achieve sustainability is by diversifying its source of seafood. Whereas some of their food is wild-caught, some of it is farmed. That way, the company manages to meet the demand for seafood without putting too much strain on the oceans. Therefore, as I was ordering from Sizzlefish, I was confident that the right measures were taken not to harm the environment when sourcing the fish; and that is a great thing.
As stated earlier, Sizzlefish is a natural vendor of seafood. Whereas some people believe that only wild-caught fish can be natural, the company claims that getting natural farmed fish is possible. How? According to Sizzlefish, top natural food grocers today source their farmed fish from suppliers who don't use farm chemicals, antibiotics, or pesticides. These suppliers are, in a sense, environmentally friendly.
If Sizzlefish is indeed one of these "top natural food grocers," they are a company that makes no compromises when it comes to providing all-natural seafood that meets the highest quality standards.
Another defining feature of Sizzlefish is its high level of transparency. The company lets you learn a lot of things about its operating model and practices. Just visit their website, and there, you will discover the reasons behind their approach to the seafood delivery business.
The company also offers an excellent referral program. Every time you successfully refer a friend, you get $5, and they get a 10% discount off sitewide. Sizzlefish also offers several gift options; you can opt for samplers, individual products, or gift cards worth between $35 and $350.
Click Here To See All SizzleFish Products Here!
Sizzlefish products
You probably have a brief idea of the selections offered by Sizzlefish from the "how does Sizzlefish work" section. In this section, we will explore further what they have to offer at their online shop.
Here is what you should expect if you choose to order seafood from Sizzlefish;
Fish and shellfish
When you want to fish, Sizzlefish has about a dozen offerings. For wild-caught species, you can get cod, sablefish, seabass, halibut, walleye, mackerel, grouper, haddock, salmon, and sashimi-grade tuna. For farmed species, you can order Atlantic salmon, catfish, and rainbow trout. Packages range from 1 to 3.5 pounds.
Most of the fish is sourced from the United States although some of the haddock may come from Iceland and rainbow trout from Colombia.
You get eight options when buying shellfish; king crab, soft shell crabs, crab cakes, scallops, lobster tails, mussels, calamari, or shrimps. Most of these come from the US except mussels, which the company also sources from Ireland and some lobsters come from Canada.
Collections
If you have dietary needs or unique preferences for your seafood, Sizzlefish still has a place for you. The company offers several variety packs for various preferences, e.g., High-Protein Seafood, Healthy Eating Collection, Grilling Favorites, Tailgating Favorites, Omega-3 Collection, and High-Protein Seafood. Inside these variety packs are 10+ portions of assorted seafood.
Sizzlefish Prime Subscription
In this subscription, portions sizes are between 4 and 5 ounces. You can choose the following items in your package; catfish, haddock, crab cakes, salmon, shrimp, trout, and scallops.
Sizzlefish Prime Plus Subscription
In this subscription, portions also weigh 4 to 5 ounces, but they offer a more comprehensive range of products than previous ones. In addition to the Sizzlefish Prime species, you get rockfish, red snapper, cod, walleye, and sea bass.
Wild Seafood Favorite Box
This subscription offers you only wild-caught fish, although a team from Sizzlefish makes the selection on your behalf. The portions are delivered monthly and weigh 4 to 6 ounces. Included in the seafood are Sizzlefish recipes that teach you new ways of preparing your favorite fish and shellfish.
Click Here To Go To The SizzleFish Website!
Sizzlefish Pricing
Sizzlefish doesn't exactly fit in the affordable category when it comes to pricing. But based on what you get, their pricing can be termed as value.
Here is how much it will cost you to shop commitment-free from Sizzlefish. Prices are at the time of me writing this Sizzlefish review and might have changed in the meantime.
| | |
| --- | --- |
| Wild salmon Wild rockfish Wild cod Wild halibut Wild sea scallops Wild gulf shrimp Canadian lobster tails Sushi-grade ahi tuna Smoked wild mackerel fillets | $7.49 per 4-ounce portion $9.28 per 4-ounce portion $7.14 per 4-ounce portion $9.93 per 4-ounce portion $8.33 per 4-ounce portion $9.16 per 4-ounce portion $18.62 per 5-6-ounce tail $39.98 per pound $12.33 per 6-ounce pack |
Subscriptions will cost you the following;
· Wild Seafood Favorites box- $99.95 per delivery, $ 8.34 per serving
· Sizzlefish Prime Plus- $111.86 per box, $7,99 per serving
· Sizzlefish Prime- $97.86 per box, $6.99 per serving
Shipping and handling
Shipping is an important factor when ordering seafood. A good shipping and handling policy ensure that the food not only arrives on time but is in the best conditions. Just like in packaging, Sizzlefish has nailed this vital process.
Here are their shipping and handling policies;
They ship to every section of the country for free. Nonetheless, shipping is limited within the borders of the United States
Their standard shipping carrier is FedEx Ground, but FedEx Express is available for customers on the West Coast.
The waiting period is relatively small; your packages will arrive within one to three days
Sizzlefish does not ship on weekend
Pros
· High-quality food
· Natural fish
· Free shipping with fast delivery
Cons
· You cannot customize your subscription box
· Seafood packages are too large
SizzleFish Reviews – Final Verdict
After doing this Sizzlefish review, I liked what I saw from Sizzlefish; their food is high quality, healthy and delicious, their subscriptions are flexible, and their shipping is not only effective but also free. The company isn't without fault but all in all, Sizzlefish (1) is an excellent seafood delivery service that I would recommend to anyone.