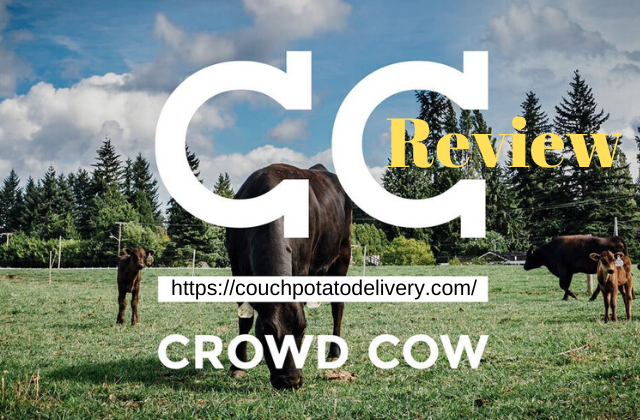 Looking for a seamless platform for purchasing quality meat? If so, you might like to read my honest Crowd Cow Review to see how this platform manages to deliver a truly elevated quality of every tenderloin served.
Growing up, I remember attending many livestock shows and eating grass-fed beef from the local farm. Grass-fed beef is the way to go!
Grass-fed cattle are healthier and happier (1) more often than conventionally raised cattle, and I don't know why that always gives me a sense of satisfaction.
For me, it's always important because I really enjoy supporting a farm that I know treats its animals with respect and takes great pride in its products. Comparable to the other ones on this page.
What is Crowd Cow?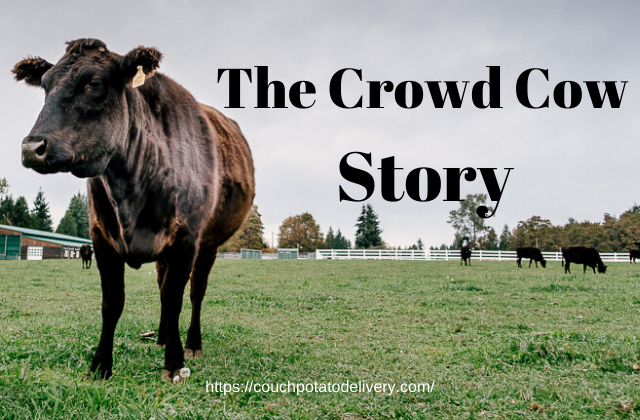 Crowd Cow, when it was made public, allowed people to buy shares of a cow from among the dozens of local farms listed. Once there were enough people to buy the whole cow on the platform, the specified cuts were shipped by the farm -> Crowd Cow to each individual.
However, things have changed, or should I say their platform has evolved, as they no longer allow their customers to become intimately familiar with a cow, no matter however the original spirit still lives on.
Today, Crowd Cow is a well-established online platform where each individual can shop for meat online, but with complete transparency.
You can read more about the Crowd Cow company at the bottom of my Crowd Cow review.
How to join and choose your cuts of meat
1. To enjoy the convenience of Crowd Cow, you must first register on the platform and then verify your email address.
2. After logging in, you can browse through all available meat types, including chicken, pork, lamb, seafood, and specialty – beef.
3. Once you've decided on your selection, you can explore all the details available on the farm where the meat you choose will be sourced.
4. Finally, you will need to place your meat order and decide on a delivery date that suits you from amongst the options available.
5. Enjoy!
Types of meat they offer
Now, as I outlined earlier, with the Crowd Cow, you can buy all kinds of meats, including beef, pork, and chicken, but what they really specialize in is American Wagyu and Japanese Wagyu – the creme de la creme of beef.
Let's have a look at the separate cuts of meat.
Beef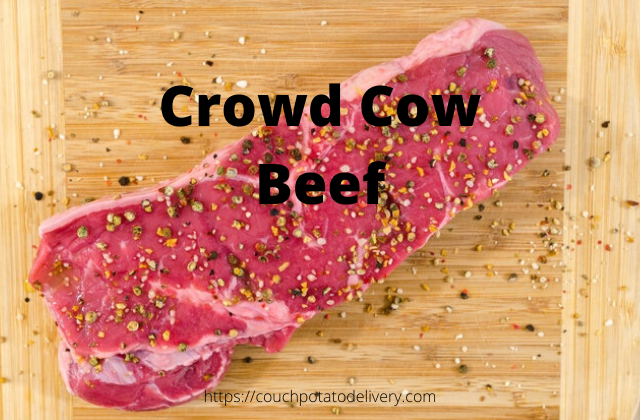 There are two types of beef you can order from Crowd Cow.
Grass-fed and finished beef
grass-fed and grain-finished beef
This is merely a personal choice and it all depends on how you feel about this subject.
Pork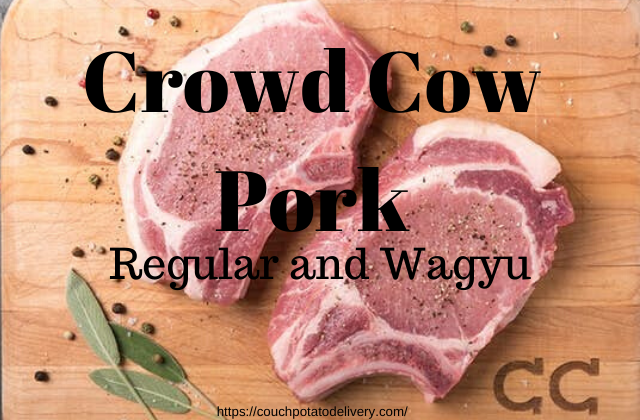 The Crowd Cow pasture-raised pork has lived their lives outside in fields and forest and has never been confined in boxes indoors.
Chicken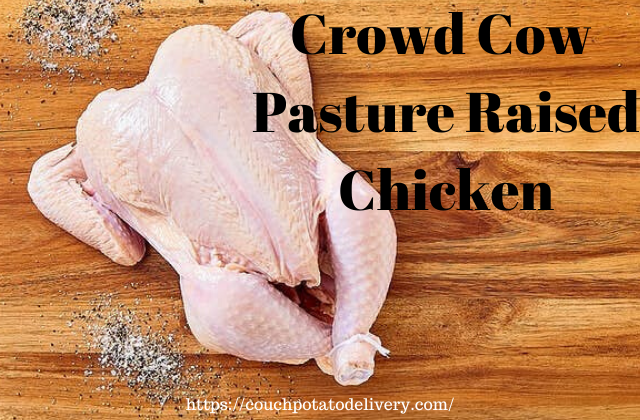 Now a day they call it pasture-raised, free-range and a lot more.
Crowd Cow just calls it chicken like our grandparents did.
Salmon and Halibut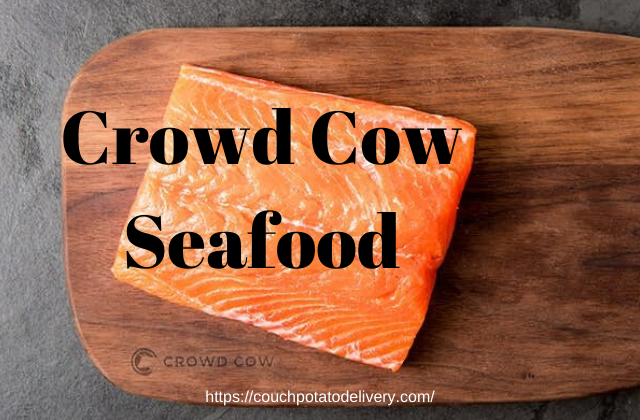 The Salmon and Halibut from Crowd Crow are wild-caught and not farm-raised.
This means they ate normal food and not pellets.
You can order any of these types of meat any day you like to order. There is, however, also the option to sign up for a Crowd Cow subscription box.
Delivery, Freshness, and Packaging
You can order the highest quality meat, but if it is not shipped the right way it is just a waste of money because it will not arrive fresh at your doorsteps.
Here you can see a video on how the Crowd Cow box arrives at your house.
As you can see the packaging is very good and the meat is still solid frozen.
What I personally appreciate is the fact that the packaging material is water-soluble and can be 100% degraded and even used as compost.
Taste
It is all nice to know where your meat comes from and that the packaging will ensure that it comes fresh and frozen but the most important thing is how the taste is and how easy it is to cook.
I found several Youtube movies that show how the meat taste and how people cook it. I will share two with you with the meat that most people order in my opinion.
Freshness and taste of Crowd Cow hamburger meat.
In a hurry about how they taste? Go to about the 9-minute mark.
Tasting a Crowd Cow steak
The steaks get some raving ratings I found in my Crowd Cow review, but I like to see some proof of that. I found several videos and here I just show you one of them.
If you are in a hurry and like to see the taste test go to the 3.20-minute mark
Those two videos show, in my opinion, that we don't have to worry about shipping, delivery, and taste.
Crowd Cow Subscription Box
Unlike most other online services, the Crowd Cow platform does not impose any contract (semi-annual or annual). However, it does offer its own flexible subscription box so you can fill your fridge with the highest quality, grass-fed tender meats.
With each subscription (which, of course, depends on your selection), you will receive an assortment of cuts, which again depends on the availability of that meat, and finally, on the due date, it will be delivered to your doorstep – automatically.
But what's really nice about this platform is that you, as a customer, have full control over how often the order is delivered to the address, the ability to pause the subscription box and cancel the subscription whenever you wish.
And did I forget to mention that you don't have to pay a cent for the delivery? Yes, with each subscription box, you get 100% free shipping.
Crowd Cow Ready To Heat Meals
I had to add to this page that Crowd Cow recently started to offer ready-to-heat meals. They have a lot to choose from for if you like to get some great food that you just have to heat up or cook for a fast meal. You can find all the Crowd Cow ready-to-heat meals here.
Pros and Cons of Crowd Cow
While each service has its own advantages and disadvantages, more often than not, they vary depending on the customer's point of view. Here's mine:
Advantages:
1. The listed prices are reasonable for the quality of meat that will be delivered at your doorsteps.
Crowd Cow cuts down on some of the fees that you, as an end-user, would have to pay to middlemen, so the price listed on the platform is more than often reasonable, especially when compared to the products you purchase at your local grocery store.
2. The quality is unparalleled.
No matter how hard you try, no local grocery meat will match the quality of Crowd Cow.
3. Everything is delivered fresh.
Each package comes with dry ice to maintain the temperature required to keep the meat fresh and healthy.
4. The package is eco-friendly.
Although many will perceive it as a little extra, it is still the effort of the Crowd Cow that makes them different from all other competitors in the market. Each package is made of biodegradable materials and comes with detailed instructions on how to properly dispose of the items.
Disadvantages:
1. Minimum $ 50 purchase.
Personally, I don't find it to be any barrier, but I just wanted to point out the limitation.
2. You will have to spend another US$ 99 to get free shipping.
If you want your grass-fed meat delivered to your door without you having to pay, you'll need to make sure your minimum order amounts to $150.
Crowd Cow review – My Opinion And Experience
After spending a lot of time doing this Crowd Cow review and reading up on a ton of websites, forums, youtube, and other sources I can only say that overall I can only rate it as a great resource to buy some very high-quality meat online.
I have to be honest and share with you that not all companies that sell meat online are concerned about how the animals are raised.
Crow Cow has a great case of transparency and In this case, transparency is about the farm where your meat comes from, the family or group of people who run the farm, and, most importantly, how the animals were treated before they became your meal.
For me, as an individual who grew up knowing cattle firsthand, it makes a lot of difference, and I must accept the fact that Crowd Cow has spoiled me.
With every single purchase and delivered box, you will have complete information about the farm and how your meat was raised – details you can't expect to find in any local grocery store.
Crow Cow is very open about where their meat is coming from. Here are my thoughts about that.
1. Crowd Cow is the only brand in this beautiful world that offers interested parties direct access to independent farms and ranches while ensuring the highest level of transparency throughout the ordering and delivery process.
2. Crowd Cow is backed by over 100 different farms in the United States and will never deliver meat from industrialized production companies. So, no matter what meat you order, you can be assured that your meat will be of the highest quality and will come from an animal that was happy and well treated.
3. The meat that goes up on the crowd varies from my favorite $4.00 sirloin tip steak to the mouth-watering $510.00 Wagyu center-cut sirloin.
4. From within the platform, you can filter the meat according to seasonal specialties, prices, and the farm it comes from. In addition, each product page provides you with accurate information on farm locations, practices, and a few more details about the family or people running the farm – making Crowd Cow the only platform to offer this level of transparency.
I hope you enjoyed my Crowd Cow review and that it helped you decide on spending a little more but at least knowing where your meat is coming from and how it is treated during its life.
Click here to check out the Crowd Cow store!
Feel free to leave your opinion or experience with the Crowd Cow below in the comment section.