Picture it: you come home after a long day at work and don't have to cook or even wonder what to cook. Instead, you just pop a ready-made meal you find reading this Splendid Spoon review into the microwave, sit back, and enjoy. Every day of the week! Idyllic, isn't it?
Welcome to the oh-so-convenient world of online meal delivery services. The Splendid Spoon is one of the meal delivery services we have in the country, catering to millions of people that enjoy the conveniences of not having to do their meals in-house. This can be through the entire week or several days a week.
"One thing that stands out about Splendid Spoon is that the meal options are fully plant-based."
With more Americans adopting more plant-based foods in their diet, this is a win for the company.
For this Splendid Spoon review, we will take an in-depth look at Splendid Spoon; costs, the food, whether the options are healthy, and everything in between.
What Is Splendid Spoon?
Splendid Spoon is a meal delivery service offering a wide array of plant-based, ready-to-eat, fully prepared food. These include ready-to-eat grain bowls, noodle dishes, soups, smoothies, and wellness shots.
Splendid Spoon aims to make plant-based eating easier and more nutritious than ever before. The company offers over 60 meal and smoothie options that you can mix and match to create a customized weekly menu per your preferences.
The company also has multiple subscription packages and meal plans depending on your budget and what you want to eat.
In my research, I found a ton of sponsored videos and I had to dig deep to find an unbiased video review of Splendid Spoon but I found one.
How It Works
First off, there are two you can go about ordering:
Subscription
One-off meals
If you want to go the subscription route, follow the following steps:
Pick a plan from the different options
Select your meals
Schedule a convenient delivery time
Wait for your order to arrive
When ordering on demand, you simply pick the meals you want and wait for delivery. No subscription is required.
When signing up to Splendid Spoon, whether for a subscription or on-demand meals, you will be allowed to pick from a wide selection of meals.
Currently, available items will include:
Soups
Smoothies
Grain bowls
Noodle bowls
Cold pressed juices
Wellness shots
Seasonal meals
The on-demand package has various selections as well as free two-day shipping for any of the over 60 meals and smoothies the company offers. While the selections can vary, the packages include the following: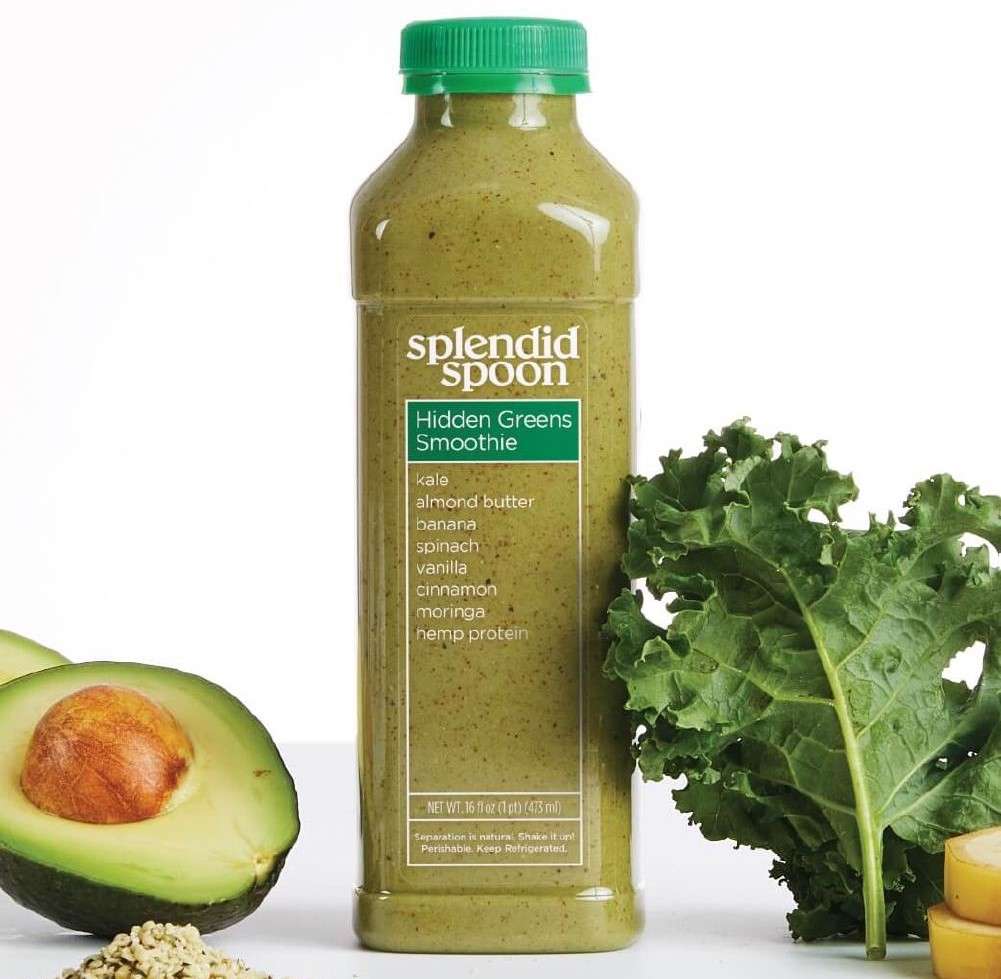 The Mix-and-Match Bundle
Here, you pick ten items from Splendid Spoon's best-selling smoothies and meals. This will be $11 per item, totaling $110 for the package.
Health Habits Bundle
The health habits bundle gives you ten meals and five shots. These include five bowls, five smoothies, and five shots. Again, these are pre-selected options, but you can swap out what you don't like.
This bundle costs $8.66 per item, totaling $130.
Splendid Sips Bundle
Splendid sips include two shots, three cold-pressed juices, and five smoothies.
This bundle bills at $8.50, totaling $85.
Gut Health Bundle
This is an excellent option for people looking for a health kick but can't decide which bundle to start with. The dietician-assembled gut health bundle contains two-grain bowls, two soups, one noodle bowl, three digestion shots, and three smoothies.
Splendid Favorites Bundle
This is a pre-selected box with two smoothies, 3-grain bowls of soup, two wellness shots, and two noodle balls.
Fall Favorites Bundle
This contains five meals and five meals. These go for $10 per item, totaling $100 for the bundle.
One-Day Reset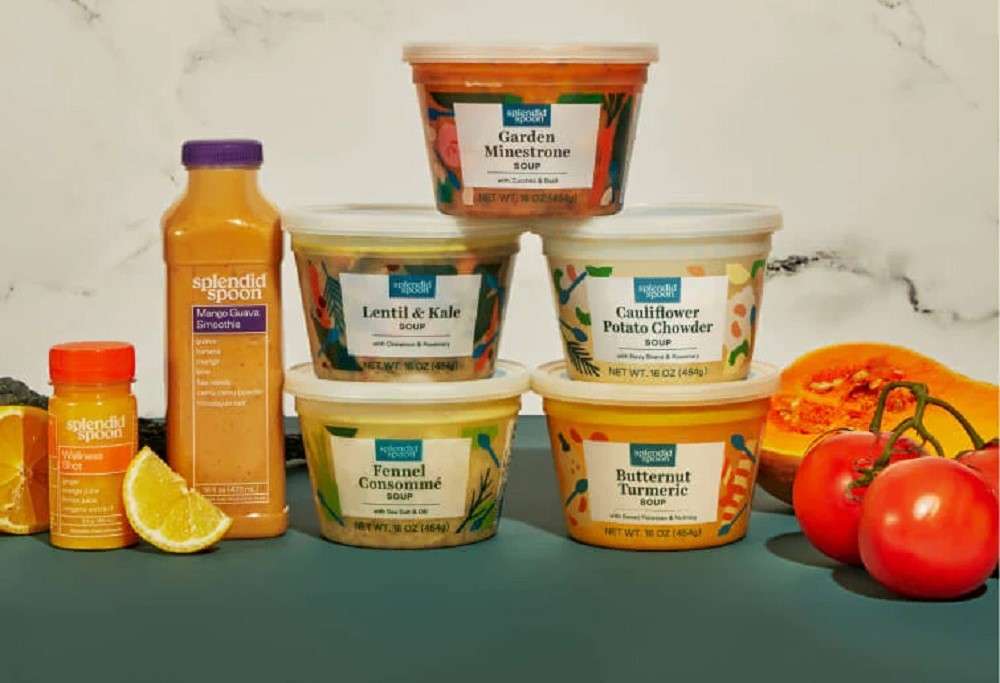 This gives you a one-day full reset with six meals and one shot. This is $10.71 per item and $75 for the bundle.
Three-Day Reset
This is a three-day full reset. The bundle contains 18 meals and full resets.
There are also different bundles with just juice, soup, or noodles.
You can also get juice and wellness shot combinations, as well as immunity, digestion, wellness, recovery, and detox shots as bundles on their own. These are in packs of 1- to 15 per bundle. Wellness shots on their own are shipped in packs of 25.
Meal Selection
Splendid Spoon looks to supply its customers with comprehensive healthy plant-based meals. For this reason, the company has numerous meal options you can personalize to create your own full, customized menu.
Besides the subscription options, you can select one of the five available plans for delivery. These are;
Breakfast + Lunch + Reset
Breakfast + Lunch, Dinner + Reset
Breakfast
Lunch
Breakfast + Lunch
These plans offer a combination of meals or individual meals. Combinations mean you can select soups, smoothies, and noodles as one package. For example, breakfast plans provide five smoothies, while the breakfast + lunch, dinner + reset gives you five smoothies, five soup bowls, five noodle bowls, and one full-day reset.
Splendid Spoon bowls measure 16 ounces, equivalent to two snack portions or one meal, depending on your hunger. The same goes for one smoothie bottle.
But Splendid Spoon doesn't stop at package selection.
We all have favorite meals we want to order in restaurants and take-out menus; if only they would exclude certain ingredients, right?
Well, Splendid Spoon allows you to do just that.
In addition to picking from the over 60 meals and smoothies, you can also change your profile to list down flavors or ingredients you want to be removed from future orders.
Some plans will also offer reset plans with five light soups to have with your meals during the day. You can also include wellness shots and cold-pressed juices in your plan at an extra cost.
Selecting a combination is easy, and the website is clean, has no frills, and is delightful to use. Aside from browsing the site by meal types, you can use several filters to select ingredients you prefer removed and dietary needs. You can also filter for nutritional benefits like lower sugar levels or higher protein content.
One thing to note, however, is that noodle bowls are only available with the on-demand box, or the breakfast + lunch, dinner + reset bundle.
Nutrition and Diet Friendliness
Aside from the convenience of not having to make meals from scratch, Splendid Spoon puts a lot of effort into making nutritious, diet-friendly meals. According to its website, the company's mission is to "…make it easy to live a healthy life".
In line with this, the company has a dietician in its employ. This role is there to ensure all information provided in dietary product information, chefs, and other personnel in meal development is accurate and science-backed.
Selecting ingredient removal and nutritional preferences helps Splendid Spoon align the meals they offer to your wellness and fitness goals. The company says this is one way they use to make it easy for customers to form healthy eating habits.
Every meal from Splendid Spoon will be gluten-free, vegan, plant-based, and well-balanced. Further, all nutritional information is provided for each meal which is useful in helping you find options that work well with any diet you might be on.
Splendid Spoon Prices
There are five plans you can pick, each priced accordingly. Here is a screenshot of the pricing.
| | | |
| --- | --- | --- |
| Plan | Items | Price |
| Breakfast | Five smoothies | $70 |
| Lunch | Five soups and grain bowls | $70 |
| Breakfast + Lunch | Five smoothies Five soups and grain bowls | $100 |
| Breakfast + Lunch + Reset | Five smoothies Five soups and grain bowls Five light soups | $140 |
| Breakfast + Lunch + Dinner + Reset | Five smoothies Five soups and grain bowls Five light soups Five noodle bowls | $195 |
Shipping is free; you can have deliveries done weekly, biweekly or monthly. Similarly, canceling your subscription is fairly easy as well. Go with the on-demand boxes if you prefer to stock up occasionally, as opposed to subscription plans.
Customer Experience
Splendid Spoon has been rather thoughtful about helping you make the most of each delivery. For instance, you will get full nutritional information, an ingredient list, and preparation instructions for every meal. These will be on the bowl or bottle.
The company also has an informative, detailed blog where you find a wealth of resources authored by a registered dietician nutritionist.
You can reach the company through email or Facebook: the addresses are provided on the website. Facebook responses come in shortly after you reach out. However, when you email, you will get an automated message acknowledging your query and asking you to allow three hours for a response.
The site also has a self-service portal.
Ingredient Quality, Taste, and Freshness
Splendid Spoon prioritizes the use of fresh, non-GMO, mostly organic ingredients in all its recipes. The company also tries to source organic ingredients, especially with the dirty dozen food items.
All grain bowls, soups, and noodles are flash-frozen to preserve their freshness and maximize shelf-life. On the other hand, smoothies are refrigerated and transported in recyclable insulation to ensure they get to you fresh. Splendid Spoon also rotates its menu weekly, with 2-3 new flavors added each season for variety.
Let's dig into the taste.
The noodle bowls come with generous veggies and sauces bursting with flavor. They also retain a nice bite even after being frozen and microwaved. This quality sets this company apart from other prepared meal delivery services.
The same goes for grain bowls, which are tasty and well-textured and come with various seasonings to round off the flavors. The soups are flavorful and nutritious as well.
There is a wide range of healthy smoothies. These taste great, with most options having a thick consistency.
Splendid Spoon smoothies blend unique combinations of veggies, fruits, and other extras beautifully for the optimal health kick. Additionally, they are low in sugar which is a bonus for most. However, the smoothie cost is on the higher side and from the reviews, not value for money.
Splendid Spoon Pros
All meals are vegan, non-GMO, soy-free, and gluten-free
You get a wide selection of meals and smoothies with rotating weekly menus
Meals come to you fully prepared and have zero prep time
Grain bowls, soups, and noodle bowls are tasty and can be frozen or for longer periods
Their smoothies come in exciting, flavorful varieties. They are thick and have low sugar content, which supports most diet, and wellness plans
The food is well prepared, and fresh-tasting
Splendid Spoon Cons
Splendid Spoon is significantly pricier compared to other products in the market.
Most foods have a low protein content. This does not support satiety, protein-rich diets, or bulking up.
Some meal items are bland.
While plant-based, ingredients are not 100% organic
Splendid Spoon meals might be unsuitable for people with severe food allergies and certain diets like keto and paleo
Many items on the menu are low-calorie options, so you might not get full
Who Is splendid Spoon For?
Splendid Spoon prepared meal delivery service is great for;
People looking to eat more plant-based foods or transitioning to the vegan lifestyle
Individuals looking for quick, convenient, but healthy meal plans
People who are happy with spending a little extra for healthier meal options
Individuals that are on the plant-based meal plans alone: using these plans for entire families is rather expensive
People looking to lose weight: Splendid Spoon meals are low-sodium, low-sugar, and low-calorie options.
Dieters that are not on high-protein diets
Splendid Spoon vs Daily Harvest
I have never used the Daily Harvest meal delivery up to now but will have a good look at them in the near future.
However, I found a video that explains the Daily Harvest versus Splendid Spoon for now.
Splendid Spoon Alternatives
Here I will soon have a list of alternatives for Splendid Spoon for now have a look at the main meal delivery services menu.
Plant-Based Food – A Growing Industrie
The numbers speak for themselves. 57% of all US households purchased plant-based foods in 2020, up from 53% the previous year. A different study by Ipsos Retail Performance indicates that 9.7 million Americans today are on plant-based diets. This number is several million more than what it was a mere 15 years ago.
If you are on a plant-based diet or switching to one, you will soon realize you have fewer options than when you could eat meat. Luckily, business proprietors have noticed this too and have stepped up to cater to this niche with everything from sit-in plant-based restaurants to plant-based meal delivery services. An example of the latter is Splendid Spoon.
Is Splendid Spoon Healthy
I did a lot of research and read about their mission states that they want to make it easy to live a healthy lifestyle.
By using ingredients that will attribute to that I am sure that this will have an impact on our health.
All the ingredients they use fall into the following categories.
100% plant-based
Unprocessed ingredients
Organic sourced
Non-GMO
Unrefined fruit sugars
Gluten-free
Splendid Spoon Reviews – My Opinion
Fewer things are more comforting than going home to healthy, tasty, fully prepared, microwaveable meals.
So if you do not have severe food allergies, are looking to shed some weight, and would rather not slave away in the kitchen, Splendid Spoon can be a lifesaver.
Splendid Spoon smoothies are one of the top sellers and besides, tastefully they are also healthy.
With our busy lives and not always eating right, the choice of their 1 or 3-day reset plan is a great way to get back on track.
Although the Splendid Spoon prices are higher compared to other meal delivery services I believe that their quality is also excellent.
You can find the website on here https://splendidspoon.com/.