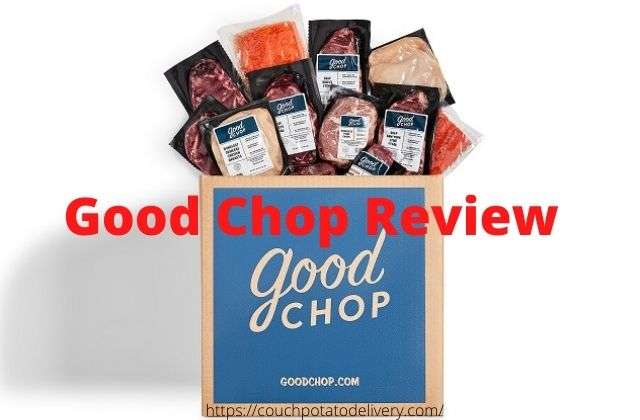 I stumbled upon the Good Chop and got curious about it and that was reason enough for me to do an in-depth and honest Good Chop review.
"Tip: I was impressed with what I found out!"
What Is The Good Chop?
Basically, there is not much difference from the other meat delivery services I reviewed. Except for one.
All their meat is sourced here in the USA. By the way, so is their seafood.
Farms That Good Chop Works With
I always like to find out where the meat is coming from and I found on the Good Chop website that they only work with farms in the USA and that have a responsible way of raising their animals.
What Can You Order From Good Chops?
Now we know that the quality is good it is time to have a look at what they have on the Good Chop menu to see what they offer in their online store.
I found that they have two plans you can choose from.
Good Chop Medium Box
In the medium box, you can choose 6 items and this is a great box for smaller families although you can add up to 36 pieces of meat or seafood.
Good Chop Large Box
As the name already gives away this box you can choose 12 items and 72 pieces of meat or fish. This is double the size of the medium box.
How Much Does Good Chops Cost?
At the time of my writing, the medium box with 36 portions is 149 dollars and the large box with 72 portions is 269 dollars.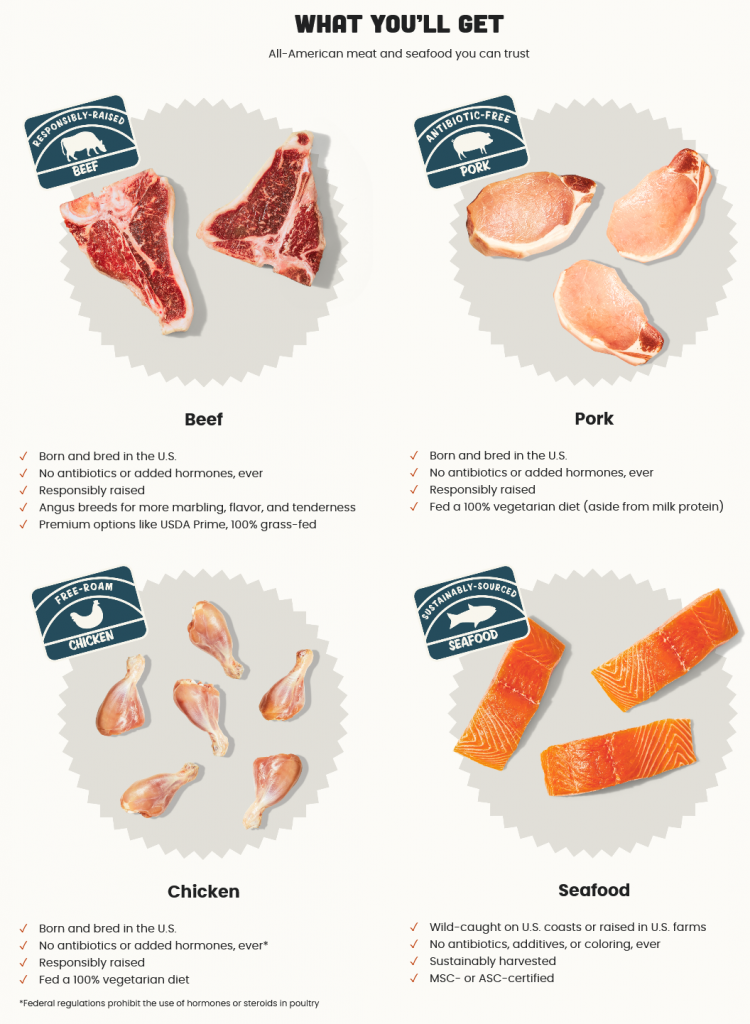 There are too many items to mention all of them here in the Good Chop review so I will provide some of the main ones.
Good Chop Beef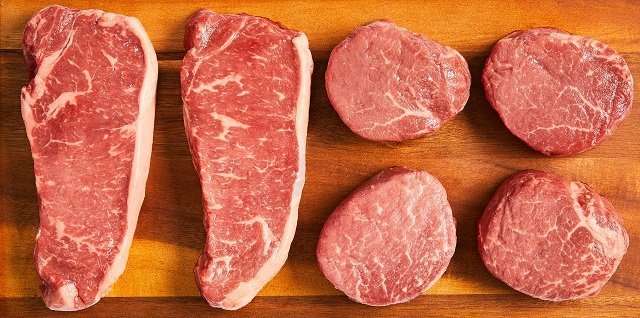 The beef menu on the Good Chop website offers several options to choose from.
If you are into 100% grass-fed beef you can also find that there. You can choose more than I mention here but here are some options.
Bottom round
Steaks
Ground Beef
Ready-made patties
Good Chop Pork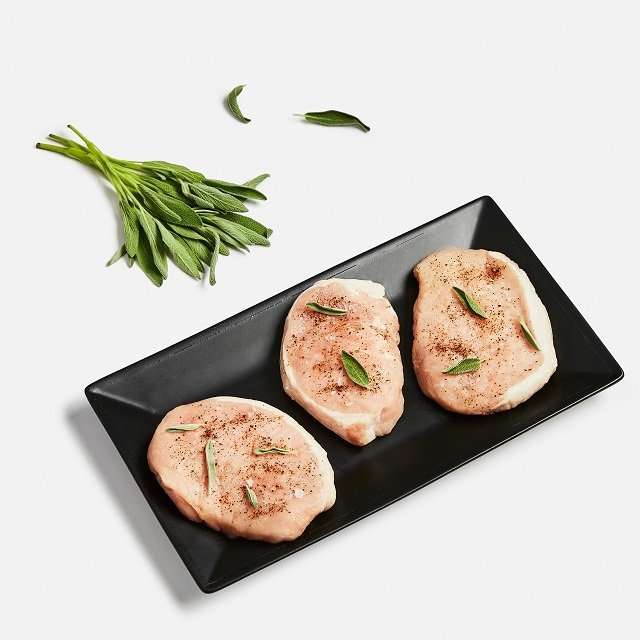 If you are interested all their pork comes also from American farmers that do not use antibiotics. Besides the piglets that are fed milk protein, their whole diet is vegetarian.
The Good Chop pork is a little bit down on the page but still easy to find. Here are some of the cuts you can order.
Pork Chops
Tenderloin
Bacon
Ground sausage
Butts
Good Chop Chicken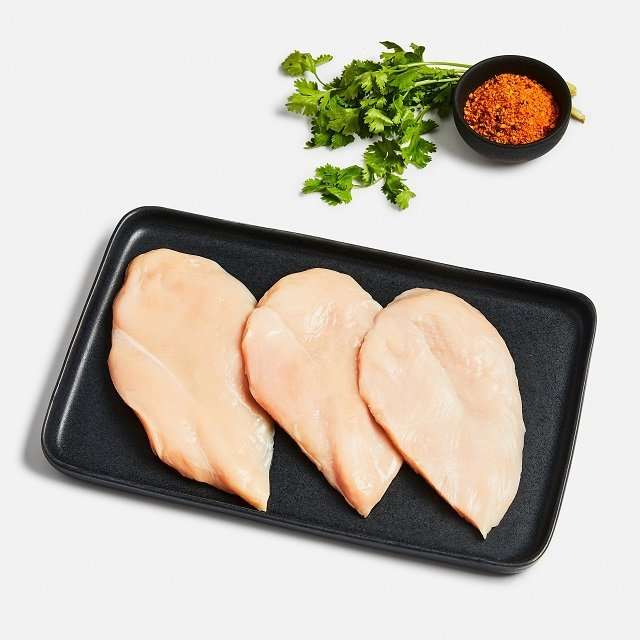 Personally, I love chicken when it is raised right. The Good Chop chicken is raised on farms in Nebraska and Iowa and is fed soybean meal and corn.
They have never been caged and spent their life in barns that are climate-controlled to watch over their well-being.
There are only two menu options.
Chicken Breast
Chicken Thighs
Good Chop Seafood
What I liked is the way the Good Chop seafood is sourced. It is either wild-caught or farm-raised and in both cases, they never are fed any antibiotics, hormones, or artificial coloring.
That means that they are free of added things such as hormones, antibiotics, and artificial coloring.
I found the following items on the Good Chops seafood menu.
Wild-caught Rockfish
Wild-caught sock eyes Salmon
Wild-caught Pacific Cod
Good Chop Shipping
It is nice to know all about the Good Chop products but shipping food that can be spoiled is very important.
If you like to know how often does Good Chops deliver here is the answer. Your box will be delivered either on Wednesday, Thursday, or Friday depending on the address you have it shipped.
The packaging is fully recyclable and the dry ice that is used will evaporate fast after it is taken out of the box.
There are two plans to choose from.
1: Medium box with up to 36 potion
Good Chop review – My Personal Experience
To be able to write an honest review of the Good Chop subscription I was sent a box filled with meat that we all eat on a regular basis.
So, what is in a Goode Chop Box? After my box arrived on the date that it was meant to be, and I opened it I was very happy with the way it was packed.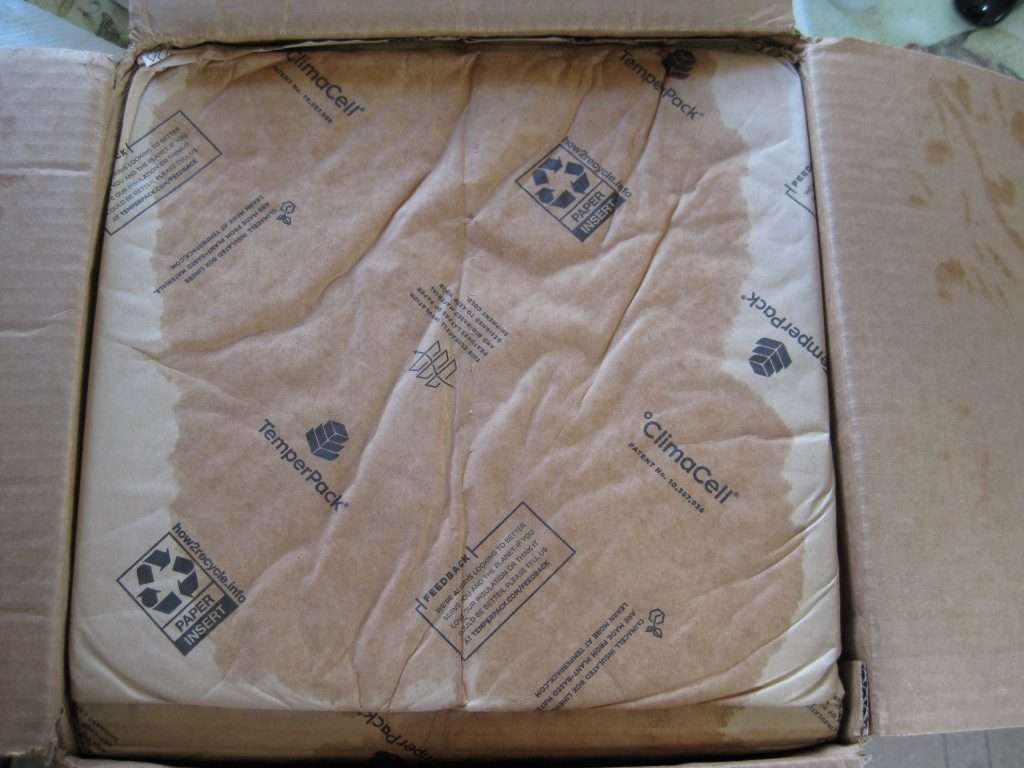 As you can see the meat was fully frozen and very well packed. In this box came the following.
Cod
Chicken
Ground beef
Ribeye steak
Flat iron steak
Pork chops
How did the Good Chop meat taste?
I have not cooked everything yet. The Flat iron steak and the pork chops did taste very well.
I cooked the flat iron steak on the grill. Each side just for 5 minutes and they came out very tender and tasted great.
The pork chops I cooked in the oven after searing them in a hot skillet. They came out very well and tasted wonderful.
Don't just take my word for it. Here is a video I found that shows the same result.
So, if you ask me the question is Good Chop worth it? I can only say YES!
That means that my overall experience with Good Chop is very good and I will order more from them. You can have a look at their website here!