The Snake River Farms review was not hard to do. There are many very happy customers for their online meat delivery service.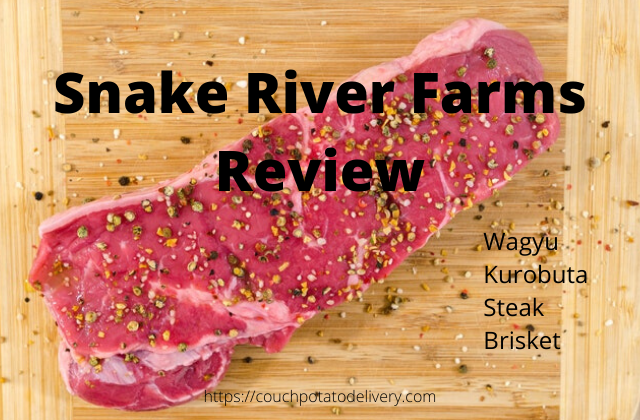 What is Snake River Farms
If you start reading on the About page of their website (1) you can read that they have teamed up with the Double R ranch that produces high-quality beef and pork.
A video might explain it probably better than I can.
What Meat Can You Buy At Snake River Farms
Before I go into the nitty-gritty details of every cut of meat you can order and see how the customers think about it the Snake Rivers Farm, I will give you a list of their meats.
NorthWest Beef and American Wagyu
Both categories have the same cuts of meat in them.
steaks
Roast
Prime
Brisket
Ribs
Burgers and Hot dogs
Specialty items
Kurobuta Pork
The Snake River Farms Kurobuta comes from the Berkshire pig. This is mandated by the Japanese Ministry of Agriculture. More about that later.
Pork chops
Ham
Ribs
Roast
Bacon
Specialty items
Dry Aged
The snake river farms dry-aged is a special section of their store. They dry-age their American Wagyu and USDA prime steaks for you. Dry aging help to speed up the breakdown of tissue and will create a more tender cut of meat.
Snake River Farms – From Farm To Table
There is a little more to tell about the Snake River Farms that I think is important to know. You can find them in their FAQ section but I will write about them here.
Snake River Meats are Grass-fed, but not grass-finished. Their cattle eat grass and hay the first year and after that go on a diet of hay, grains, and other food. This is a little different than some of the other online meat delivery services I reviewed here.
The cattle will never receive any growth hormones but can get antibiotics in case of sicknesses.
If you wonder where to buy Snake River Farms meat I think that their online store is the easiest way.
Shipping
I think looking at the snake river farms shipping cost is just as important as the quality of the meat. All shipping is done by FedEx. The shipping cost is:
$9.99 standard shipping by ground
$39.99 Express shipping by 2-day air
$79.99 Overnight shipping by 1-day air
$15.00 Extra fee for Saturday delivery
$49.99 Expedited dry-aged shipping
All meat is shipped in a reusable thermal bag that is covered with dry ice and is placed inside a cell foam liner in the box.
Orders are processed Monday through Friday for the Tuesday through Saturday shipping. You can track your order very easily on their website.
For Saturday delivery is an extra $15 upgrade on the shipping cost.
Refunds and Returns
Things can go wrong. In case you are not happy you can file that within 30 days after you received your meat. You can call them or send an email to start this procedure.
Sustainable farming
There is a lot of things going on in the news about bio-gas and the Agri beef farms do a lot to keep thing sustainable. Here are a few things they do to accomplish that.
Rotational grazing
Reduce water usage
Waste is used for composting
By a proactive approach to animal well-being, the animals get the best treatment and handling.
What are the most mentioned cuts of meat
Every meat delivery service has cuts of meat that stand out in a crowd. Snake River Farms has a few also. I will mention a few of them and find what customers have to say about them.
Snake River Farms Wagyu
I am sure that I can make a whole page and do a Snake River Farms Wagyu review, and maybe I will in the future. For right now I will see what customers have to say about it.
First a little explanation of what Wagyu beef is.
Wagyu means Japanese cattle and comes from Kobe, and two other regions in Japan. These purebred are crossbred with traditional cattle from the USA and this is called American Wagyu.
Wagyu meat is known for its marbling and this is caused by the unique genetics of these cows. If you are talking about health I can tell you that Wagyu also contains more fatty acids in general.
The Snake River Farms Wagyu is used in restaurants that have Michelin stars and only serve premium meat brands. This proves that the taste of Wagyu is outstanding.
A picture can paint a thousand words they say, but a video can say even more.
Snake River Farms Brisket
I don't know about your taste buds but mine love a good smoked brisket. Snake River Farms have two types of brisket.
Wagyu brisket
Gold grade brisket
The gold should even be better than the regular Wagyu that already is great. I read that in most cases it is, but buying the Gold grade is not always a guarantee that it is better I found out in my research.
On several forums, I visit I read that one pitmaster mentioned that in his case he thought that about 50% of them had better marbling, but he still would keep ordering Gold grade since they taste so much better.
I found a question is snake river farms real wagyu and if you like to know more about what is Wagyu beef you can read it here.
Again a video can show better how you cook a Snake River Farms Wagyu brisket on the smoker.
I know it is a long video but I thought it was worth watching the almost 13 minutes.
Snake River Farms Steaks
Doing a steak review is hard to do. Everyone likes his or her cooked a certain way. The Snake River Farms steaks got a lot of great reviews.
I read somewhere that all steaks are 28 days aged, but could not find the proof for that. They are, however, all hand-packed and sealed.
What I like about the Snake River Farms is that they also sell cuts of steak that are hard to find in many other stores. Cuts like a flat iron steak, flank steak, and skirt steaks just to name a few.
Of course, they also have the American Wagyu steaks in the Black and Gold grade.
I have not been able to find any bad reviews of the snake river steaks and I am thinking about ordering me some myself. Again a video to show how good they are.
If you go to YouTube you can find a ton of videos that show how much people are raving about their steaks.
Snake River Farms Kurobuta pork
Having a good look at and doing a small Snake River Farms Kurobuta pork review was easy.
Kurobuta pork, just like the Kobe beef, comes also from Japan. Snake River Farms only sell pork from Berkshire pigs because this is a mandate from the Japanese Ministry of Agriculture to call it Kurobuta.
For the people who have never heard of Kurobuta, I can only say that if you look at Youtube or even do a regular search you can find many people who tell you how it tastes.
In general, the taste is mentioned as a lot better than regular pork. The pork is raised all-natural and has never been treated with hormones.
This is the reason that this meat tastes so much better. If you have ever tried it you will know what I mean and probably will never go back to pigs that were not raised naturally.
But is it not that this used to be the normal way pigs were raised? Unfortunate things have changed and pigs have not been raised that way anymore.
I found a video that will show you more than I can describe in words.
Dry- Aged Wagyu and Prime Steaks
If you need dry-aged Wagyu or prime beef you can find this on a special page on the Snake River Farms Wagyu page on their website.
They have a large selection of dry-aged steaks. From NY strips and Tomahawk steaks to Porterhouse and even the famous Snake River Farms Prime Rib.
Dry-aging is keeping the meat under controlled circumstances to ensure even drying. This process will soften the enzymes in the meat. I read some good things about the snake river farms dry-aged Wagyu steaks.
Dry-aging is a process that is very old. It was used before there was any refrigerating available. The process pulls the moisture out of the meat. The bacteria that are formed during this add more flavor to the meat. Almost similar to what happens with cheese that ages.
The reason that it does not spoil is that the airflow, humidity, and temperature from a crust, and all this stops the meat from spoiling.
Many highly rated restaurants serve dry-aged steaks and now you can enjoy these at home also.
BBQ
For the serious competition BBQ'er they have a choice of several packages that might help you high on the podium and win a nice price.
Of course, all backyard grillers like me can also order these packages.
Snake River Farms Hot Dogs
I found out that there are many people who write raving reviews about the Snake River Farms hot dogs. The reason is that they are made with American Wagyu beef. In combination with their spice blend and them being smoked on hardwood, I am ready to try one.
This answers also the question of where to buy snake river farms hot dogs. Just go to their website.
I read snake river farms hot dog reviews and many called them gourmet style hot dogs.
Here is a video that shows it better than I can describe it.
If you like to go all the way you can also order the snake river farms wagyu hot dog.
Snake River Farms History
I think it is important to know a little bit about the history of this company. At least I like to know more from a company I buy food from.
It all started in 1968 when Robert Rebholtz founded the Agri beef company. Fast forward in 1988 they adopted the first Wagyu cattle and that was the start of the Snake River Farms.
Since then they opened their own facility and launched the Double R ranch brand in 2007.
What many people don't know about the Snake River farms is that they also co-founded a program to provide quality beef to people in need. They have distributed over 4 million servings up to now.
Right now the Agri beef has 14 divisions across the Washington, Idaho, Montana, and Oregon area and exports their meat to more than 50 countries.
My Opinion After The Snake River Farms Review
I spend a lot of time on these Snake River Farms reviews and I have to be honest. I am impressed with all the good ratings I found.
However, if you read about the history of the Snake River Farms you will find out that they have a mission statement that mentions that they, by controlling the whole process and even the supply chain, are able to produce a consistent quality of beef.
It was not easy to find negative customer ratings. Actually, I found someone that wrote a snake river farms bacon review and loved the taste and quality. Their steaks and Wagyu beef are also mentioned a great. I don't even have to mention anything about their hot dogs since they are world-famous for their flavor that is caused by the Wagyu beef they use to make them.
I did a lot of research about their products like beef that is available in regular Northwest and Wagyu cuts. I looked at their steaks and can only say that about everybody loves them.
The Kurobuta pork I read up on comes up with the same high recommendations.
There is not much I can add to my Snake River Farms review here. All their meat comes highly recommended and is of good quality.
Just remember that the prices are higher than in your local grocery store. But then again you get what you pay for.