This post may contain affiliate links for products I recommend.
The Snake River Farms review was not hard to do. There are many very happy customers for their online meat delivery service.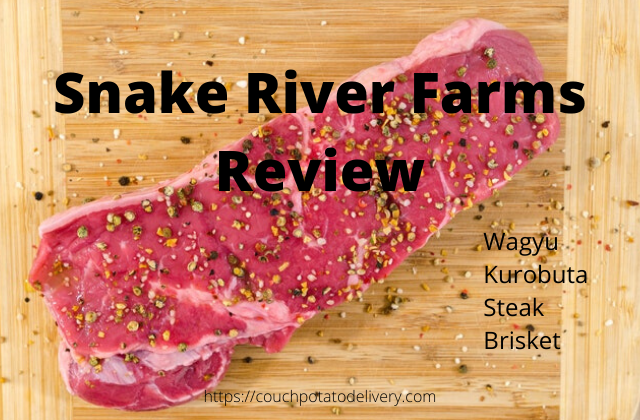 What is Snake River Farms
If you start reading on the About page of their website (1) you can read that they have teamed up with the Double R ranch that produces high-quality beef and pork.
What Meat Can You Buy At Snake River Farms
Before I go in the nitty-gritty details of every cut of meat you can order and see how the customers think about it the Snake Rivers Farm, I will give you a list of their meats.
NorthWest Beef and American Wagyu
Both categories have the same cuts of meat in them.
steaks
Roast
Prime
Brisket
Ribs
Burgers and Hot dogs
Specialty items
Kurobuta Pork
The Snake River Farms Kurobuta comes from the Berkshire pig. This is mandated by the Japanese Ministry of Agriculture. More about that later.
Pork chops
Ham
Ribs
Roast
Bacon
Specialty items
Dry Aged
The snake river farms dry aged is a special section of their store. They dry-age their American Wagyu and USDA prime steaks for you. Dry aging help to speed up the break down of tissue and will create a more tender cut of meat.
Ready to see their store? Click Here To Go There!
Snake River Farms – From Farm To Table
There is a little more to tell about the Snake River Farms that I think is important to know. You can find them in their FAQ section but I will write about them here.
Snake River Meats are Grass-fed, but not grass-finished. Their cattle eat grass and hay the first year and after that go on a diet of hay, grains, and other food. This is a little different than some of the other meat delivery services I reviewed here.
The cattle will never receive any growth hormones but can get antibiotics in case of sicknesses.
Shipping
I think looking at the snake river farms shipping cost is just as important as the quality of the meat. All shipping is done by FedEx. The shipping cost are:
$9.99 standard shipping by ground
$39.99 Express shipping by 2-day air
$79.99 Overnight shipping by 1-day air
$15.00 Extra fee for Saturday delivery
$49.99 Expedited dry-aged shipping
All meat is shipped in a reusable thermal bag that is covered with dry ice and is placed inside a cell foam liner in the box.
Orders are processed Monday through Friday for the Tuesday through Saturday shipping. You can track your order very easily on their website.
For Saturday delivery is an extra $15 upgrade on the shipping cost.
Refunds and Returns
Things can go wrong. In case you are not happy you can file that within 30 days after you received your meat. You can call them or send an email to start this procedure.
Sustainable farming
There is a lot of things going on in the news about bio-gas and the Agri beef farms do a lot to keep thing sustainable. Here are a few things the do to accomplish that.
Rotational grazing
Reduce water usage
Waste is used for composting
By a proactive approach in the animal well being the animals get the best treatment and handling.
What are the most mentioned cuts of meat
Every meat delivery service has cuts of meat that stand out in a crowd. Snake River Farms has a few also. I will mention a few of them and find what customers have to say about them.
Snake River Farms Wagyu
I am sure that I can make a whole page and do a Snake River Farms Wagyu review, and maybe I will in the future. For right now I will see what customers have to say about it.
First a little explanation of what Wagyu beef is.
Wagyu means Japanese cattle and comes from the Kobe, and two other regions in Japan. These purebred are crossbred with traditional cattle form the USA and this is called American Wagyu.
The Snake River Farms Wagyu is used in restaurants that have Michelin stars and only serve premium meat brands.
A picture can paint a thousand words they say, but a video can say even more.
Snake River Farms Brisket
I don't know about your taste buds but mine love a good smoked brisket. Snake River Farms have two types of brisket.
Wagyu brisket
Gold grade brisket
The gold should even be better than the regular Wagyu that already is great. I read that in most cases it is, but buying the Gold grade is not always a guarantee that it is better I found out in my research.
On several forums, I visit I read that one pitmaster mentioned that in his case he thought that about 50% of them had better marbling, but he still would keep ordering Gold grade since they taste so much better.
Again a video can show better how you cook a Snake River Farms on the smoker.
I know it is a long video but I thought it was worth the almost 13 minutes.
If you think you have to look at the prices first You Can Find It Here!
Snake River Farms Steaks
Doing a steak review is hard to do. Everyone likes his or her's cooked a certain way. The Snake River Farms steaks got a lot of great reviews.
I read that all steaks are 28 days aged, but could not find the proof for that. They are all hand-packed and sealed.
I have not been able to find any bad reviews of the snake river steaks and I am thinking about ordering me some myself. Again a video to show how good they are.
If you go to YouTube you can find a ton of videos that show how much people are raving about their steaks.
You can find all the Snake River Farms Steaks Here On Their Own Page!
Snake River Farms Kurobuta pork
Having a good look at and doing a small Snake River Farms Kurobuta pork review was easy.
Kurobuta pork, just like the Kobe beef, comes also from Japan. Snake River Farms only sell pork from Berkshire pigs because this is a mandate from the Japanese Ministry of Agriculture to call it Kurobuta.
For the people who have never heard of Kurobuta, I can only say that if you look at Youtube or even do a regular search you can find many people who tell you how it tastes.
In general, the taste is mentioned as a lot better than regular pork. The pork is raised all-natural and never been treated with hormones.
I found a video that will show you more than I can describe in words.
If you are in a hurry you can Find Their Kurobuta Meat Here!
Dry- Aged Wagyu and Prime Steaks
If you need dry-aged Wagyu or prime beef you can find this on a special page on the Snake River Farms website.
Dry-aging is keeping the meat under controlled circumstances to ensure even drying. This process will soften the enzymes in the meat. I read some good things about the snake river farms wagyu.
Many highly rated restaurants serve dry-aged steaks and now you can enjoy these at home also.
You can have a look at all the Dry-Aged Steaks Here On Their Website!
BBQ
For the serious competition BBQ'er they have a choice of several packages that might help you high on the podium and win a nice price.
Of course, all backyard grillers like me can also order these packages.
My Opinion After The Snake River Farms Review
I spend a lot of time on this Snake River Farms reviews and I have to be honest. I am impressed with all the good ratings I found.
To be honest it was not easy to find negative customer ratings.
I did a lot of research about their products like beef that is available in regular Northwest and Wagyu cuts. I looked at their steaks and can only say that about everybody loves them.
The Kurobuta pork I read up on comes up with the same high recommendations.
There is not much I can add to my Snake River Farms review here. All their meat comes highly recommended and is of good quality.
Just remember that the prices are higher than in your local grocery store.
Have a Look at their Prices and Products Here!
Peter Jameson