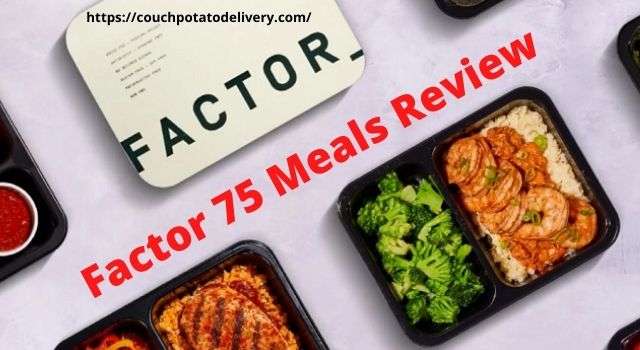 My Factor meals reviews show that this was previously known as factor 75. They have been profoundly known for delivering specific nutritional and diet-based meals with high-quality organic ingredients.
Here in this Factor 75 meals review, I am trying to give you a broad description of how Factor meals work, their pricing and packaging, and how they differ from the other meal delivery services I had a look at.
It is hard to be fit and eat healthy with so many responsibilities and things we have on our list every day. Staying fit is not a luxurious choice; it should be taken seriously by all. But going for groceries to pick out fresh ingredients, and cooking them after a long day can be hectic.
Especially if you are already on any special diet or have special health requirements, it becomes even more challenging. That is why more and more people are opting for meal delivery services to eat healthy food according to their preferences.
What is Factor Meals?
Factor 75 meal delivery service (1) focuses on delivering food with proper nutrition and balance according to the customer's diet preference, including Keto, paleo, low-carb, gluten-free, etc. With all the hassle of the day, eating healthy is also a must to remain in good shape both physically and mentally.
"Factor meal service aims to provide the customers with meals balancing taste and fresh ingredients to your doorstep."
When you rely on others with your food, you must be getting not only tasty food but also from the best quality source. Factor Meals ensures their customers get their food the way they wanted it.
Whether you are dieting or under any food restriction, Factor will customize your whole meal plan according to your preference, ensuring quality and taste.
How do Factor Meals work?
Factor allows a wide range of varieties in their items for their customers. You can create your whole meal plan according to your personal preference. They offer their customers food for different goal orientations, including keto meals, vegan meals, limited calorie meals, etc.
When you see how factor 75 works you see that the ordering process is easier. If you are not sure, Factor also allows free consultancy with experts to help you create your meal plans for breakfast, lunch, dinner, etc.
Unlike other meal delivery services, my review of factor meals delivery prioritizes its customer's preferences over anything else. They ensure providing you with a meal full of nutrition, taste, and quality. You can create your own meal plan or also let them make your meal plans by providing the necessary information.
You can pick your set of meals by going to their website and choosing from the huge variety of items. You can create your account online to subscribe to a specific meal plan. It is totally up to you if you want to receive your order individually or for weeks, months, etc.
Here are pictures of their website that show some of the items on the factor 75 menu.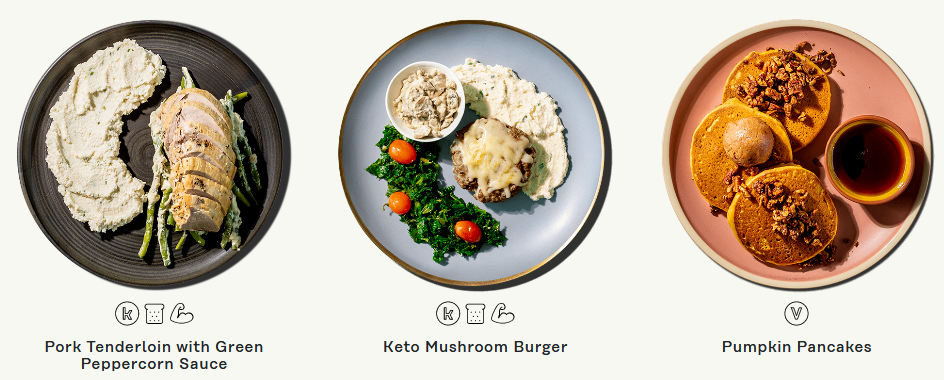 Factor meal service's packaging and delivering process stands out from any other meal delivery service. They package every ingredient individually in an insulated box, which intact the food's freshness and taste. They also list every instruction and detail in the box. So, all you have to do is put it in the microwave without any hassle of processing or transferring it to an extra container.
Nobody likes to eat the same thing every day. When you rely on others for the day's meals, they must understand to balance the nutrition need with taste. That is why Factor offers a different set of menus in the meals to bring variance in the taste, ensuring their customers' demand.
Nowadays, more people are concerned about their health and condition. Just exercise is not enough to maintain a healthy state of physic and mind. Eating correctly in the right amount is also necessary. But figuring out all the calorie intake, and avoiding ingredients can be time-consuming. This is where factor meal service is different than the other benefits you can get for yourself.
"You get full details of your meal regarding the instructions, ingredient lists, nutrition facts, and calories in every meal package."
This way, you don't have to keep track manually or guess the amount. They ensure every customer gets what they want with all the necessary details.
One of the most common issues with meal delivery services nowadays is the meal's quality and taste. Especially for the pre-cooked or semi-cooked meal delivery services, usually, food gets soggy and wet after microwaving or heating. It changes the actual taste and textures of the food that making the whole experience awful. But factor meal service focuses on the taste factor seriously.
"They prepare their food containing the taste and texture of the food."
Whether you like to stick to your personal plan and explore the numerous options they offer is entirely your choice. They offer you the flexibility to order from different menu sets even though it does not match your preferred diet.
Here you can see a Factor75 unboxing video.
With Factor meals, you can cancel up to four weeks' meals which is something you don't get in most of the meal delivery services. But of course, for that, you will have to give them notice in advance.
As long as you don't have any complaints or changes, Factor will deliver your meals from their selection according to your nutritional and dietary needs. You can fix the delivery receiving day according to your situation. You don't even have to be at home personally to receive the package.
The Factor Meals difference:
When you choose a meal delivery service for your family, every individual in the family must be getting enough food to balance the required nutrition and taste. Recent studies and research found that most people are now choosing meal delivery services for their families as well.
There are so many online catering services, and meal services you can order online. But you must get the best ingredients, quality meals along with freshness and suitable to your needs. If you have specific food restrictions or you are on a high-protein diet or keto diet, you should choose carefully.
Factor 75 keto stands out from the other keto meal delivery services in this case as they mainly deliver keto-friendly meals, protein or carb-based meals, etc. Continuing to a diet-based meal for a long time seems pretty tricky as you don't get many options or have to repeat the items. But the Factor Keto Meals review that I started shows it offers different sets of meals with great flavors.
Factor meals focus mainly on keeping the ingredients as fresh as possible. They package it to deliver your meals with the right consistency and balance of the food in the right portion. As Factors specializes in different diet-based meals mainly, they have their dieticians to help customers with their specific nutritional and diet needs. They plan their meals following their specifications in detail.
Factor focuses on the customer's convenience mostly. For people who love to explore the Factor 75 menu and find their different meals but are still concerned about the nutritional values, Factor offers newer sets of menus per week. So you can taste new dishes and meals without compromising your taste and diet plan.
But a group of people also love to stick to the routine of their food menu. For this kind of people, frequent change in the menu is troublesome.
"Factor Meals offers their member to pick their own sets of meals suiting their health and taste preferences to prevent this issue."
And with every package of the meals, you get full details about each ingredient of the meal, nutritional value, heating instructions, etc., as I already mentioned earlier. They deliver a proper full meal enriched with taste and flavor that doesn't make you hungry for a snack.
Factor Meals price:
When comparing the factor 75 price to other meal services, the price range of Factor is a bit high. But after you taste their food, you see their selection of high-grade quality ingredients, their packaging, and their choice of meal, and you will know it is worth every penny.
Factor Meals mostly focuses on special diet-based meals and keeps experimenting with the menu and flavors to keep the options unique. They focus on delivering customer satisfaction with each meal.
If you are familiar with diet-based ingredients, you already know how difficult it is to keep the food healthy and tasty at the same time. Especially when you are ordering frozen or pre-cooked meals, due to packaging, most of the time, meals have a bland taste lacking flavors.
But Factors ensure your taste and nutrition with every meal.
Factors meal plans start from four meals a week to eighteen meals a week. Each meal begins ranging from approximately eleven dollars to twenty dollars. So it is entirely up to you how many meals you are going to order per week.
The pricing also depends on the number of calories and portion of meals. Their pricing may be a bit higher, but it reduces the cost with their convenient offering of several discounts. The price also reduces when you order more volumes of meals.
Factor Meals shipping:
Factor 75 has been shipping to many states of the country efficiently from the beginning. Changing the name to Factor meals has not changed anything. Now it delivers meals efficiently inside the 48 states.
"Unlike other meal delivery services, they offer free shipping, which minimizes the Factor 75 cost to a great extent."
Pros & Cons:
Here in this part about factor 75 meals where I have summarized the pros and cons of having a better idea about this meal delivery service.
Pros:
They offer exceptional health and diet-oriented meals like keto, Paleo, high-protein, low calories, etc., suitable to the consumers.
Ensures high quality of nature-friendly ingredients consisting of non-GMO and organic sources.
All the meals are made with ingredients free from gluten, GMO, and refined sugar.
Offers consultancy with dieticians and specialists to design meals.
Dieticians also offer free dietary advice for the customers' betterment.
Change of meals every week to bring a difference in the taste for the customers.
Consumers have the convenience of adding or removing items according to their preferences.
By trying the Factor 75 menu, customers can enable any items their favorite or dislike to their account for future orders.
Every meal comes with all the details of ingredients, calorie-consuming amount, preparation instructions, etc.
Top-notch insulated packaging quality to keep the food fresh and contain consistency and balance for a long time.
Food will be automatically delivered to your doorstep without any requirement for the customer to be home.
Cons:
They don't have any family meal offers. If anyone wants to order a full family, they have to order it according to the meal and preference they want individually.
They don't have enough options for vegan-based meals like other sets of meals.
Factor Meals Review – My Opinion And Conclusion
In conclusion, all I can say after doing this go factor meals review food delivery service is that it can be a great aid to eating healthy and tasty to be fit for any person.
It is not only for the people who are on special diets. However, If you want to work on weight loss, stay in great shape, avoid harmful ingredients, looking for fresh and quality ingredients in your food, Factor 75 is the chosen one. I might even do full-factor meals review weight loss page.
You are saving your time and effort by choosing this healthy meal plan for your convenience. Going through different online reviews, we have found that Factor offers better quality and taste in its food compared to other health-oriented meal delivery services.
With diverse meals, customizing ingredients according to your preference, and consulting with their own specialists regarding diet and menu, you can't go wrong choosing Factor meals.
I have also seen that people search for Factor food reviews and don't realize that it is the same thing.
when you try factor 75 it is the easiest and most simple way to be relieved regarding eating selected healthy meals in your busy schedules without going through any hassle of preparation and cooking.