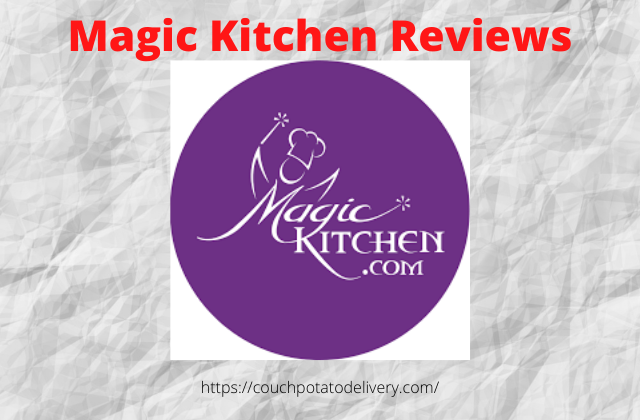 The reason for me to do Magic Kitchen reviews is that for years, food delivery services were seen as only for senior citizens and those who couldn't or didn't want to cook. Nonetheless, things seem to have taken a U-turn; more and more people are ordering their favorite dishes over the phone and online. The industry is experiencing a boom like never before.
Therefore, it is only fair that I bring you a review of a special food delivery company that has been around for long: Magic Kitchen.
What is Magic Kitchen
Magic Kitchen is a meal delivery service that sends pre-cooked frozen meals right to the doorsteps of its consumers. The food delivery company has been around for 15 years (since 2005), and its two founders, Greg Miller and Michelle Tayler started the service by offering home-style menus.
Initially, the business delivered meals from its distribution center in Oakland, California, but moved to Kansas City, Missouri, as it grew. Today, the Magic Kitchen provides a wide variety of special diets and even has specialized meal plans for senior citizens.
How Magic Kitchen Works
Magic Kitchen works similar to most other prepared meal delivery services I reviewed for you. But here is a rundown on how it all works.
In a Hurry? You can find all the Magic Kitchen meals here!
Placing Orders
I found in my Magic kitchen reviews that they present you with plenty of options when ordering. First off, there is a meal program that you can always enroll in if you plan on ordering Magic Kitchen dishes frequently.
There are no contracts involved, therefore, you can cancel your subscription at any time. For those who are uncomfortable getting into a meal subscription, there is commitment-free ordering, where you can order at any time you want.
Once you decide the option that best suits you, you are again presented with a choice from the company's menus: Complete Meals and a la Carte. Apart from the menus, there are meal bundles that include 1-8 meals. These bundles are designed with different dietary requirements and tastes in mind.
If you are looking for a particular dish, you can browse foods by typical types, or by 11 types of dietary interests for those with special dietary needs. Therefore, those with diabetes, or food allergies, or the elderly can also order from Magic Kitchen in line with their diet requirements. Those unsure of what to pick can always leave it to Magic Kitchen nutrition experts to do the picking.
Going through their working model, it is easy to understand why quite a lot of people love Magic Kitchen; the flexibility in the company's meal plan, and its inclusion of people with special dietary needs. These are all great qualities that only special food delivery businesses have.
Once you are satisfied with your collection, you can proceed to checkout, pay, and wait for your meal to arrive at your doorstep. The whole process is quite easy, even when opting for a meal subscription. You first have to fill out a short form, from which there is an Auto-Ship Meal Program. There is no commitment here, and meals are shipped for free every week, for two weeks, or on a monthly basis.
Here you can order the Magic Kitchen meals!
Meal Preparation and Delivery
A team of professional chefs is responsible for preparing all Magic Kitchen recipes using U.S sourced ingredients. Therefore, the dishes are flavorful, healthy, and of the highest quality. Another worry that might arise is how well these meals preserve their quality when preserved.
For that, Magic Kitchen has an effective solution; all meals are flash-frozen. This method allows the food to be frozen and reheated without losing the delicious taste and nutritional value. Therefore, the quality of the dishes is completely preserved up to the time you take your last bite.
All Magic Kitchen meals are shipped and delivered from their warehouse in Kansas City. They deliver anywhere in the U.S via FedEx, and shipping costs start at around $18 and are calculated based on the weight of the meal and your location. Magic Kitchen ships its food in recyclable Styrofoam with dry ice.
Meals are usually delivered within three days, although you can also choose when you want your meal delivered. Once your package arrives, you will receive an email notification.
Magic Kitchen offers two broad menus; A la Carte Menu and the Complete Meals Menu. Within these, the food delivery service has a wide variety of meal offerings.
Under this menu, Magic Kitchen tries to accommodate every specialized dietary requirement. The company has gone out of its way to provide meals for almost a dozen dietary needs, including vegetarian, dairy-free, low sodium, low fat, low cholesterol, diabetic-friendly, low carb, and dialysis-friendly meals.
There are also meal solutions for people in their golden years. These meals are tailored to meet the preferences, health requirements, and lifestyles of seniors. Therefore, seniors get to enjoy food with immense nutritious value, without having to go through the trouble of shopping, prepping, and cooking themselves.
A la Carte
Here, Magic Kitchen lets you piece together a complete meal by selecting your favorite individual components. There are main courses, desserts, sides, and soups. The menu is not limited to dinner; it also has breakfast and lunch dishes.
A la Carte also has a healthy sub-menu that includes options for health-conscious people.

Click Here! To see all the Magic Kitchen meals!
Magic Kitchen Meal Preparation
All meals are fully prepared before shipping. Therefore, all you have to do is follow the heating instructions, and they are ready to eat.
Let's have a look at a video of opening and heating up a Magic Kitchen meal and find out how the quality is and how easy it is.
Click Here! To see all the Magic Kitchen meals!
Magic Kitchen Prices
Magic Kitchen meals average around $12 a serving. If you select a meal plan, there are discounts that will save you a lot of cash in the long run. Their general price structure looks like this;
A single meal per day will cost you $75-85 a week (7 meals).
Two meals per day will cost you $150-165 a week (14 meals).
Three meals per day will cost between $225 and $250 a week (21 meals).
This pricing puts Magic Kitchen among the high-end meal delivery companies. Nonetheless, since they are one of the few companies offering specialized meal plans for different health conditions, it is a worthy investment. They do offer discounts in the form of coupons and promo codes, so make sure to look out for these when checking out.
Magic Kitchen Pros and Cons
Every meal delivery service comes with pros and cons. It is up to you to decide if the pros outweigh the cons and make the final decision on the Magic Kitchen.
Pros
Offers a wide variety of meals, including specialized diets
Offer special meals for seniors
Nationwide shipping
Easy meal preparation
Cons
High shipping costs
Small portion sizes
Click Here! To see all the Magic Kitchen meals!
Magic Kitchen reviews – My Opinion
Magic Kitchen is a special meal delivery company. Their ability to offer customized meals and cater to a wide range of dietary needs is a great feature. They might not be the cheapest in the market, but with Magic Kitchen, you know that you and your loved ones are in good hands.