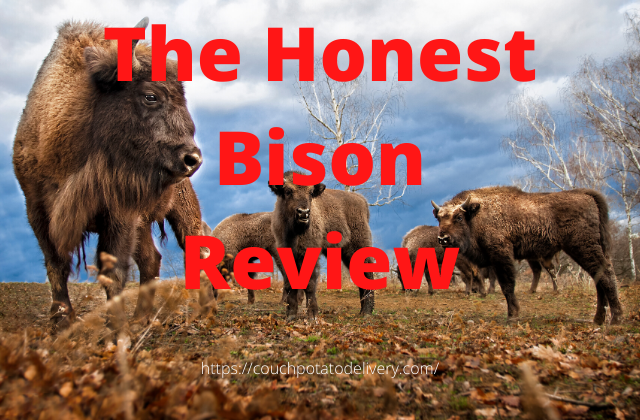 In this honest bison review, I'll share my perspective on the meat delivery service answering a couple of crucial questions that may come in mind: How does the Honest Bison source their meat? What are the Honest Bison's package plans? And is the Honest Bison worth it?
The Honest Bison is a meat delivery service with a twist in it. After a little bit of research, I found out people don't give this home meat delivery service the attention it needs.
What is the Honest Bison?
The Honest Bison is a meat delivery service that raises and delivers grass-fed bison, elk, and venison meat straight to where you are.
All animals are grass-fed and do not have any added grains or hormones to enhance their growth. Based in local Southern California, this meat delivery company ensures that you don't have to question the source of meat by farming themselves humanely raising the animals.
How Does The Honest Bison Work?
To enjoy the goodies of the Honest Bison, you need to browse through the plethora of meat cuts available and place your order. All pretty easy to do.
All meat sold either comes from Bison, Venison, or Elks. For instance, in the Elk section, there are mignons, steak, burgers medallion, ribs, briskets, and ground Elk. All delicacies are priced.
How To Place An Order On The Honest Bison?
Placing an order on the Honest Bison is a breeze. Just go to the "Shop Meat" section, choose the type of cut/bundle you want, add to cart, and complete your purchase.
There's no need to sign up or pay for any subscriptions. The Honest Bison sells meat on an order basis. The only minor downside is that you might have a hard time choosing the type of package, especially in the "Chef's Box" section.
The Honest Bison Plans
The Honest Bison has easily accessible plans under the Chef's Box section. These plans are great because you get a mix of everything plus the total price is usually cheaper than buying individual meats.
Each bundle is filled with delicious meats from all the three types of cattle that the Honest bison raises. Here's a further breakdown of what's inside of each Chef's Box.
Ground sampler
This pack contains different flavors of ground meat from two steaks. An average ground sampler pack contains:
6 pack Ground Bison (1lb each)
6 pack Ground elk (1lb each)
Wild Burgers
This is a perfect setting for a family-sized wild stake-out in the park with lots of meat ready for grilling. I also noticed a recipe section for making the best wild burgers- Guacamole Elk Burgers with Jalapeno Aioli. You can try it! This pack contains:
4 packs of 3 Bison Burgers (⅓ lb. each)
4 packs of 3 Elk Burgers (⅓ lb. each)
4 packs of 3 Venison Burgers (⅓ lb. each)
Royal Steaks
There's something royal about this particular box! Not only are the steaks in huge chunks, but the Honest Bison also does a careful connoisseur-level selection of steak. If you're new to steaks, a great steak should be tender, juicy, and rich in flavor. I'm guessing this particular box has got it all. Here's what's included:
8 Bison Filet Mignon Steaks (6 oz each)
8 elk Tomahawk Ribeye Steaks (10 oz each)
8 Bison New York Steaks (9 oz each)
A Saffi Foods Extra Virgin Olive Oil (8 oz)
Game Time
When you're unsure of what to cook, sometimes you end up making a not so good decision. But with this pack, I think everything included is a must delicacy. The Game Time box is filled with everything a meat lover would crave with 15+ lbs. of popular eats. They include:
6 Bison Burgers (⅓ lb. each)
2 lb. Bison Tenderloin Tips
2 Bison Skirt Steaks (16 oz each)
8 Bison Bratwurst – sugar-free – 2 packages with 4 brats each
4 lbs. Ground Bison
Whole30 Reset
This set has all the "good" meat you'll need for healthy living. It is specially selected to serve a clean eating journey with Whole30 approved meat. All meats are 100% grass-fed, double-checked for added hormones, antibiotics, and minimally processed. Here's how this package looks like:
(2) – Bison Medallions – 6 oz each
(2) – Bison Skirt Steaks – 1 lb each
(2) – Ground Bison 1 lb each
(2) – Bison Burgers – 1 lb packages of three 1/3 lb burger patties
(2) – Bison Tenderloin Tips – 1 lb package
(2) – Bison Bratwurst – sugar-free – 4 brats per package
(1) – Saffi Foods Extra Virgin Olive Oil – 8 oz
Epic Griller
Whether it's a griller's weekend or just a lazy day to cook, this pack is filled with cuts ready to be fired up. The Epic griller box contains the following:
2 Bison New York Steaks (9 oz each)
2 Bison Tenderloin Tips (16 oz package)
2 Bison Skirt Steaks (1 lb. package each)
4 Bison Medallions (6 oz each)
6 Bison Burgers (1/3 lb. each)
3 Elk Burgers (1/3 lb. each)
3 Venison Burgers (1/3 lb. each)
1 Saffi Foods Olive Oil (8 oz bottle)
Free Standard Shipping
Meal Prepper
The meal prepper is another favorite for all your paleo, Whole30, or any other healthy living routine. Each box includes:
4 Ground Bison (1 lb. each)
4 Elk Sirloin Steaks (10 oz each)
1 Bison Short Ribs (3 lbs. each)
1 Bison Tenderloin Tips (1 lb. package)
2 packs of Bison Bratwurst – No Sugar (4 links in each 12.8 once package, 8 links total)
4 packs of Bison Snack Sticks (4 oz)
Pros & Cons of The Honest Bison
While the Honest Bison seems like a good meat delivery service, some features may not please everyone. That's why I decided to point out the pros and cons of the Honest Bison.
Pros
Variety of cuts
Free shipping on Chef's boxes
High-quality, 100% grass-fed meat
Extra recipes for certain boxes
Cons
Package material
Frozen foods might break the seal
Costly
Sometimes delivery takes long
Summary of The Honest Bison Review
After all the research and critique, I'd say the Honest Bison is definitely worth it!
I had a great time testing the meat and although some pieces came off as pricey, every bite was worth it. The honest bison company indeed lives up to its standards and makes sure all meat is 100% grass-fed with no antibiotics, or grains to enhance hormones.
Despite the somewhat pricey meats, compared to the ones I reviewed here, it is also convenient as everything is delivered straight to your doorstep and you'd practically save on gas and the time taken for shopping.
If you feel there's something I have left out or need to add a comment about the Honest Bison reviews, feel free to leave a comment below.