Cooking your meals with ingredients you handpicked yourself is a very satisfying experience. But it isn't always possible, especially if you have a hectic schedule due to work, school, or home duties. That, however, doesn't mean that it's impossible to enjoy delicious home-cooked meals.
"With meal kit services, you can conveniently cook your meals using quality ingredients. But if you haven't tried them before, you may be wondering whether they're worth the hype."
Well, with these Hello Fresh reviews I did you unpack everything you need to know about one of the most popular meal prep services in the country. From the pricing and menu to the overall experience and who it's good/not good for.
What is HelloFresh
Hello Fresh is a meal kit service based in Berlin, Germany. It operates in sixteen other countries and has millions of active customers and employees of over 20,000 persons. In 2021 alone, the service says it delivered more than 1 billion meals.
HelloFresh started operating in the United States in 2013. Since then it has risen to become perhaps the most popular service of its kind.
Pros and Cons
Pros
Delivers ingredients directly to your door
Recipes are easy-to-follow
Flavorful meals
Offers a decent range of dietary options; vegetarian, pescatarian, and low-calorie
Relatively well-priced compared to its competitors
Cons
No exclusively allergen-free meal options.
No meal plans for stricter diets, like vegan, keto, or paleo
$8.99 shipping fee per box
How Does HelloFresh Work
When shopping at hellofresh.com, you choose meals from 30+ weekly recipes. These consist of 'easy meals designed by professional chefs and nutritionists.' You can order as many as six unique recipes per week. You can also select the number of servings for each recipe, usually between 2 and 4.
" HelloFresh will then send you the ingredients for your chosen meals plus a recipe card with pictures and written instructions on how to prepare them."
This makes the service pretty convenient since you don't have to go grocery shopping yourself. Everything you need is delivered to your doorstep in neat packages. It also allows you to enjoy new and interesting recipes that you probably wouldn't have had the imagination to conjure up all by yourself.
What Comes in the Box?
The ingredients come in the box of course. The packaging is pretty neat, consisting of an outer cardboard box lined with an insulated and waterproof bubble wrap to protect its contents from temperature and water damage.
"Inside the box, you'll find paper bags with labels identifying their meals. Each bag contains the ingredients needed for their particular dish."
Note during packing, HelloFresh separates meat and fish from the other ingredients with a divider to prevent cross-contamination. The meat is vacuum sealed and stored with recyclable ice packets at the bottom of the box.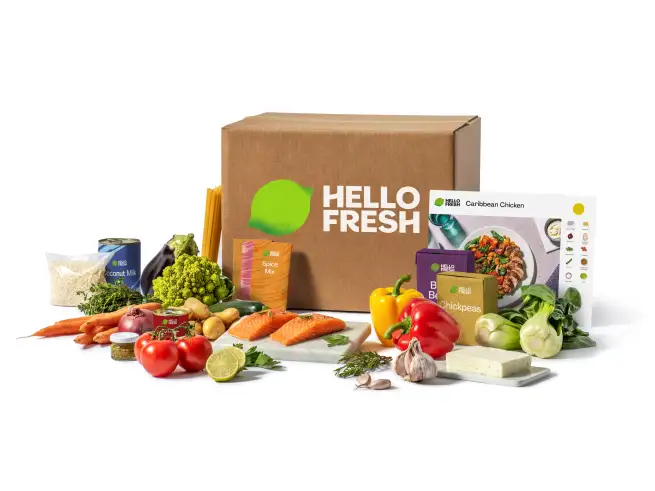 HelloFresh offers 30+ recipes that change every week. This is the most meal choice of any food delivery service. Overall though, there are six meal plans to choose from;
Meat & Veggies: The standard offering with a variety of meals that include meat and vegetables.
Veggie: Plant-based vegetarian meals that are not necessarily vegan
Calorie-Smart: Meals with approximately 650 or fewer calories per serving
Family Friendly: Easy-to-prepare, kid-approved recipes
Quick and Easy: Meals that take less than 30 minutes to prepare
Pescatarian: Seafood-rich meal kits that don't feature any meat
When ordering, you select your meal plan, how many meal kits you want to receive per week (2, 3, 4, 5, or 6), and the number of servings you'd like for each meal (two or four). You can pick your own meals or let the service do it for you depending on your preferences.

The Hello Fresh Experience
Getting Started
Getting started with HelloFresh is quite simple. First, you'll need to visit the official website, hellofresh.com, where you'll select the meal plan and size that suits you best.
One thing I liked about the service is that whatever plan you select isn't final, it's just there to guide you to meals you might prefer. So, I could mix recipes from different plans into the same box.
After choosing your meal plan, you'll then be prompted to enter your payment and address details. Once that's done, select your first week of meals. The service will assign you a weekly delivery date.
Hello Fresh Prices
The Hello Fresh meals prices are more or less equal for the same number of recipes per week. However, the cost varies depending on the number of servings you order. Four-serving recipes are generally cheaper than two-servings recipes.
| | | |
| --- | --- | --- |
| Recipes per Week | Cost per serving (2-person plan) | Cost per serving (4-person plan) |
| 2 | $12 | $9.49 |
| 3 | $10 | $8.49 |
| 4 | $9.49 | $8 |
| 5 | $9 | $8 |
| 6 | $8.49 | $8 |
There are also discount options you can take advantage of. For instance, your first week comes with big savings. And sometimes, the service runs offers, the best of which is a 21 free meals with free shipping offer. These meals are distributed across five weeks of deliveries.
How are the Ingredients?
HelloFresh's ingredients arrive fresh in neat packages. They're delivered once a week anytime between 8. am and 8. pm.
"I found the ingredients to be high-quality, like something you'd pick up yourself at the grocery store."
They're also well sorted and labeled, so you won't struggle to know what ingredient is for what meal.
The packaging
HelloFresh's packaging definitely falls on the environmental-friendly side. The ice packs and cooler bags are recyclable. And although there is a little plastic, which is expected with such a service, the overall packaging is well-done with minimal waste.
I've seen my share of packaging from meal kit companies and theirs look pretty good.
How Easy is Prepping the Meals?
Most of the HelloFresh meals are simple to make. The recipes are well-illustrated and easy to follow. There is also a HelloFresh mobile app, where you can access your recipes.
Preparation Time
You'll have your Hello Fresh meals ready in around 30 minutes from start to finish. As long as you know how to chop and work a frying pan.
And while there are certainly easier options out there, like meal kit services that eliminate the need to cook, the experience is nothing that will leave you exhausted.
Some gourmet options require a little more work. But if you have the time, you'll find the experience to be extremely rewarding.
Is the Food Tasty?
Yes. HelloFresh recipes may be designed to be simple and easy to prepare, but they're also pretty delicious. The menu consists of familiar dishes, like meatloaf and chicken tacos, but you'll come across many that you haven't tasted before, especially if you let HelloFresh do the choosing for you.
Is the Hello Fresh Healthy?
Meals can get pretty caloric, with counts of up to 900 calories per serving. It more or less depends on what meal you choose.
Fortunately, every recipe has nutritional details that you can go over to look at the carbohydrate, sugar, protein, cholesterol, and fat content and the calorie count. So, you know exactly what you're ordering.
There are also options that cater to low-carb and low-calorie preferences. These are the carb-smart and calorie-smart meals. Carb-smart meals have 50 grams or less of carbohydrates per serving. On the other hand, calorie-smart options offer 650 calories or less per serving.
Both options still manage to keep it delicious and interesting without getting repetitive as most healthy options tend to be.
Are there Vegetarian Options?
Yes. HelloFresh has a vegetarian meal plan with plenty of meal options.
I did some Hello Fresh vegetarian meals reviews and If you want to cut back on meat in your diet, you can choose 4-7 vegetarian meals.
These change with each week allowing for some good variety.
However, note that the meals are not necessarily vegan. There are still some animal-based options, like cheese, included in the plan.
Changing or Canceling an Order
You can add, change, or cancel meals on the Hello Fresh website or through the app. The latter feels pretty convenient. However, you can only do so at least 5 days before your next meal. If you don't, your box will still arrive as scheduled.
Who is HelloFresh Good For?
With a huge menu, HelloFresh is a great fit for families. The large selection of recipes ensures that there's something for everyone, even the picky eaters.
The meals are also relatively easy to prepare, taking some 30 minutes from start to finish. The recipes are well-explained, illustrated, and easy to follow, and in case you lose the physical card, you can always access the instructions on the HelloFresh mobile app.
Therefore, if you have a busy schedule, poor meal-planning skills, or are just beginning your cooking journey, you'll appreciate what HelloFresh has to offer.
The vegetarian options also make it a good fit for anyone looking to add more plant-based recipes to their table.
Who is HelloFresh Not Good For?
HelloFresh doesn't offer a lot of gourmet and technical recipes. Therefore, you'll be a little disappointed if you're looking to test and improve your skills as a chef.
The service also limits the modifications you can make to the recipes. This leaves few options for people with allergies and/or strict dietary requirements.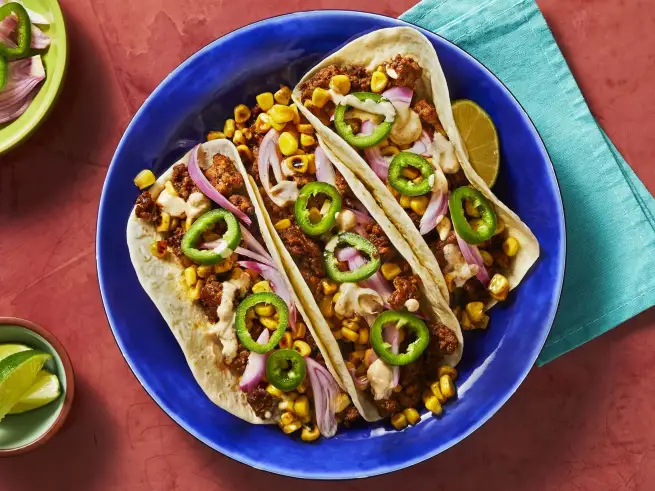 Hello Fresh Customer Reviews
This review would be incomplete if I didn't look at what other customers have to say about HelloFresh. In this regard, the majority of the brand's customers are happy with the service.
The packages arrive on time and intact, the food is sweet and easy to prepare, and the customer service is extremely helpful.
But with operations as big as HelloFresh has, there are bound to be some negative reviews. Most of the complaints about the service centered around missing ingredients and difficulty canceling the service. There were also instances of the produce arriving in poor conditions.
"Overall though, HelloFresh has a good brand reputation."
Unboxing -Cooking- Tasting Video
What shows it better than reading? A video and I found one that shares the same things that I experienced.
Now, after this video review of HelloFresh let's continue with what I found out!
Is Hello Fresh Worth Trying?
Yes. HelloFresh is an excellent meal kit that saves a lot of time in grocery shopping and meal planning. It features a diverse weekly menu that changes every week. Therefore, even if you decide to use the service every week, you won't be getting bored anytime soon.
As for the recipes, they're simple but sweet. It will only take you half an hour to prepare a whole meal.
There are also kid-friendly recipes if you want something that will excite your kids and carb-smart and calorie-smart recipes for those that want options on the healthy side of things.
"However, there are no options for people/households on a strict keto, paleo, or vegan diet. "
At $8 to $11 per serving, the service isn't cheap. So for many people, it's not something you would rely on for their everyday meals. However, it's very much worth it for what you get. If you want a more affordable option, you may want to try EveryPlate, a subsidiary service of HelloFresh that charges a flat $4.99 per service.
Hello Fresh FAQs
Does HelloFresh offer free trials?
No. HelloFresh doesn't offer free trials. The only way to try out the service is by ordering a box. However, there are promotions for new users. These include free meals distributed across several weeks, free shipping, and some surprise gifts. They save you money and make the service cheaper.
Can you cancel your HelloFresh subscription?
Yes. You can cancel your subscription via the app or website. However, make sure to do so not less than five days before your next shipment is due.
Is HelloFresh cheaper than buying your own groceries?
No. When you factor in the cost of the boxes and the shipping cost, HelloFresh is more expensive than buying your own groceries.
However, considering the convenience of having someone else shop for quality ingredients for you and deliver them to your doorstep, and the different delicious recipes you get to try out, it's definitely worth it.
Does Hello Fresh charge to skip a week?
No, skipping a week free. The service is more expensive than buying your own groceries. So understandably many customers have a couple of weeks between boxes.
However, if you want to skip a delivery, make sure to edit your order before the week's deadline, which is five days before the shipment is due.
Hello Fresh Gift Card
What I noticed lately in several stores such as Target, and Staples and I have even seen them in Sams Club. This is a nice present and they are easy to redeem on the website.
Hello Fresh Reviews – My Opinion And Experience
Overall, HelloFresh is a meal kit service I enjoyed a lot and would recommend to anyone with no strict dietary requirements.
I even took the time to have a look at reviews in Australia and the UK and not just in the US.
Although I also found some negative reviews for the HelloFresh meal delivery customer service I found more positive ratings.
But in my final rating, I took those also into consideration and gave them a little lower score than when it would be based on my personal experience.
So, I gave them a 4.1 out of 5 stars rating.
My Favorite Hello Fresh Meal – Moo Shu Pork Bowl
After trying several meals I have to share my favorite. I have cooked this one now several times and keep going back to it because of the taste and the easy preparation.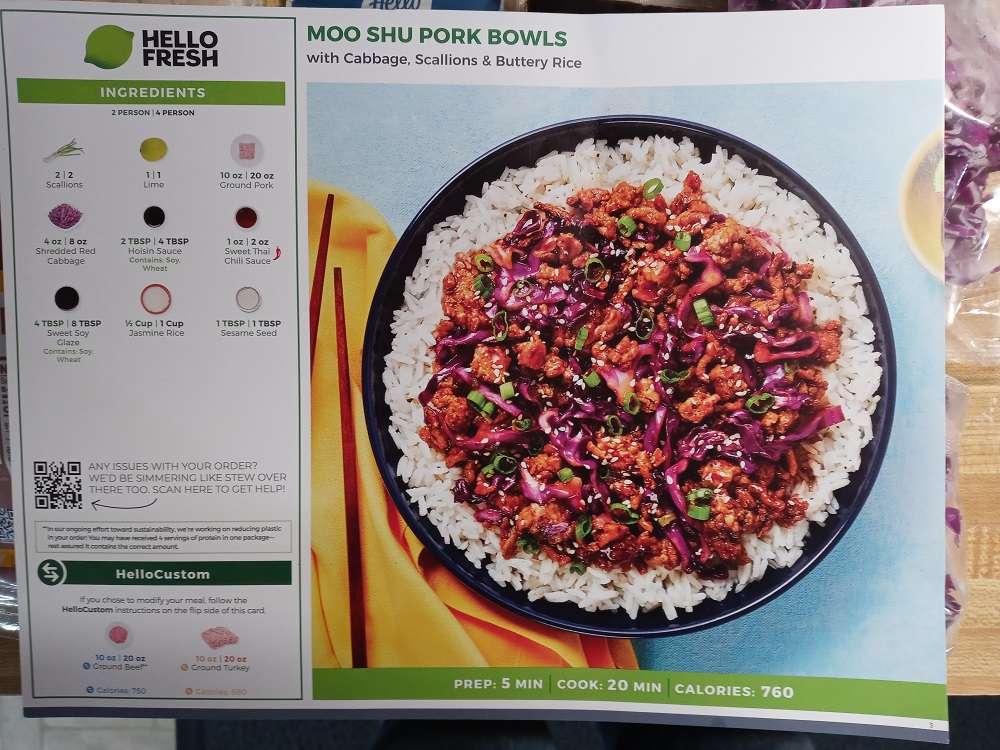 I have no comparison of Hello Fresh versus Blue Apron or Dinnerly since I have not used those two but I think you can compare it to a service as you can find in my Top Chef Meals review.