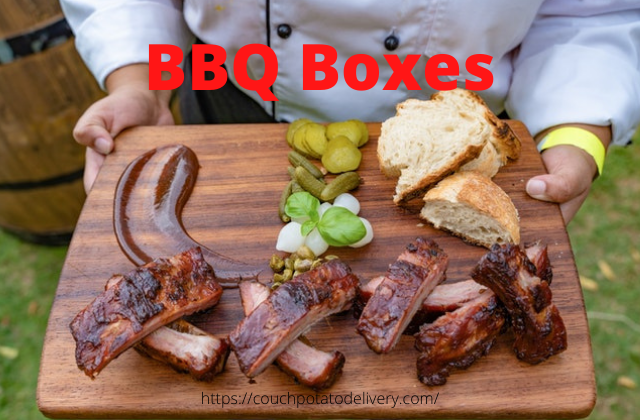 In the BBQ subscription box reviews, I will have a good look at not just the monthly subscription boxes but also the ones you can order without monthly payment.
Although some of the stores on the meat delivery boxes page can also be considered to be fitted for the BBQ, I believe that there are people who look at boxes just for their grill or smoker and I try to help them here.
Let's have look at them and see what I could find out about them.
Complete list of BBQ Subscription Boxes
What is better than to start this page with some of the most known companies that offer a ready-to-go box for the BBQ for everyone who likes to receive the best cuts of meat for the grill or smoker?
---
The BBQ BOX
The BBQ Box is one of the first ones that show up when you start looking for monthly subscription boxes for the backyard griller or the more advanced competition BBQ team.
They have a large selection and options to choose from.
Monthly
3 Months
6 Months
12 Months
There are so many options and things to tell about them that I did a whole BBQ Box review. That means that I tried to find out if this bbq-box from Myron Mixon is a good choice.
---
Grill Master Club
The next one I could consider very popular is the Grill Master Club. This is a monthly subscription for the Gill Master.
Their boxes contain no meat, but everything else you need for a great meal prepared on the grill or smoker.
Each box has 4 or 5 products in it including
Rubs
Sauces
Marinade
Recipes
A Surprise
You can read my Grill Masters Club review here.
Just with the other boxes, there is too much to tell to place it all on one page. That is reason enough to have a Grill Master Club review on its own page. For now, you can have a look at their website here.
---
Porter Road BBQ
I stumbled upon the Porter Road butcher store and I was impressed with its mission statement. Although more of an online butcher store they also carry a special Porter Road grill master box.
I did a Porter Road review of their cuts of meat and the rest of the company info.
For now, you can have a look at the Porter Road butcher store and their BBQ box here.
---
Snake River Farms BBQ
The Snake River Farms is not only for the pitmasters but offers a lot of meats as you can read in the Snake River Farms review. here.
They have, however, a separate part of the website reserved for you guys. There is a choice from:
Competitive BBQ packages
Backyard BBQ packages.
You can find all the Snake River BBQ packages here on this page.
---
Crowd Cow BBQ
It would surprise me if you have not heard of the Crowd Cow yet. It is one of the most known ones in the field of meat online.
But besides all the normal Crowd Cow meat, they also thought about the BBQ and the many people who love to grill outdoors.
They have a Crowd Cow Master BBQ Box that contains all organic meat from the Ayrshire farm. You can have a look at it here on their website.
---
Southside Market
I did a Southside Market review and I wrote about this Texas BBQ restaurant that also ships its famous food all over the nation. You can also directly have a look at them by clicking on the picture on the left.
---
Jack Stack BBQ

Sometimes you feel like eating BBQ without cooking it. The Jack Stack BBQ review tells you how to do that.
I am working on finding more online butcher stores that will offer special boxes for the grill. So, keep your eyes open for updates.
The reason I started this separate page is that I love to grill and smoke meat in the summer and even in the winter season.
Many people believe that grill season is from Memorial Day to Labor day, but that is not true. You can grill or smoke meat all year round. Many of the online butchers I reviewed here are having sales all through the year and you should take advantage of that fact.
Ordering meat online is, in my opinion, very affordable compared to all the driving you have to do to buy it in a regular store. Another advantage is that you can so easily choose the cuts of meat you plan on cooking
As I mentioned earlier in this BBQ subscription box review page most of the companies I wrote about on our meat page will also give you the chance to order meat for your grill, BBQ, or smoker.
However, the ones on this page have explicitly made BBQ packages to cater to the grill masters. Some of them, like Snake River Farms, even have competition BBQ packages available.
If you are looking for the best online meat delivery services you can have a look at that page on the menu.