The reason for me to do a Carnivore Club review was that I had heard of it but not really knew what it was. Here is what I found out about their charcuterie and artisanal meat delivery service.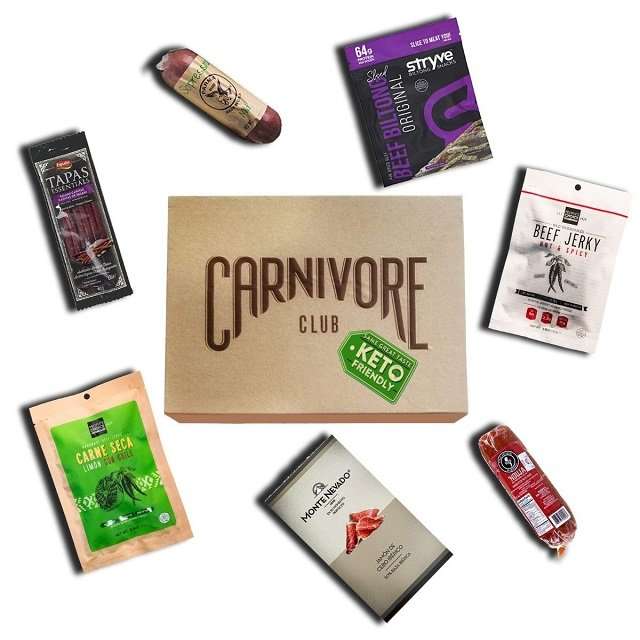 What is the Carnivore Club?
Basically, they are a subscription meat box delivery. The difference between the regular meat delivery services is that they deliver hard-to-find charcuterie and artisanal meats.
The word charcuterie comes from French (1) and is basically a name for a cold meat collection. I had a look at their Facebook page and read their mission statement.
"We deliver our members the best charcuterie and artisanal meats from around the world"
Their meat is coming from all over the world and I bet that it is not available in your local grocery store.
Carnivore Club offers these boxes in several price ranges since 2013. The prices range from 20 dollars to 100 dollars and above. It all depends on what you like to order.
You can order the following Carnivore Club boxes:
Classic boxes
Charcuterie
Jerky
Gifts
Classis Box
The boxes are also available in different price classes. With the cheapest being 29.99.
Some examples of the Carnivore Club Boxes are:
Wisconsin River Meats
Wild game sampler
Keto meat snack sampler
Charcuterie
These boxes contain specialty cold meats from all over the world, but I looked at them and think most of them come from French and Italy.
To name a few that you can order I made a small list.
Rustico salami
Salsicca secca picante
Tuscan style salami
The names all might be strange and very European but I found a video of someone unboxing and tasting one of the Carnivore Club Charcuterie boxes.
Jerky
For Jerky lovers, the Carnivore club has a large variety to choose from.
It will take a long list to tell you about all the Jerky flavors they have so again I made a shortlist with flavors that look interesting to me.
Sriracha beef
Mango
Holy cow
Peri peri
Gift Boxes
All these Carnivore Club gift boxes also make a perfect gift. They are probably not for everyone but you know who would appreciate one of them as a gift.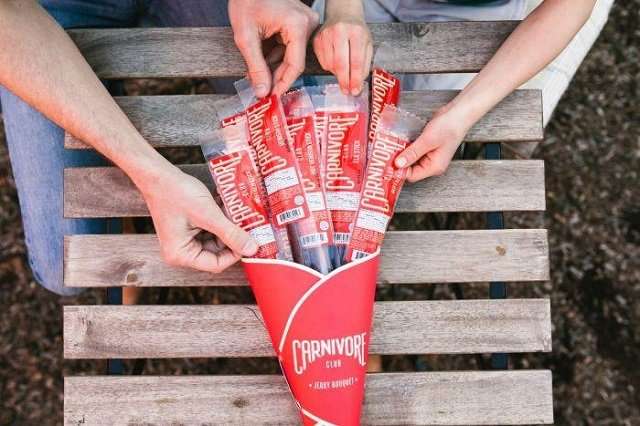 How to subscribe to Carnivore Club
All you have to do is go to their website and click on the "join the club" option on the menu. After that you have two options:
One time purchase
Subscription box
The subscription has 2 options. Monthly, Every other month or every three months.
I like the idea that you are not stuck with a monthly option and I think more of these types of services like these ones I reviewed should have that option.
The boxes are filled with select meats from different suppliers every month. This ensures you will not receive the same one ever. If you like a particular piece you can order it separately of course.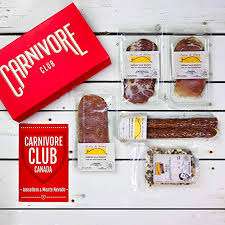 How do you Order and Pay for Carnivore Club
I looked at how to order and pay for a box in this Carnivore Club review and it is pretty straightforward. You order the box or boxes you like and add them to your cart. After that, you fill out the shipping address and pay with your credit card.
To order one of the subscription boxes you have to join the club and after that, you can set up your subscription recurrence as I mentioned above.
There is one thing you have to know about delivery and that is that it can take a while before you get your box delivered.
The reason is that all orders that are placed in the current month are shipped the next whole week of the next month.
This means that if you order early in the month it can take up to 4 or even 5 weeks before you receive it.
Delivery
Delivery is done through USPS and Ups. In Canada through Canada post and CANPAR. You don't have to have it delivered to your home address but can also choose a post box at your local post office.
Canceling
If you ordered through the Carnivore Club website you can cancel there. If you, however, ordered one of the monthly description boxes at Amazon and like to cancel you have to do that through your Amazon account.
Pros and Cons
No company has only pros and I list all the Carnivore Club pros and cons here for you.
Pros:
Premium handcrafted meats
Unique meat in each box
Ready to eat
Cons:
No choice of what is in the box
Canceling only possible after 3 months
Box contains no recipes
Worth The Money?
This brings me to the question of whether the Carnivore Club boxes are worth the money.
I compared the prices of the box by ordering some of the meats separately from other websites and can only say that ordering from Carnivore Club saves a lot of money.
So, in my opinion, they are worth the money. Also because they get delivered to your doorsteps.
Refunds
Carnivore Club does not offer refunds in money. They do, however, offer to replace the box in every order that went wrong from their site.
All you have to do is send an email and attach pictures of the damaged product.
My Opinion after the Carnivore Club Review
Here is a review of a Carnivore Club box I found and I just re-wrote it in my own words. There were five packed types of meat and that was:
Pepperoni
Sopressata
Spanish chorizo
Uncured Salami
Cremosa tartufa
If you are like me you probably have never heard of a few or most of them. Tasting new kinds of meat can be a little of a challenge and I am sure not all of them will end your "favorite" list.
But I think that is one of the advantages of their boxes. You never know what you get and I personally like that.
As a matter of fact, when I go out for dinner I like to order anything I cannot pronounce or have never eaten before.
The Carnivore boxes are in my opinion not to replace the meat at a meal. They are more for snacks or to eat with some kind of cheese plank, but that is personal.
The freshness was one of my concerns but since all the meats are packed airtight they stay fresh for 1 to 3 months even at room temperature.
Even if they can't deliver to your doorsteps when you live in an apartment building you can pick it up at the post office the next day and it will still be fresh.
Overall I think that my Carnivore Club review shows that this is not for everyone. If you, however, like to try new things and different flavors of cold meats and sausage this is the place to go.