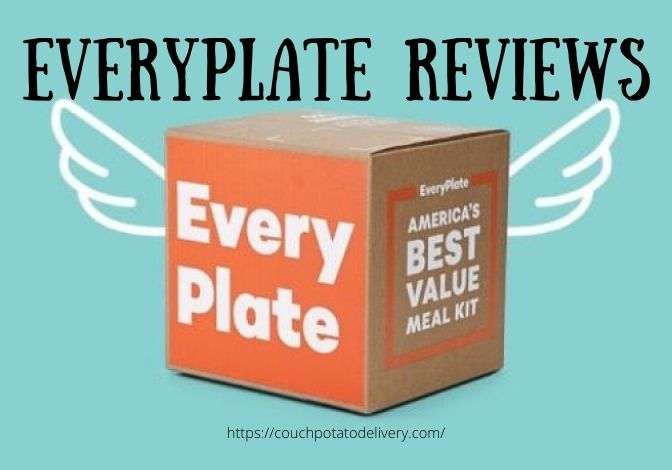 EverPlate catches the eye for one interesting reason; it's one of the most affordable meal kits in the US market. At only $5 per serving, the company promises you a delicious dinner, prepped and ready within 30 to 40 minutes.
However, cheap and delicious don't always go hand in hand. So, it's time to put this company under the scope and bring you some EveryPlate reviews.
Popular meal kits like Gobble, Blue Apron, Home Chef, Green Chef, and Freshly have revolutionized how we approach lunches and dinners. Today, it's easier to prepare a gourmet meal (with no prior experience in extensive cooking) than it is to walk into a five-star hotel and order a plate.
Such is the ease and convenience of some things in 21st-century America. However, this convenience almost always comes with a premium cost attached to it. Or at least it used to; that is until food delivery services like EveryPlate entered the market.
Try Everyplate at $2.99/meal + get 20% off next 2 boxes!
EveryPlate Pros
Very affordable
Simple and fast meals
Flavorful
Uses less packaging
It's easy to pause or cancel a subscription
EveryPlate Cons
No dietary accommodations
Not as many plant-based options
Meal boxes can be a little disorganized
$9 shipping cost
What is EveryPlate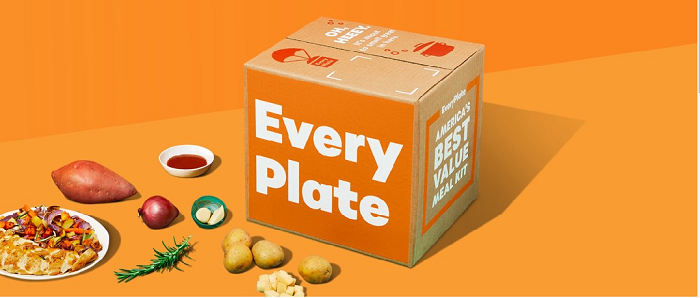 My EveryPlate review shows it is a food delivery service that deals primarily in meal kits. It's an offshoot of the well-known Green Chef, popular for offering pre-prepped and portioned gourmet meals. Green Chef was recently acquired by HelloFresh, giving Everplate the backing of one of the most popular names in the game.
However, the company takes a completely different route from its parent company and aims to be the most affordable meal kit in the market. EverPlate states on its website that its ultimate goal is to "help consumers put simple, filling, and delicious dinners on the table at a comfortable price for everyone to enjoy."
And so far, it's probably done that since paying five dollars for a simple and delicious dinner counts as affordable in everyone's book.
Ready To Have A Look At Their Website? Click Here!
How Does EveryPlate Work
Ignoring the cheaper price point, EveryPlate is much like your typical meal kit delivery service. It has a recurring subscription service, meaning that the meal kits will be charged off your credit card until you decide to cancel.
The service allows you to select a set number of weekly meals, which are then delivered in a box right to your doorstep on your preferred day.

The company's approach to simplicity starts with the signup process on its website. Many new users enjoy the quick signup protocols of the service. Yours is to select a serving plan and how many meals you want per week, fill in some contact, shipping, and billing information, and you're ready to go.
Evergreen offers simple everyday meals. However, since they're trying to keep costs down, they do not offer special categories for dietary accommodations.
Ordering
After signing up, ordering is pretty simple. You pick meals from either two-person plans or four-person family plans. There are no additional options available. For each plan, you can order a minimum of 3 meals per week and a maximum of 4 meals per week.
Pricing
Looking at the Everyplate cost they start at $4.99 per serving, EverPlate is as cheap as meal kits come. In fact, it costs less than half of what most food kits charge for the same amount of food.
Only Dinnerly, at $4.69 per meal, competes with EverPlate in terms of pricing. And just like EverPlate, Dinnerly comes from a well-known parent brand; Martha Stewart & Marley Spoon.
Unlike most food kits, EverPlate's pricing doesn't scale across meal plans. Whichever number of portions and meals you decide to buy; they will always be billed at $4.99 per serving.
First-time subscribers also get to enjoy massive discounts. Depending on the prevailing promotion, you can save as much as $80 on your first three boxes ($1.99 per meal).
However, note that EverPlate charges $8.99 in shipping fees for every delivery.
Did you know that they also own Hello Fresh and that I did a HelloFresh review so you can compare the two?
The EveryPlate pricing looks like this; Those are the prices at the time of my writing this review.
Dinner for two: Three meals a week, two servings each: $29.94 + 8.99 shipping
Dinner for two: Four meals a week, two serving each: $39.92 + 8.99 shipping
Dinner for two: Five meals a week, two servings each: $49.90 + $8.99 shipping
Dinner for four: Three meals a week four servings each: $59.88 + 8.99 shipping
Dinner for four: Four meals a week, four servings each: $79.84 + 8.99 shipping
Dinner for Four: Five meals a week, four servings each:: $99.80+ 8.99 shipping
You can also add a couple of premium items to your servings. These items are either seafood or steak options (one or two available per week) and cost an upcharge of $3 per serving.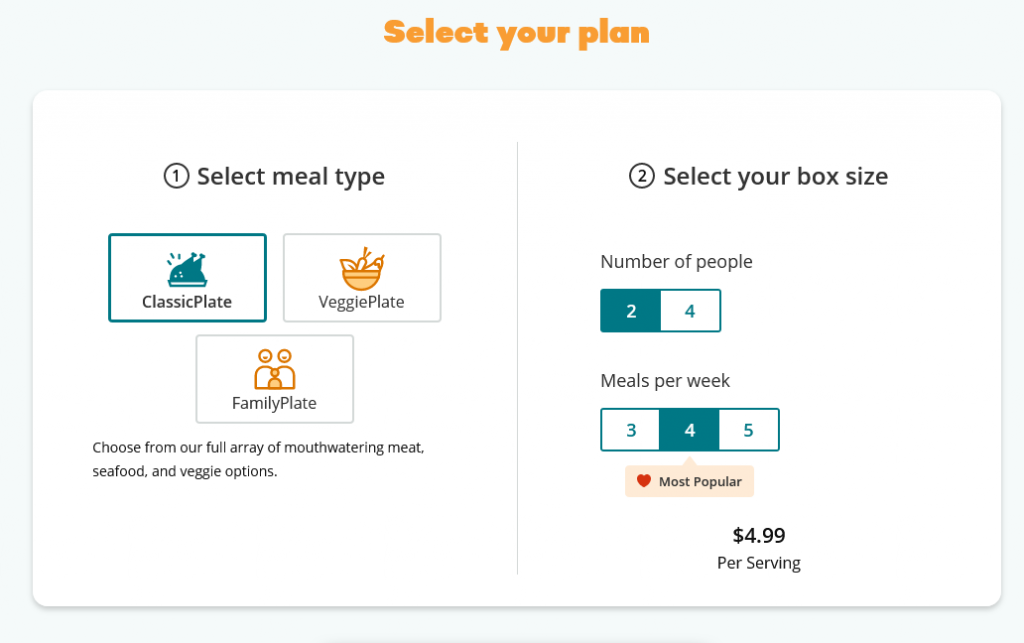 Click Here To See All EveryPlate Plans.
Shipping
The meal delivery service ships to most states in the continental US. Before shipping, the meals are sealed and packaged together with large ice packs. The packs allow the food to stay cold for up to 48 hours. So, you don't have to worry about not being around when your meal kit arrives.
Vegetarian meals pork and poblano tacos premium meal
The ingredients are usually well arranged in a nice cardboard insert that the company refers to as a tidy tray. The tray is like a little storage container for ingredients, making it easy to unpack and transfer items to the fridge.
The boxes arrive every week on Tuesdays, Wednesdays, Thursdays, or Fridays. Which day yours gets delivered is entirely up to you. There is also the option to skip weeks when you feel that you've had too much Every Plat for comfort.
Something we liked about EverPlate's delivery is that they let you provide instructions on where you want your package left. You can also skip a delivery or change your delivery date without the need to contact customer service.
What comes in the box?
A typical EverPlate box has the necessary ingredients packaged in a cooler box with ice packs. The ingredients are wrapped in recyclable plastic. Compared to other meal kits, the company doesn't include too much unnecessary plastic in its packaging. However, some customers still find an issue with its presence in their delivered meal boxes.
What you won't find in the box are pantry items like pepper and salt, oil, eggs, and flour. If your meal requires any one of these ingredients, be sure to have them on hand before you start prepping.
With each meal are well-illustrated recipe cards with easy-to-follow step-by-step instructions. The card states any missing ingredients you may need and addresses any slight changes to the recipe when you swap a side or protein.
If you misplace or damage the cards, EverPlate has a basic app that you can refer to for guidance. The app is a great support material that allows customers to track deliveries, view allergen information for each meal (not listed on physical recipe cards), change your orders, and view recipe cards.
There are no special tools needed to prepare EverPlate meal kits. You only need the basics, like knives, pans, cutting boards, pots, baking trays, bowls, and measuring cups.
Unboxing and Cooking EveryPlate
I always watch as many videos as I can and for my EveryPlate reviews I did the same. Here is one that shows receiving, unboxing, and cooking with an Everyplate meal kit.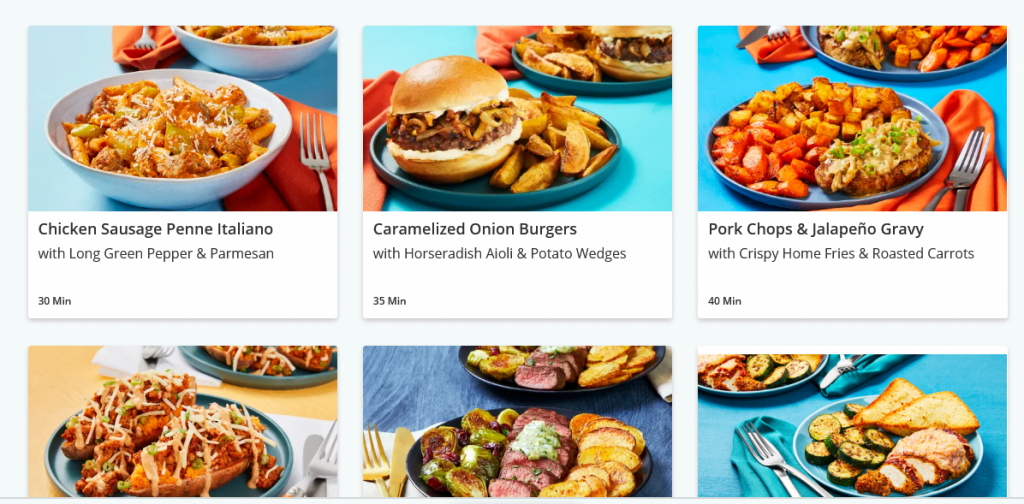 Since the company is all about cost and convenience, it doesn't have the most exciting of menus. Instead, it's big on comfort foods, largely consisting of pasta, pork chops, tacos, meatloaf, and chicken pot pie recipes.
The EveryPlate reviews show the menu isn't exactly the largest in the industry. It consists of 14 options, which are, fortunately, rotated each weak to maintain variety. Each dish is the traditional balanced diet, i.e., it includes a vegetable, protein, and some kind of starch. Their side offerings include lots of white rice, mashed potatoes, noodles, and roasted carrots.
There are also two protein packs available each week; chicken breasts and ranch steaks.
Is the food tasty?
EveryPlate's menu doesn't instantly light up your eyes as they have included many low-cost ingredients like potatoes, rice, and pasta. However, the foods are actually more delicious than you would expect for a five-dollar dish. Depending on your dish, the culinary team also includes a hoisin (Japanese BBQ sauce), dijon sauce, or a sweet apricot to liven up a plate with a few international flavors.
The meals are also easy to prepare and should take around 30 to 45 minutes to cook. Here is a list of few dishes that caught our eye as we were exploring their menu;
Shroom & Pepper Jacj Quesadillas
Roasted Bell Pepper Flatbreads
Vietnamese Chicken & Rice Bowls
Black Bean & Pepper Jack Tostadas
Zesty Herb-Rubbed Salmon
Roasted garlic mashed potatoes
Charred Zucchini & Tomato Melts
Nutritional Value
The EveryPlate meals are as good for consumption as everyday home meals can be. However, the service is not as big on nutrition as other meal kit services out there. After all, they follow a comfort food template more concerned with convenience and affordability for their customers.
The company's meals are typically high in fat, protein, and saturated fat. This is because the company uses less expensive cuts of meat. The carb count is also quite considerable due to the prominence of potatoes and pasta on their menu.
EverPlate's calorie count ranges between 600 and 1000 for most items. This relatively high count may not inspire desire in people looking for the healthiest of meals. However, if you still want to enjoy their dishes but are worried about the calorie count, you can try options that lean more on vegetables. Fortunately, their website displays the nutritional information of every meal, making it easier to choose meals that fit your prevailing nutritional preferences.
Dietary Restrictions
EveryPlate may have some vegetable dishes, but it doesn't cater to people with dietary restrictions like low-sugar, paleo, or keto. The vegan and vegetarian options are also very limited, so it's not great for people following a vegetarian diet.
The company also lacks specific meal plans for people with allergies. However, they have provided allergen information alongside their recipes. This is largely a good measure, but it also means that allergic customers have to manually look for options that best meet their needs, which can be pretty tiring.
The EveryPlate Difference
EverPlate is one of the most affordable meal delivery services in the market. But even then, this low-cost approach doesn't have as much of an impact on the taste as you would expect it to. Their foods are tasty for the most part and some can even be called mouthwatering. They also attempt to be a little adventurous with their dishes, which is rare among budget meal kit services.
Though not perfect, their packaging is also quite commendable. Many meal delivery services include a lot of plastic in their delivery boxes; so much that it makes recycling harder than it should be. On the other hand, EveryPlate includes few plastic wraps, most of which are recyclable. The box liners are recyclable, and so is the outside plastic wrapping of the ice packs (as long as you completely drain the gel).
However, it's not uncommon to find loose ingredients in the packaging.
Who is EveryPlate Good For
EveryPlate is good for anyone looking to enjoy a meal kit delivery service without spending top dollar. If you want to learn some new recipes or looking to mix up your weekly menu without visiting the grocery store, this is a kit we would recommend. The affordable pricing and easy cooking process also make EveryPlate recipes a good option for college students.
EveryPlate meals are also good for those who like comfort foods and don't mind carbs. Finally, those too busy to cook every day will find the relatively quick cook times of the company's meal kits super convenient.
Who is EveryPlate not Good For
We wouldn't recommend EveryPlate if you're someone with special dietary needs as their menu largely consists of everyday comfort needs. So, if you're a vegan or following a low-sugar, paleo, keto, or gluten-free diet, the meal kit service won't provide you with what you are looking for.
EveryPlate has allergen information, but it's often up to you, the customer, to read through their recipes and use your best discretion to avoid some foods. While this works well for most people, it carries a significant risk for people with severe allergies. So, it may not be in your best interest to take the risk.
The simplicity of the average EverPlate meal kit also means that experienced chefs looking to better their skills will find better utility in other meal delivery services.
EveryPlate reviews – My Opinion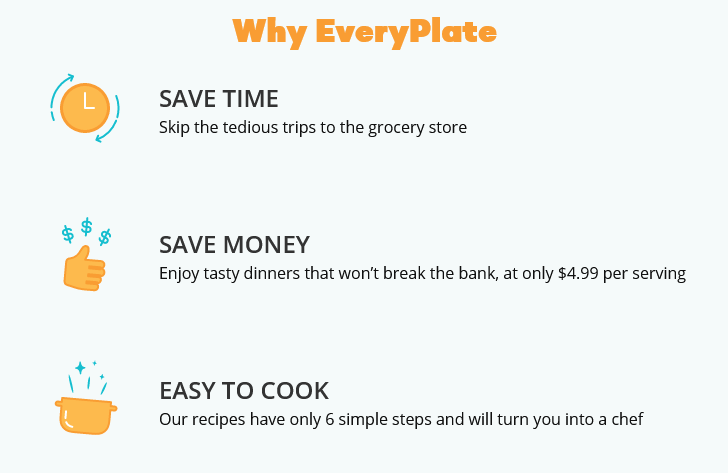 EveryPlate is one of the most interesting meal kit services out there. It tries to be the cheapest meal delivery service and thus, makes meal planning easier and allows customers to enjoy tasty meals at a super affordable price. It may not offer as big a menu as Blue Apron and Freshly, but what it lacks in variety, it makes up for through convenience and cost.
If you have a limited budget and/or are looking for simple meal delivery kits for everyday foods, EveryPlate sits at the top of our recommended list.
Click on this line and try EveryPlate at $2.99 a meal and 20% off your next 2 boxes.