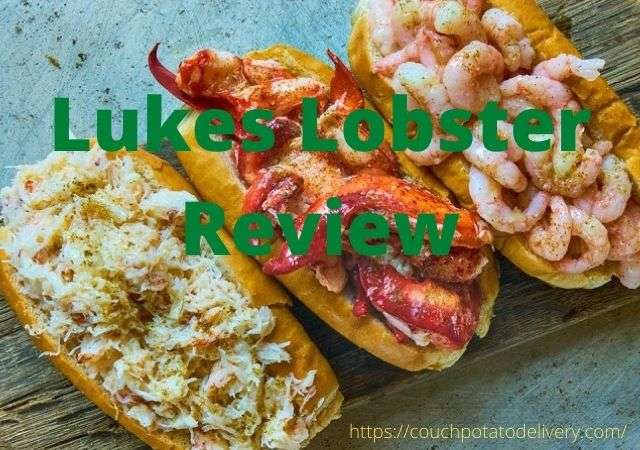 The reason I did Luke's Lobster Review was that if you are looking for a delightful, memorable, and delicious dining experience while on the road, staying in hotels, or just entertaining family or friends at home? You should definitely keep Luke's Lobster in mind and get yourself one of their outrageously delicious lobster lessons.
The next time you have company at your house for dinner, arrange your own roll bar and let everyone try something different. You can even have one of their delicious rolls along with a cup of creamy clam chowder and melted butter on the side, served in a bread bowl.
Luke's Lobster, with their remarkable lobster rolls, combines their fresh, delicious seafood with their engaging personalities, and that's how they create a truly unforgettable dining experience for you. I was able to try their soft-shell crab roll and honestly tell you that it was one of the most delicious soft shell crab rolls I have ever tasted. I loved it.
With me, it's all about the buns and Luke's soft, griddled brioche bun down pat. It's so moist and delicious that you really can't go wrong. That being said, let's have a look at their other things on the menu, and Luke's Lobster is truly an over-the-top refreshing experience.
This review is also part of my quest to find the best online seafood.
In A Hurry? Click Here To Go To The Lukes Lobster Website
What is Luke's Lobster?
Founded back in 2009 with an ambitious mission – to serve the freshest seafood dishes to food lovers without shunning quality or quantity – Luke's Lobster is still all abuzz with news of an expansion, indicating that the restaurant continues to capture the imagination of seafood lovers everywhere, reaching not only across the nation but also the hearts of many across the world.
The secret behind Luke's Lobster's stunning success is in their continued relationship with their loyal customers, who love their affordable prices, freshness, and incredibly friendly service.
The restaurant is directly connected to fishing companies in the region, enabling them to provide only the freshest and best quality seafood for its customers. The restaurant also offers organic produce, ensuring that all its ingredients are naturally abundant.
With this, the restaurant is hopeful that its ingredients will speak for themselves. When you visit the restaurant, make sure you include at least one of their refreshing dishes in your order so that you can truly enjoy the delicious taste of their homemade seafood delicacies.
What is better than a video explaining what I am trying to do here.
How Luke's Lobster Works?
What makes the best online seafood taste even better? Behind every delicious seafood and lobster roll served or ordered at Luke's lies the passion, persistence, and strong connection with local fishermen and sustainable fishing.
Luke's Lobster goes straight to the source, cutting the middleman out and getting fresh lobster, crab, and shrimp, ensuring every customer gets to enjoy the highest quality of seafood on the market without breaking the bank. It's a win, win for everyone!
You'll be delighted to explore the many outrageously delicious and refreshing dishes on their menu, and trust me; you will find something that will suit your tastes perfectly. Here are some of their top-selling dishes:
1. Lobster Roll:
Between two soft griddled brioche buns is a four-ounce pile of the freshest lobster meat available, made with the highest quality aged mayonnaise. Order with a side + drink or ask for a Jumbo Roll, and you are in for an overwhelming experience that will surely leave you wanting more.
2. Crab Combo:
Delicious and oh so fresh, this dish consists of a crab cake with stone crab, served with your choice of scallop, shrimp, or lobster mac and cheese. It's a delectable dish that will delight your taste buds while taking you back to an unforgettable experience.
3. Shrimp Combo:
Consisting of a large bowl of shrimp-fried rice, this roll is satisfyingly savory and filled with plump shrimp that will leave your taste buds wanting more. Satisfying and super delicious!
4. Luke's Trio:
The trio of crab, shrimp, and lobster is sure to make you go bananas, with their freshness and quality being a sure head-turner. I don't even know yet how they do it, but this dish will make you forget all about your birthday.
5. Wild Blue Salad:
Truly unique and a must-try, this salad is a refreshing treat with the typical salad ingredients of lettuce, white beans, mixed greens, blueberries, and more, being enhanced by sunflower seeds and honey balsamic vinaigrette. It's a delightful treat when paired with your choice of any seafood roll.
6. Vegetarian Wild Blue:
A great choice if you are looking at adding some greens to your diet, this dish will give you the critical nutrients for your health without compromising on taste or quality. A salad packed with fiber and protein is what makes for great health.
7. Lobster Grilled Cheese:
You can't tell me that cheese doesn't melt in your mouth, Serve it with lobster, and your taste buds will be in for a treat. This is one dish that you can't pass by and definitely one you should try, especially if you are visiting Luke's for the first time.
8. Crab Grilled Cheese:
This is also one of my personal favorites, it's so delicious, and you get to enjoy the crab along with cheese, which I think is a quintessential taste delight. If you wish, you can add avocado, and it will make the perfect combination. I tried it, and it was so delicious.
Ready To See All These In Lukes Lobster Store? Click Here!
Luke's Lobster's young customers are often hard to impress, but it is common knowledge that little everybody loves seafood, and Luke's Lobster is so well aware of this fact that they have come up with a special menu for their young diners, and the kids simply love this.
1. Hot Dog:
Featuring real cut hot dogs, this dish is a winner for your little ones and one that will give you some time off. Made with the freshest ingredients, this roll is one of the most popular among kids.
2. Grilled Cheese:
Another specialty in Luke's Lobster kid's menu is the grilled cheese, which is the country's favorite, and it shows! The dish has remained the same after all these years, and because of its timeless appeal, it is all the more special.
3. Sunbutter And Berry Jam:
When you think of diets, we all know that berries are good for health, and so is sun butter, and with this dish, you are not only getting a great taste but also being healthy.
4. Kid's Lobster Roll:
What better way to enjoy lobster for the first time than mixing it with a child's favorite dish, a grilled cheese sandwich. An excellent choice of a scrumptious treat for a child who is just discovering the taste of seafood.
Ready To See All These In Lukes Lobster Store? Click Here!
Luke's Lobster Delivery
Luke's Lobster understands that today's fast-paced life can get exhausting at times, but that doesn't mean you should still find time to have delicious soft-shell crab rolls at home.
It doesn't matter where you are, Luke's Lobster will take your order online, and with their efficient, fast, and friendly service, you can just sit back, relax and have your meal delivered right to your doorstep.
You can also place orders for oysters, Gourmet Truffle, party packs, and more to be delivered to your doorstep.
How to Place Online Orders with Luke's Lobster?
Luke's Lobster online ordering is a super simple and easy way to get your delicious seafood delivered right to your doorstep, whether it's your place of work, your home, or an office party.
Simply go on to the restaurant's website, where you can place your order online in three simple steps:
1. Choose Your Seafood:
Browse through the menu, if you are looking for a scrumptious treat for your family or friends, choose one of the Roll Bar items or simply choose one of the many seafood combinations.
2. Pick A Date:
You will need to choose your desired date and time for delivery. That's it. Your lobster roll or seafood combination will be delivered to you on time, and you will be left with nothing but a scrumptious dish to enjoy.
3. Complete Your Order:
Once you are done making your choice, go ahead and complete your order by selecting a delivery window, paying for your preferred choice of roll, and sitting back and relaxing until the food arrives on time. This is truly a fun and exciting way to enjoy an incredible and delicious meal.
Ready To See All These In Lukes Lobster Store? Click Here!
Lukes Lobster Review – My Conclusion
Luke's Lobster is a company that understands seafood lovers' needs and desires to have the freshest and best-quality seafood dishes to enjoy in their own homes or at parties, and that's why they have an online ordering service that makes purchasing their dishes so simple, fast and convenient.
From start to finish, your entire online fresh seafood ordering experience will be full of surprises and 100% fun, all thanks to their efficient and swift online ordering and delivery service.
All you need to do is choose your preferred seafood roll and complete your online order and rest assured that your delicious dish will arrive at your doorstep on time. You can't go wrong with this. Give it a try here and see for yourself. Enjoy your meal and take care!