Before I dive into the Grill Masters Club review I have to admit that, in most cases, I am not a big fan of commercially made rubs and sauces.
The reason is that many of them contain a lot of salt and although I know we need salt in our diets the amount of it in these rubs and sauces is most of the time very high.
What is the Grill Masters Club?
Although not a BBQ subscription box, like these, with meat in it, is still worth mentioning here.
The Grill Masters Club is a BBQ subscription box that you sign up for and they will send you a box filled with goodies for the grill every month.
Most of the time, or should I say pretty much always the box will contain a rub and a sauce. It depends on the month and what other things are included in the box.
It can be things like a tool to use on your grill, a bottle of hot sauce, or even a baggie of wood chips to test on your smoker,
One thing I can tell you is that you will not find the brands you can buy in your local stores. All these rubs and sauces come from local and small manufacturers around the county.
Who should order from Grill Master Club?
If you like to cook on the grill the Grill Master Club is something for you. If you like to give a present to someone then this is also a nice opportunity for that.
I think that the Grill Masters Club is good for any type of backyard griller. From the person that once in a while fires up the grill to the hardcore grill masters that cook on the grill or smoker almost daily.
How does Grill Masters Club Subscription work?
As I mentioned before each month you will receive a Grill Master Club box (1) with different content.
There are many options available to sign up for a box.
1 month
3 months
6 months
12 months
The grilling subscription box will be shipped to your house in the first week of every month. I did some research and found that the three-month subscription is the most popular one.
One extra is that when you sign up for the Grill Master Club you will get access to the community and you can find many recipes there. You can also interact with other members and share information, tips, and ideas on grilling.
Grill Master Club Prices.
Only the sun comes up for free and you will have to pay for your box. With the popular 3 months subscription option you will pay $37.99 per month at the time of me writing this.
Although the shipping cost is low, you still have to add $4.90 per box. They used to have a shipping fee for all 3 months but have changed that. This new rule is actually cheaper.
So taking into consideration the weight of the boxes I think the shipping is very reasonable.
What Comes In The Grill Master Club Box
As I mentioned above the content of the box changes every month and most of the time it comes with a rub, a sauce and some other things to be used on the grill.
I found a few examples of boxes and the content for you.
Grill Masters Club example box 1
Bacon BBQ sauce
Honey mustard
Chimichurri seasoning
BBQ chicken rub.
Box 2 Grill Master Club example Box 2
Vaughn hickory chips
Wright rub
Peach chipotle sauce
Grill pinch
Grill Masters Club example box 3
Heat resistant gloves
Vaughn wood chips
Loubier bbq sauce
Loubier Italian topper
Let's have a look at someone opening a Grill Masters Club Box
Pictures of the Grill Master Club content.
A picture paints a thousand words is the saying so here are pictures of what comes in the boxes.
BBQ Sauce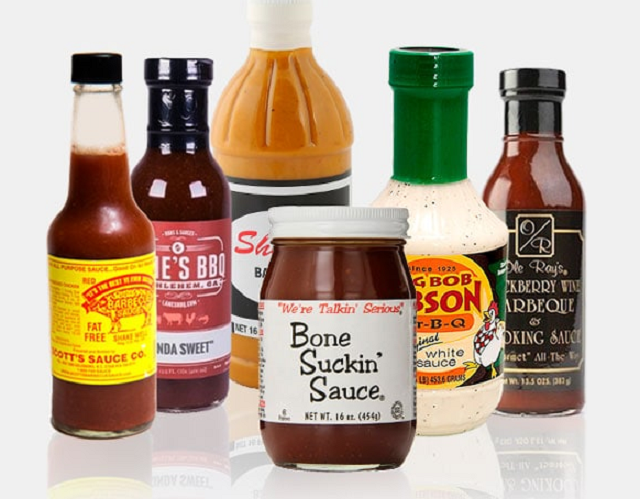 BBQ Rubs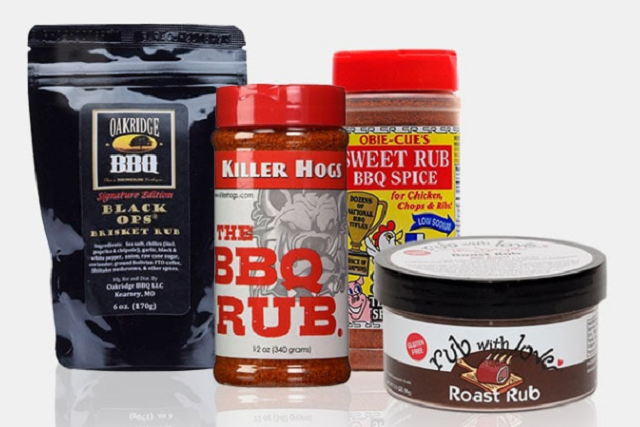 Goodies in the Grill Master Club Box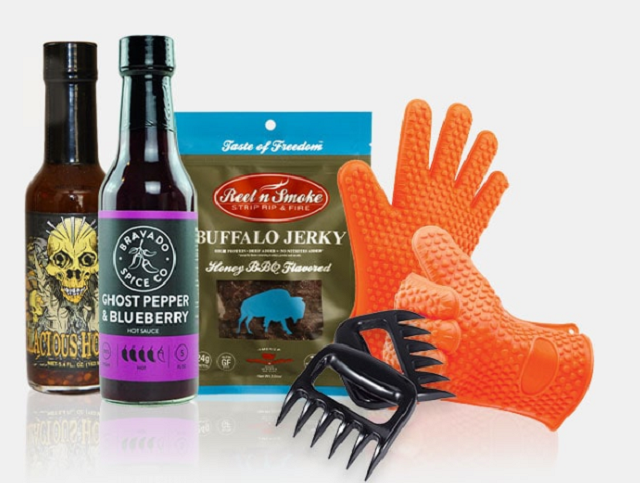 Wood Chips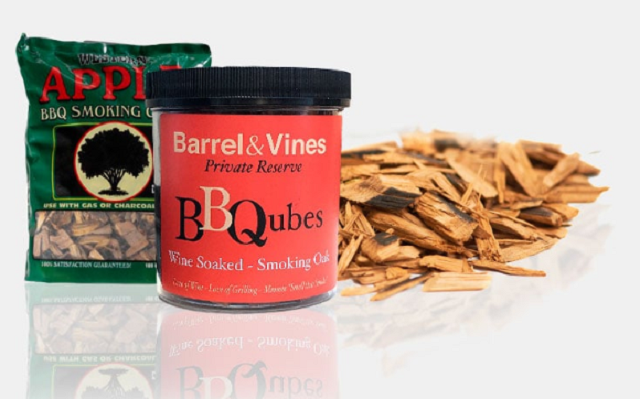 Altogether these boxes show that there is a lot of variety in the Grill Master Club boxes. Of course, not everything is maybe what you like or what your taste buds like.
It is, however, a great way of testing new flavors and finding new seasoning and sauces from smaller companies all over the country that you would normally never have tasted.
If you take into consideration the different styles of sauces that are made, I alone have at least 5 recipes that I regularly use, there are tons of flavors to taste.
Of course, many of them will taste similar since we all basically use the same ingredient.
Pros and Cons of the Grill Master Club
The Grill Master Club subscription boxes are not for everyone. But even if you only grill occasionally it is still a great way to have some ready-made sauces and rubs ready for use. Even in the spur of the moment.
Multiple subscription options.
Monthly new flavors.
Affordable.
You can't choose what comes in the box.
Some products can be not for your taste.
Grill Masters Club Review – My Opinion
After doing a lot of reading for this Grill Master Club review I think it is a nice option to find new flavors and ideas to cook on the grill or smoker. Some people also call it a barbecue sauce of the month club.
The boxes contain things that you would probably never had found in your local store. The convenience is that you do not have to go out and look for new items they just get delivered right to your doorsteps every month.
I like the fact that you can choose from several monthly subscription options and are not stuck with a contract for a longer period.
For trying the Grill Master Club I suggest going for the 3-month subscription. First of all, this is a nice period to give it a try and you don't have to fork out too much money at once.
I hope you enjoyed my writing here and it gave you an idea of how the Grill Master Club works and what the options are for signing up.