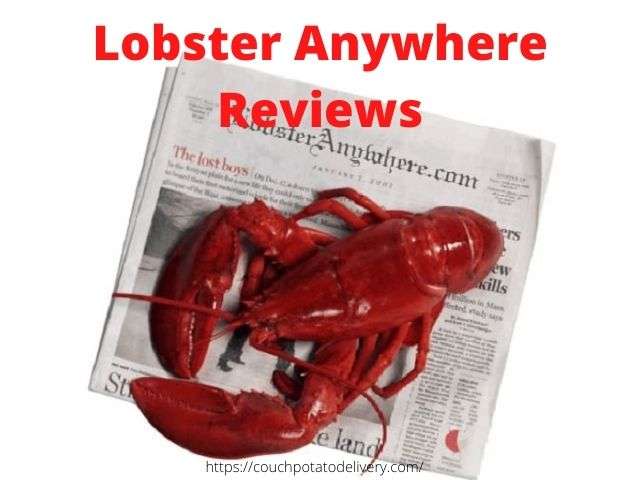 Online seafood delivery is changing how and where we enjoy our favorite plates of seafood. And while this is mostly a good thing for customers, it can be quite challenging to go by.
Not to worry though, Couch Potato Delivery brings you unbiased Lobster Anywhere reviews of this online seafood delivery service to help you with your buying decision; and in this review, we will be putting Lobster Anywhere and its services under the microscope.
There are lots of vendors out there all claiming to offer the fresh seafood that you desire to have on your dinner table. So, who do you choose from?
It would be easier if you could physically inspect their wares, right? But you can't- which increases your chances of having disappointing substandard food delivered to your doorstep. Find all you need to know in this Lobster Anywhere review.
What is Lobster Anywhere
Lobster Anywhere is a seafood delivery company based in Amesbury, Massachusetts (1). It has been in operation for over three years, providing premium seafood and Maine lobsters to hotels, white-tablecloth restaurants, and large institutions from all over the country.
Today, Lobster Anywhere has expanded their operations with an established and working e-commerce platform to include regular consumers that want their lobsters delivered to their doorstep.
How Does Lobster Anywhere Work
As the name suggests, Lobster Anywhere focuses on lobsters, providing Maine lobster, lobster meat, lobster rolls, lobster dinners, and lobster rolls. Nonetheless, they also include delicious chowders and bisques, amongst other seafood items like colossal shrimps, fresh scallops, and delicious New England desserts.
The company works directly with fishermen to ensure that their lobsters and other seafood are as fresh as possible at the time of delivery.
Ordering
Ordering from Lobster Anywhere is a pretty straightforward procedure; no subscriptions, and no limits on how much or how little seafood you can order from them. Therefore, you are not bound by many inconvenient rules as you order, but here are a few things to consider;
Place your orders by 2 PM Eastern Time if you want your lobsters delivered on the following day.
When you order in advance, you can choose the most convenient delivery date for you from Tuesday to Saturday or a further future date.
If you want to enjoy the maximum freshness, have your fresh seafood delivered on the same day you plan to make a meal out of them.
As for frozen seafood, it is best to pick a delivery date that is one day ahead of your dinner plans.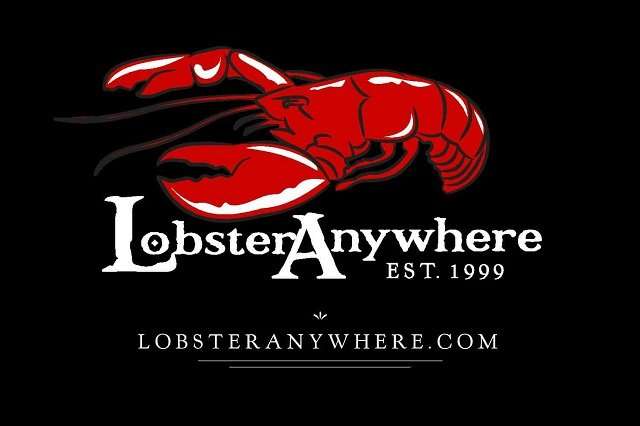 The Lobster Anywhere Difference
Lobster anywhere strives to attain perfection in its operations. Therefore, they have developed certain practices to set them apart from other online seafood vendors.
Lobster Anywhere is a wholesaler
The company sources large amounts of seafood to cater to the large demands of the big institutions, restaurants, and hotels that buy their seafood. The economies of scale work in their favor and therefore, they can provide their products to average consumers at a relatively lower price than other retailers. They are also able to give their customers a few extra perks like excellent accessories in every delivery, without increasing the price.
Fresh quality seafood all the time
The seafood sold by the company is of excellent quality and in a fresh state. They source their lobsters straight from the local fishermen and women, and the creatures spend as little time as possible in refrigerated tanks. Once they are placed in these tanks, the staff immediately grades and handpicks the seafood in preparation for delivery. They are then packed with lots of super-cold gel packs, ensuring the maximum freshness of your lobsters when they arrive at your doorstep 24 hours later.
Style
It might not seem like a big deal, but Lobster Anywhere cares about how their seafood is presented, and many of their customers love that. No matter the status of the customer, the lobsters come in a distinctive and classic flair package. Their products are carefully curated and they include accessories of the highest quality to "make your New England experience authentic."
They help customers improve their seafood preparation skills
Lobster Anywhere provides lots of resources to help turn you into a master lobster and seafood cook. Included in the packaging are recipes, guides, and other useful items that will boost your knowledge of seafood and its preparation. In addition to that, they have a special section on their website called Lobster University blog.
This section provides additional recipes, cooking tips, and cooking tricks. There are guides to help lobster freshmen know how to handle and cook seafood, with suggestions of excellent wines, appetizers, and other
Customer rewards
To reward loyalty, the company has a good Sand Dollar Rewards Program. For doing something as simple as becoming a registered customer, you get 15,000 sand dollars. If you write a customer review on their services, you get 20,000 sand dollars and an e-certificate. You are also rewarded with 100 sand dollars for every American dollar spent at their online shop.
Gift certificates
The company also offers gift certificates to surprise other seafood lovers in your life. These certificates can be sent via email or snail mail, with the cheapest starting at $25 and the most expensive at $1000. No matter how much your gift card costs, it looks like your loved one will be in for a seafood treat.
Good customer service
The company not only provides a quick and secure ordering service, their customer service line is toll-free just in case you encounter any issues or hiccups along the way. You can also track your order and the experience they have garnered in the fish market has helped them find excellent ways to deliver fresh seafood even to the remotest of areas.
Lobster Anywhere Unboxing Video
Probably a video can explain things a lot better than I can. Here is one of unboxing a Lobster Anywhere shipment.
Lobster Anywhere Products
As stated earlier, the company mainly offers lobsters amongst other seafood products. It is quite an excellent range of products, and here is a deeper look at each of its offerings;
Live Maine Lobster
The company's top products are fresh live lobsters caught in the icy waters of the coast of Maine. These hard-shelled and wild-caught marine animals are shipped the next day after they are trapped by local fishermen. You have five sizes to choose from; 5-6 pounds, 3, 2, 1.5, and 1.25 pounds.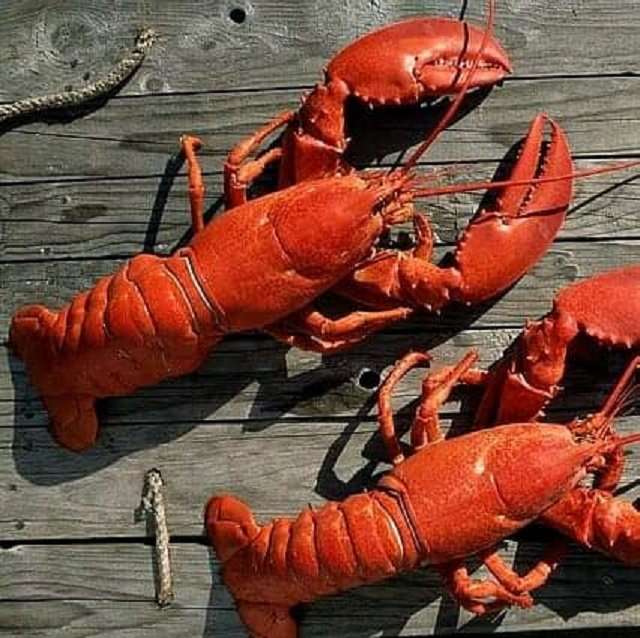 Lobster Meat
If you are not all for cracking lobster shells and then picking the meat, Lobster Anywhere has an offering that doesn't require you to do that. The company offers fresh lobster meat so that you can get the sweet taste of Maine without going through much trouble in preparation.
For lobster meat, you can order fresh meat that has been cooked and shucked locally before it is shipped out to your doorstep. It is available all year round in a selection of all tail meat and claw and knuckles meat, in 2-pound and 4-pound parts.
The second option is raw frozen lobster meat, shipped directly from the Atlantic waters. All you have to do is thaw the meat, and it is ready to cook. It comes in 1-pound claw and knuckle packs. You can also order frozen lobster tail meat which is excellent for grilling.
Lobster Tails
The company offers monster hard-shell Maine lobster tails, which ensure that the tails are full of sweet tender meat. The tails come in a variety of options, including large tails, freshly shucked lobster tails, frozen lobster tails, and BBQ lobster tails for grilling. There are also huge lobster tails (16-20 oz colossal tails) on the menu.
The fresh lobster tails come in the following sizes; monster (20-24 ounces, colossal (16-20 ounces), jumbo (8-10 ounces), and medium (6-7 ounces). These are shipped raw in the shell. Apart from the main menu tails, there are lobster tail specials like chowder combos and jumbo tails at your disposal.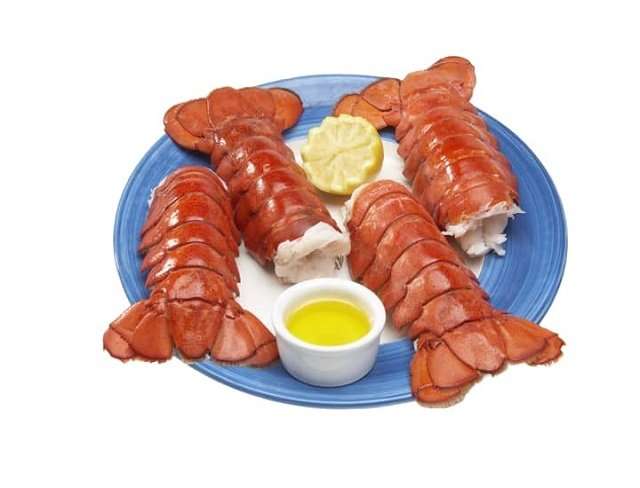 Lobster rolls
The seafood company also sells lobster roll kits that make 6-8 rolls each. These include 8 Pepperidge Farms rolls, 7 ounces of New England salt water taffy, 2 pounds of quality lobster meat, and 5.5 ounces of Maine sea salt butter.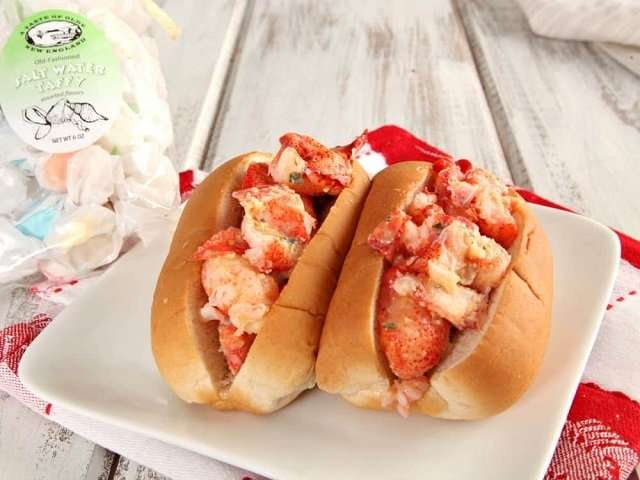 Lobster dinners and gifts
Lobster dinners are curated selections for the occasions that you want to serve your friends and family with delicious seafood. They come in 2-person and 4-person packages with lots of options, including lobster tail dinners, surf and turf dinners with all-natural steaks, romantic dinner packages or live lobster specials and so much more.
I counted 15 lobster dinner options you can order from Lobster Anywhere.
The company also sells the dinner packages as gift packages that you can have shipped to the recipient. Live lobster gifts are packed together with forks, red and white checkered napkins, steel crackers, and lobster bibs. The Maine lobster gifts include free express delivery, but a priority delivery will cost you an extra 24 dollars.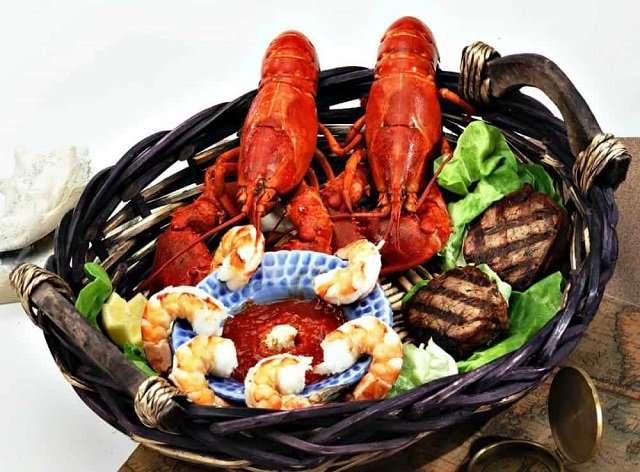 More Lobster Anywhere seafood
Lobster Anywhere is not only limited to lobster; they offer a variety of other seafood if you desire something different. These include scallops and Shrimp. You can order between 1-8 quick-frozen and uncooled tiger colossal shrimps. These are so good that they have earned the recommendation of the Monterey Bay Aquarium Seafood Watch as the top choice.
There are also 1 and 2-pound packages of fresh and dry scallops caught in New Bedford.
If you like to try more just head to their website and look at the "surf and turf" section and make your choice there.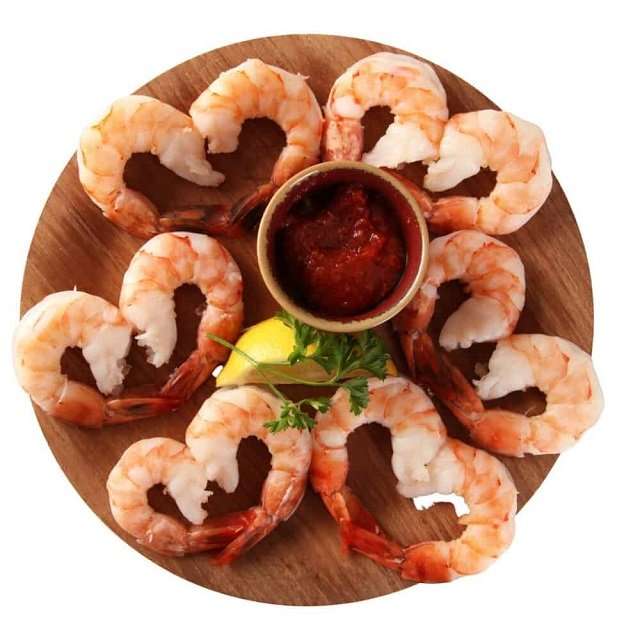 Chowder, Bisque, and Soups
If you want to complete your lobster dinner with something special, Lobster Anywhere gives you the option to order the real New England clam chowder and lobster bisque, which is a creamy blend of sweet lobsters. There is also Manhattan clam chowder for those living in New York. The company says that their chowders are really good, having won a couple of awards, developed a loyal following, and even served in some of Boston's finest establishments.
All the company's soups are shipped frozen, and all you have to do is heat and your hot bowl of heartwarming soup is ready. Once delivered, lobster anywhere advises storing your seafood chowder in the freezer.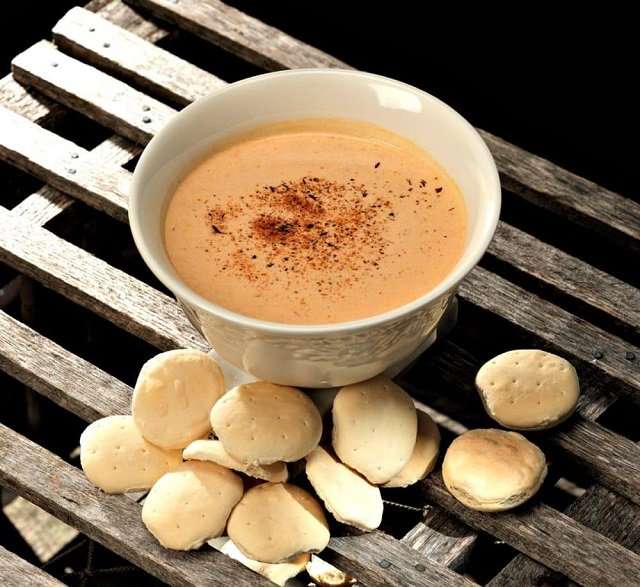 New England Desserts & Sweets
Lobster anywhere also gives you delicious pies and treats to enjoy at the end of your Maine lobster meal. There is a variety to choose from, including lobster gummy candy, saltwater taffy, chocolate truffles, blueberry pie, whoopie pies, key lime pie, chocolate, and other sea-themed sweets.
Lobster Anywhere Shipping
Once you have placed your order and selected the date, the company immediately starts preparing your seafood. Before delivery, it is packed with dry ice to maintain freshness and in Styrofoam to keep the products intact. The company also includes instructions and tips on storing and cooking the seafood in its packaging before your order is ready for shipping.
Speaking of shipping, the company only ships its seafood to all the 48 US states, including Alaska and Hawaii. They use FedEx to deliver the packages to the customers' homes, utilizing both overnight and second-day services. Live seafood is only shipped at night.
When the package arrives, you will not be obligated to provide your signature unless it is worth over $500. This is a good convenience feature as you don't have to worry about not being around when your seafood arrives.
Pricing
Depending on the items, you might qualify for Lobster Anywhere free shipping. For items without free shipping, the cost depends on the value of your order and the shipping method. For shipments worth up to $300, the shipping costs $29-$79 per delivery. Orders worth over $300 cost 14%-16% of the order value plus $19.
Since Lobster Anywhere is a wholesaler, they offer competitive pricing on all its products and quantity discounts and free shipping on select items. The average places of the company's main products look this way;
Just remember that these prices are at the time of me writing these Lobster Anywhere reviews and they might have changed in the meantime.
· Live Maine lobster costs between $21.5 and $23.2 per pound, while medium-sized frozen lobster tails start at $21, and the monster tail for $79.5. CK and TCK lobster meat starts at $45 per pound and lobster tail meat at around $50 per pound.
· Lobster rolls go for between $134 and $159 per 8-serving kit and the dinner kits start at $99.
· Scallops and shrimps start at $34 per pound.
· A serving of chowders and bisque, or a piece of dessert all cost the same at $5.
Lobster Anywhere – Pros and Cons
Although I did not find many cons in my Lobster Anywhere review there is no such thing as the perfect company. So, here are my findings.
Rewards Program
Satisfaction Guarantee
Quantity discounts
Free shipping on certain items
Excellent accessories
Good pricing
limited variety of other seafood
Lobster Anywhere Reviews – My opinion
Overall, Lobster Anywhere is an excellent seafood delivery service. With fresh and delicious lobster offerings, everything about them screams quality but they still manage to offer competitive pricing.
Their free shipping rate on select items helps you avoid high shipping fees and when you are not satisfied with the delivery, you can request a refund or replacement.
Lobster Anywhere Promo Code
On the Lobster Anywhere website, I did not find any promo codes or coupons. However, a search on Google showed a lot of them. So, take advantage of them.
You can also sign up for their loyalty program and earn co-called sand dollars and rack up some nice Lobster Anywhere discounts.
With this many perks and so little to complain about, Lobster Anywhere easily earns my recommendation to anyone.