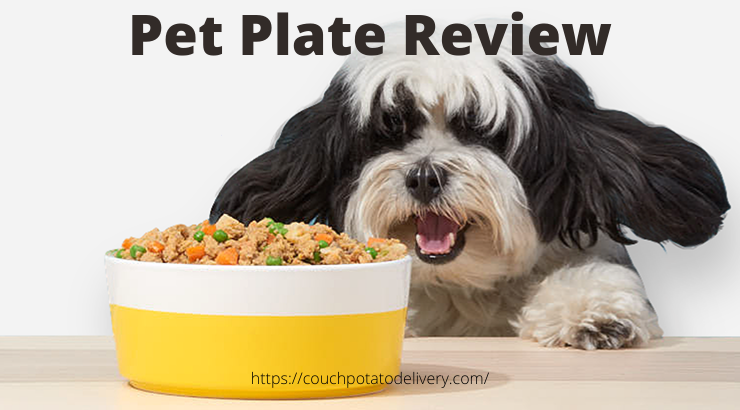 The reason for me to do this Pet Plate reviews I that I see more people becoming interested in feeding their dogs high quality human grade food.
The need for wet and dry dog food has been increasing yearly in the United States with food delivery services disrupting the chain. Consumers realized how easy it would be to make an order of their favorite dog food without having to spend long queues at the mall.
you can find here
.
But that's not our main focus today. After receiving the dreaded words, "I'm Out" at the famous TV show "Shark Tank," the founder of Pet Plate didn't stop there. He went on to create a one-of-a-kind dog food delivery service with home-cooked healthy recipes. Without going deeper, I did this Pet Plate review to see how it matches up with other dog food competitors.
About Pet Plate
Pet Plate is a dog meal delivery service that aims to deliver human-grade dog food straight to your doorstep. It is a subscription plan model where the meals suggested depend on your dog's activity levels, age, and weight.
Pet Plate uses fresh ingredients and a blend of supplements to come up with fresh meals made to improve your pet's overall health.
Renaldo Webb, Pet Plate's founder, couldn't get past the substandard ingredients used in his previous job. Something which drove him to create Pet Plate. But even with its interesting marketing on the website, I'll still have to go deeper into details to know if Pet Plate really cuts it in the meal delivery realm.
How Does Pet Plate Work?
The main idea behind Pet Plate is pretty simple. The company asks you to fill in a template to learn more about your furry friend. You should be able to know your pet's breed, weight, age, and activity level for Pet Plate to come up with a fully customized meal for your pet.
Once you fill in this information, you will have a chance to choose the kind of recipes to choose
for your pet. Each of the four recipes has full nutritional information and analysis that will help you select what's best for your dog.
Pet Plate Sourcing And Manufacturing
Pet Plate's source of food comes from a USDA-inspected facility at Upstate New York and uses the same strict protocols followed by Whole Foods. Their ingredients come from human food supplies across the United States.
Vet Nutritionists are in charge of food selection which is then cooked by Pet Chefs. Each meal created at Pet Plate is formulated in the best standards and meets nutritional levels formulated by AAFCO Dog Food Nutrient Profiles.
The company ensures each batch is flash frozen and tested for safety before shipping out.
All meals at Pet Plate are cooked in human-grade kitchens using USDA vegetables, meat, and fruits together with a sufficient blend of vitamins and minerals. All meals are gluten-free and contain no corn, flavors, colors, or by-products.
Unboxing A Pet Plate Box
It is a lot easier to show a video of someone opening an actual box from the Pet Plate company to help you decide on this human quality dog food.
Alright, now we have seen one box I will have a good look at all the meal options that Pet Plate offers.
Pet Plate Meal Options
Pet Plate packs all meals in a container with resealable lids, something different from most meal delivery services who use packets to store foods. The containers are microwave-friendly- a great addition if you're short on time.
Pet Plate serves 28 meals in seven containers, which is equivalent to two weeks of meals. Each container is equal to a day's meal with clear instructions on how to feed your pet.
Now let's look at the four recipes offered by Pet Plate:
Barkin' Beef Recipe
The ingredients include:
Ground beef, beef liver, sweet potatoes, carrots, green peas, apples, pumpkin, safflower oil, salmon oil, zinc oxide, vitamin D3, vitamin E, zinc oxide.
This recipe is great for choosy eaters and or dogs that require a dense source of protein. The fruits and vegetables supply enough fiber to ease the digestion of the whole-quality beef and liver.
Tail Waggin' Turkey
The ingredients include:
Brown rice, ground turkey, carrots, liver, apples, pumpkin, natural flavor, salmon oil, vitamins and minerals, turkey liver, and salt.
The turkey recipe serves the greatest proportion of animal-based protein of the four recipes at Pet Plate. Turkey meat is low in calories but the selenium levels help in boosting the immune system. Apples and carrots help in giving a dietary fiber and an excellent source of Vitamin A and C.
Chompin' Chicken
The ingredients include:
Ground chicken, sweet potatoes, chicken liver, broccoli, butternut squash, apples, safflower oil, dicalcium phosphate, salmon oil, natural flavor, vitamins, and minerals.
The chicken choice is one of the most sought after and has an incredible nutrient profile. The chicken itself is a great source of Omega 6 fatty acids which are good for the coat and skin. The sweet potatoes reinforce the digestive system due to high dietary fiber content. Vitamin A and C are supplied by the broccoli and butternut squash.
Lip Lickin' Lamb
The ingredients include:
Ground lamb, sweet potatoes, quinoa, broccoli, lamb liver, apples, dicalcium phosphate, potassium chloride, salt, calcium carbonate, parsley, vitamins, and minerals.
If you are looking for a low-protein recipe, then the lamb recipe is what you need. Though it's still above the AAFCO minimum protein standards, it is still low for dog consumption. Lamb has essential amino acids while quinoa adds an extra source of protein and calcium. Apple and sweet potatoes provide a good source of vitamin A and C.
How Much Does Pet Plate Cost?
As a new pet parent at Pet Plate, you get a 50% discount. The company states that meals can start as low as $3 a day for a small dog. However, the site provides a full breakdown of the subscription options on a weekly, monthly, or yearly basis. Here how the pricing looks like at the moment of me doing this Pet Plate reviews:
Small dog – $18 – $33 weekly or $2.50 – $4.75 a day
Medium dog $40 – $56 weekly or $6 – $8 a day
Large dog $63 -$91 weekly or 49 – $13 a day.
X-Large Dog $`112 -$133 weekly or $16 – $19 a day
Pet Plate Review- My Conclusion
Doing my PetPlate review I found that their dog food isn't cheap, but if you're willing to swing a couple of extra bucks, you can get a healthy meal plan for your dog.
Their ordering and delivery system is streamlined and their human-grade meals are unique. I like the way Pet Plate is thorough with the nutritional information of their meal batches and you know exactly what your dog is eating.
I would recommend the Pet Plate complete feeding system for any pet parent who values the overall health of their dogs.