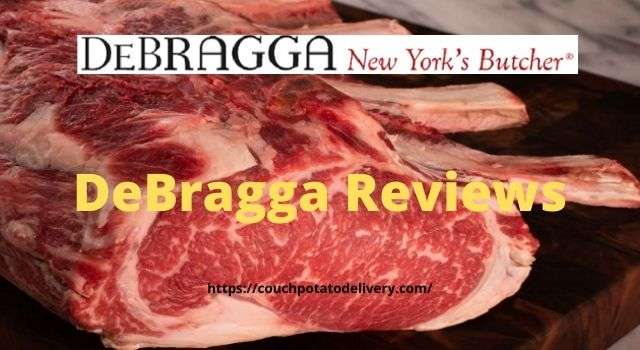 The reason I did Debragga reviews is that today, there are so many meat vendors in the American beef market, and if you're looking for high-quality meat, deciding who to buy from can be quite tricky. This is because almost all of these shops claim to provide the best beef. So, how do you know which is the right one?
Well, Debragga meat is one that has been generating a lot of buzz due to the fact that it supplies high-quality meat to a lot of 5-star restaurants in the country. In this article, we will be putting Debragga & Spitler to the test, and thus, help you make an informed decision before buying.
What is DeBragga
It would not be a real Debragga review if I did not cover some history. Known in its early years as the Brooklyn Hotel Supply Company, Debragga is an online butcher shop based in Jersey City and some buyers call them one of the best meat delivery services around.
The company was founded in 1920 by Joseph DeBragga, Emil Guenther, and James Heilman, whose goal was to provide high-quality meat to the top restaurants in New York. It got its present name, DeBragga, and Spitler, in 1948 under Farmer DeBragga (Joseph's son) and Paul Spitler.
In 1954, Marc Sarrazin joined Debragga and Spitler, and he went on to become the company's President in 1973. Under his leadership, the Debragga gained a strong reputation as the industry's finest meat seller. Due to this reputation, they worked directly with the best hotels and restaurants throughout New York and the Caribbean.
To date, Debragga's leadership has been handed down from father to son within the Sarrazin family.
Debragga and Splitter were still providing organic, and steroid-free meat cuts to restaurants only across the United States until 2007, when they ventured into the home market. George developed an e-commerce platform to sell and ship high-quality meat directly to people's homes across the country.
Apart from the organic meat, they also provide USDA prime beef, lamb, pork, and poultry, locally sourced and humanely raised.
Before moving its headquarters to Jersey City in 2011, the company had been based in Washington Street's meatpacking district since the mid-1930s. The move to Jersey City was a strategic one aimed at helping the business expand its operations and meat offerings.
Maybe a video explains it even better than I can.
How Does DeBragga Work?
Debragga NYC is a large meat vendor, and at any given time, they have 100,000 pounds of meat in their three dry-aging rooms. This is about 4200 pieces of beef, worth around one million dollars. They work with large packers like Greater Omaha and Nebraska Beef.
Sourcing meat
To meet their quality standards, the company sources its meat from small farmers, and their animals are never given growth-stimulating hormones. The cows must also be pasture-raised with a diet of either grass or natural grains.
Placing Your Order
Debragga & Splitter work like your typical online vendor; you visit their website, explore their selections, and place your order. There are lots of different meat types to choose from (we will get into that later in the article) and fill your cart with.
Once you are satisfied, you can then check out, fill out the necessary shipment details, pay the bill, and place your order. Payment from all major credit cards is accepted, and you can also use a Debragga gift card. Therefore, any regular online shopper should go through the process quite comfortably.
Prepping Your Order for Shipping
Depending on when you placed your order, Debragga will start processing it immediately for shipping and delivery. The meatpacker vacuum seals each meat cut to prevent air contamination and leaks. They are then placed in an insulated foam cooler filled with ice packs at the top and bottom to help preserve the meat and keep it cold.
Shipping
For orders placed from Sunday to Wednesday, the online meat company uses FedEx Overnight. Something that will give you some peace of mind in case you are not around when your order arrives is that Debragga does not require a signature on the deliveries.
If you make an order between Sunday and Wednesday, it will arrive by 8 pm the next day. Those orders placed after Wednesday are filled in the following week for online delivery.
Why Order from DeBragga
If you love your meat, there are several reasons why Debragga meats could be the meat vendor for you. These include;
· They provide high-quality meat- Debragga and Splitter wouldn't be receiving orders from 4 -star and 5-star restaurants if their meat was substandard. They sell USDA prime beef, and their entry-level quality beef is the Certified Angus Beef brand.
So, if you want that top-shelf meat experience at the comfort of your home, Debragga is where you should order from. To enjoy this quality of meat, you should be willing to part with quite a lot of money. But given the high-quality steaks, it will be worth it.
· You can order organic meat (hormone and antibiotic-free)- Well, if you are all about natural foods, you should get your meat from Debragga. Half of their meat supply is organic to cater to the needs of the natural product's niche.
· Fast Processing of Orders- With Debragga, you don't have to wait for days to have your order processed and delivered. Once placed, your meat can arrive at your doorstep the next day. Nonetheless, this has a catch; you have to order your meat between Sunday and Wednesday.
· Good Customer Service- If your order encounters some hiccup along the way, you can be sure that the customer service department will remedy the situation as soon as possible.
DeBragga Meats
Debragga has a large selection of quality meat. Here are the meats you will find as you shop from the company website.
DeBragga Beef
Beef is Debragga's primary offering. Therefore, they have tried to provide different types of beef to cater to the different standards of the best beef. Whichever beef variety you choose, there is a consensus among Debragga customers that it will be one of the very best.
Wagyu Beef
Wagyu beef holds the most coveted spot in the world of meat in terms of texture and taste. This is because the meat has a high degree of marbling, which makes it the most tender, succulent, and thus, the sweetest beef in the market. Debragga Wagyu offers three fine tasting varieties of Wagyu beef;
Japanese Wagyu Kobe Beef Style- Wagyu beef first came from Japan, and this is the highest quality Wagyu beef (best color of muscle fat and highest marbling) you can buy. The cattle are raised on a natural barley-based diet with no antibiotics or growth hormones. If you love natural foods, this is one of the best natural kinds of beef money can buy.
Australian Wagyu Beef- Imported from Australia, this beef crossbreeds Holstein genetics with pure Japanese Wagyu genetics. The animals are also fed a barley-based diet for at least 400 days and no growth hormones or antibiotics are added. This variety has a high degree of marbling, and the beef is mildly flavored.
American Wagyu Beef- Made in America, this variety cross breeds Wagyu Kobe genetics with the finest Black Angus genetics. Thus, the meat combines the intense marbling of Kobe beef with the super-flavorful taste of Angus, giving you a unique product found nowhere else in the world. The beef is also natural as no hormones or antibiotics are given to the beef.
Grass Fed Beef
If you want natural beef, this is another option for you. This meat is sourced from within the country in the state of New York and from Southern Australia. The farmers give their animals a diet of rich pastures all year round, even in winter, without supplementing them with growth hormones or antibiotics. Therefore, they mature naturally after 24-30 months with an exquisite flavor. This beef features Angus, Devon, British beef genetics, and Hereford.
Prime beef
This category consists of beef that has attained the highest grading standards awarded by the USDA. Meat in this category has a great beef taste and high intramuscular marbling. Since the cattle are corn finished, they are rich in fat and thus, result in a juicy and tender eating experience. Nonetheless, this kind of meat is rare and thus, costs quite a lot of money.
On that note, the company offers its beef products in the following cuts;
· Ribeye Steaks
· Dry-aged beef
· Rib Roasts
· Rib Chops
· T-Bone Steaks
· Strip Steaks
· Cowboy Rib Steaks
· Porterhouse
· Burgers and hotdogs, and so much more.
Pork
For pork, Debragga and Splitter source their meat from a network of over 700 family farms across the country. The hogs are of Berkshire/Duroc breed. They also use their animals, Gloucester Old Spot Hogs, which they rear in Upstate New York.
All the animals are outdoor raised, naturally, without growth stimulants, any sub-therapeutic antibiotics, animal by-products, or artificial ingredients in their feed. They offer;
· Iberian pastures Iberico pork
· Free-range Gloucester old spot
· Free-range Iowa pork.
These varieties are available in many cuts, including tenderloins, rack chops, loin chops, porterhouse chops, and many more.
Lamb
Debragga also offers lamb that is raised without added growth hormones or antibiotics. They feature some of the finest lamb raised in the United States. These include Dorset lambs from upstate New York that are barley-fed and apple-finished and those from the Rocky Mountains and California that are grain-finished. Sticking to American-raised lamb, there is also Lava Lake Grass-fed Lamb from Idaho. The company also offers Australian lamb.
Debragga lamb is available in the following cuts;
· Australian lamb racks
· Lamb's leg
· Rib rack
· Loin chops
· Lamb shanks
· Ground lamb
Game
If you love game meat but can't hunt, you can still enjoy venison and duck in the comfort of your home. Debragga offers Cervena venison, which is considered the finest thanks to its natural tenderness and delicious mild flavor. Health-conscious meat lovers will also recommend this venison since it is packed with zinc and iron and is low in calories and fat.
Debragga's ducks are raised naturally in the state of New York. They offer the Pekin breed, which has reared for over 100 years on long island. The ducks are very tender and have a mild flavor. Debragga also offers Moulard ducks, which are raised in the Catskill Mountains.
Poultry
You can also order your favorite poultry from the meat vendor, including turkeys, free-range chickens, capons, poussins, guinea hens, and Moulard ducks. All these are raised antibiotic and growth hormone-free within New York state.
Veal
Debragga and Splitter also sell milk-fed veal from farms in Ohio and Pennsylvania. The Holstein's calves are raised hormone and antibiotic-free, resulting in a veal with a mild flavor and delicate texture. The company sells it in rack chops, loin chops, shanks, and butt tenders cuts.
Sausage, ham, and bacon
For its sausage, ham, and bacon, the company features breed-specific meats raised without growth hormones or antibiotics. The meat is produced in small batches using proper smoking, natural fermentation, or dry aging, giving it clean and pronounced flavors. These can be bought either as a standalone product or as part of a Debragga recipe.
Dry Aged Beef
Debragga offers dry-aged beef, which is widely accepted as one of the very best. The company dry ages its Hand Select beef for at least 30 days while the Prime meat undergoes the process for at least 45 days. Their Wagyu beef is dry-aged for at least 90 days. According to Debragga, this process "concentrates and develops the ultimate flavor of beef."
Nonetheless, dry-aged beef loses up to half of its mass during the process. Therefore, it is usually more expensive than other meat types. According to some people I found doing my Debragga reviews they sell some of the best online steaks in the nation.
Again I found a video that explains very well why dry-aged beef would taste better.
Debragga Pros and Cons
Pros
· Offers a wide variety of meats
· Their meat is organic
· Offers grilling kits
· Fast delivery
Cons
· Debragga meat is quite expensive.
Debragga coupon
Although I have not been able to find many Debragga discount codes or promo codes there are several pages on their website that show what they have on sale at this moment.
DeBragga Reviews – My Opinion
Overall, Debragga and Splitter is an excellent choice for people who want to enjoy high-grade meat and don't mind splattering a lot of cash in the process. While many people may frown at the high prices of Debragga steaks, anyone who has experienced their meat will tell you that it is worth the money. This is evident in online Debragga reviews by customers, where it has an excellent rating of 4.3 stars on Google reviews.