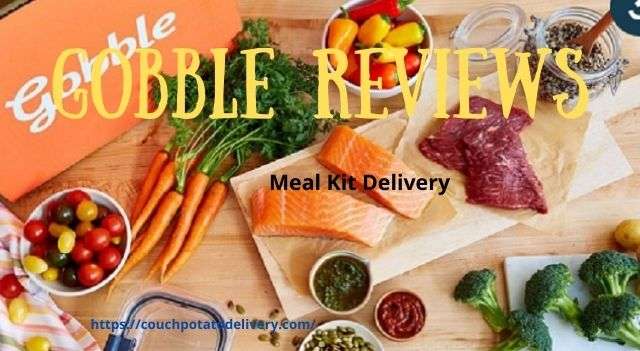 Why I did the Gobble reviews? Well, if you're familiar with meal kit services like Sunbasket and Blue Apron, you know it's quite possible to prepare tasty, gourmet meals in the comfort of your kitchen.
Yours is to follow an elegant recipe- no prior chef-like experience needed – and you're well on your way to enjoying some exquisite tastes. Easy, right?
Well, mostly, but not until you hear what Gobble has to offer. The service promises the same tasty, culinary creations, only this time, with super-fast cook times. They claim that since their chefs do the bulk of the work for you, it takes only 15 minutes to turn their meal kits into a delicious dinner.
It's a bold claim, one that we couldn't quite leave unchecked. So, in my Gobble reviews, I tried out Gobble to see if they're worth their salt.
What is Gobble food delivery?
Gobble is one of the top-rated meal delivery services that sell meal kits to Americans looking to enjoy gourmet-like meals at home. And while the taste matters, the company's main emphasis seems to be on speed and convenience when prepping their meal kits.
Curious? Have A Look At The Gobble Website Here!
According to their website, their kits are designed to allow their customers to whip up tasty culinary creations using as little time and effort as possible.
How does Gobble food delivery work?

Like your typical meal delivery service, Gobble runs an e-commerce website with pretty much everything they have on offer. You do all the browsing and ordering while they do the receiving and processing.
However, a particular point of concern is that you cannot access the menu before filling in your payment information when browsing Gobble's website. It may be a minor inconvenience to most customers, but an inconvenience nonetheless.
Sometimes you just want to poke around, and having to give up so much information to do that, may feel like you're being forced into an obligation.
But once you get to the menu, ordering becomes a relatively straightforward experience. You have three plans to choose from- Classic, Vegetarian, and Lean & Clean.
The meals cost $12 per serving across all plans, and you can choose meals from other plans. This should make it easier to choose a meal plan.
After selecting a meal plan, you're required to choose whether you want meals for two or four people and how many recipes you want for the week. Note that when ordering, Gobble allows you to order at least three recipes per week.
You Can Click Here Now To Place Your Order!
Once Gobble processes your order, they'll fill your box with all the ingredients needed to prepare your chosen meals (except for salt, cooking oil, and pepper) and some support materials. The meal kits are delivered once a week, and it's up to you whether your delivery arrives on a Wednesday or a Thursday.
Shipping Restrictions
Note that the service delivers to all states in Continental USA, except for Montana. There are also restrictions in Nebraska and Montana, so check first if you happen to live in any of those areas.
What makes Gobble unique
Services that allow you to order recipes are quite common these days, which begs the question; how is Gobble any different? Well, it's probably due to the 23 or so gourmet recipes they have on sale. But the real magic is in how easy and fast it is to prepare a Gourmet meal kit.
The service advertises that 15 minutes should be enough to prepare a delicious meal using one of their kits. This is because Gobble's Chefs do most of the work for you.
They peel, chop, and marinate the respective ingredients where necessary, allowing you to spend less time on preparation. Yours is just to bundle them together in a pan and stir your way to a delicious gourmet dinner.
The key to note is that unless you're following a relatively easy recipe, It will take you a little longer than 15 minutes to prepare Gobble's meal kits. The average cook time for a Gobble meal kit is 20-25 minutes, but some dishes will take as long as 30 minutes before they're ready.
Overall though, the cook times are fast for a gourmet meal. Even the 'worst case scenario' (30 minutes) is still quicker than what you get from the average high-end meal kit service. Does this affect the quality of the food?
Not really; Gobble dishes are as delicious as homemade gourmet meals come I read several times during the research for my Gobble reviews. The only thing you're sacrificing is the effort and satisfaction of preparing an exquisite dinner from scratch.
Menu-wise, Gobble doesn't disappoint. The menu is full of tempting global cuisines, which borrow inspiration from Thailand, Japan, Italy, South America, and Central America. Offerings change weekly to maintain variety for returning customers.
There are about 23 recipes at any given week, consisting of 13 main dinners across all meal plans. These can be topped up by an assortment of breakfasts, appetizers, desserts, soups, and snacks.
There are also two specialty kits serving four portions and premium dinners available for upwards of $20 per person.
Apart from the variety, we also enjoyed the customization that comes with Gobble meals. You can swap equal proteins for free or upgrade to a premium protein, like from inorganic to organic meat. Upgrading is usually accompanied by an upcharge of a few dollars depending on the foods being swapped.
Overall, Gobble meals are broadly categorized as Classic, Vegetarian, and Lean & Clean based on food preferences. The Classic menu is for those who love to go all-in on their meals, the Vegetarian option is just that; for vegan-like customers, while Lean & Clean offers entrees with a relatively low calorie and carbohydrate count.
If you look at the upcoming menu you can choose from the following options.
Dinners
Lean & Clean
Premium
Specials for four
Salads
Soups
Sides
Breakfast
Desserts
See All The Menu Options Here!
Dietary restrictions
Gobble does try to be inclusive of people with dietary restrictions, but it's not much. Each week, they offer meals free of select allergens; dairy, nuts, and gluten. They also provide a detailed breakdown of optional ingredients for customers under other restrictions.
However, these ingredients still come in the box, so it's up to you to omit them before you cook. This can be an inconvenience in itself.
What comes in the Gobble box

Once your order is ready, ingredients are packaged in a recyclable cardboard box. The box has an insulated inner bag with a gel ice pack placed at the bottom for cooling.
Ingredients for each meal are packed together in smaller plastic bags together with their respective recipe cards. If there is any meat, it is placed separately at the bottom closer to the gel ice pack.
Since ingredients for each meal are grouped separately, it's easier to pick out ingredients for a specific meal. However, this also means a lot of plastic that is often not recyclable is used in the packaging.
On a more positive note, the recipe cards are well illustrated with clear instructions on preparing your meal. A recipe card includes a quick description of the dish, an ingredient list, a list of all allergens in the dish, cooking instructions, cooking tips, the necessary tools for prepping your meal, fun facts, and plating instructions.
If by any chance, a card is damaged during delivery, you can access digital cards from Gobble's website for free.
Pros and cons
Pros
Good menu variety
Delicious foods with minimal effort
Well organized ingredients
Cons
Gobble is more on the expensive side
Excessive plastic in packaging
Quality can be a little wanting at times
Gobble Reviews – My Opinion
Preparing gourmet-style meals from scratch isn't easy. But if you're tired of taking the same old dinner three times a week, the Gobble dinner kit reviews here can help find you an easy way to bring some sophistication to the table.
The ingredients come fully prepped with easy-to-follow recipes that always deliver decent to excellent results.
I read several times that the claim Gobble has that your meal is ready in 15 minutes is really true.
Users claim it is the best meal kit delivery service they have used and after reading all the reviews I am declined to agree with them.
So, if you can match the price and don't mind the excessive plastic packaging, Gobble would be a good fit for you.