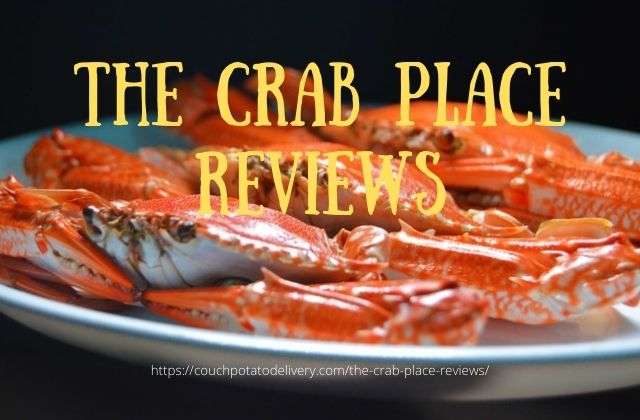 One of the reasons I did the Crab Place reviews is that many people are longing for a fresh, briny taste of seafood? The true taste of summer, nothing so satisfying as the soft meat of fresh crabs or clams, soap-smooth shrimp, and oysters with a sweetmeat filling?
Where do you get your seafood when you want it, and where do you eat it? The Crab Place has the seafood you crave!
The Crab Place knows how to provide you with the best online seafood from Maryland. Aimed originally at crab lovers, those looking to cook something special for their family, the Crab Place is now a nationwide business that delivers Maryland seafood to your door no matter where you're at.
People who love a good crab cake or a steamed crab or when company comes over. The Crab Place not only can deliver, but it provides suggestions for recipes and advice on how to make that crab cake taste just right.
Serving you from America's seafood capital, the Crisfield area, The Crab Place has been a household name around the country for almost 23 years.
This Maryland seafood & crab gift basket delivery service serves award-winning crab meats & shrimps, boiled seafood, soft shell crabs, seafood dinners, and more. Since 1997, The Crab Place has been working hard to make certain you get fresh seafood at affordable prices.
Related information: best online seafood companies
In a Hurry? Click Here To See What The Crab Place Has To Offer!
How The Crab Place Works
A deal you can enjoy every day, and it wouldn't obligate you to anything – The Crab Place is your one-stop seafood spot. If you are looking to try something new, or if you would like to have a feast, or if you are simply looking to pamper your family and friends with top-quality Maryland seafood, you are invited to check out the seafood online order process of The Crab Place.
Making it even better, you can retreat back to enjoying the overall quality of seafood delivered straight to your doorstep. You are always in control. You can even pick up your order at the Watermen's wharf if that is your thing. You can also call and place your seafood order by phone with friendly staff.
With Crab Place, it's just easy. With their extensive selection of crustaceans, crabs, lobsters, scallops, etc., you should have no problem deciding what to order. To make your experience with The Crab Place even more enjoyable, their official website only shows the products that are available.
There is one important caveat though, if you want to purchase more fresh crabs, you will have to place a separate order for each bushel that you want. Upon your orders, you will be given a tracking number that you can use to check on its status online.
What Makes the Crab Place Different?
With all the options you have these days of online seafood shops selling a comprehensive line of crustaceans, you may wonder why you should choose The Crab Place.
Well, when it comes to trust and a customized buying and ordering experience, The Crab Place is a platform that has been delivered for more than two decades. Aside from the quality of fresh Maryland seafood and seafood dinner, The Crab Place promises you fast-paced delivery.
You do not have to worry about your seafood order spoiling; the Crab Place will deliver it fresh to your doorstep the way it was packed when they shipped it.
You can even enjoy your seafood from your own comfort zone. If you are staying in a local hotel or motel, Crab Place is happy to deliver to your room. If you are visiting Maryland, whether it is for business or leisure, and if you are not sure what to do with out-of-state friends, in-laws, or even family, The Crab Place offers seafood gift baskets for every occasion; you can enjoy your crab cakes, canned seafood, seafood dinner, soft shell crabs, seafood salad or local steamed crabs from a gift package to suit your needs.
You can also have the Crab Place online team create crab gift baskets for you on demand.
The Crab Place has built a reputation on Quality, Variety, and Speed. You can enjoy the satisfaction of the same day's catch seafood, which is a unique option within the industry. As with anything, especially with fresh Maryland seafood, the more you buy and the more you taste, the better you will know what you like.
The Crab Place understands this fact and would like to help you in creating a seafood variety pack that is perfect for your palate. Customizing your seafood selection with The Crab Place is no problem. The Crab Place's simple and to the point online ordering system allows you to customize your order within seconds. Everything you need and more is just a click away.
Apart from the mouthwatering seafood, The Crab Place is affordable! Started with an objective to offer the best in fresh Maryland seafood, The Crab Place has evolved to become a merchant of top-quality fresh seafood while still keeping prices in check. At an annual subscription of $59 (for new members) and $49 (for existing members), you can enjoy year-round free shipping on every order placed at the Crab Place.
Just sign up for a membership account and place your order. The Crab Place will send you an email. Check the email, and you will be redirected to checkout. Place your order, and you are done.
Click Here To Go To The Website!
The Crab Place Products:
Boasting a large variety of seafood, the Crab Place helps to accommodate different taste buds. From hard shell crabs, soft shell crabs to Maryland crab cakes, the Crab Place has it all. Here's a comprehensive list of their products:
1. Crabs:
Crab Place offers all kinds of crabs, whether it is soft or hard crabs, crab cakes or crabmeat, king crab legs, or snow crab legs. Small orders – only half a dozen – and larger orders – one bushel – are all available for you to choose from. Having said this, Maryland blue crab is one of the most popular types of crabs sought after by the gourmets and crab aficionados.
There are a variety of blue crab grades: male crabs, female crabs, and small head crabs. Each one of these is offered either live or steamed. Grades have to do with the size and the liveliness of the crab. Options are also available to fit your budget needs and preferences. You can choose from 1-pound to 12-pound crab packages, making it a great gift idea as well.
2. Lobsters:
A whopping selection of crustaceans can be found at Crab Place. You can order a wide variety of fresh lobsters, including every imaginable size. On the service's website, you will find packages containing one, two, and five to seven-pound lobsters of several species.
You can select a combination of lobsters from the Wedge Light, Heffron, and Nucella clusters. You can also order cold water Rock Lobs (Maine, Ipswich, and New Hampshire varieties) with a fat content of 20% or less.
Most of the lobsters are sold live and can only be shipped overnight, but it's recommended to place your order at least 4-days prior to your date of pickup.
3. Fresh Fish:
Reeling in fresh fish from the Chesapeake Bay, The Crab Place will transport it straight to your home, ensuring the quality, freshness, and taste of the catch. You can order swordfish and other fish cuts, but also tuna loins and other fish varieties such as red snapper.
4. Clams:
Looking for morsels of clams, you can get them at The Crab Place. You can order clams of different sizes and in different quantities. The company's website features medium-sized softshell clams, but you can also get Chesapeake and hard clams.
The softshell clams range from 1/3 to 1/2 quarts in size and are usually sold in 50/100 count orders. The hard clams are sold either in 1/2 to 1-quart sizes or larger. The surefire way to recognize the freshness of your clam purchase is by checking for debris and dead baby clams.
5. Oysters:
One of the most popular offerings is the freshly harvested Blue Point oysters. You can order them in half, 1/2, and 1 quarts sizes and even obtain them on the shell. If you wish to have the oysters already shucked, you can opt for them as well.
Another interesting option is the 1-quart oyster orders in the sauce. The sauce options include butter, garlic, lemon, cocktail, black pepper, cocktail cream, Mornay, and Cajun. You will also find oyster meat, which can be served either hot or cold. It is sold in 1 pint, 3 pints, and 1-gallon packages for those who want to enjoy an oyster dinner.
6. Scallops:
If you would like to give scallops a try, you can order them from Crab Place. A pair of fresh, raw bay scallops can be ordered in 1-pound packages, and there's no limit on how much you want to order.
The next option on the list is fresh, natural bay scallops delivered live. For those who would like to enjoy scallop dinners inviting family and friends over, you can order large, jumbo, and colossal scallops. Available in 1-pound batches, you can pick what type of sauce best suits your palette.
7. Shrimps:
Fresh shrimp are available year-round, including brown, pink, and white shrimp. Depending on the season, you can order them in 5/10, 20/40, or 5/4/4/3 sizes. You can also choose from whole or deveined shrimp and can order a combo of head-on shrimp and already-shelled shrimp, which are already cleaned and frozen.
In case you would like to enjoy your shrimp feast as soon as possible, you can opt for shrimp in the shell. They are sold in 1 pound, 3 pounds and finally the 5 pound sizes.
8. Crawfish:
The Crab Place website almost makes you want to immerse yourself right into the Chesapeake Bay; it's so beautiful. Of course, you will be doing the same when you are enjoying the delicious crawfish offered here.
The service sells a wide selection of live freshwater crawfish. The creatures come from local farmers and are available in sizes ranging from 1/2 to 2 lbs. You will see a wide selection of seasonal menu options that are designed to be convenient for you.
You can try the crawfish in many different ways, including the most popular crawfish boil fixings, crawfish à la king, gumbo, etouffee, crawfish boil, crawfish or crawfish seasonings, deep-fried mini-crawfish, crawfish casseroles, and crawfish pies.
Click Here To See All The Seafood!
The Crab Place Pricing:
Understanding the way The Crab Place sells its products is pretty simple. Each product type has its own individual cost. It's definitely possible for some types o to have high costs due to the fact that each crab that comes to the store is rated very carefully; they are cleaned and packed with care and then delivered to your door – all at a lot lower cost than what you can find in the shops down the street.
Female hard crabs cost about $25 per dozen, which is a pretty great deal. On the other hand, male hard crabs cost around $33 per dozen. Soft crabs are the most expensive, the most expensive ones, in the price range of $65-100 per dozen.
As for raw, sweet crab meat, it brings in a price of $24.90 per pound, making it the best deal of them all.
Depending on the size of the lobster, you can get a pound of fresh lobster for only $30 to over $50 per pound.
And salmon is certainly the most affordable seafood in the catalog. The average price is $18 per pound, which is offset by a number of premium options.
Clams, oysters, and scallops are even more attractive at $1, $1.6, and $27 per pound, respectively.
Shrimp, on the other hand, average $22.80 per pound. Crayfish is one of the cheapest options, with an average unit price of $8.40 per pound.
Click Here To Go To See All Their Seafood!
Delivery Areas:
Crab Place has always been reliable when it comes to shipping options.
That's why you can choose from the following four shipping options for your package, including ground delivery, which is limited to local and regional shipments only; air delivery, which allows your order to be shipped across the United States in two full days; standard overnight delivery, which arrives the same night the package is shipped; and overnight priority delivery, which is available for packages of any weight, size, and shape.
As an added bonus, all overnight and two-day shipments arrive Tuesday through Saturday.
The Crab Place Pros and Cons
Every store had pros and cons. the Crab Place is no exception to that rule. I have to be honest and tell you that I found a lot of pros and just a few cons.
Pros:
Guaranteed satisfaction on every purchase,
Services available across the United States;
Higher Quality Maryland Seafood;
Affordable, all-you-can-eat crabs;
Modern and secure online ordering process;
NO commitment, NO strings attached!
It is reasonably priced.
Cons:
The crab mortality rate may be higher due to the shipping process,
You need a VIP subscription for free ground shipping.
Click Here To See All The Crab Place Seafood!
The Crab Place Reviews – Conclusion:
If you are looking for a delicious meal of fresh seafood, look no further. If you want to experience Chesapeake Bay seafood, The Crab Place is the place to get it.
Like other seafood delivery services, The Crab Place offers seafood, seafood gift baskets, and seafood delivered straight to your home or office in the United States. And like other seafood restaurants, you can choose from a variety of options, including crab, shrimp, scallops, lobster, lake perch, burger baskets, seafood baskets, and more.