Do you want to know what the top dinner food dishes to try in the UK are?
Fish and Chips is one of the most popular British dishes. Another must-try is the Irish Stew, which is another national cuisine of the United Kingdom.
British cuisine is known for being hearty, full, and pleasing to the taste buds. While many people in the UK like pasta, pizza, and dishes influenced by Indian and Chinese cultures, traditional British foods continue to be popular.
With England becoming a popular travel destiny I decided to dive in the food that is popular in England and what you should try of the true British experience on your travel.
Eating British food is more than just eating: it's a surrealist journey into a wonderful parallel realm that will test nearly everything your eyes, mouth, and gut believe to be true.
I know that here on the Couch Potato Delivery website I write a lot about the many food delivery services and how to use them to eat some good healthy meals I also like to write about popular food I found all over the world
Fish & Chips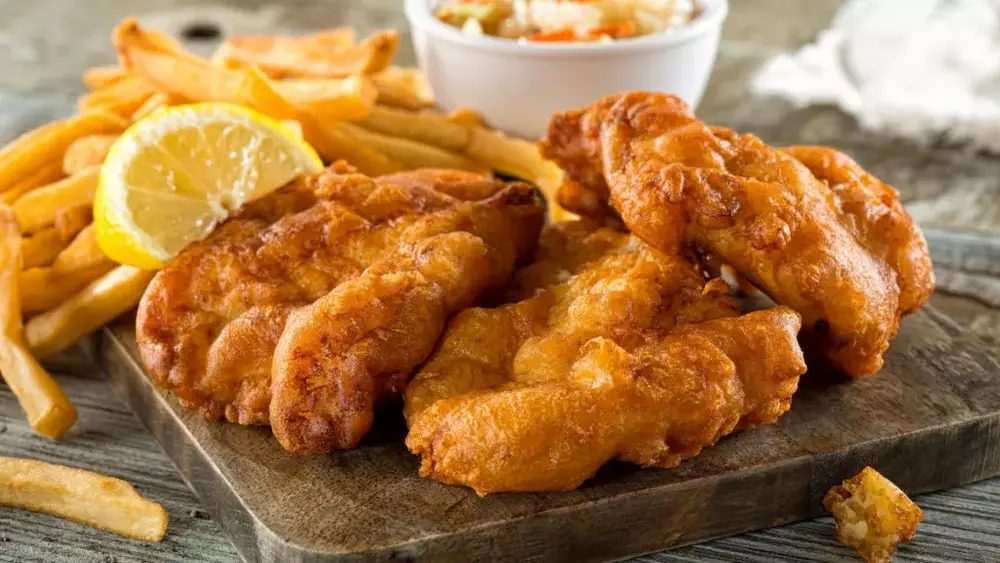 Fish and Chips is one of the most popular classic British culinary meals, and it's not hard to see why (in my humble opinion). The battered and deep-fried fish (typically cod or haddock) is served with chips in this dish (a.k.a chunky French fries).
With a wedge of lemon and ketchup or tartare sauce, as well as enough of salt and malt vinegar, fish and chips is unquestionably the greatest. Mushy peas, pickled gherkins, pickled onions, and curry sauce are all optional extras.
There are fish and chip outlets all around the UK, but we feel that eating this dish by the sea is always the best. That's why, if you want to enjoy an authentic British beach dish, you should go somewhere along the coast.
Irish Stew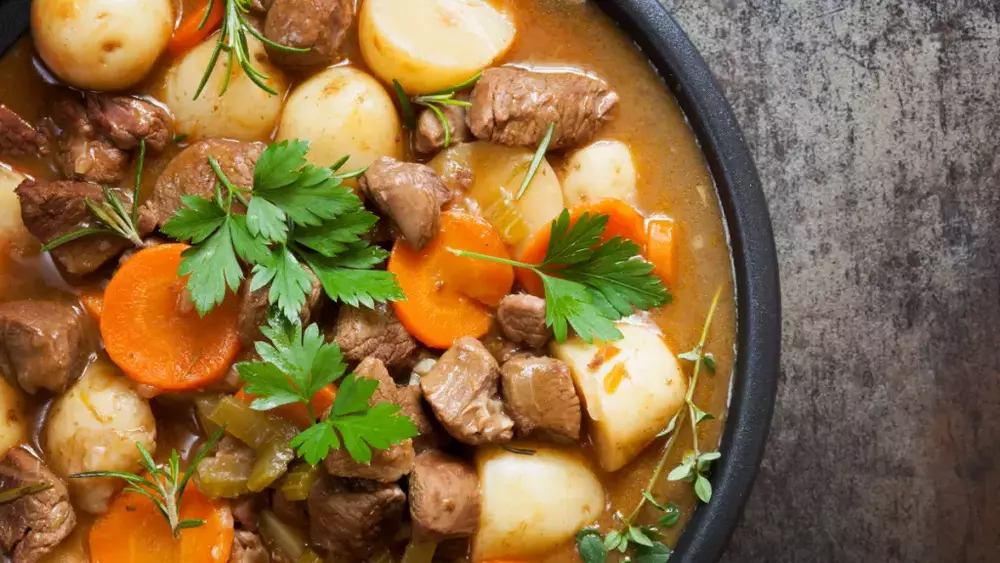 An Irish Stew is one of the most comfortable British dinners, whether you're visiting Ireland or not.
Traditionally, Irish Stew is made using sheep, although in the present period of British cuisine, lamb is more popular. It's odd in either case.
Roast Dinner (with Yorkshire Pudding)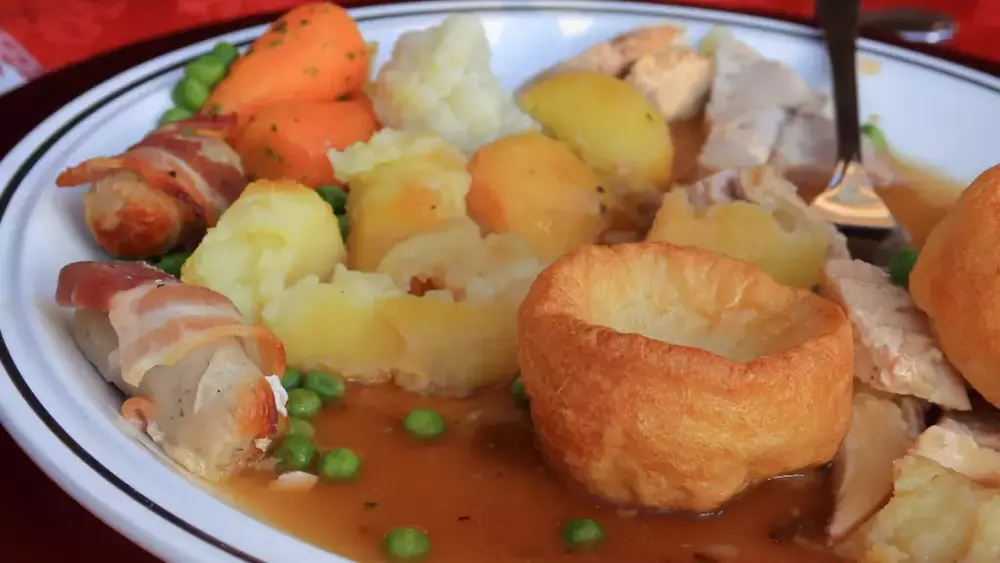 A Roast Dinner is another famous British cuisine, and if you're visiting the UK, we recommend you don't leave until you've had one. A traditional 'Roast' typically includes roasted beef (or a non-meat option), roasted potatoes, stuffing, a variety of vegetables, and gravy. Yorkshire pudding, of course.
Although the famed Yorkshire Pudding is the traditional accompaniment for roast beef, most Brits will include them in their roast regardless of meat choice.
You'll love a Roast whether you order beef, chicken, hog, lamb, or any other meat (or non-meat) option. In the United Kingdom, a turkey roast is usually served during Christmas.
Sausages ('Bangers') and Mash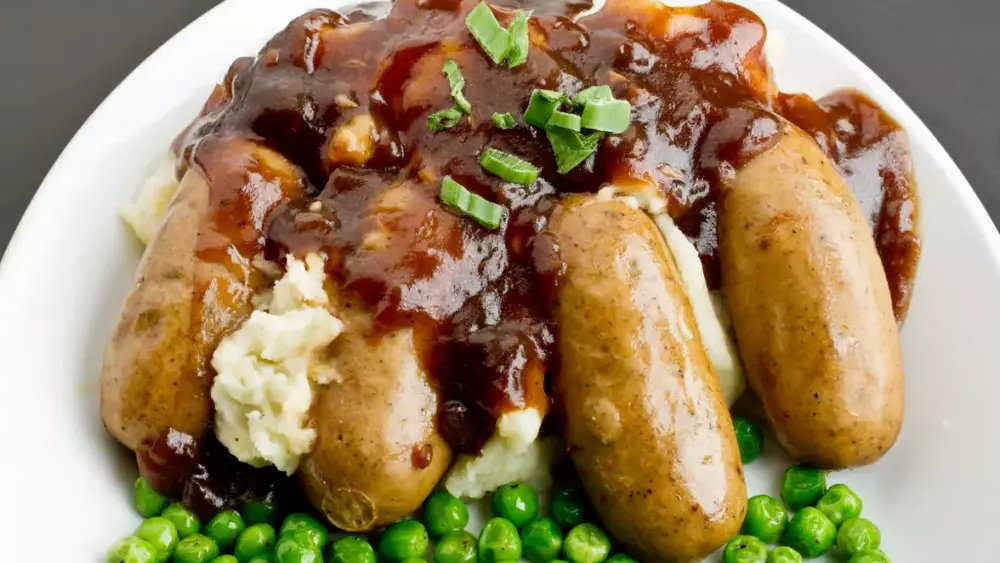 Sausage and mash (sometimes known as 'bangers and mash') will undoubtedly remain one of the most popular dinners in the United Kingdom for the simple reason that it is the ultimate comfort food.
One of the most epic British dining traditions is creamy mashed potatoes topped with thick pork 'bangers' and gravy.
Bangers and mash are generally served with peas, carrots, or cabbage, as well as fried onions.
Shepherd's Pie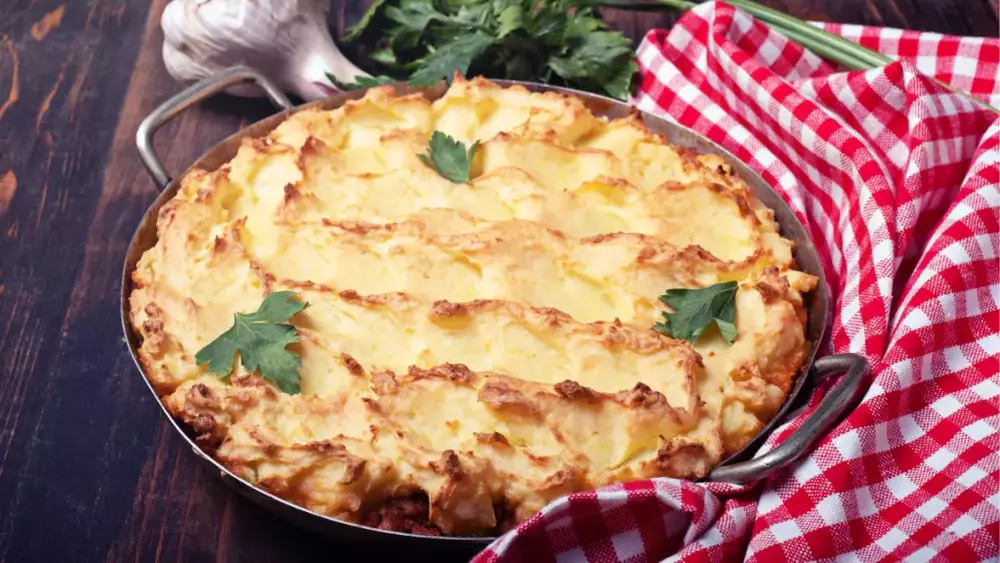 Shepherd's Pie is another delicious dinner option. This is a lamb-based dish, as you could have gathered from the name. To produce this rascal of a supper, minced lamb is cooked in sauce with onions, celery, carrots, and peas.
Toppings of mashed potatoes (and grated cheddar cheese if you're living life to the fullest) are added to the meat foundation before being grilled to a golden and crisp finish.
Toad in the Hole
Toad in the hole is another comfortable British meal made with sausages (which were previously known as bangers but are now known as 'toads').
Putting strange British cuisine names aside, toad in the hole is one of the UK's most underappreciated classic foods.
Toad in the Hole is a fantastic game. Sausages are fried in the batter of Yorkshire puddings. That's all there is to it. Except that it's normally served with vegetables and gravy, of course.
Fish pie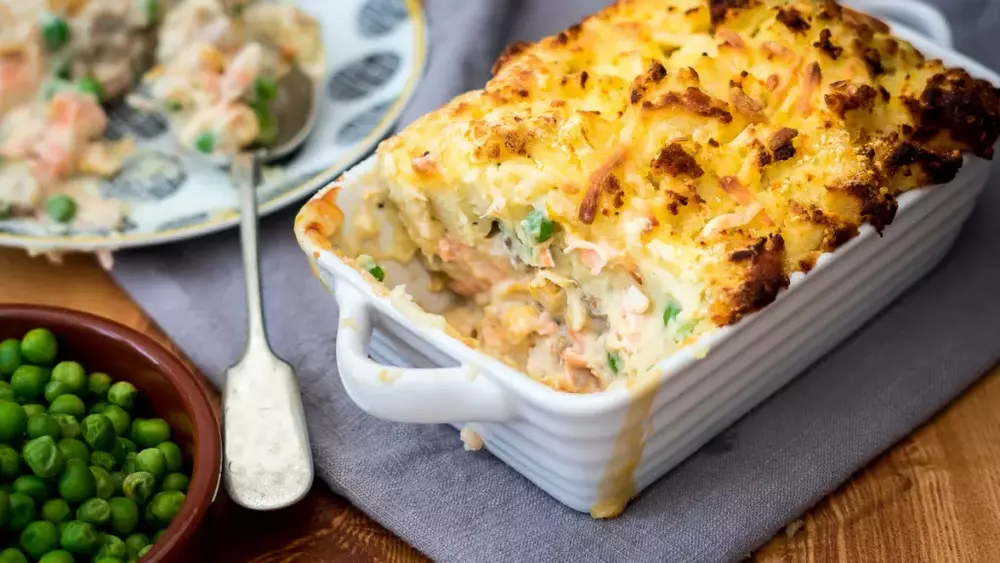 A traditional British dish is fish pie, sometimes known as fisherman's pie. A magnificent Fish Pie fit for a king, yet simple to prepare! Fish flakes chunks coated in a creamy white sauce, topped with mashed potato, then baked till golden brown.
For the best flavor and texture, use a mix of smoked and raw unsmoked salmon. Soft, creamy mashed potato, topped with browned, bubbling cheese or, preferably, a parmesan and breadcrumb mixture, is the only appropriate topping for a fish pie.
Haggis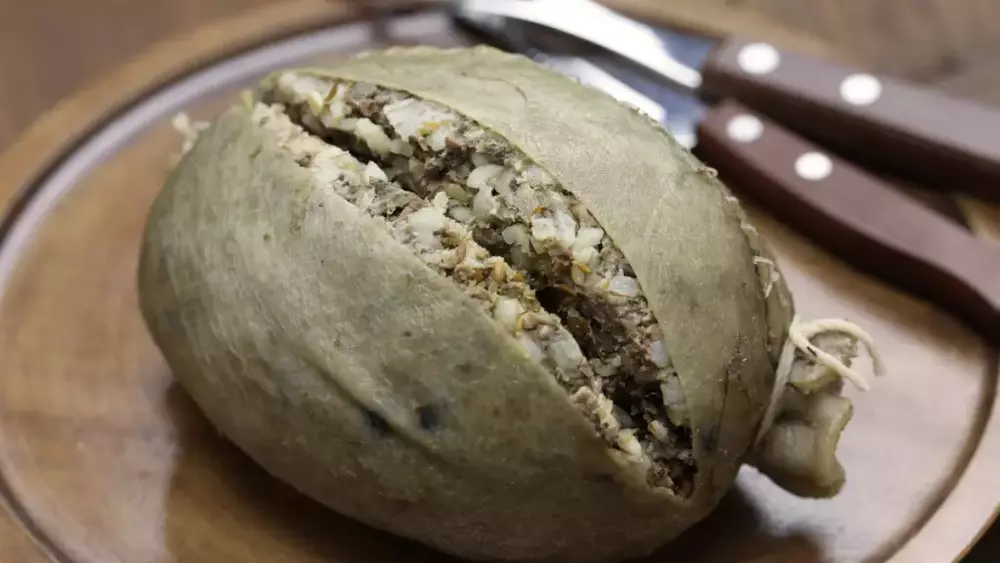 Another of the UK's national delicacies is haggis, which is quite delicious (believe me, I ate it). Haggis is a savory Scottish delicacy prepared from the heart, liver, and lungs of sheep. If the sound of that turns you off, you probably have no idea what Haggis tastes like.
Sheep's heart, liver, and lungs (and previously, pigs') are minced and mixed with stock, onion, oatmeal, suet, spices, and salt before being cooked in the stomach lining of the sheep.
Haggis is often regarded as one of the most important British dishes. If you're visiting this part of the United Kingdom, namely Scotland, you'll most likely want to sample Haggis.
Steak and Ale Pie
Steak and Ale Pie, exactly like English mum's used to cook, is a classic meal served in most pubs across England. Tender beef is braised with veggies and English ale before being wrapped in a flaky buttery crust.
This is true British rib-sticking fare. The best way to eat it is with real British chips and peas.
Spaghetti Bolognaise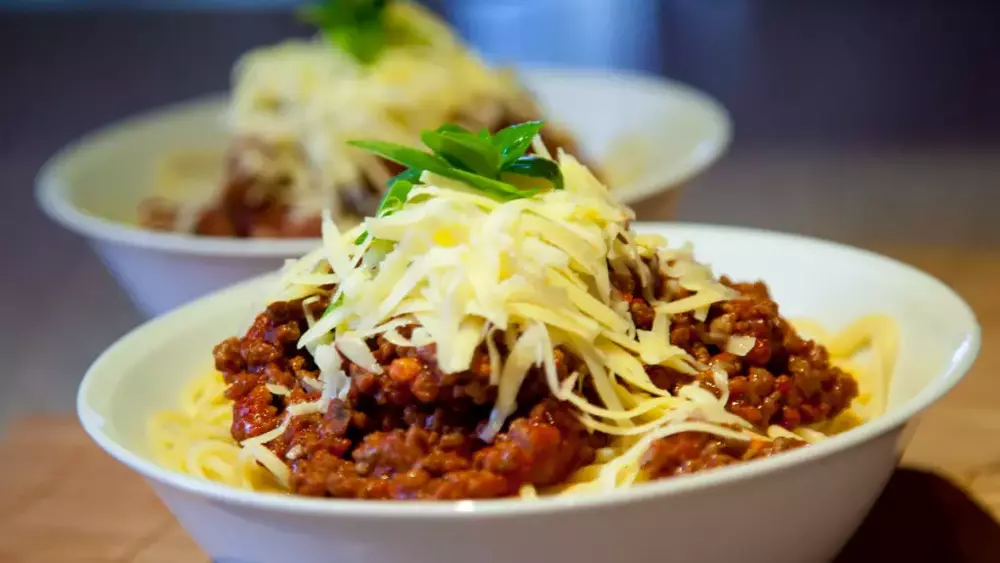 Spaghetti Bolognese is a popular pasta dish outside of Italy, however, it is not a genuine Bolognese or even Italian meal.
Related Read: https://couchpotatodelivery.com/15-dinner-foods-in-italy/
Spaghetti is eaten with a sauce composed of tomatoes, minced beef, garlic, wine, and herbs; minced beef can sometimes be substituted with other minced meats. In this regard, the sauce is more similar to Neapolitan ragù from the south of Italy than to Bolognese ragù from the north.
The meal is frequently topped with grated Parmesan, although other local cheeses, such as grated cheddar, are also frequently used. It may be served with a higher sauce-to-pasta ratio than is typical in authentic Italian spaghetti recipes. The sauce can be spooned over the pasta or served separately so that guests can mix it in themselves.
10 Meals To Eat On Your Visit To England – My Opinion
I believe that when you travel to a country you have to try its local food. On my visits to England I have tried many of them and this is not just my top 10 but it is what most British people consider their top 10 dinner foods.