Couch Potato Delivery
We Help You Find the Best Food Delivery Service
Signing up for a food delivery service can save you time and can expand your recipe collection.
I will have a look at all types of food that can be delivered to your home. Here are the types of food I will look at.
---
Meal Delivery Services
Finding a good meal delivery service is very important. I did lot of research and reading to help you find the best meal delivery service.
Coming home after work it is nice to have a home cooked meal from a reputable company. Quality, freshness and delivery options are just a few of the things I looked at.
---
Meat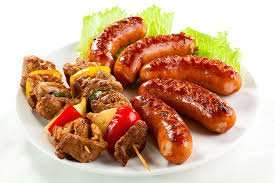 Meat is at this moment one of the most looked for items in online stores that deliver food.
I wrote a whole page with meat delivery stores and you can see them here to find your best meat delivery service
---
Pet Food
Most people might not think about their pets when it comes to the subject of delivery services. But just like for the other categories here on Couch Potato Delivery they can help you save a lot of time and you can find the best quality pet food just from your couch.
You can have a look here at what I think are the best online pet food delivery services.
---
BBQ Meat Boxes
I could have added this to the page where I write about all the meat delivery services like above but I decided to give it its own page for the simple reason that many people search for these packages.
You can find them on the BBQ Subscription Box Reviews page.
---
Snacks
We all like a snack and there are even health experts that claim that it is good to have a snack in between meals.
I did my best to find the best snack subscription boxes here in it own page for you to review,
---
How Does Food Delivery Work?
We all like those delicious home-cooked meals, but sometimes our busy lives get in the way.
The hassle of working and then do grocery shopping and try to follow recipes are not very appealing sometimes.
Fast food is not the solution to this problem. There are better solutions.
With a meal delivery service, you opt-in to receive a pre-packaged meal that contains all the individual ingredients and easy to follow recipes.
There are also companies that deliver very specialized food and this can range from fruit to more exotic examples like meat from certain wild animals or caviar.
What Food Can You Get Delivered
I would almost say that the sky is the limit in this case. By scrolling and looking at all the options here on Couch Potato you can find about every type of food that you desire.
Here is a shortlist of the types of food that you can order.
Complete meals
Meat
Grass-fed and finished meat
Vegetarian
Gluten-free
Organic
Paleo
Keto
Kids friendly
Diabetics
Snacks
Peter Jameson