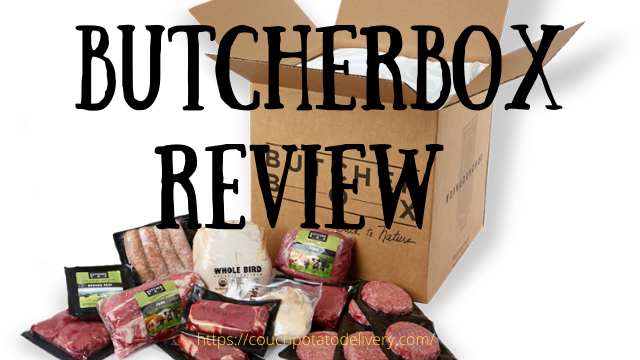 This is my Butcher Box review and I will help you find out if this meat delivery service is worth your commitment. I am going to be as candid as I can so your decision-making process will not be blurred.
From June 12 through October 2022 new customers will receive free bacon as long as their subscription last. Click Here To Subscribe with free Bacon for life!
I won't only consider how good their meat is, but I will equally reveal how fast they (1) can make a delivery.
The first time you register with the butcher box, you would receive your box with a freebie inside. For a long time now, the freebie has been bacon, hamburgers, and occasionally turkey or chicken.
After going through this review and you still feel unclear about anything, you can always reach out to me. Or have a look at one of the other best online butchers.
Ready To Have A Look At Their Store? Click Here!
What's Butcher Box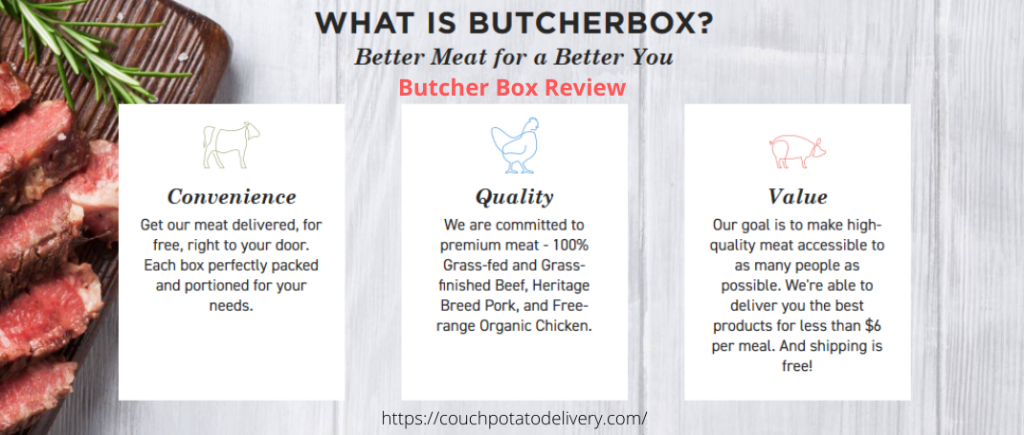 Butcher box links up with local farms that raise finished and grass-fed beef, organic free-range chicken, heritage pork, as well as Alaska Salmon which was haunted down in the scary wild.
After that, they send their high-quality products to their customers, delivering them in their frozen state to the customer's doorsteps.
The butcher box represents a monthly based subscription that will deliver whichever meat box you prefer to your house, around a particular time each month.
Their checklist and philosophy state that every animal should be naturally raised, have no hormones or antibiotics and do have high quality.
The standard of their facilities is being regulated by the methods of Dr. Temple Grandin, who happens to be one of the scientific committee members of the farm animal care program.
The facilities go through regular inspection and approval by USDA or any agency that has equal jurisdiction.
They are so many boxes to make your choice from; I would explain that a little more later on.
How Does Butcher Box Work
With just 3 simple steps to follow, Butcher Box is quite straightforward.
Before exploring the available options, I have to remind you that the boxes contain.
100% grass-fed & finished beef
Heritage breed pork
Free-range chicken
Click Here To Order Butcher Box Quality Meat!
How to place an order on butcher box
Ordering is equally straightforward. Select a box of your choice, check out, then wait for the delivery.
The fastest way to go about this is by visiting their site and clicking on the hyperlink to select your box. When next you want to place an order, just visit the butcher box login page and you can have your box updated.
The most difficult part is choosing the box you prefer to be delivered. There're so many boxes to make your choice from; I will give you more information about what's in the boxes and how much they roughly cost.
Butcher Box plans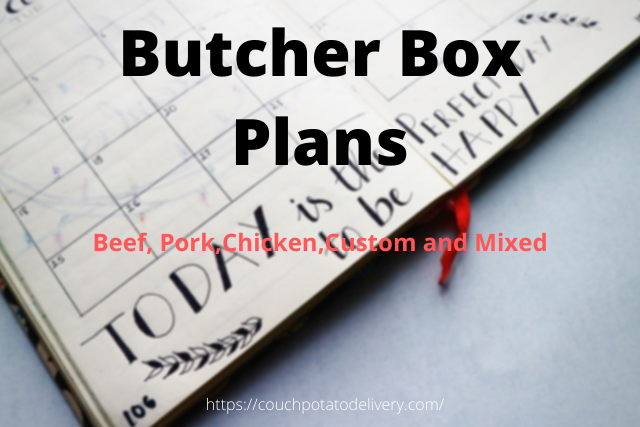 It is easy to find the butcher box subscription plan you need. There are several butcher box boxes to choose from and you can even make your own customized box.
I've made a summary of the plans that are available and equally talked about what is obtainable inside a butcher box.
Butcher box custom box
This custom box allows you to fill it with whatever you want.
There are more than 20 various cuts you can make your choice from, meaning you cannot be short on ideas regarding what meat you can cook.
It has an average weight of between 9 lbs. and 14 Lbs.
It equally contains approximately 20% additional meat compared to any other box.
Butcher box mixed box
This very box is a composition of pork, chicken, and beef. This box varies and is dependent on your region as well as availability.
The average weight of the mixed box is between 8.5 lbs. and 11 Lbs.
An example of a mixed box is:
2 new York strips
2 lbs. ground beef
1 lb. pork tenderloin
4 sirloin steaks
3 lbs. boneless as well as skinless chicken breast.
Butcher box beef and pork box
A beautiful blend of pork and beef is what you will get when this box is ordered. It contains cuts, depending on your region and availability.
The pork and beef come with weight, ranging from 8 – 11lbs
An instance of a pork and beef box is:
4 boneless pork chops
4 sirloin steaks
2 lbs. ground beef
2 lbs. whole tenderloin
2 New York strips
Butcher box beef and chicken
Chicken and beef offer a comfortable variety to make your choice from concerning preparing a fantastic meal.
You are bound to find chicken and beef inside this box, ranging between 8.5 lbs. and 11lbs.
The contents also vary depending on availability and region.
An instance of chicken and beef is:
4 Sirloin steaks
2 lbs. ground beef
3 lbs. boneless and skinless chicken breast
2 New York strips
3 pounds of chicken drumsticks
Butcher box all-beef box
Nothing new in this box; contains finished and grass-fed beef inside.
This box contains meat with a weight of between 8lbs and 20lbs.
Some cuts might surprise you with what is inside. A variety of meat according to availability and region.
An example of an all-beef box is:
4 top sirloin steaks
2 New York strips
2 lbs. ground beef
1 lb. of steak tips
2 lbs. of chuck roast
Let's have a look at someone unpacking a Butcher Box all-beef box and see what he thinks.
You can find all the Butcher Box Options Here!
What is the cost of Butcher box
Before we move into the price talk, you must know that Butcher Box isn't some cheap meat. If you compare it to your local supermarkets which sell many cheap raised pork and beef which is an outcome of mass operations, you would be heavily disappointed in the price.
All the meat that is supplied by Butcher Box is gotten from farm animals that live a normal life. Roaming free as well as eating a natural diet that lacks any antibiotics and hormones. This implies they grow at a much slower pace. Time means a lot to every farmer.
Let us consider an average price with the cost of this for one meal. Remember that the information you are about to see was available at the time of writing, changes are very possible on a monthly or seasonal basis.
Custom box
9 to 14 Lbs.
$149 per month
$10.64 – $16.5 per pound
$4.97 per meal
Mixed box
8.5 to 11 lbs.
$129 per month
$11.72 – $15.72 per pound
$5.38 per meal.
Pork and beef box
8 to 11 Lbs.
$129 per month
$11.72 – $16.12 per pound
$5.38 per meal
Chicken and beef box
8.5 – 11 Lbs.
$129 per month
$11.72 – $15.72 per pound
$5.38 per meal
All beef box
8 – 10 Lbs.
$129 per month
$12.90 – $ 16.12 per pound
$5.38 per meal
Pros & Cons of Butcher Box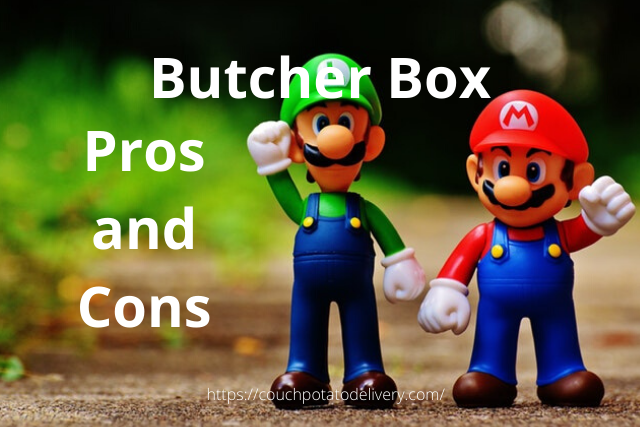 I had earlier said that the Butcher Box isn't for everybody.
If it is possible for you to obtain your heritage pork, grass-fed beef, and free-range chickens around you, then that would be a lot cheaper.
The real value of Butcher Box can be truly felt when you consider the time factor.
By making use of Butcher Box, you'd enjoy convenience and quality. If you were to search for this meat type all by yourself, you will have had no option but to stop by a specialized butcher or health store.
I've observed that there are huge price differences between some meat stores and many meat delivery services. While meat store prices might be lower, in comparison to the Butcher Box, I don't need any driving there anytime.
Shopping in a regular store is time-consuming, which is where convenience sets in. I prefer to have my meat delivered to my doorstep instead of switching between stores to look for good meat.
The sad part is that you are responsible for all the packaging materials. It is equally possible for the box to be damaged in transit. Though I don't get to hear that often. In such a situation, you are expected to get a replacement or credit your account.
The box could contain less or more meat than you would require for a certain month. The good part is that you can update how often you want your box delivered.
Pros:
Very tasty meat
High-quality meat
Very convenient
Can save money on gas
Time saver
Cons:
Package material
Pricey
Can come damaged
I would have ended this review here because I have already covered so much. However, there are still things you need to know regarding this meat delivery service.
Find All Butcher Box Products Here!
FAQs regarding butcher box
I notice people ask many questions regarding Butcher Box. I will give answers to some of the most popular questions.
Is the butcher box worth the money?
While you cannot give a straightforward answer to the question, your situation is what will determine whether it is worth it or not. I believe it's worth every cent.
I say that because it's a big time saver and quality meat since they deliver it to your house.
Where do they get their meat?
I already answered this question before, but I will do that again for emphasis' sake. They get their meats from a local farm that is carefully selected, while these farms raise their chicken, pigs, and cows in an organic and human way.
It implies that the animals cannot be raised with hormones or antibiotics and they have to live a very natural life. Roaming and eating natural food.
Who delivers the box?
FedEx is used for shipping the meat, so you mustn't be around for the delivery since it doesn't require a signature.
This gives you more time to do whatever you want to do knowing that the meat will be delivered anyways.
How long does delivery take
That depends on whether it is your very first order.
After your first order, preparing your box for shipping averages about 2 to 3 days.
A recurring order begins after you are sent a reminder, another day to have it prepared, and 2 to 3 days to have the meat boxed.
After everything, it takes about 3 – 5 working days for you to get your order sent to you. Each month your order will get to you at a particular time. Closely watch your email inbox for confirmation as well as shipping details.
Will my Butcher Box meat arrive frozen
The meat remains frozen due to the packaging that the Butcher Box makes use of. During my search, I didn't notice many complaints about their meat not arriving totally frozen.
The boxes are filled with plenty of dry ice as an insulation layer.
Can you pause, cancel or change your butcher box
The answer is yes. You can suspend your butcher box membership for about 6 months.
If you're interested in canceling everything, do that before the next billing starts to read.
The same goes for making changes to your meat box. Before your billing, you can basically make any changes you like.
Is butcher box grass-fed?
All the beef inside the butcher box can be safely called grass-fed as well as finished. That implies they aren't fed any grains or food they wouldn't have eaten in the wild. This equally implies that they lived a very normal human life as compared to forcing them into smaller spaces.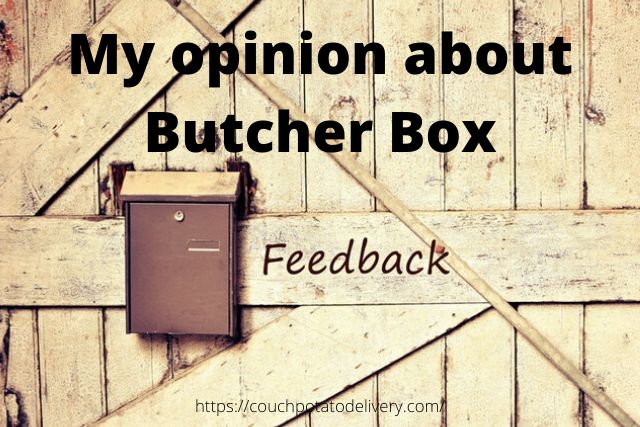 Butcher Box review – My Opinion
After all my reading and research for the butcher box review, I'd summarize everything here in case you don't fancy reading the entire page.
Butcher box represents a reliable meat delivery service with high standards regarding where they get their meats from.
You can see all their products by Clicking Here!
All the farms they make use of are put through strict scrutiny before they are included in their list. All their meat is 100% natural as well as fresh, while the animals live a comfortable human life.
They are more expensive when compared to your neighborhood grocery stores even though most of those stores don't deal with organic, grass-fed, or natural meat
The convenience of receiving your meat delivered to you is what makes their price to be higher. You can save yourself the time you would have used for shopping as well as driving in search of good stores.
If there is anything you want to find out or contribute to this butcher box review, please do not hesitate to file your comments below.