Many people love BBQ but don't like to grill or just don't have the time for it. This is where my Jack Stack BBQ review comes in place.
You can order restaurant-quality BBQ from Jack Stack BBQ's online store.
Who and what is Jack Stack BBQ?

We have to go back in time because the history of Jack Stack BBQ starts in 1957 when a guy named Russ Fiorella opened a small storefront where started selling BBQ with only 6 items on the menu.
The son Jack decided to grow and started their second store in Martin city. Fast forward Jack and his wife started using Hickory wood to let them stand out in the very competitive market in Kansas City.
The third generation of the Fiorella family owns now a chain of BBQ restaurants with 6 locations and they also offer nationwide shipping of their products.
Now it is time to find out more and this is what I found out in this Jack Stack BBQ review.
The menu looks very nice and offered a lot more than I expected them to offer for shipping. I compared it also to the other BBQ box reviews I did.
Main meats of Jack Stack BBQ
Chopped BBQ meats
Burnt ends
Chicken wings
Sausage
Ribs
Jack Stack BBQ packages
You can order these packages for small or larger groups. You can choose from 2-4, 4-6, 6-8, 8-10, and 10+ people. I like that option this means better portion control and fewer leftovers.
All together the Jack Stack packages offer a variety of 29 options. Very convenient.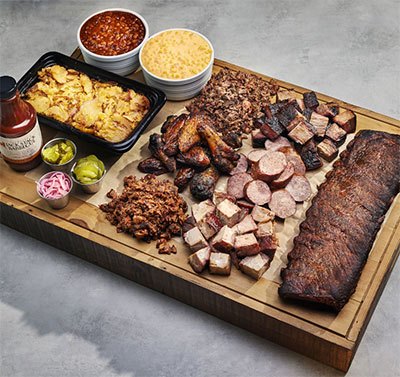 BBQ a la carte
This fancy-sounding package offers several add-ons that you can use to make a complete meal in combination with one of the meat packages you can order.
You can add the following items.
3 sides of beans
Cheesy cake bake
Cheesy potato bake
Mix and match package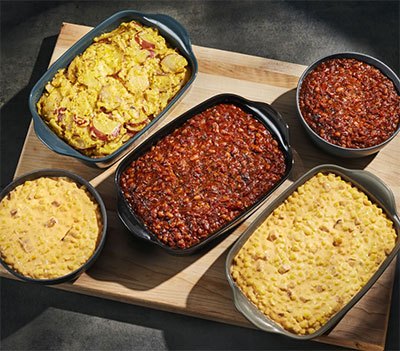 Create your own BBQ package
I believe that this is one of the most popular options in the Jack Stack BBQ online meu and as the name mentions you create your own package.
There are two sizes of the create your own package you can order.
Super Sampler
Big Tast of KC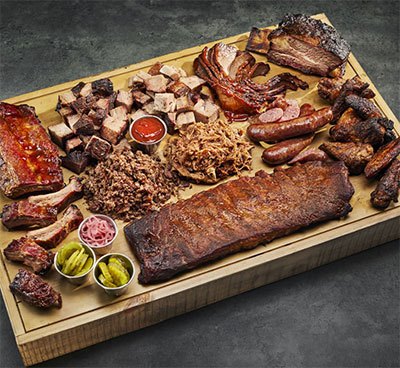 Bundle and safe packages
This is my personal favorite since you can choose from 12 dishes.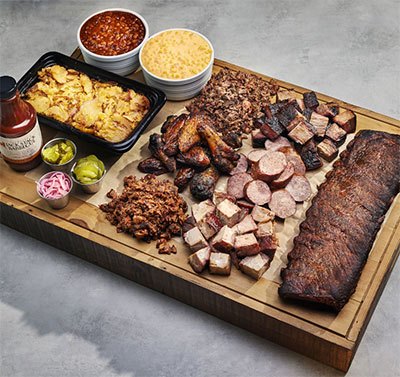 Jack Stack sauces and rubs
If you grill and BBQ a lot it is always a challenge to find new rubs and sauces. You can try one of the Jack Stack BBQs to add more to your arsenal.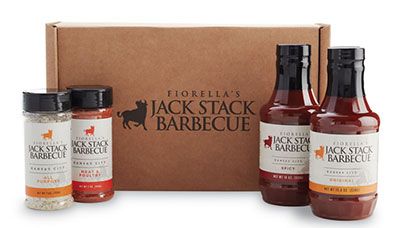 Jack Stak BBQ deserts
Ending a good BBQ meal with a nice dessert is the cherry on the cake. Jack stack BBQ offers two desserts to choose from.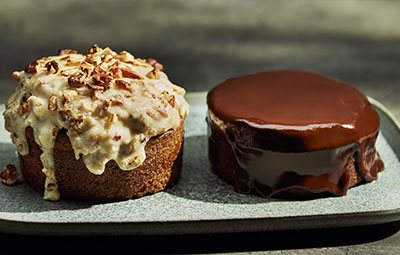 Jack Stack gift cards
If you know a BBQ lover that would like to try Jack Stack BBQ in their restaurant or order in their online store a gift card is a great option.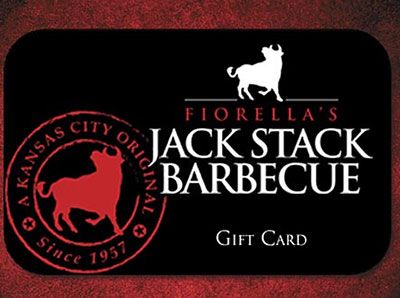 Shipping of Jack Stack BBQ
Ordering is one thing and that is pretty easy on the Jack Stack BBQ website but how it arrives at your doorsteps is maybe even more important.
All the packages are packed fully cooked and vacuum sealed with enough dry ice to last from shipping day to the day that it arrives at your doorsteps.
Shipping is done on Monday, Tuesday, Wednesday, and Friday through FedEx. In most cases, your package arrives within 1 to 3 business days.
You can opt for express shipping through the FedEx site and Jack Stack BBQ calculated the shipping cost depending on your address.
Jack Stack BBQ Review – The Final Verdict
I am planning on ordering me some of the Jack Stack BBQ meats and will add this later to this Jack Stack BBQ review.
For now, I have read many reviews from customers that ate at one of their restaurants or order their meat in the online store.
"Burnt ends, sausage and pulled pork were fantastic, Easy to prepare"
"Shipped in a cooler with plenty of dry ice. Gret guide on how to heat each item. All were clearly labeled"
These are just two of the many reviews I found and I could find no negative reviews, to be honest.
The fact that they have been in business for so many years is already proof of the quality of the Jack Stack BBQ meat and other products.