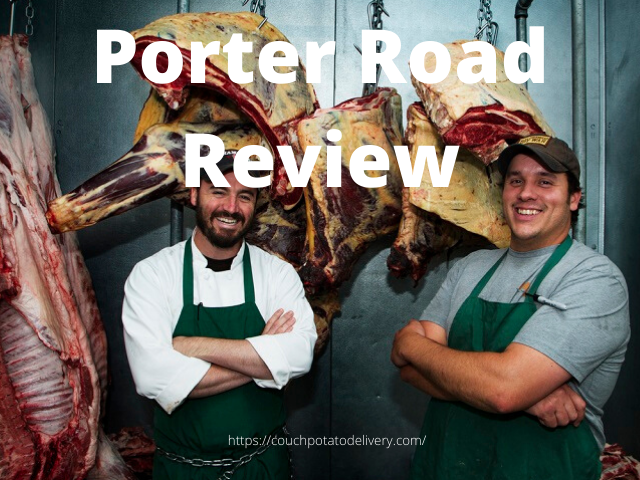 I stumbled upon the Porter Road butcher store and after reading more I decided to do a Porter Road Review and add it here to my website.
The Porter Road is located in Nashville Tennessee and was started by the owners of a catering business James Peisker and Chris Carter.
What is the Porter Road butcher shop?
For their catering business, they had sometimes struggled to find fresh local meat. They found a solution to that problem by starting to work with a select group of local farmers.
Not just any farmer, but farmers that raise their animals by very high standards. The meat from these farms is all hand-cut in the Porter Road facility in Kentucky.
After that initial success in their catering business, they decided to start their own nationwide online meat store with the thought to help people give more access to quality meat and not be stuck with the sometimes low-quality meats from supermarkets.
Porter Road Criteria for their meats.
If you are looking for the general USDA grading I have to tell you that you will not find them in their online store. They have their own criteria that are based on how the animal is raised.
All farms raise the animals on vegetarian non-GMO food with no hormones and antibiotics.
All animals are pasture-raised and then finished with a high-quality grain blend.
The meat only comes from family farms that have a sustainable way of working.
The beef is dry-aged for at least two weeks.
One other thing that makes Porter Road stand out from other meat delivery services is that the majority of its meat is shipped fresh and not frozen to retain its original taste and structure.
Their philosophy is that freezing changes the structure of the meat and they try to avoid that.
Ordering Porter Road meat
I had a good look at their website and I can only say that is very easy to use and that makes ordering very simple and in some easy steps.
I like the fact that you can find your cut of meat and then narrow down your choice by finding a way to cook it including if you should use the oven, grill, or any other method.
If you like to know more about where your cut of meat is coming from you can find all the information also on the website.
What can you order from Porter Road?
There is not that much difference in what you can order from Porter Road from the other stores I reviewed. You can find them by clicking here. The main difference is that you are sure where your meat is coming from.
Beef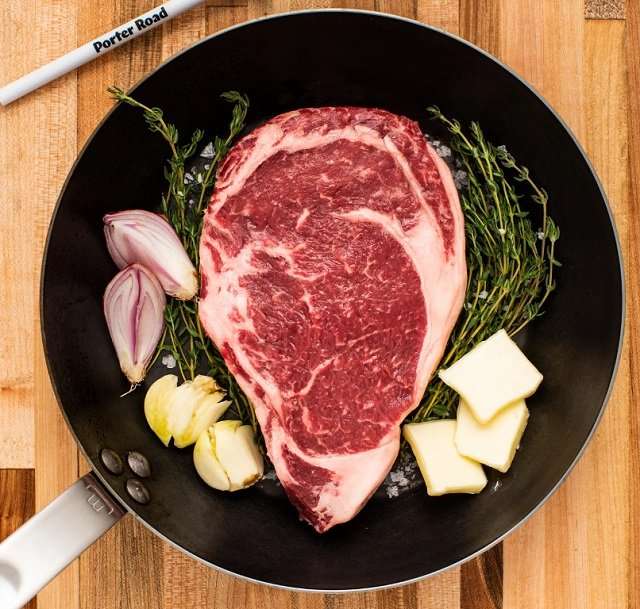 It would take up a whole page to mention all the available cuts of beef.
The thing I noticed is that there are not just regular cuts you can find about anywhere but also cuts that are not so common. Here are a few of them.
Teres Major
Bavette steak
Heart steak
Osso Buco
Pork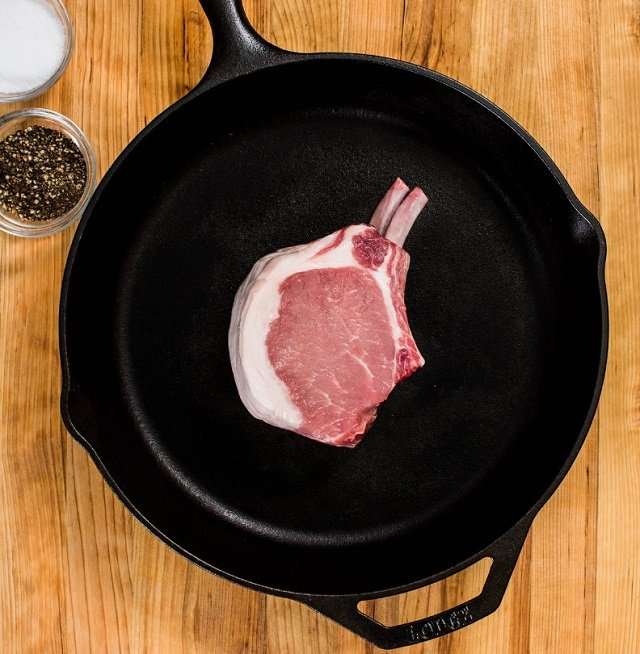 The pork section also had a few surprises in my opinion. Not only are there more options to choose from compared to any other online store I have reviewed but also a few unusual cuts.
I have seen things that I could only find at Porter Road. Here are a few examples.
Sage sausage
Half a pork butt
Double-cut pork chops
Brat and Italian sausage
Lamb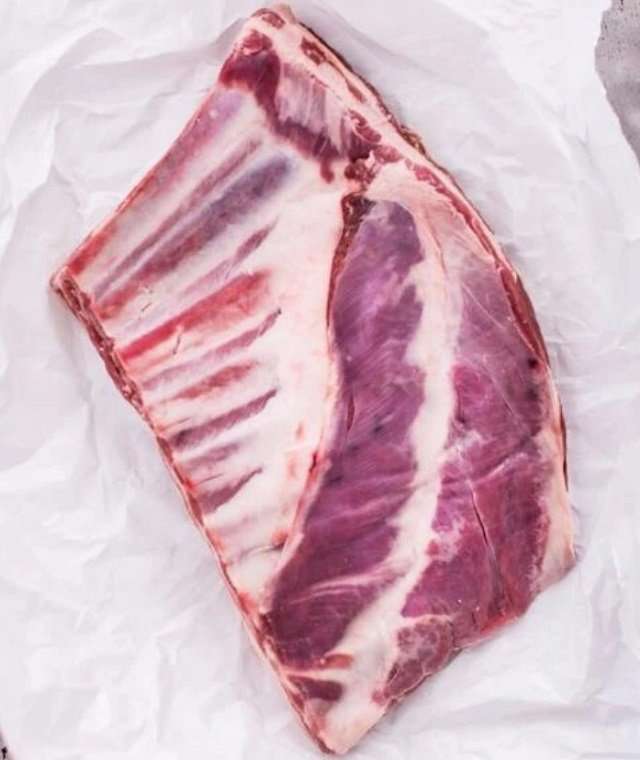 Lamb is a cut of meat you do not see too many times in stores. Porter Road offers quite a nice of cuts in this category.
Not just a leg of lamb or ground lamb but also other cuts. Here are a few.
Lamb merguez
Lamb ribs
Lamb shoulder
Lamb T-bones
Chicken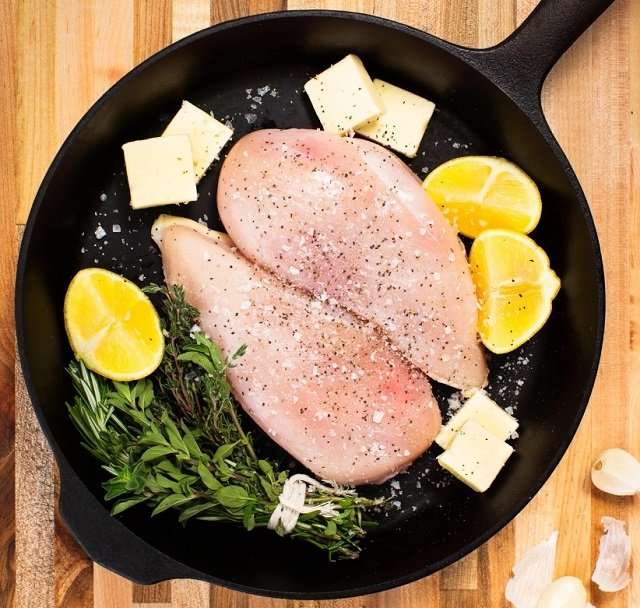 The chicken section did not contain too many surprises and I can only explain that by telling you that there is not much else to do with chicken than the regular cuts like whole chicken, thighs, Bone-in breast, and boneless breast.
The only thing I have not seen anywhere else was their chicken stock.
Sausage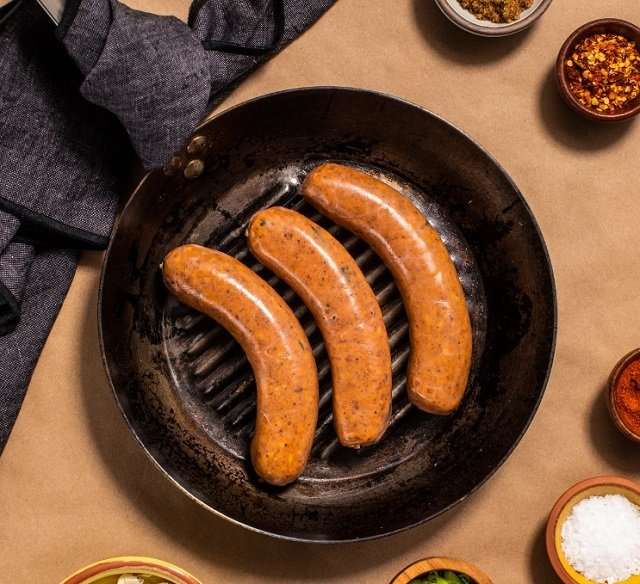 You can wake me up in the middle of the night for a good sausage and most of the time we have them at breakfast.
I like the large selection of sausages on the Porter Road website. As I mentioned earlier this is a product you do not see in most online butcher stores.
Besides the sausages, you can find in your local supermarket the Porter Road store offers several that are a little harder to find and I will mention a few here.
Memphis BBQ sausage
Beef Chorizo
Lamb Merguez
Combo kits
Combo Kits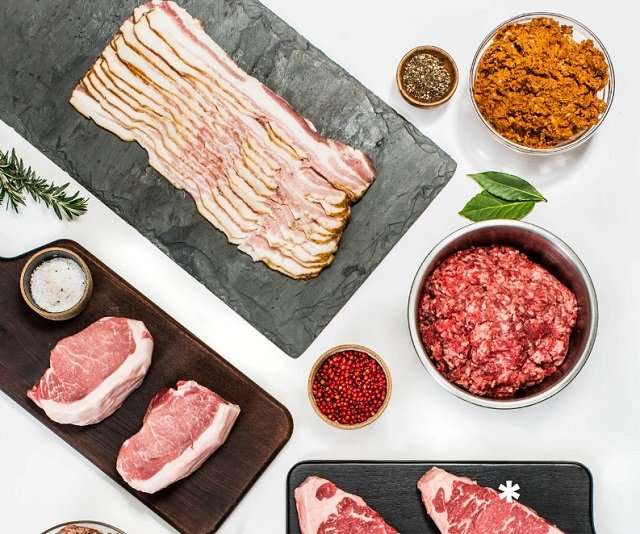 If you don't feel like going to all the options and adding the cuts you found to your cart you can have a look at the Combo Kits.
It is a little hard for me to describe all the boxes you can choose from but here is a short list of them.
Beef
Grill master Box
Basics Box
Best of Box
Pork Box
Gift Card
If you like to help people find the Porter Road shop you can surprise them with a gift card.
The only one they have has a value of $25 and I think this is a nice present for friends that like quality meat.
There is also a special Porter Road BBQ package that you can find on my BBQ subscription box page.
Porter Road Shipping
I mentioned that much of the meat is shipped fresh and not frozen and that made me wonder how they did that. Well, this is what I found out.
First of all, we have to look at how long it takes for shipping to arrive at your doorsteps and what the cost is.
There are only two ways of shipping options.
Standard shipping. This will take 2-3 days
Express shipping. This will take 1-2 days.
Free shipping is available on orders over $100. This amount is not hard to reach when you order.
Because of the "fresh" delivery shipping to Alaska and Hawaii is not possible.
The meat is shipped in a bio-degradable insulated box that is called Green Cell Foam. If you like to know more you can read it here.
This foam is wrapped in gel packs to keep it cool. And all this is packed in a standard cardboard box.
Unboxing a Porter Road Box
Let's have a look at someone unboxing a Porter Road Box
As you can see the dry ice was still pretty much frozen the meat was good and chilled.
To be honest that was a concern of mine. After watching several videos I think I can honestly say that the fact that they ship the meat fresh is no problem.
How does Porter Road Taste?
I have seen a lot of videos from people who cooked and grilled meat from this store and besides that, some of them were not too crazy about the used seasoning on some cuts, the quality of the meat was most of the time mentioned as very good and better than local store-bought meat.
What To Do After Your Meat Arrived.
Porter Road comes as I mentioned above fresh and not frozen. So, it is important to decide what to do with it as soon as you get it.
First of all, place it in the refrigerator. This is for short-term storage of course. Although they claim that meat that is frozen is damaged by the ice crystals you might not be able to eat it within the recommended dates such as pork within 5 days, beef within 10 days, or poultry within 4 days.
So, you have to freeze it as soon as possible.
How To Contact Porter Road Butcher Shop
There are 2 easy ways to contact the Porter Road shop. By email at help@prbutchers.com or by phone at 855-877-8202.
Pros And Cons
It is not all roses and peaches of course. That is why I will ad most of the Porter Road pros and cons here.
Pros
Delivered to your door
Great quality
No antibiotics
Sustainable sourcing
Cons
Not 100 % grass-fed
Sell no seafood
Porter Road Reviews – My Opinion
These are the ratings I found on their Google page.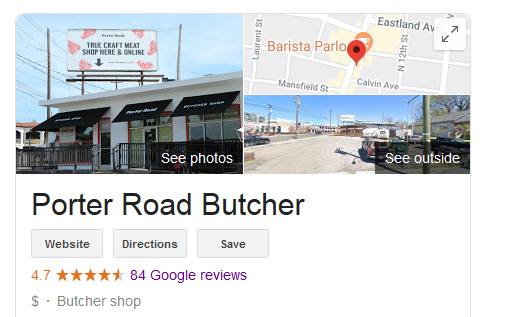 After spending quite a lot of time doing this Porter Road reviews and having a good look at their website and many videos with people that ordered their boxes I can only say that it is better than I expected.
The fact that the owners are experienced cooks and run their own catering businesses gives me a good feeling. Since they are also the owners of their own butcher store in Nashville TN only makes that feeling stronger.
I have not ordered any meat myself yet, but since I am there most of the time once a month I think I will stop by and have a look at their store on my next visit.
One of my concerns was the fresh shipping of the meat and if it was not bad after arriving at the doorsteps. As you can see in the video above and what I found in many reviews is that there are no problems with that.
If you only like to order and eat grass-finished beef you have to have a look at some of the other stores I reviewed here. This meat is not grass-finished.
I hope you enjoyed my Porter Road reviews and if you like to add something to it feel free to leave a comment.