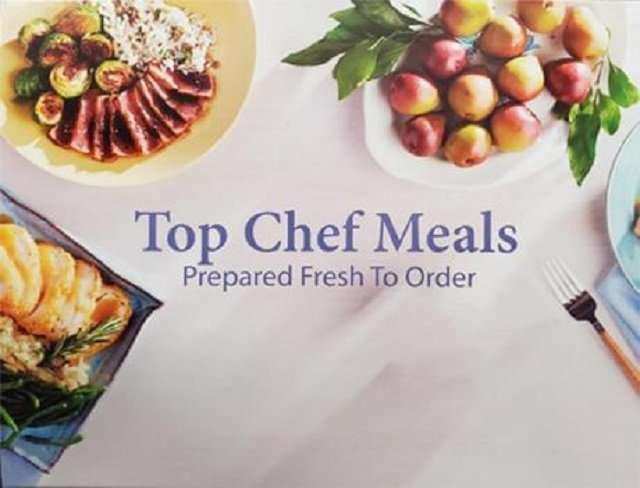 At first, I thought while doing this Top Chef meals reviews that this particular meal service had a relation to the popular TV cooking show. Top Chef Meal is actually a food delivery service based in the New Jersey area but delivers chef-prepared meals nationwide.
one of the best meal delivery services
.
Meal delivery services do wonders for the busy person or the average New Yorker on an 8-5 schedule. While it's always convenient to prep your meal before dinner, meals take quite some time to buy from the grocery store when you prepare. It even takes more time if you're planning to make an exquisite 5-star dish from your favorite chef.
What's Top Chef Meals?
Top Chef Meal is worth looking into as it is led by a group of 52 professional chefs founded by Paul Ghiron. It's based on offering a greater variety of affordable, yet healthy meal options to people who may not have the desire or time to cook. Offering entrees for breakfast, lunch, and dinner, Top Chef Meals does not have a monthly/weekly subscription service.
All prices are on an order basis and once you order, everything is packed in a nice carton box and delivered via FedEx. They have meal plans tailored for low sodium, diet plans, paleo, gluten-free, and diabetic people. How Does Top Chef Meal Work?
How Top Chef Meals Works
From the list of meal delivery services I've reviewed, Top Chef review shows they offer quite a lot of flexibility when choosing what to eat. It lets you choose from lunches, breakfasts, dinners, and even an extra a la carte option for the whole family.
The service allows you to customize your selection in accordance with your diet. What's more, the selection also includes meals for children and seniors which I found to be really accommodating. The only exception is that you need to order at least 9 meals and apart from that, everything is up to you. It's really that simple!
Top Chef Meal Plans
Top Chef Meals menu is quite a handful and can easily give you a headache if you don't know what to look for. With over 400 meals, you are truly spoilt for choice. In a nutshell, everything is divided into starch, vegetables, and proteins.
How they are categorized is another variety you'll have to ponder on. Top Chef Meals are categorized into the following plans.
Diabetes
For Families
For Kids
For Seniors
For Singles (interesting!)
Gluten-Free
Paleo
For Weight Loss.
Remember the entree also includes an option to add over 300 side dishes and extras like fresh meals, congratulations, condolence, and get-well cards. With simple order packs, you once have extra options to choose from including sampler packs and special delivery packs.
The list of what you can order at Top Chef meals is literally endless. The flexibility allows you to maintain a balanced diet and eliminates the possibility of monotonous menus.
If you're a total newbie and are still confused about what to order, here are a few samples I found quite tasty and indeed lived up to their hype.
Wild Mushroom Ravioli
Filet Mignon
Bison Burger with Sauteed Onions and California Blend
Herb-Grilled Chicken with Natural Au Jus, herb Roasted Red Potatoes and Cauliflower Florets
Grilled Pork Chop
Ham and Cheese Omelet Breakfast
What Is The Cost Of Top Chef Meals?
With so many specialties to choose from, one would think foods at Top Chef Meals are quite costly. Well, this is far from the truth. The meal delivery service has extremely affordable foods that generally match your normal grocery budget.
If we add gas both for cooking and heading to the store if it's a couple of miles away, then their food might be cheaper.
That said, Top Chef Meals average between $2.75 to $10.75 per plate. Since they have a 9-meal cap, the average cost for a full meal should be $90. Top Chef Meals partially charges for its delivery services.
If you order meals less than $110, the delivery fee is $19.99 while meals over $110 will cost you $9.95 to order. However, if you order exactly 21 meals, you get a free shipping service!
Here's how the prices vary in terms of breakfast, lunch, dinner, or dessert.
| | |
| --- | --- |
| Meal | Price Per Meal |
| Breakfast | $4.95- $6.25 |
| Lunch/Dinner | $7.25-$15.65 |
| Dessert | $3.25-$5.00 |
Pros & Cons Of Top Chef Meals
Pros
Extremely flexible
Close to 400 meals on the menu
Caters for kids and seniors
Affordable pricing
Cons
Tricky shipping policy (no free shipping on most orders)
FAQs Regarding Top Chef Meals
Top Chef Meals have a wide array of responses in terms of customer reviews. Some are obvious, some really intriguing. Therefore, I'll give answers to some of the most popular queries.
Who delivers meals at Top Chef Meals?
I already mentioned how the delivery works but still, I'll echo once more. The service delivers via FedEx ground courier. The delivery doesn't require a signature so anyone around can pick up the food.
How long does delivery take?
Delivery takes 1-3 days. If you're within the Elmsford, NY area, then you are free to pick up your box from Monday through to Friday.
Is my meal pack frozen?
Yes and no. all foods come flash-frozen in a pack of dry ice. However, upon request, you can order fresh meals that are not frozen.
Can you cancel, pause, or change your meal package?
The company has a 100% guarantee policy and you can only get a refund if you've found part of your meal package missing or spoilt.
Top Chef Meals Coupons
Top Chef does not offer many coupons. They claim that many of their competitors first raise prices and then offer a discount.
One of the only exceptions is the Top Chef meals for seniors. There is a 15% discount for seniors that register on their site.
The Second one is a 5% discount you can get depending on the number of meals ordered.
Summary Of The Top Chef Meals Reviews
My Top Chef Meals reviews show it is a great meal service that has a lot of meal plans up to nearly 400 items on its menu. They offer fresh, pre-prepared foods that are easy to cook and can stay frozen for a long time.
Their prices are more reasonable than most delivery services and I'd honestly recommend anyone to give it a try.