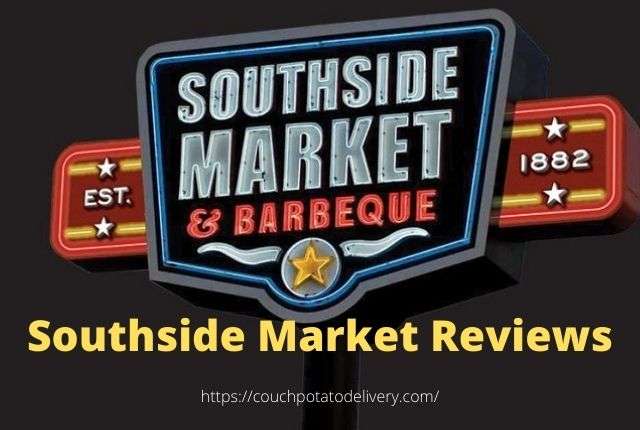 If you find looking for good meat and grilling it by yourself a grueling and tiring experience, barbeque joints are arguably the best places to enjoy your favorite meat recipe.
My Southside Market review shows that for many Texas residents in Elgin, Bastrop, and even in Austin, one of these joints is the Southside Market.
I found what the restaurant offers to be quite impressive and, therefore, decided to bring you a detailed review of one of the oldest barbeque joints in America that also sells BBQ meat online.
What is Southside Market BBQ
Southside Market & BBQ is a barbeque restaurant with nationwide delivery for all its meals. I was quite impressed by the joint's 134-year history. The founder, William Moon, started Southside Market in 1882; he would raise and slaughter animals, carry the meat into Elgin town by a horse-drawn wagon, and sell it door to door.
In 1886, Moon opened the first Southside Meat Market physical store on Central Ave, and the joint has never looked back. Today, it is the oldest barbecue joint in Texas and one of the oldest in the country. Throughout its history, Southside Market has changed the menu, location, ownership, and recipes as it evolved alongside Central Texas barbeque traditions to become what it is today.
How Does Southside Market Work?
Southside Market has four joints in Texas; Elgin, Austin, Hutto, and Bastrop. The barbeque brand offers customers a variety of options. You can either physically visit any of their joints and have your meal at the barbeque restaurant or order a Southside Market BBQ meal online.
The dining experience at the barbeque restaurant is quite authentic. Those living nearby and hungry travelers looking for a quick meal seem to enjoy eating at the restaurant. Nonetheless, during these hard pandemic times, it is important to exercise caution. This is where the convenience and ease of their online system come in handy.
Choose how you want it delivered – 2 options
When you decide to order a meal from Southside BBQ, you are faced with two options. The first option is to have the meal delivered right to your door since their dishes ship to every part of the country. Overall, ordering is quite an easy experience where you select your favorite dishes till you are satisfied with your cart. You then check out and fill in your billing, shipping, and payment details before placing your order.
The second option for those opting to order their meals online is an in-store pick-up. This lets you order your favorite barbeque recipes from the comfort of your home, but you will have to head to a Southside Market shop to pick up your meal. The option is best suited for customers who live close to any of the Southside BBQ joints in Elgin, Bastrop, Hutto, and Austin.
Southside Markert Gift Cards
Coupons and gift cards are also available, and this will give you some pretty amazing discounts. Something that I found particularly convenient when ordering is the fact that Southside Market allows you to pick the delivery date. Therefore, you can have your meal delivered to your doorstep when you want it delivered.
A day at the Southside Market
Here you can see a video of a typical day in the Southside Market and how their BBQ is prepared every day according to the old traditions.
Another thing I like about Southside market and BBQ is its menu; it is delicious and offers a wide variety of meals. The menu provided today has come a long way from the sausage-only menu it was in the restaurant's infant years. The recipe and cooking methods have also gotten better over the years, which explains Southside Market's loyal following of old-timers.
Although beef sausages are still the main offering, the main menu has grown to include pork ribs and steak, turkey, chicken, baby black ribs, brisket, and lamb ribs barbecued and sold by the half-pound. Meals sold by the plate, sandwiches, family meals, kid's meals, sides, and desserts are also available.
Southside has also made an effort to spice up its menu by including the following everyday specials for each of its four joints;
Monday– Smoked Bone-In Pork Chops
Tuesday- Smoked Brisket Pastrami
Wednesday- Pulled Pork
Thursday- Beef Steaks
Friday- Smoked Pork Belly
Saturday & Sunday- Dinosaur Beef Ribs
Southside Market Prices
Southside Market offers some really friendly prices. Here is an overview of how much it will cost you to grab a meal at the restaurant. Prices are at the time of me writing this and might have changed.

BBQ by the half-pound
| | | | |
| --- | --- | --- | --- |
| Sausage Slammer | $4 each | Baby Back Ribs | $9 |
| Original Beef Sausage | $6.50 | Turkey | $8 |
| USDA Prime Brisket | $9.75 | | |
| Chopped Brisket | $8.25 | | |
| Jalapeno Cheddar Sausage | $6.50 | | |
| Pork Steak | $6 | | |
| Half Chicken | $7 each | | |
| Lamb Ribs | $7 | | |
BBQ Plates
| | |
| --- | --- |
| Southside Combo (Sausage and Brisket) | $13 |
| 1 Meat | $13 |
| 2 Meat | $13 |
| 3 Meat | $17 |
BBQ Sandwiches
| | |
| --- | --- |
| Southside Combo (Sausage & Brisket) | $9 |
| Sliced Brisket Sandwich | $5.75 (Large $ 9.5) |
| Chopped Brisket | $5.25 (Large $8.5) |
| Sausage Sandwich | $6.50 |
| Sausage Wrap | $3.50 |
| Turkey Sandwich | $5.25 |
More Choices
| | |
| --- | --- |
| Chopped Brisket Baked Potato | $9.5 |
| Smoked Chicken Salad | $8.50 |
| Ranch Hand | $9.5 |
In the Southside Market review, I found that the family meals start at $53.5 while kids' meals start at $6. Southside Market also sells desserts and hand-dipped ice cream alongside the main courses. A scoop of ice cream goes for $2 while desserts go for $3.
Southside Market Shipping
Southside meat market and BBQ ships countrywide via FedEx Ground, FedEx Home Delivery, and UPS Ground from Monday to Wednesday. The food is frozen and packed with dry ice to preserve it during transportation. Once the delivery drivers pick up and scan a customer's package, they receive a tracking notification.
For timely and inconvenience-free delivery, customers are advised to fill in their current shipping address before finalizing the order accurately. Nonetheless, Southside Market carriers do not deliver to P.O. Box addresses.
Pros and Cons
When I started looking at the pros and cons of the Southside Market BBQ I have to be honest and did not find any cons.
Pros
A wide menu
Relatively cheap
Generous portion
Nationwide delivery
Refund in case of an error by the restaurant
Directions to SouthSide Meat Market
If you do not live in Texas all you have to do is click on one of the links in this article.
Southside Market Hours
The opening hours of the restaurants are Monday Through Sunday from 9 am to 8 pm.
However, the Southside Market online store is open 24/7 and ready to accept your orders.
Southside Market review – My Opinion
Southside Market and BBQ is an impressive restaurant whose recipe seems to have gotten better over the years. This BBQ joint offers a wide range of delicious meals, including the best sausages in the whole of Central Texas.
Their online delivery system is quite good, so don't worry about missing out on their wonderful delicacies; you can always order from the comfort of your home and have it delivered to your doorstep. For those traveling through Central Texas, don't forget to pass through their shops for a bite of Southside Market's famous sausages.
I hope you enjoyed reading my Southside Market review as much as I did writing it.