Though I never knew or heard about this food service, I thought to do Try The World box reviews. In my research, I did find many recommendations. After digging deeper, I found interesting and worth mentioning things about this food service that I thought it was worth doing a full review about it.
'Try the World' believes that life is worth enjoying, and what can be a better way to enjoy life other than quality-based food? This guide will be all about 'Try the World' food service, what they offer, and how they took the world by storm. So, if you want to know about it in detail? Let's begin the review.
In A Hurry? You Can Find The Try The World Website Here!
What is Try the World?
Try the world is a Food company that offers quality-based and Hygienic food to people residing in the USA and Canada. It is a monthly subscription for people who want to taste different countries' food but can't. This food service originated by Kat Vorotova and David Foult, who were enthusiastic about food and wanted to bring something unique to the world.
The service offers two boxes including 'Snacks,' and 'Countries.' If you go for the 'Snacks' box, you will get six snacks from 6 different countries of the world while if you prefer to go with the other box, you will get 7 or 8 international gourmet delights each month. Both packages vary in price. It depends on you which one you prefer to have.
Other than these two boxes another box in the category is the "Pantry Box' which is best for vegetarians. Many people from Canada and the USA who tried this offer have mentioned that they are very satisfied after this experience. They Try The World also offers exceptional food for people with diabetes. They have been in business for many years and have succeeded to deliver high-quality food.
How Does Try The World Work?
There is good news for those living in the USA and Canada. If you have ever wished to enjoy the food from different countries, this food service offers you an extraordinary chance to have your dream come true without traveling there.
The food they offer comes from 6 different countries and is prepared by well-known chefs in the United States. Once you subscribe to their offer, there is no way back as you won't ever let it stop.
To get their offer the user has to sign up for their subscription. It depends on you which offer you want to select out of 3. Once you are subscribed, you will receive boxes every month with a detailed description of how to use and prepare a particular country's food.
When it comes to the subscription, you have many preferences.
Bi-monthly Subscription
Semi-annual Subscription
Annual Subscription
Each subscription varies in price. However, you can not choose a specific country. After every two months, the box keeps on changing (i.e. countries, food items). This variety makes it easy for if anyone is not interested in current box features, they can always wait for another one.
Find The Try The World Website Here!
Why order from Try the World?
After reading this first part of my Try The World reviews, you may be wondering why choose this particular food service among thousands of meal delivery options? So, after detailed research, I came across many valid reasons that you might not want to go for any other food service.
One of the main reasons for trying this service is to get your hands on the food and taste from different countries while sitting at home. You can enjoy food from other countries comfortably without traveling. Furthermore, according to my research, 9 out of 10 people living in the USA and Canada that have used Try The World have shown their satisfaction with this food delivery service company after experiencing it.
You can cancel your subscription after a month if you are not convinced. If I talk about myself, one of the best things I found in this food delivery service is that I can try various food items, and I would get to know more about each country's tastes.
Apart from this, I found these boxes a perfect gift for your friends and loved ones. What if you surprise your friends with these lovely boxes of food items?
What is in the box?
So now you must be slowly curious to know what's inside the box. I will try to mention each item you receive in your box once you are subscribed.
1- Countries
It is a box full of different ingredients that come from different parts of the world. You can cook these ingredients with your drinks and snacks and enjoy the taste.
2- Snacks
I am sure that about everyone loves to have snacks in between food, and as doctors have also claimed that it is healthy to have snacks in the evening so the box also contains various snacks.
3- Foreign Cuisine
Have you ever wished to taste the cuisine of different countries? Try the World offers you this option while sitting at home. Each box contains different cuisines that you are surely going to enjoy. With each food product, a recipe tip is also given so that you don't get confused while cooking.
A few other food services that you can find here include:
Keto Food
Organic
Diabetics
Kids-Friendly
Grass-fed and finished meat
Gluten-Free
Paleo
With so many options there is something available for everyone.
Find The Try The World Website Here!
Unboxing Try The World box from France
A video can explain it a lot better than I can. Here is a Try The World Box from France
Try The World snack box
Here is an example of a Try The World Snack box and what comes in it.
Try the World Prices
After knowing what is inside the box, you surely want to know the prices as for many people, it is one of their concerns. After learning the prices, I found them a bit costly, but later I thought it might be justified by what they offer. Each subscription and each box vary in price.
As I said earlier that you have to make the selection out of 3 box choices. The 'Snack' box costs $19 per month while the 'Country' box is a bit expensive as it costs $39 per month. However, another box option known as the 'Pantry' box costs $29. Furthermore, if you do not feel you need the whole box you can order single items.
From their website, you can place the order directly, and you are free to switch to any subscription plan after every month. You might find these prices a bit costly but give it a try as you might find the taste worth the price.
Find The Try The World Website Here!
How to Subscribe?
In case you are confused about making a subscription, let me make things simplistic and easy for you. It requires a few simple steps to complete the process. Go to their official website and enter a few essential details including your first and last name, email address, and password to set up your account and you can get started with the subscription you choose.
After this you pay and you are ready and just wait for your box to arrive at your doorsteps.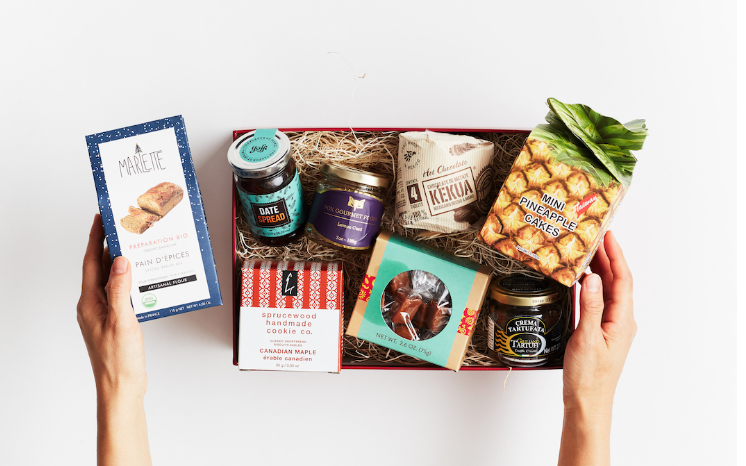 Shipping
We all love to have home-cooked meals, but sometimes we are too busy to prepare them at home. In such a case, Fast food is not a solution, so why not try a Food company that offers home-based meals from different countries shipped directly to your house. Let's have a look at the Try The World shipping method and how the boxes will reach you.
Once you have subscribed and placed your order wait for it as it will take 3 to 5 days to have your order delivered. You will be notified of the exact date. There are a few regions where extra fee shipping is charged depending on the order you have placed. Those regions with additional shipping fees include Alaska, Armed forces Europe, Hawaii, PR, AA, AE, Puerto Rico, HI, VI, and a few others.
Other than these regions, shipping is free. At the current moment, shipping is only done within Canada and the United States. According to my research, they are coming up with more shipping methods soon to reach more countries. They make sure to provide a quality-based package. Any damages found? Contact them on the website and quick action will be taken.
Once you have placed your order, you will be given a tracking number by email. Keep checking your email for updates until your box is sent to you.
Ready To Have A Look At The Try The World Website? Click Here!
Pros and Cons
Now here is the main point that defines whether a particular service is worth using many people have left, for your convenience, some of the pros and cons of Try The World. I have listed a few essential pros and cons of this food service to make a final decision.
Pros
It let people enjoy a variety of meals.
You can get to know the taste of different countries without traveling.
You can cancel the subscription anytime if you do not feel satisfied.
Surprise your friends and loves ones with this box full of healthy meals
After using this subscription for more than three months, you will be given many rewards and offers on each box.
Many people recommend this foodservice.
You can pause the subscription anytime due to any reason.
Cons
You can't customize the box and chose the countries.
The prices are a bit costly.
The shipment is limited to the USA and Canada.
Try The World Box Review – Summary
So, this is the summary of my Try the world reviews that might help you to decide whether you want to give it a try or not. I found it pretty amazing that 9 out of 10 people have recommended this food company as they had a good and satisfying experience.
Apart from proving quality-based taste and service, they also offer various others. The company provides different coupons, Rewards, and offers once you become a regular customer.
If you are a food lover and want to come out of your comfort zone to try something unique and extraordinary you can't get a better option other than Try the World. The boxes are specially made by well-known chefs with special recipe tips that clearly define how to use a specific product.
It is surely the best fit for many people living in the USA and Canada for numerous reasons. You can switch to different boxes anytime once you do not feel satisfied with the current. Furthermore, the cancellation of the subscription is always available.
If you are convinced enough to give it a try head over to their official website and place your order. I am sure you are not going to regret it. This Try the world review is enriched with every possible detail, if you find anything that needs to be added feel free to contact me.