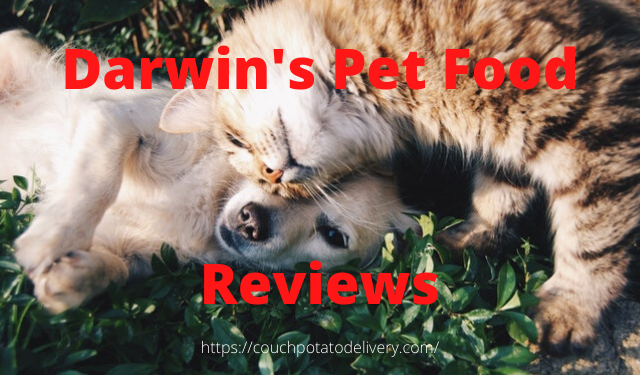 When I was doing Darwin's pet food reviews I found that they have some good reviews for their dog food as well as their cat food.
What is Darwin's pet food
Darwin's pet food is a pet food subscription that delivers fresh, high-quality, and healthy raw meals that are mentioned to be affordable and convenient for buyers. In Darwin's pet food store you can find custom food that is made of raw ingredients.
Their focus is on grain-free pet food with a 75% meat and 25% vegetable ratio. This is all in complete line with the AAFCO dog food standards.
Facts About Darwin's Natural Pet Food
There is a reason that Darwin's pet food is so popular and that has to do with what is in or actually not in their food. Here are some facts.
Meat is ethically farmed
Meat is hormone and steroid free
Organic food and economical food lines are available
Gluten-free
Grain-free
Contains only meat and vegetables and a nutrient mix.
As you can see there is nothing else in their food than high-quality ingredients.
The added nutrients mix contains a mixture of several things that vary per food that you order. It contains things like Flaxseed, fish oil, zinc proteinate, vitamin E, manganese, and many more trace elements.
Unboxing
I think it important to know how your pet food arrives at your doorsteps before you can find and call it one of the best online pet food delivery services. A video can make that a lot clearer than I can. After all the saying is that a picture paints a thousand words. This is one of the more recent videos I found.
Looks pretty good to me and seems like it is all still frozen and ready to be put in the freezer for later use.
What types of food does Darwin's pet food offer
They do not offer food for any other animals than dogs and cats. Let's have a little closer look at the options they have for these animals.
Darwin's Dog food
Their dog food has a few categories and you can choose what you like to offer depending on your personal preferences and budget
Natural Selections dog food
This is a grain-free mix that contains free-range meats and pure organic vegetables. This means cage-free, pasture-raised, grass-fed, and free of steroids and antibiotics.
Biologics
This is a more economical raw dog food line that uses ingredients that are conventionally grown vegetables and the same meats as in the Natural selection.
Intelligent Design dog food
This intelligent design is made of veterinary formulas for dogs and is designed to help dogs with quality food that faces some health issues. This line is only available by prescription.
Darwin's Cat Food
Cats need different nutrients than dogs and their diet should be almost entirely animal-based. Let's have a look at what type of cat food
Cats need different nutrients than dogs and their diet should be almost entirely animal-based. Let's have a look at what type of cat food Darwin's offers.
Natural selections cat food
Although the same name as in the dog food section this one for cats contains no grains at all. This selection only contains Turkey, chicken, and lamb meat. All this meat is all cage-free ranged.
Intelligent design cat food.
This mix is only available per prescription and is called a veterinary formula. These are specially designed cat meals to support cats while they are having health issues.
The Darwin's pet food story
When Darwin's founder Gary Tashjian was confronted with his dog Max being sick and he tried all traditional approaches nothing seemed to help.
He turned to a holistic veterinarian and he suggested that changing the dog's diet to a raw version would help and it did work.
This proved that the statement "you are what you eat" also goes for pets and that is why he started Darwin's pet food company.
Why Raw Meat
All dogs come from Wolves, I know it is hard to believe sometimes, and they should all eat raw meat. Unfortunately, some of them do produce not enough bile to digest that anymore. You should consult with a veterinarian before switching your pets to raw food.
There are many advantages for pets to eating raw food. It will strengthen their immune system and can help with skin problems and diseases.
Be prepared that your pets might end up with higher energy levels and need more frequent walks. It will almost certainly make them live longer and healthier.
Darwin's Raw Meat
The raw meats that your purchase from Darwin's have never been cooked and it is best to feed them to your pet that way. However, If you need to reduce pathogens you can cook it lightly.
Darwin's Pet Food Reviews – My Opinion
I have read some news about recalls of their food. The last time I read about that was in an article from 2018. After that date, I was not able to find any more news about recalls of Darwin's pet food.
I have spent a nice time reading all over the internet to find customer reviews of this pet food and in general, I found more positive reviews of their products. It comes frozen or still cool enough to your doorstep and the packaging seems to be pretty good.