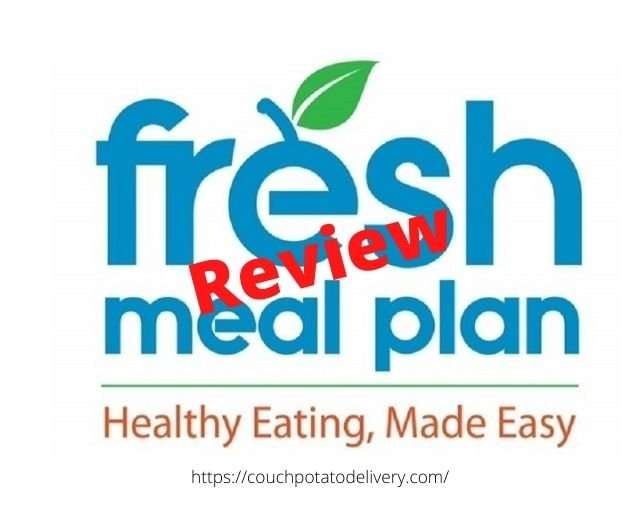 If you live a busy schedule, like most Americans, then you've certainly come across meal delivery services as I discuss here in the Fresh Meal Plan review. But the problem nowadays isn't even the food companies; it is just how they are swamped up all over. Finding the right pick for your allergy, diet, etc., can be one hell of a needle-in-a-hay search.
Luckily, that's what couchpotatodelivery.com does! I founded this website to help people find the ideal meal delivery service, not by advertising but through honest reviews. I try the meals first, then give my 2 cents.
So, today I came across a meal delivery service in Florida that has been in operation for quite some time. Fresh Meal Plan seems to touch on healthy foods, and I was interested in seeing what they had to offer. Stay put as I unravel all there is to know about the meal delivery service.
In A Hurry? Have A Look At The Fresh Meal Plan Website Here!
What Is Fresh Meal Plan
Co-founded by a renowned CIA-certified chef, Fresh Meal Plan is a health-conscious meal plan with tons of options to personalize meals as per your needs. The company has over 500 meals, bringing a wide variety to diets and lifestyles. As you'd expect with all the dishes available, Fresh Meal Plan has a well-selected plan that works for just about anyone.
The companies swear all meals are from fresh ingredients, and each dish has an ideal nutritional balance of optimal health. All meals are fully cooked, and all you need to do is microwave and get served. No food is ever frozen.
Fresh Meal Plan has a subscription model, where only subscribers get to order food that is delivered weekly. As a subscriber, you'll get access to all food plans and choose how many meals you want per week. The good thing is that the meal delivery service does not limit you to options and whether you need more proteins, veggies, entrees, or extra sides, Fresh Meal Plan delivery will accommodate your needs.
Fresh Meal plan saves you the stress of booking reservations in a five-star hotel just to get a top-notch dish. They prepare chef-quality meals, and all you need to do is put it in your fridge and preheat.
How Does Fresh Meal Plan Work
As mentioned earlier, Fresh meal Plan is a subscription service, and you'll need to create an account first. But that's easy; just enter your information, and in minutes, you'll be choosing your favorite meal plan.
That said, Fresh Meal Plan offers five meal options and programs to choose from. You'll have to decide between Traditional, Keto, Lean, Paleo, Vegan, and Mean. The meal programs at Fresh Meal plan allow you to choose from 6,10, or14 meals per week. You'll have to select from 12-17 meals that change weekly (excluding Lean and Mean menus) in each meal option.
Once you have a solid meal plan, you also get A La Carte extras in a dedicated menu bar called Fresh+. Here, there are more than 30 items that you can use to complement your pre-made dishes. In the subsequent weeks, Fresh Meal Plan will suggest menus as per your previous selection if you don't want to decide what to eat every other time.
The Fresh Meal subscription runs every week until you decide to cancel. And you can cancel, modify, or pause your subscription any time before the shipment. In case you change your menu, ensure you do it before weekly cut-offs.
Ready To Have A Look At All The Fresh Meal Plan Meals? Click Here!
Fresh Meal Plan Meals And Recipes
This delivery service is all about healthy foods, and you're about to see that in a moment. I tried out the Traditional meal plan, but I'll talk about all of them just to get a gist of what Fresh Meal Plan offers. There are 5 unique menus: Paleo, Traditional, Lean, Keto, Vegan, and Mean. Let's look at each meal plan, highlighting the essential qualities of each dish.
Keto
For Keto diet followers, Fresh Meal Plans offer 15 keto menus every week, each having about 10 grams of carbs and 80% of fat. There is a moderate balance of proteins coming from eggs, fish, and meat. The keto diet has a variety of unique breakfast, lunch, and dinner dishes like Smoked Salmon, All-American Keto Breakfast, Cheese Omelet, Beef Picadillo, etc. It is worth noting that keto meals are not included in the XL upgrade.
Traditional
The Traditional selection has about 17 dishes spread across all three meals, breakfast, lunch, and dinner. Each plate has 30% proteins, 40% carbs, and 30% fat. Anyone would love this plan as it doesn't have any specific preferences. I ordered a Turkey Bolognese, and it came fresh. Other meals in the traditional plan include Salmon Cake Santorini, Sirloin Steak, among others.
Paleo
Paleo dieters have an option at Fresh Meal Plan with this signature low-carb diet. Paleo dishes have protein (primarily lean) with lots of healthy fats from seeds and nuts. Paleo is a little more flexible than keto, and you shouldn't have any issue finding the ideal variety. Typically, Fresh Meal Plans has 17 paleo dishes per week, including classics spread from breakfast, lunch, and dinner. XL upgrades are available with an option to add more proteins as well.
Vegan
The vegan meal plan is available, and you get an excess of 15 vegan dishes every week. Every ingredient used is 100% satisfying, vegan, and plant-based. You can choose to get their breakfast, lunch, or dinner plan filled with tons of satisfying recipes. Vegan options include Roasted Tomato, Vegan Spinach Mushroom, Cinnamon French Toast, Sausage Egg, or Eggplant Roulade. The average vegan dish has about 450 calories.
Lean And Mean
Lean And Mean is aimed at bodybuilders as it has tons of foods rich in protein, healthy starches, and exotic veggies. You'll also get a dash of whole grains with little fat. The Lean And Meal Plan includes dishes like Shrimp Pasta, Angus Burger, turkey Chilli with Brown Rice, and Salmon Burger with Asparagus. While the meals are already protein-heavy, you still have the option to choose to add extra protein in the XL upgrade.
Fresh+
Lastly, if you need more food in your deliveries, you can look at the Fresh+ section. If you have a big family, this is the perfect plan. The Fresh+ section has a little over 30 items on the menu. Some of these include Roasted Broccoli, Sweet Potatoes, Salads, entrees, and other power bites.
Ready To Have A Look At All The Options? Click Here!
Extras
I'm not done yet. Fresh Meal Plans also has a couple of extras I might have mentioned in this review. The two "plans" are A La Carte and Dessert/Snacks.
A La Carte – Offers more control of the number of proteins and veggies you want to include in your dish. There are tons of protein-based meals like Bison Burgers, Grilled Chicken Breasts, etc.
Dessert/Snacks- There are tons of sides for the dessert-lovers, and you'll get a selection of cookies, brownies, parfaits, and other bites.
I can keep on writing but sometimes a video can explain it better than I can. Here is a video of receiving and opening a Fresh Meal Plan box
Fresh Meal Plan Delivery
Fresh Meal Plan does weekly deliveries, and they ship your meals for the week every Thursday. This means, by Saturday evening, you should have your meals at the doorstep. Florida residents are lucky as they'll have deliveries done by hand, and South Florida residents get deliveries Monday, Wednesday, Thursday, and Sunday. Meals to other states are delivered via FedEx.
The delivery service is exclusive to residential areas only, and each package is assigned a tracking number that the subscriber can see. Just to be sure, check with the website to see if they do deliveries to your state.
Unboxing Fresh Meal Plan
Fresh Meal Plan Prices
Here is a breakdown of how much does Fresh Meal Plan cost. First off, to enjoy Fresh Meal Plan's meals, expect to pay between $10-$12 per serving. This cost is majorly dependent on the number of meals you take per week, and shipping costs are not included in the price. Here is a breakdown of Fresh Meal Plan costs:
| | | |
| --- | --- | --- |
| Meals per week | Price per meal | Price per week |
| 6 | $12 | $72 |
| 10 | $10.90 | $109 |
| 14 | $10 | $140 |
In case you need the XL upgrade, you'll need to add an extra $20 to your delivery. The shipping fee is not fixed and will largely depend on which state you live in and what foods you order. Typically, South Florida residents should expect to pay a $12 shipping fee for 6 meals and free shipping on 10+ meals. Shipping to other locations is generally $20 per delivery.
Ready To Have A Look At The Prices? Click Here!
What Makes Fresh Meal Plan Stand Out?
Healthy Meals
Foods prepared at Fresh Meal Plans are standard and come from the co-founder who is also a top chef in the United States. All ingredients are sourced from local farmers who follow strict organic production practices.
Tasty Foods
I'd say my Traditional meal plan was tasty, and it had the right balance of salt and spices. Looking at reviews online, it is a no-brainer that Fresh Meal Plans have tasty meals. 90% of the reviews I went through acknowledged the food was delicious.
Balanced Meals
Looking at the fresh meal plan menu I see that all meals have the right amount of protein, carbs, and fatty oils as per the select meal plan. Nothing was undersold, and indeed, the calories were about the same as what Fresh Meal Plan stated. I like the XL option as it makes things easier. For instance, when you know you're going to have a busy week, you just do an XL upgrade instead of redoing your meal plan all over.
Fast and Easy Preparation
Meals arrive freshly vacuum-sealed and well-portioned. You only need to do away with the plastic film and place it in your microwave for a couple of minutes. Once it is heated, you're all set! It is such a relief for people with busy days and virtually no time to sit down and prepare a meal, let alone a five-star dish.
Ready To Order Fresh Meal Plan? Click Here!
A look in the Fresh Meal Plan kitchen
I found a video that show part or the kitchen and an interview with the owner/founder.
Pros and Cons
Pros
A whopping selection of 500+ meals
5 Specialized menus with 3 meal programs
100+ menu items available throughout the week
Useful extras to add to meals such as entrees, bulk proteins, and sides
Flexible subscription service
Affordable pricing
Referral bonuses (activated with Fresh Meal Plan promo code)
Cons
The 6-meal per week not available in all US states
National shipments only have one delivery day
Meal variety may seem monotonous after a while
Fresh Meal Plan Discounts
Fresh meal plan promo codes are released several times and here are the most recent Fresh Meal Plan discount code. I can not guarantee they work since I put them here on the day of me writing this Fresh Meal plan review.
Take $60 Off Your First Two Week Of Meals With the 14 Week Plan at Fresh Meal Plan. Use Code GET60 at Checkout
Take $40 Off Your First Two Week Of Meals with a 10 Week Meal Plan at Fresh Meal Plan. Use Code FRESH40 at Checkout
Frequently Asked Questions
Is The Fresh Meal Plan worth it?
The Florida-based food delivery service freshmeal plan has quite various meals and a slightly above-average price per meal. But, looking at the meal programs, that price might be worth it.
How easy is it to change my meal?
It is easy to change your Fresh Meal Plan. Just log in to your account and choose the desired plan and select it. You should see the updated plan in your next delivery information.
Can I skip a delivery?
Absolutely. Fresh Meal Plan allows subscribers to skip a delivery but up to three weeks. You can simply do this on your profile, but if you need to take longer breaks, I'd prefer you cancel your subscription altogether (it's still fast and easy to cancel your sub).
Ready Enough? Click Here To See Their Website!
Fresh Meal Plan Review – Final Thoughts
After days of research and testing and writing the Fresh Meal Plan reviews, I can say the company has plenty to offer. Prices may seem steep at first, but it is in the medium range, thanks to the quality of meals provided by Fresh Meal Plan. If we compare their meals to what would cost the same dish at a hotel, then I'd say the company is a bit cheaper.
It is also worth noting that 500+ dishes is not a small number. That's more than variety! Probably any type of dieter should find a meal plan that suits his/her needs. From Paleo to Vegan, to Keto, there are plenty of meals for each program. Generally, the quality of meals offered at the food delivery company makes the Fresh Meal Plan prices a bit steep. Otherwise, the comparison of value to money makes sense, and you'd definitely want to try out what Fresh Meal Plan has to offer.