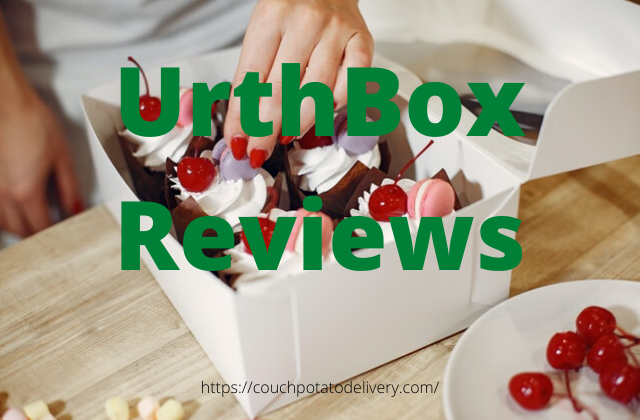 When I started in the UrthBox reviews I found out that this healthy snack and beverages subscription box has been around for many years. I have found mentions from 2014.
This makes me wonder why I have never heard of them. I love a healthy snack and am always on the lookout to find new products for the readers here to add to the best snack delivery service page.
What is the UrthBox?
As I mentioned above the UrthBox is a monthly subscription box that is filled with snacks and beverages that are basically Non-GMO, Natural, and Organic. There are also choices for gluten-free and other diet options.
You can subscribe to 1 of the 4 box sizes and after that select your preferred content like classic, gluten-free, vegan, or a diet option.
After that, you will receive your box delivered to your doorstep.
The UrthBox can be ordered online but will only ship to the US and Canada.
What is in your UrthBox?
It will take a whole website page to tell about all the things that come into the UrthBox. So I just copied a picture from the UrthBox website to show you all the options there are.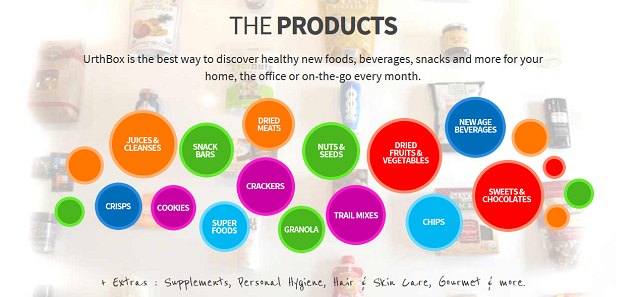 What is in your box depends also on the size box your order. You can have a look at their boxes here.
My Urthbox- Personal Experience
I have ordered a box from them and here is what I found out about the products inside my box.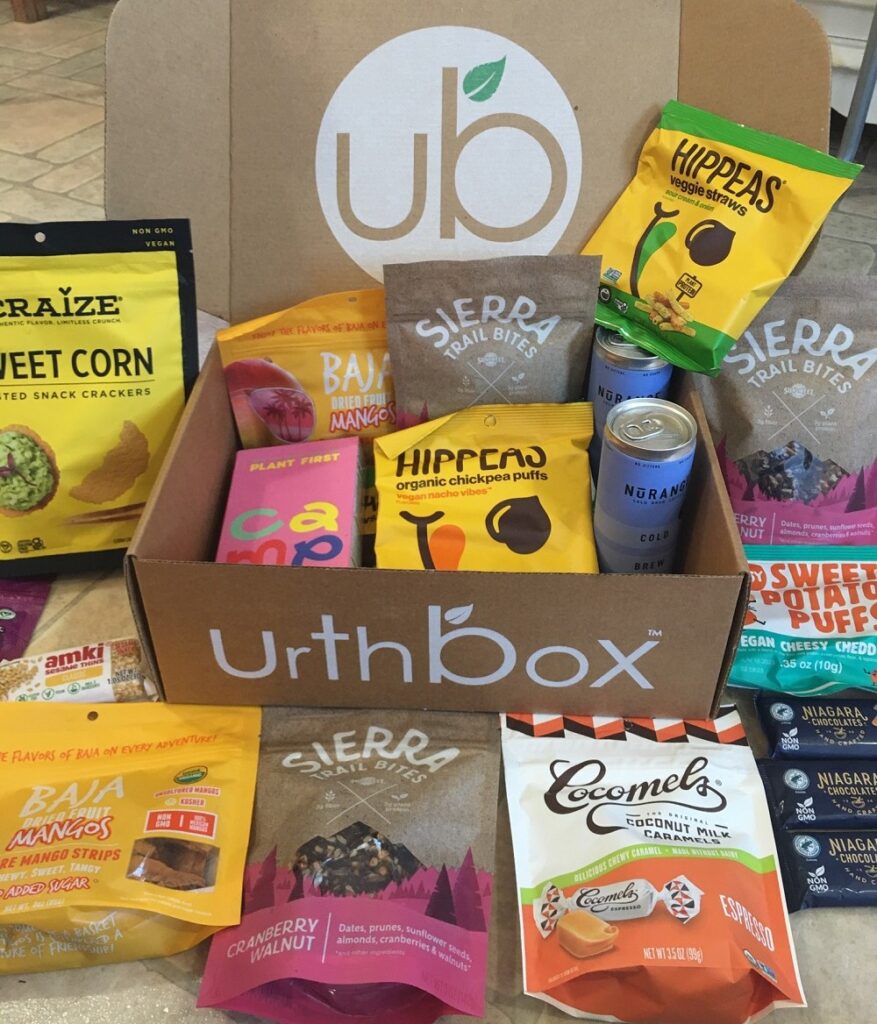 I was pleasantly surprised by the products and the variety. It took me (and my family) a while to do a taste test of all of them.
As You can see in the picture I took there is a lot of variety and flavors to choose from in my box.
To be honest there was not one I did not like!
Personally, I love a good trail mix and the ones that came in my box were very good and tasty.
Luckily everyone in my family has a different preference and my wife loved the sweet corn chips in there.
Based on my personal experience I can recommend the Urth Box.
UrthBox Sizes and Prices
Just a reminder! The prices are at the time of my/butt writing this and might have changed.
| Mini | 7+ Snacks | $14.99 | |
| --- | --- | --- | --- |
| Small | 14+ Snacks | $24.99 | Save 20% |
| Medium | 20+ Snacks | $34.99 | Save 30% |
| Large | 27+ Snacks | $44.99 | Save 40% |
UrthBox as a gift and get a free box
You can give the UrthBox as a gift to someone for 3, 6, or 12 months and you will receive your own free box. You can pick the gift box in sizes small, medium, and large.
Ordering UrthBox
Ordering your UrthBox subscription box is pretty straightforward. Just go to their website and pick your box and the length of your subscription.
All boxes ordered before the end of the month will be shipped in the middle of the next month. Yes, you have to wait for a little before you get your snacks but believe me it is worth waiting for.
UrthBox Shipping
As far as shipping goes it is very simple. Shipping in the USA is free. If you live in Canada there is a $6.95 fee for shipping.
One warning about the auto-renewal. All subscriptions will auto-renew on the first of every month. If you like to cancel make sure you do it on time by sending them an email at support@urhtbox.com or you will receive another month of snacks.
UrthBox Reviews – My Opinion
I have to be honest and mention that it was kind of hard to form an opinion about the UrthBox. On a lot of sites, I read that people love it and are very happy with it.
On other sites, I read that people are disappointed with the content and had a hard time canceling. This was one of the most heard complaints I found and that is why I added the warning about that above this part of the UrthBox Reviews.
I understand that it is impossible to have a hundred percent happy customer rating. The content has so much variety that you can not please everyone.
So, I think it is wise to pay attention to the date if you are thinking about canceling this snack box.
The UrthBox customer service also gets some mixed ratings. From extremely happy customers to others that are totally unhappy and will never order again because of this reason.
My overall opinion is that the UrthBox is a very nice snack box with a lot of nice and great-tasting snacks even though it is not to everyone his taste of course.
Sometimes delivery takes a little longer than advertised on their website and I understand that things like that can be annoying. Canceling seems to be a little bigger problem.
Have fun and enjoy your UrthBox and all the healthy snacks that come with it. Feel free to leave your opinion in the comments.