"Crafted Kibble went out of business I guess. I am not able to find their website anymore. I suggest you have a look at the Raw Paws pet food as a great alternative"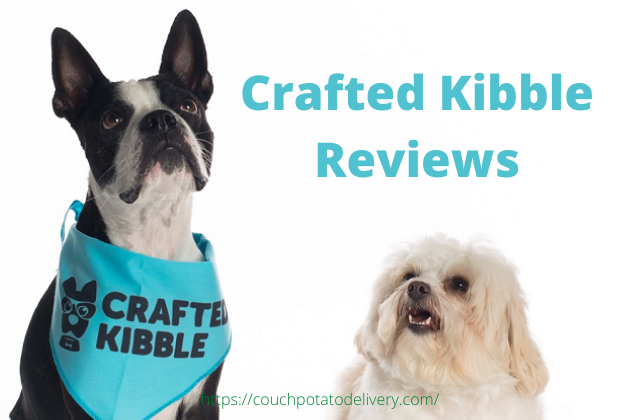 If you own a dog then chances are that you've already sifted through dozens of dog dry foods available at the store. I still urge you to read this Crafted Kibble review.
If we look further into it, most of these foods already have inorganic fortification, which seems entirely unnecessary. I mean dry foods already have all the nutrients your dog needs. So, why an added fortification?
Anyways, that's not the point. I also realized that it takes a lot of effort to buy the right food for your dog. In light of this, there's a company in Florida that's delivering the same product at your doorstep at a cheaper price but still packed with the punch of nutritious dog food- Crafted Kibble. There's so much to talk about Crafted Kibble that I'd suggest nothing but diving in with me into this review of what I think is a good dog food delivery service.
What is Crafted Kibble?
Crafted Kibble is a dog food delivery company, providing dried dog foods to the United States. They have curated formulas that are veterinarian-approved and are personalized to a dog's specific dietary needs. The Florida based company offers flavorful, fresh kibble that is pre-portioned into daily meals. The food is well-packaged and I found it interesting that the company aims to teach pet owners about dog foods rather than just delivery.
How Does Crafted Kibble Works?
Crafted Kibble is a subscription service that provides dog food using US-sourced natural ingredients. The recipes ensure your dog gets a fine balance of all protein, vitamins, and fats to maintain a balanced diet on a daily basis. The company determines the serving size based on your dog's age, weight, breed, and activity level.
Crafted Kibble is a subscription delivery service and starts from a mere $6.95 per week. Their subscriptions are flexible and you can change, postpone, or even terminate your subscription at any time.
Where Do Their Foods Come From?
When it comes to where Crafted Kibble outsourced their food, I found it tricky to find details about where they source their foods. But, the company states that their food proportions exceed the standards set by the Association of American Feed Control Officials (AAFCO). It further claims that the foods have no artificial additives or fillers and are 100% sourced from the United States.
That's about it on how they get their dog food from. The dog food delivery company doesn't get into details of how they mix their food or how they come up with the different recipes., But most fresh food companies have their own facilities to do all this and I wouldn't be surprised if Crafted Kibble had their own.
Crafted Kibble Meal Plan
As mentioned earlier, Crafted Kibble is keen to produce dog foods that are tailored to every dog's needs. The company, therefore, gives its subscribers all the freedom to choose meals according to various preferences. They take into account stomach sensitivity, skin issues, and allergies. It can even be as specific as not choosing certain proteins like lamb, fish, chicken, or beef.
Unfortunately for me (I haven't subscribed to the website), meal plans are not displayed on their website. You have to join the bandwagon to see their full menu. However, I was able to come up with a sketchy profile tool that should give you an idea of what's available on their meal plans.
The primary meal plans were as follows:
| | | | | |
| --- | --- | --- | --- | --- |
| Recipe | Protein % | Fat % | Fiber % | Moisture |
| Chef's Chicken & Brown Rice | 26% | 16% | 4% | 10% |
| Lavish Lamb | 22% | 13% | 6% | 10% |
| Tasty Trout | 24% | 16% | 5% | 10% |
| Adult Beef (Grain-Free) | 28% | 18% | 6% | 10% |
| Lamb & Pea (Grain-Free) | 22% | 13% | 6% | 10% |
| Chicken & Pea (Grain-Free) | 28% | 18% | 6% | 10% |
| Savory Salmon & Peas (Grain-Free) | 25% | 15% | 7% | 10% |
Crafted Kibble dog food mainly focuses on grain-free and grain-filled meals and most recipes had a source meat as the highlight. The meals also had a secondary source of protein in this case menhaden fish meal or salmon meal labeled as "a source of fish oil." Another plus is that Crafted Kibble outlines the full benefits of each ingredient on its website and also what types of dogs they would be suitable for. For instance, lamb is highly digestible and trout is an excellent choice for dogs with allergies.
Crafted Kibble has packed their food with so many natural herbs like rosemary extracts, etc. Some ingredients might even need a lookup to clearly understand its benefits. But all in all, these product ingredients have recognizable names which make you feel at peace. It is way better than reading a bunch of chemical preservatives and ambiguous compounds.
Crafted Kibble Prices
Crafted Kibble has a decent price point and it will cost you $9 per week for a 25lb of dog food. The total price also includes shipping. Of course, it looks higher than grocery stores but it's actually cheaper if you think about it. Considering Crafted Kibble deliver to your doorstep, you save on time, gas, and transportation.
Customer Feedback
As per the various customer reviews I have gone through, it seems Crafted Kibble isn't that bad at all. Most clients seem to be satisfied with the product and service. Highlights of the reviews included the site's user-friendly interface which was a breeze to navigate.
Also, the customization options opened a whole new realm of pet owners as you can curate your plan to the last gram of protein for your dog. Unlike frozen food, Crafted Kibble has dried dog food which can stay for long without damage. Finally, their pricing is quite competitive as compared to other premium dog food services. In fact, some premium dog food delivery companies have markups of up to 300% more.
Talk is nice, but here is a video that has a good look at the Kibble dog food. It shows what comes in the box and what steps to take on the Crafted Kibble website to order the best balanced food for your dog.
Final Thoughts- Is Crafted Kibble Worth It?
After doing this Crafted Kibble review I can only mention that it is a rising star in the realm of dog food subscriptions. Their meal plans are fully customizable and curated for every dog's needs. They follow a very strict quality control process when outsourcing food and make sure everything is compliant.
It is such a huge plus that the company eliminates the stress of finding the right dog food by simplifying its selection and educating customers. Jaime Mendal, the person who owns Crafted Kibble, has really set the standards. It is definitely worth the try!