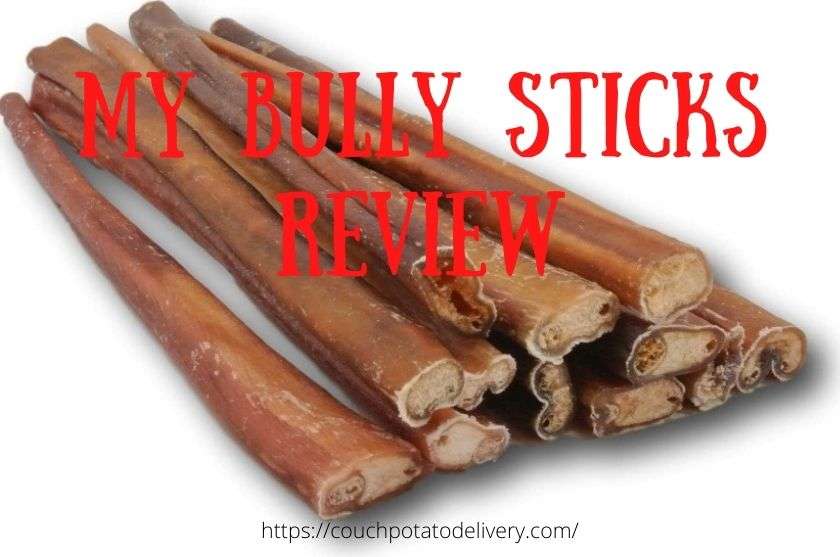 I wrote about another company that also sells bully sticks before and found it was time to add the My Bully Sticks review here.
What Is My Bully Sticks?
The My Bully Sticks website tells us that they sell more than just Bully Sticks. They have a whole arsenal of dog treats and accessories. However, here in this review of the Bully Sticks, I focus on their Bully sticks.
Shop the My Bully Stick Website Here!
Shop Bully Sticks – All-Natural Dog Chews
What Bully Sticks do they offer?

The picture might be a little small but the Bully Sticks offer the following sizes and lengths.
Thickness
Thin
Standard
Thick
Jumbo
Monster
Length
Under 4 inchs
4 inches
6 inches
12 inches
18 – 36 inches
Styles
Shop the My Bully Stick Website Here!
You can also sort them on the website by your dog size. From extra small to extra large.
Odor-Free free and Naturally scented
If the fact that a dog can smell at least 40 times better than we can it is logical that they pay attention to the sense during the drying process.
The longer the drying process the less moisture there is left. This automatically leads to a less penetrating smell compared to some other brands.
My Bully Sticks Review – Conclusion
My Bully sticks are perfect to keep your dog busy. Especially dogs that like to chew, and don't they do all? need to be kept busy and with the sizes and thickness available there is always one available for your dog.
I had a good look at the prices and think they are very reasonable and certainly cheaper than a new pair of shoes.
The drying process that is used by the My Bully Stick company makes that they are not overpowering in their smell either.