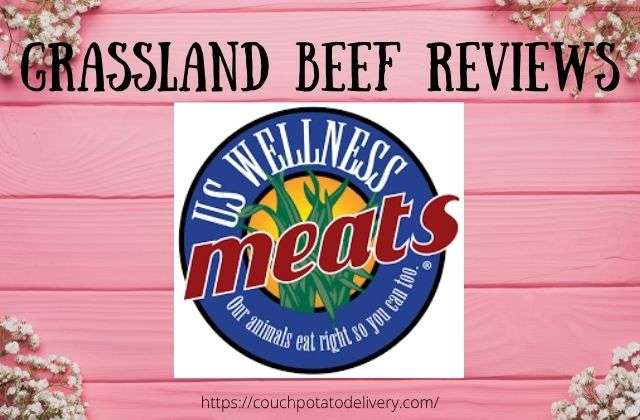 If you're all about organic and sustainable dinner plates, you've probably heard about US Wellness Meats, or more specifically, Grassland Beef. The meat delivery company is well-known for one claim that has become all too common in today's industry: they sell healthy, clean, and 100% organic meat.
But in a country with hundreds of meat delivery companies, the words organic and sustainable get thrown around way too often. This trend has made it unnecessarily difficult for meat consumers to find an honest source of clean and organic meat.
"So, how about we put US Wellness Meats under the scope and bring you some much-needed Grassland Beef Reviews."
Are You Curious? Click Here To See The Grassland Beef Website!
Although I could also call this the Us Wellness meats review. Let' start with what I think are the pros and cons
Grass-Land Beef Pros and Cons
Reasonable pricing
Wide selection
Organic and sustainable
They ship everywhere
Free shipping on all orders
No subscription boxes
$75 order minimum
Lacks luxury options like Kobe, Wagyu Beef, and Japanese Wagyu
Handling fee
What is Grassland Beef?
Grassland Beef is an online meat delivery service founded in 2000 by a group of livestock farmers in small-town Missouri. It is part of the larger US Wellness Meats that prides itself in 'selling the best organic meat' in the United States. Think of it as a farmers' shop, only this time, it's online and deals in wellness meat and other animal products.
According to their selection, these meats include grass-fed beef, grass-finished beef, free-range poultry, sustainable seafood, and pasture-raised heirloom pork.
Grassland beef states that its cattle have been raised sustainably in adherence to strict organic farming principles. This results in meat that is superior in tenderness, taste, and health benefits to your typical factory-sourced meat. But despite this claim, their products are not exactly certified organic.
A video can explain it better than I can probably.
How does Grassland Beef Work?
Grassland Beef operates like your typical meat delivery service. They source food products from select family farms/suppliers, display their offerings on an e-commerce website, and process the orders as they roll in.
Sourcing
According to its website, Grassland Beef sources its grass-fed beef from four small farms in northeast Missouri and western Illinois. The company also works with another farm in Tasmania near Australia.
Grassland Beef partner farms use sustainable farming practices to rear their animals. These practices have been handed down from older generations, giving the farmer unmatched expertise.
Basically, everything is done strictly according to organic farming principles. The cattle are grass-fed and allowed to graze freely on natural pastures for the better part of their lives. Thus, the animals are allowed to sort of naturally sustain themselves just as they would have if they were in the wild.
So, if you want to enjoy your meat in a way that's good for you, the planet, and was (probably) good for the animals, buying from Grassland Beef is one of your options.
Where do they deliver?
Most food delivery companies only ship within the continental United States. Sometimes, shipping is even limited in select continental states.
Fortunately, US Wellness Meats ships its grass-fed beef to all 50 states, including Alaska and Hawaii. As if that distribution network isn't wide enough, their shipping extends all the way to Canada and Puerto Rico.
Ordering from Grassland Beef
US Wellness Meats options include a whole range of wholesome farm products, from organic beef and chicken to honey, butter, lamb, and wild-caught seafood, all sold as individual items. Note sold as individual items because unlike your typical meal delivery service, they do not sell any subscription boxes or bundled products.
Therefore, ordering from the company is more like walking into a grocery store with a basket in hand. Whatever you choose to add to your basket is absolutely up to you, and you'll have to visit the store again when you want an item.
This approach is largely good but can be bad in some situations. For instance, selecting each product and adding it to your cart can be tiring, especially if you're used to companies that offer you pre-selected meal boxes.
Also, Grassland Beef doesn't have a subscription service. You won't be getting a recurring shipment of your favorite Grassland Beef products unless you manually reorder them.
On the other hand, this approach gives you full control over what will be arriving at your doorstep. You don't have to worry about not liking an item in the box, as you only get to add items that appeal to you the most. The company also offers discounts when you order multiple counts of certain products.
Once you place an order, your products are chilled or frozen, vacuum sealed, and packaged. The company prefers to chill its beef than freeze it to ensure freshness.
You can also order fresh grass-fed beef, which ships once every four weeks. The fresh meat doesn't arrive frozen, so make sure you're at hand to get it into cold storage as soon as possible if you won't be cooking it immediately.
Shipping
Shipping is done from Monday to Wednesday each week via FedEx Ground or Express service. Once your order ships, you will receive a tracking number from FedEx. If you want to know when the company ships orders refer to the Grassland Beef shipping schedule on their website.
However, the delivery times are pretty average for a service this good. Depending on where you live, you may be in for an agonizing wait as your order will arrive between 24 and 48 hours after the company ships.
Shipping is free for all orders and locations, but expect a handling fee of $9.50 per order. This fee may come as a shock as most meal delivery services don't charge a handling fee. But hold that frustrating thaught because the handling fee is actually less than what most companies charge as a delivery fee. Also, the money goes straight to the workers responsible for putting orders together.
Note that your order must satisfy the company's minimum requirement of $75 and seven pounds before it is ready for shipping.
Unboxing and Cooking Grassland Beef
It is always nice to see someone open an Us Wellness meat box and show us how it looks and evermore how it tastes. I found a video about that.
The Grassland Beef menu is large; like seriously large. If you ordered a new item every day, you'd have eaten meat for a total of two or three months before completing their selection. This variety is great for recurring users but can also get quite confusing for new customers. To make it easier, US Wellness Meats has divided its menu into the following subsections;
Steaks
Grassland Beef has an excellent selection of steaks waiting for those who love it tender. Since they are grass-fed and finished, the steaks are high in essential vitamins and have higher levels of Omega 3's, CLA, and branch chain amino acids.
The selections include Ribeye steak, chuck eye steak, tenderloin filet mignon, tri-tip steak, bone-in filet, sirloin, sirloin keto, top sirloin, beef, culotte steak, and so much more.
Ground beef, burgers, and sliders
The company's menu also includes 75% to 90% grass-fed ground beef. There is also 55% lean beef ground with beef heart and various sliders and patties included. These meats make some of the best beef burgers we have ever tried.
Roasts
For those who enjoy filling their kitchen with the savory smell of grass-finished roasts, US Wellness Meats has a category for that. The roasts come in all shapes and sizes and are available either as bone-in or boneless.
Franks
There are also all-beef franks, available as either plain or sugar-free. According to their website, the franks contain no nitrates, MSG, or gluten, making them a healthier alternative for both children and adults.
Heat and serve
It would've been a surprise if Grassland Beef didn't have Heat & Serve menu items. After all, they are bound to have a sizeable following of people who are too busy to cook, making this a great addition to their already impressive menu.
The meals come pre-cooked and only need to be heated for a couple of minutes before they are ready for consumption. They include Plain Slow Roasted Shredded Beef, BBQ Slow Roasted Shredded Beef, Fully Cooked Beef Short Ribs, Beef Pot Roast & Gravy, and Sugar-Free Hickory Smoked Sliced Beef Brisket, Hickory Smoked Back Ribs, and Franks.
Other categories in the US Wellness Meats Menu include Jerky & Snacks, Primals, Brisket, Ribs, Stir Fry, Corned, & Stew Beef, Bacon & Sausages, Organs (like beef liver) & Organ Sausages, Pemmican, Tallow & Suet, Fresh Chilled Beef, and Cape Grim Beef.
Grassland Beef Cost
The pricing of Grassland Beef is quite tempting considering the quality of the healthy food you're getting. The pricing varies depending on the item, with selections ranging from as low as $7.33 (Lean beef patties) to as high as $212.85 (a 25-pound Lean Ground Beef Bundle).
You can enjoy exclusive discounts when you order multiple counts of products like Ribeyes and New York Strip Steaks. This makes US Wellness Meats an excellent choice for those situations when one wants to order in bulk, either out of preference or due to an upcoming ceremony.
Overall, the company's pricing lies more on the affordable end. Here is a table of ten randomly selected items that should give you a broad understanding of how much it costs to order from Grassland Beef.
Just remember that these prices are at the time of me writing this and might have changed.
| | | |
| --- | --- | --- |
| Product | Size | Cost in dollars |
| Beef Center Cut Shoulder Roast | 3 LBS | $30.99 |
| Beef Brisket Point | 2.25 Lbs | 25.20 |
| Beef Ground 55% Lean | 1 Lb | 9.36 |
| 75% lean Ground Beef With Heart, Kidney, Liver | 1 Lb | 10.49 |
| Adobo Beef Meatballs (Heat &Serve) | 13 Oz | 10.65 |
| 75% Lean Ground Beef Bundle | 25-1 Lb Packages | 212.85 |
| Ayoba Yo Traditional Beef Biltong | 21 Oz | 8.99 |
| BBQ Slow Roasted Shredded Beef | 1.5 Lbs | 21.16 |
| Beef Breakfast Italian Sausage Sliders (6) | 3 Oz | 11.52 |
| Beef Chuck Eye Steak Bundle | 5 Lbs | 40.95 |
The Grassland Beef difference
In a market increasingly flooded with meal delivery companies, Grassland Beef has found a way to stand out from the crowd. First, and most importantly, its meats are sustainably raised on farms that practice organic farming. And by organic, I mean strict organic farming because cases where companies don't quite do what they say are pretty common.
In one instance, animals that are supposedly grass-fed are grain-finished to gain that extra mass. Another situation involves animals that are grass-fed and grass-finished being given antibiotics and GMOs during their life cycle.
But with Grassland Beef, it's pretty much all-natural. Their meats are non-GMO as the farmers never give any animal growth hormones or antibiotics. The cattle freely feed on grass and on free-range farmland free of pesticides and artificial irrigation systems. They are also grass-finished when they reach maturity.
This approach allows the animals to live as naturally as possible, resulting in both healthy and tender meat. The only time humans get involved is when guiding the cattle back to the shelter in the evening and releasing them to feed in the morning.
Is grassland Beef really organic and sustainable?
This is probably the biggest question regarding Grassland Beef and any other meat vendors out there that claim to be 'clean and healthy. Are they really who they claim? Well, in the case of US Wellness Meats, you can't get a definitive yes or no as they have no official organic certification.
Don't freak out just yet. The company says their lack of certification is because they refuse to pay 3% of their total annual revenue to earn it. Thus, despite raising their animals following sustainable and organic practices, they cannot be organically certified. Is this to be believed?
Well, Yes. Many customers find this explanation quite satisfactory since it's all reflected in the quality of the meat. With some organic meat experience, you can quite easily tell that Grassland's beef is significantly different from the big-business meats you get in the typical grocery store. The beef is sweeter, more tender, and less saturated with fats.
Also, note that Grassland beef is not USDA prime certified despite their meat quality is near the top. The company explains that they can't really get a USDA certification because the USDA grades meat based on marbling. And since they raise their animals in a way that results in tender meat without necessitating marbling, they can't quite get a certification.
Grassland Beef Reviews – My Opinion
Grassland Beef is an organic meat lovers' paradise, and it's not hard to see why. The company offers excellent selections of meats at reasonable pricing on one of the most diverse menus in the industry.
It has its flaws though, like the all too obvious lack of subscription boxes. But overall, the perks far outweigh the disadvantages, and my experience with them pretty much made me another satisfied customer in their long list of many.
You can find the Grassland Beef website here!