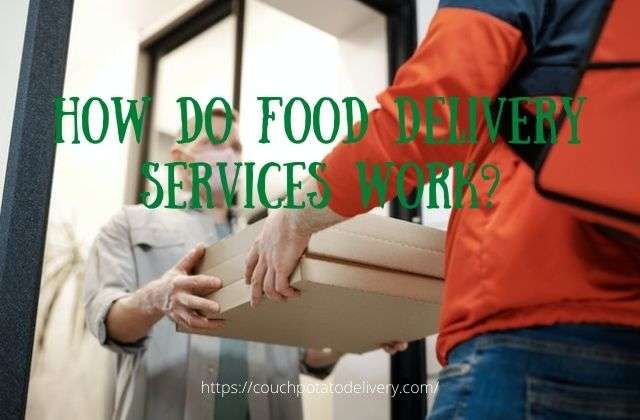 There are a few options when it comes to cooking. You love to cook…. or you don't.
Preparing a meal can take a long time if you consider all things.
You have to think about what you would like to eat. After that, you have to get all the ingredients from the grocery store and bring them home. The next step is doing all the prep work even before you can start the actual cooking.
Let's See How Food Delivery Services Work.
Before your meal is delivered and ready to be heated up there are a few steps to take.
You have to go online and have a look at what meal or meals you like to order. The choice is most of the time between individual meals or you can order for a week or even longer.
After you completed your order all you have to do is wait for the food to be delivered to your home.
Types Of Meal Delivery Services
There are two basic types of ordering meals online. I am not talking about ordering a pizza but real meals with meat and vegetables.
Complete Cooked Meals
These types of meals are delivered frozen to your doorsteps and all you have to do is put them in the freezer to keep them frozen or heat them in the microwave or the oven. That is the kind of meal that for example, Fresh n Lean offers as you can see here.
This is of course the most convenient and most time-saving method of ordering meals online.
Meal Kits
These are more for the person that still likes to take the time to cook at home but does not like to do all the shopping.
A meal kit delivery service is delivered to your home with all the ingredients to prepare a meal in your kitchen. Besides all the ingredients they also come with a description of how to prepare the meal.
There is one remark that in some cases you still have to buy the meat for the meal kit you picked.
Meal Kits For Kids
There are also meal kits that are developed especially for kids and I will add a few of these also For now looked at the Raddish Kids reviews and I liked what I found out about them.
Pros and Cons of meal delivery services.
Most things in life come with an upside and a downside and meal delivery services are no exception to that rule. Here are some of the cons and pros I found.
Pros
For a person that hates cooking this is a great solution to ensure that they eat a well-balanced meal and not just eat junk food.
For the person that likes to cook but cannot find the time to do all the shopping and prepping ordering a meal kit can be a big time saver.
Healthy choices are easy to find online in both complete meal delivery as well as in meal kit delivery services.
Reducing waste is also a factor to keep in mind. While you cook from scratch you might have to buy ingredients in a large quantity than you need.
The most mentioned pro is the convenience factor that meal delivery brings to your life. Adding a few more quality hours to your day can be worth the extra cost compared to home-cooked meals.
Cons
The biggest con is of course the price tag. You pay someone to cook for you and deliver it to your home.
The size of the meal can also be a problem for some of us. What one person calls a perfect serving size might not be enough for someone else. This can also mean that there are leftovers.
You cannot always pick all the ingredients in the meals. Some meals might be cooked with a spice or seasoning you don't care too much for.
Depending on what meal delivery service you use you might still have to go to the store for some ingredients or just to buy food for breakfast and lunch if you just order dinner meals.
How To Join A Food Delivery Service
Joining a food delivery service is pretty straightforward. You go to their website and make an account where you put all your information.
After that, you place your order and pay for it. Now all you have to do is wait for delivery and cook your meal.
You can have a look at all the meal delivery services I reviewed on this page with all companies. I am sure you will find the one that fits your needs the best.