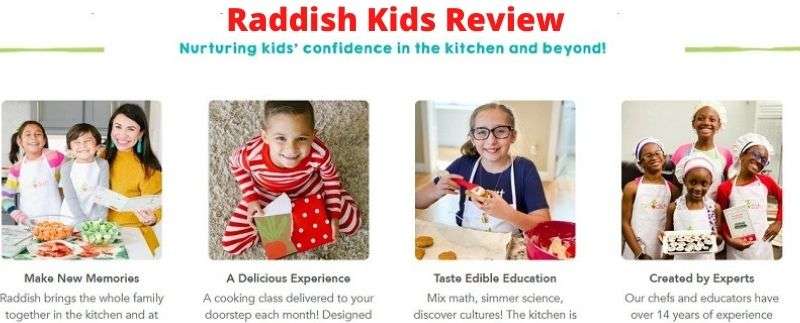 Teaching kids to cook has many benefits, both to you and the family, but it can be as hard as it is fun. That was reason enough for me to do Raddish Kids reviews.
In the past decade, some companies have developed and explored the idea of kids' cooking subscription boxes. These boxes provide parents and caregivers with the resources needed to make getting kids in the kitchen a whole lot easier and more fun.
But with so many boxes out there, it is pretty difficult to choose the right one for your kid, and parents are always asking, "What is the best kid's cooking subscription box for my kid?" Well, this article won't provide a definitive answer for that, but rather, an in-depth review of one such service; Raddish Kids.
What is Raddish Kids?
Radish Kids is a monthly subscription box that teaches kids how to cook. According to their website, the service aims at "delivering culinary experiences that nature kid's confidence in the kitchen and beyond."
Update:
"Raddish Kids now offers 3 different clubs to choose from."
Cooking club
Baking club
Global eats club
The Raddish Kids story
The founder and CEO of the service, Samantha Barnes, started teaching cooking to kids after realizing that "the kitchen is the best place to learn." This prompted her to leave her career as a middle school teacher in 2006, and for the better part of the next decade, she successfully organized and hosted kids' cooking classes, parties, and camps in and around Los Angeles.
The idea to start a kid's cooking subscription box occurred when she became a mom. She saw the "powerful opportunity" to learn and bond that came with cooking together with her kids. And so, Radish Kids was born.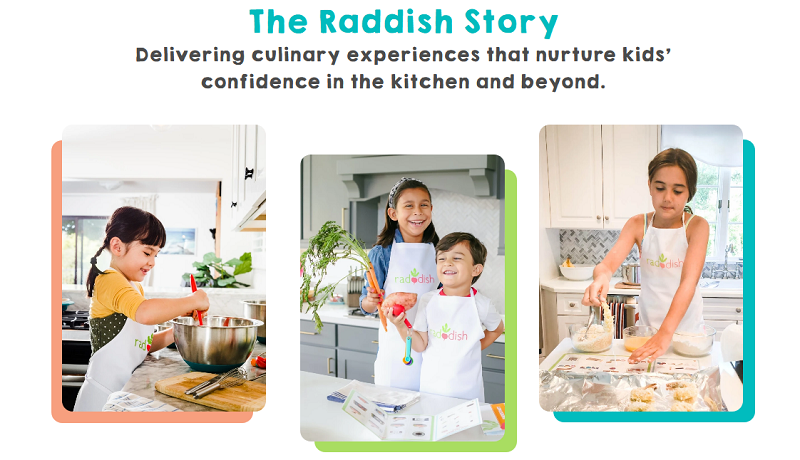 Raddishkids Today
Today, Raddish Kids uses the power of food to teach kids of all ages important life lessons by letting them prepare their own meals. But it's not as serious as it sounds- this is not another classroom where children have to sit through long grueling sessions of pointless demonstrations.
On the contrary, kids get to have as much fun as possible in the kitchen. This is because Raddish Kids is not about turning your kids into expert chefs but rather letting them enjoy the joy of cooking. In the process, kids as young as four get to explore their curiosity and creativity with a big enough cushion to take risks and learn from their mistakes.
How Does Raddish Kids Work?

In summary, Raddish kids is a monthly cooking club subscription service that costs $20 to $24 a month. It is rated for kids aged 4 to 14, and they mail you a box each month with everything (almost) you need to prepare a meal.
Here is a closer look at what to expect when you subscribe to Raddish Kids.
The Raddish Kids box
Each month, Raddish Kids sends you a new kit and emails you a shopping list before it arrives. The following features are included in the box;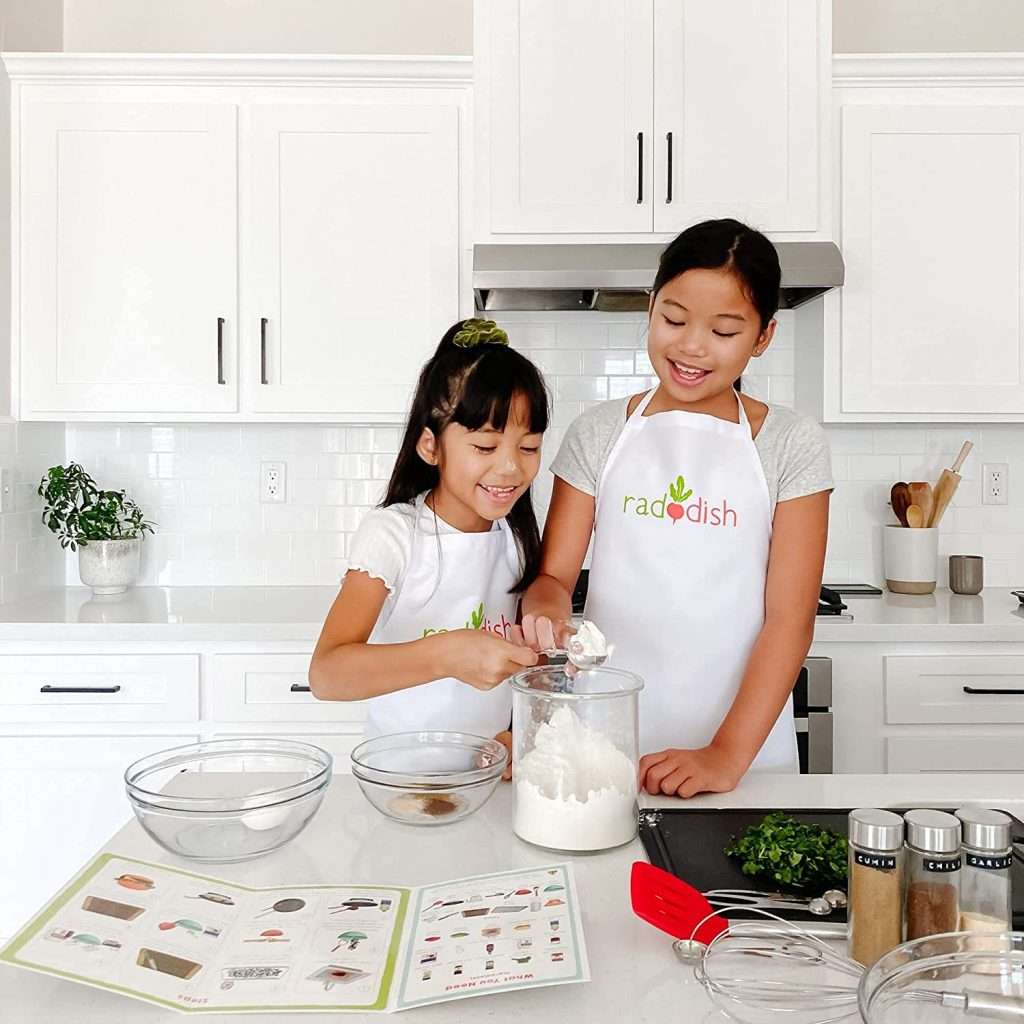 A theme
When ordering one-time as a gift, you can choose the theme that appeals most to your liking. On the other hand, subscription customers receive a surprise kit every month, each featuring a different theme from the last. The theme may be centered on creative sciences, a season, meal festival, holiday, global cuisine, or creative science, and the themes never repeat.
Three recipe Guides
Inside the box are three recipe guides, but these are not your ordinary listed guides. Each recipe is separated into two sections;
The "What you need" section that includes drawings of all the tools and ingredients required to prepare the meal, and
A broken-down step-by-step guide with cute illustrations of every activity in the cooking process.
The recipes may be well explained, but the imagery is especially helpful for young kids as it makes it easier to understand and harder to lose focus and get bored.
Many parents with kids aged ten and below admit to enjoying this feature as it means less explaining and instruction on their part. For the most part, it lets you sit back and watch your kid try to figure out the recipe and prepare a meal on their own.
Given that kids almost always think they have everything under control and prefer to be left to their own devices (you can see it when they want to hijack your cooking and take over the kitchen), they will most definitely enjoy this little bit of freedom. However, you still need to keep an eye on them just in case they need your help and for safety purposes.
The imagery isn't of much use for older kids (12 to 14) but still makes for an impressive aesthetic feature. Most of the meals are pretty easy to prepare (for their age at least), and thus, they'll probably not need your supervision. Raddish Kids is mostly about the fun so, let your kid have this one.
The recipes are also laminated, so they don't get ruined in case of a water spill- a pretty common occurrence with kids in the kitchen.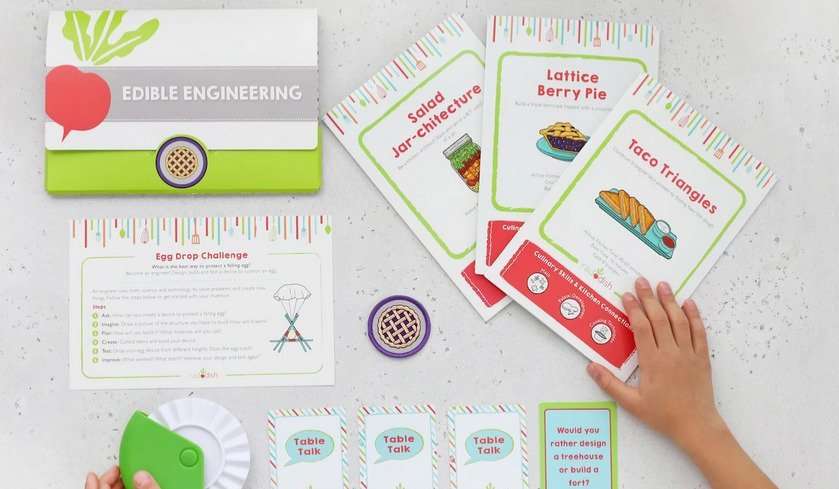 Tools
Raddish Kids also include a plastic kitchen tool in each box, a feature that splits opinion. For many parents, this is a great idea as their child gets to own at least one thing in the kitchen, a situation many kids enjoy. Raddish says that despite being plastic (for safety reasons), the tools are high quality.
On the other hand, there are parents worried that these tools will eventually pile up into clutter. The modern world also leans a lot toward environmentally friendly products, so some parents express skeptical reservations about the plastic nature of kitchen utensils.
Other items
Other items included in the box are an optional decorative patch for siblings (an extra $5 per child) and the extremely useful apron when you order your first kit. If you have a monthly plan, the apron will set you back $15 (optional), while those with six-month and yearly plans get it for free.
There is also an optional recipe binder for $20.
Not included
There are no ingredients in the kit. Rather, Raddish mails you the ingredient list before delivery so you can shop. This is another feature that elicits mixed feelings; some parents don't mind it, and some find it pretty cumbersome to look for the ingredients. However, for meat ordering ahead you can have a look at this page.
Take a Peek Inside: Raddish Cooking Kit Unboxing Preview
The Raddish Kids Difference
Your kids may be thrilled with the idea of "helping out" in the kitchen, but can we say the same about you? Well, more often than not, we can't say thrilled, and that's where Raddish Kids makes the difference. Cooking becomes fun for everyone involved, and here is how Raddish Kids does it;
Extra Science Information
Kids aged six to ten love random facts, and Raddish has used this trait to make cooking a lot more fun. Every one of their illustrated recipes features a mini-lesson on some important scientific event or fact. These lessons are well presented and explained in an easy and engaging manner so that many kids have no trouble understanding.
Lesson Plans for Homeschooling
On their website, Raddish Kids offers lesson plans for homeschoolers. This allows them to turn the recipes into 45-90 minute lessons, each integrating a subject like the history of science. These lessons can be used easily in homeschool co-ops.
Other Bonus resources
Apart from the lesson plans, the Raddish website has a few helpful resources for parents and kids looking.
Free Recipes
If the three in-kit recipes aren't quite enough for your kids, Raddish Kids posts free illustrated recipes every month. These can be printed at will.
Cooking Videos
These are especially useful for parents whose kids' interest in cooking goes a little deeper. The videos are recorded in Raddish's test kitchen and make for an engaging cook-along for your kids to improve their cooking skills.
Dietary Modifications
Due to allergies and other medical conditions, not every kid has the freedom to eat everything. With that in mind, Raddish has a dietary modifications page where they list recipe adaptations each month (for allergenic foods).
It's pretty clear that they take food allergies seriously and have thus, designed their products to cater to kids with allergies(as they should, especially this far into the 21st century. There are gluten-free, egg-free, and dairy-free substitutions.
There are also vegetarian substitutions for vegan kids.
Musical Playlists
From everything we've learned so far, Raddish Kids focuses on the fun aspect of cooking as much as it does on the educational aspect. And this is more evident in the kit-themed Spotify playlists available each month on their website. So cooking together may be a great way to bond and learn with your kids, but many Raddish parents would recommend combining that with singing along; it redefines the meaning of fun in the kitchen.
Parent resources
Raddish Kids doesn't only serve the kids; here is a Parent's Resources page with parenting tips and holiday gift guides for all the Raddish parents out there. If you have a kid that is a picky eater, Radish Kids has you covered.
I think it's pretty great that Raddish doesn't just dump a cooking box on your front porch and then leave you all on your own for the rest of the month. Many Raddish parents share the sentiment too; it's like having a dedicated companion to your child's cooking journey.
What Age is Raddish Kids Good For?
Raddish Kids is designed for children aged four to fourteen. They all receive the same cooking kit each month regardless of age. With the younger kids, supervision is necessary as they often require a whole lot of parental intervention. The older they get, the less help they'll need from you.
How do You Store Raddish Kids?
Of course, with the great recipes and interesting information that comes with each kit, you wouldn't want to throw away your Raddish material. But where do you store it? Well, in my Raddish kids reviews I found that they have a recipe binder you can get for $20. The binder has a customizable cover page and will help you create a cookbook with up to 6 months worth of recipes.
You can store the cookbook in a dedicated place in the kitchen alongside the kitchen tools and molds that Raddish sends with each kit.
Raddish Kids Prices
Raddish offers three subscription plans at the time of my writing this Raddish Kids reviews
A monthly plan costing $24 per kit
A six-month plan for $22 per kit and a
Yearly plan for $20 per kit.
All Raddish Kids' items ship for free within the US, while international shipping costs $7 a month. Renewal is automatic, but you can cancel anytime you want.
Pros and Cons
Pros
1. Easy to make meals
Raddish recipes are pretty straightforward to follow (but you still need to supervise the little kids), making it easy to prepare meals.
2. Delicious foods
Raddish recipes may be simple, but the resulting meals are delicious. Nothing makes kids more proud than presenting creations that no one seems to get enough of.
3. Healthy foods
Raddish Kids incorporates healthy fruits and vegetables into their recipes, which many parents consider an essential feature of a kid's cooking subscription box. Many of their recipes use some sugar and white flour, but not so much as to be deemed unhealthy.
4. Teaches useful life skills
By encouraging children to love cooking, RaddishKids fosters important life skills in children; it teaches competence, and self-confidence and improves kids' social skills.
5. It's a great way for the family to bond
Preparing a meal together and sharing it at the table is one of the best ways you can strengthen a family's bond.
6. It keeps the kids engaged
Cooking is a great hobby for kids of any age to pick up.
Cons
Expensive
The biggest issue with Raddish kids is that the subscription options are quite pricey, even though the ingredients are not included.
Raddish Kids reviews – Summary
When I started on the RaddishKids reviews I thought there was not that much to write about. However, I found that it is a great way to get your child started on cooking, especially if they have expressed interest in the activity.
It presents an easy and fun way to learn cooking while teaching vital life skills and interesting science and nutritional facts to curious children out there. The price may be a little on the high side, and some parents find looking for ingredients a bit cumbersome, but many will agree that Raddish Kids is worthy kids cook subscription service.