Before I started to get interested in cooking in general and meats in particular I did not know too much about all the cuts of meat on a cow.
That was a good reason to find a guide to cuts of beef.
Although there are many charts and pictures available online that explain where the different cuts are I decided to dig a little deeper.
Here is one of the charts I found but, to be honest, it still did not explain too much to me about what the cut was that I was eating.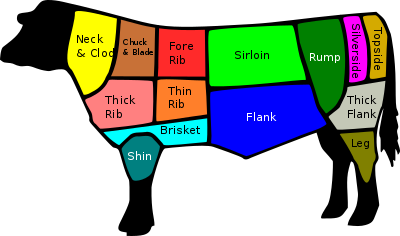 A Video Explains It Better
I found a video of a very experienced butcher that cuts up halve a steer and tells us what the cuts of meat are that he is cutting up.
I was amazed by the way he used his knives and realized that I still had a lot to learn pon how to cut meat.
More Cuts Of Beef
If you live in a different part of the world there are also different cuts and even if they are the same they are named different.
I have been in Europe and looked at cuts of meat that I had no idea what they were. Although they looked great.
Until I came in a butcher shop where a Canadian butcher worked and gave me a little insight on how to compare them to the American cuts of beef.
I know that this is a short article and I could have written more but the butcher in the video gave such a detailed explanation that I had nothing to add to it.
Peter Jameson