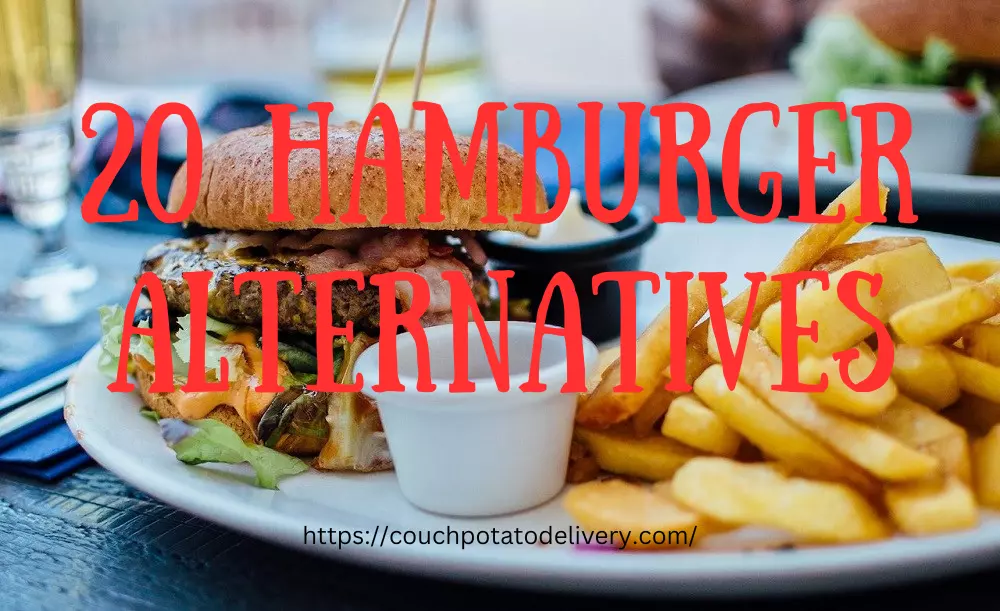 To make your dinner healthier, you might be tempted to try hamburger alternatives. A white turkey burger, chicken burger, or meat alternative (such as a soy burger) has fewer calories.
"However, as customers become more health-conscious, more restaurants are opting to offer both vegetarian and meat-based burger options."
Alternatives of hamburgers, ranging from Sweet Potato Veggie Burgers to Salmon and Spinach Cakes and everything in between, are a terrific way to attract the growing number of health-conscious visitors to your establishment.
1. Sweet Potato Veggie Burgers with Avocado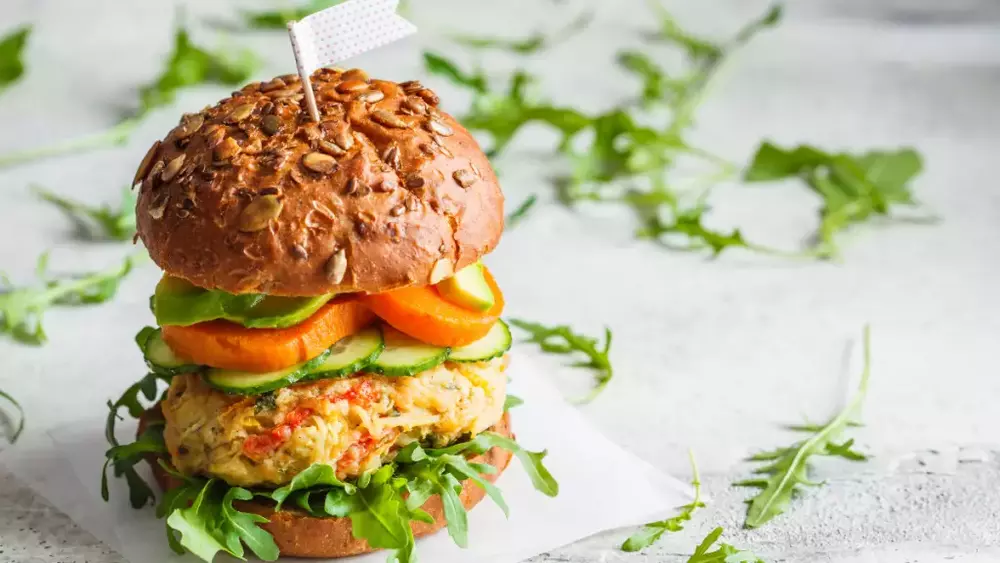 Sweet Potato Veggie Burgers with Avocado are the best alternative for hamburgers. Sweet potatoes are high in energy-extending fiber, which provides a sustained boost. Yes, creamy avocados are high in fat, but don't be alarmed! Avocado fats are healthy fats that are high in vitamins that make your skin glow and maintain your cells healthy.
Use a whole-grain bun instead of a white bread bun to get more of those energy-revving, healthy carbs that will keep you energized rather than leaving you sluggish after supper. We can't think of a better way to end the week than with a delicious dinner!
2. Big Veg Quinoa Burger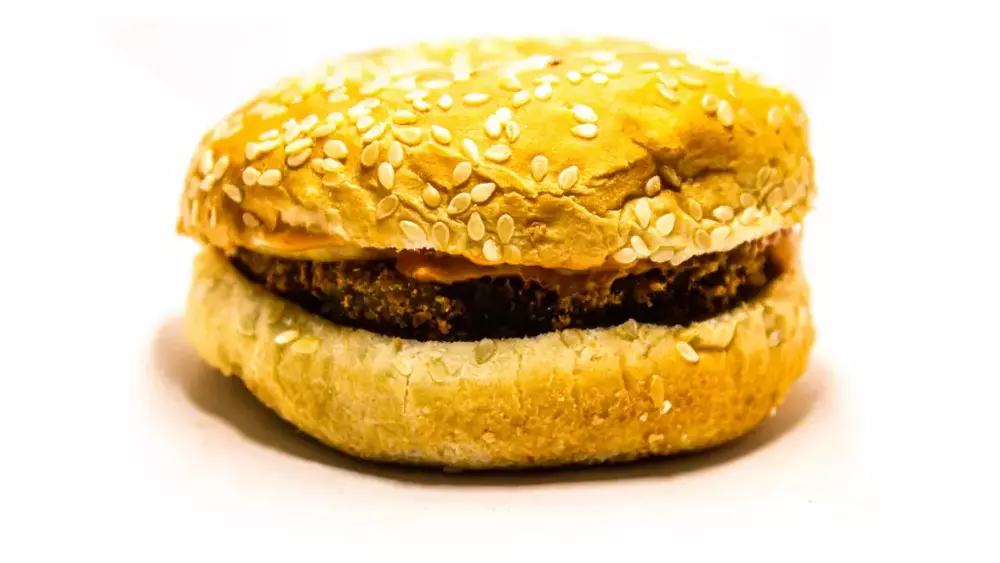 These vegan burgers are equally as filling as their meaty counterparts, thanks to the addition of quinoa and beans for flavor and protein. Even meat-eaters will be enamored with this veggie burger, which features toasted pecans, mushrooms, Cheddar cheese, fresh herbs, and red quinoa. The burgers are best made using red quinoa, although white quinoa would suffice. These quinoa vegetarian burger patties freeze well, making for a quick and convenient supper. Before cooking, defrost the meat overnight in the refrigerator. Garnish with your favorite burger toppings.
Quinoa is a complete protein, which means it includes all nine essential amino acids, unlike other plant-based proteins. Essential amino acids (protein building blocks) are amino acids that our systems cannot produce on their own and are thus required in our diets.
3. Sweet and Smoky Beet Burgers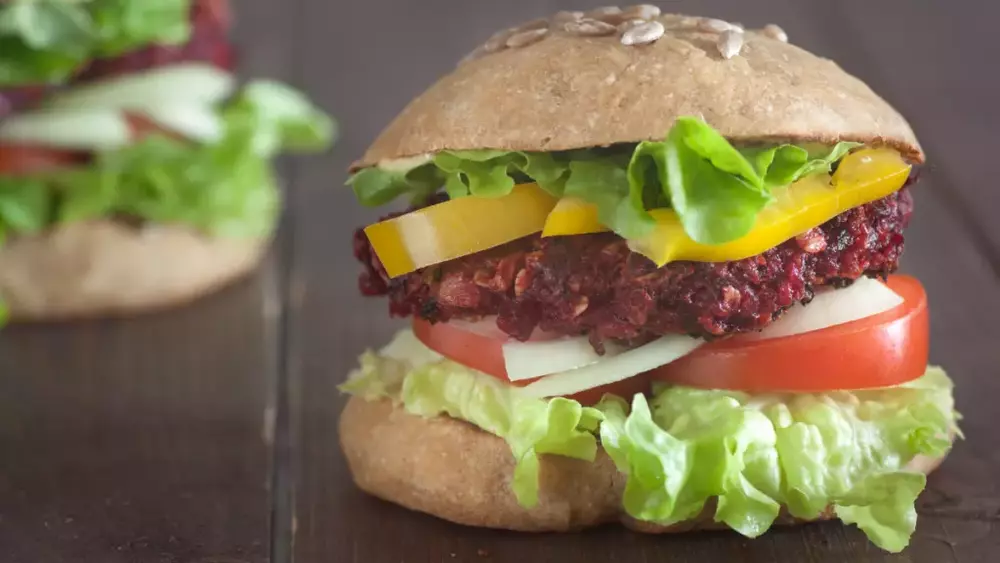 These crimson patties can be eaten like latkes or falafel on top of grains or salad or stuffed into bread with a dip or spread. With yogurt, a fragrant mound of dill, and a tomato and cucumber salad on the side, they're excellent. The burger mixture can be prepared and stored in the refrigerator for up to a day.
Raw walnuts, black beans, quinoa, and raw beets are among the nutrient-dense ingredients.
4. Black Bean Burgers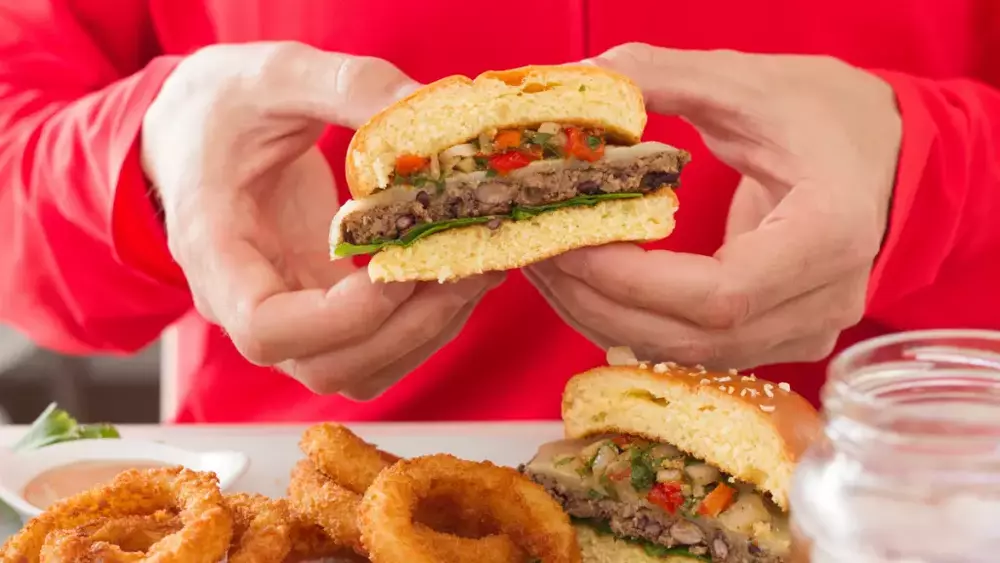 Whether you're a vegetarian or not, you'll love this black bean burger dish. This burger, made with black beans, oats, onion, and carrots and seasoned with cumin, coriander, and cayenne, is so amazing you'll wonder why you ever wanted to eat meat again. Cook the patties in a pan with cooking spray or a slightly more generous pour of cooking oil for a crispier result.
The sautéed vegetables, black beans, and spices provide a lot of flavor to this dish.
5. Mushroom Burger with Barley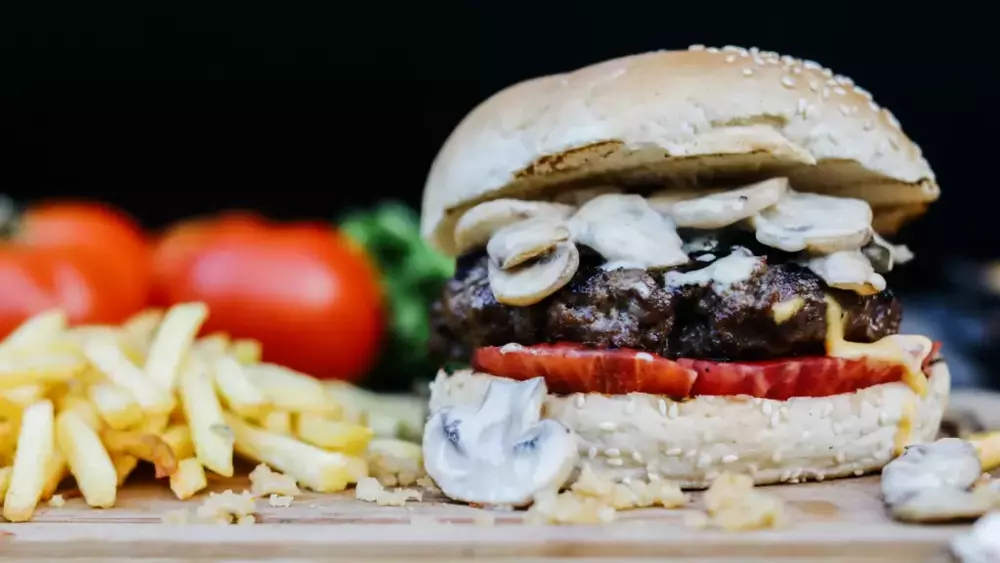 These Vegan Mushroom-Barley Burgers are satisfying and full of umami flavor, plus they're simple to cook. They can be baked without oil or pan-seared with oil for a meaty, blackened surface. You may even make the burgers ahead of time and bring them to your next barbecue. To reheat, simply chuck them on the grill!
Sautéed mushrooms, onion, and garlic provide moisture, umami, and depth of flavor to the burgers.
6. Portobello Burgers with Pesto, Provolone, and Roasted Peppers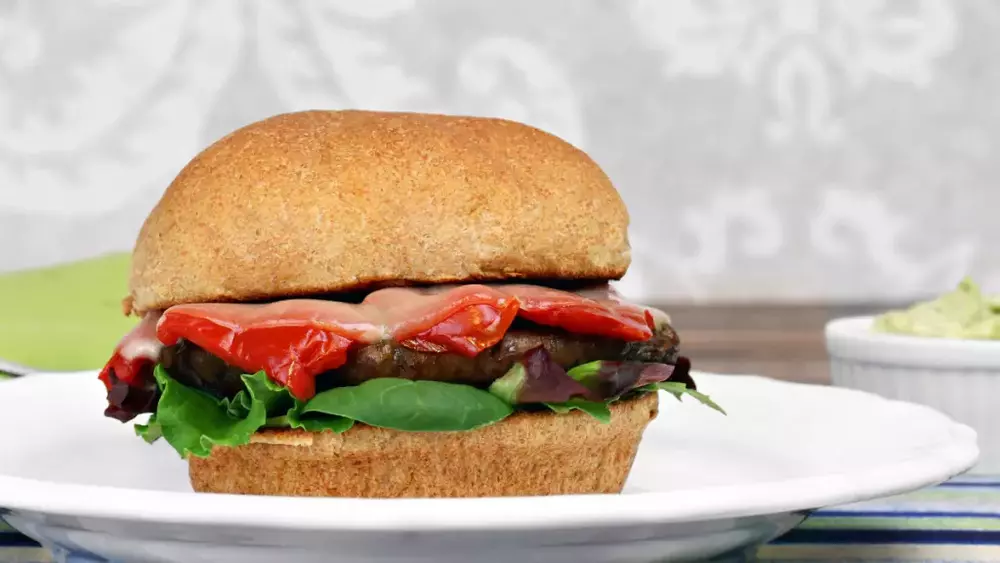 There are foods that you eat because they are healthy and foods that you consume because they are delicious.
This Portobello Burger with Pesto, Provolone, and Roasted Red Peppers is where the two meet – at the wonderful crossroads of Good for You and Delicious. A grilled portobello mushroom placed between two grilled buns smeared with pesto mayonnaise and topped with slices of roasted red pepper and arugula (or spinach). Alternatively, apply a light layer of pesto mayo on top. Or simply pesto.
These delectable grilled Portobello Mushroom Burgers with mozzarella, red peppers, and pesto mayo are a great vegetarian burger option.
7. Mediterranean Veggie Burgers with Mint-Yogurt Sauce and Carrot Salad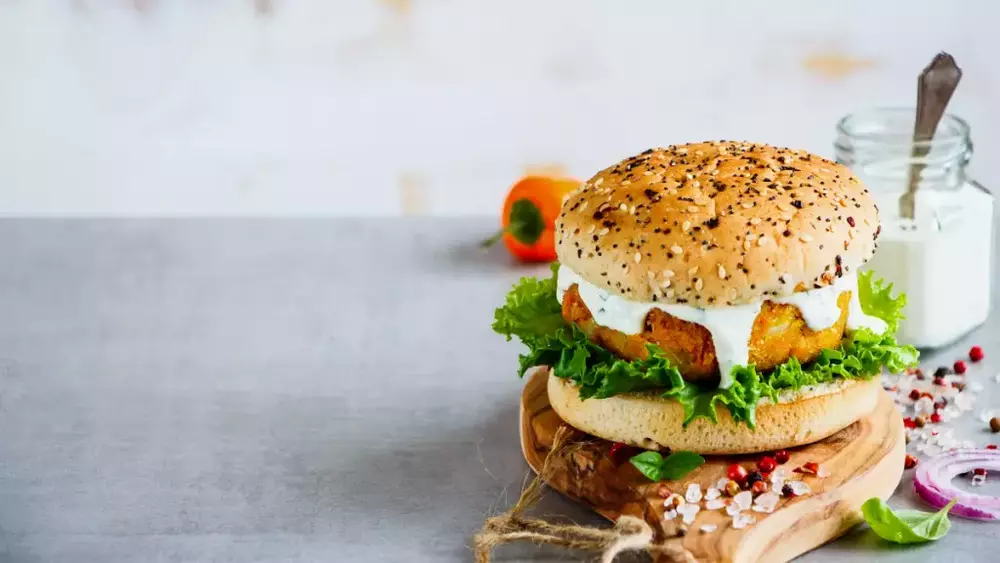 With canned lentils, hearty burgers are given a healthy twist. Serve with a spicy carrot salad and a tart yogurt-mint sauce on the side.
Related Read: https://couchpotatodelivery.com/what-is-the-mediterranean-diet/
8. Thai Tuna Burgers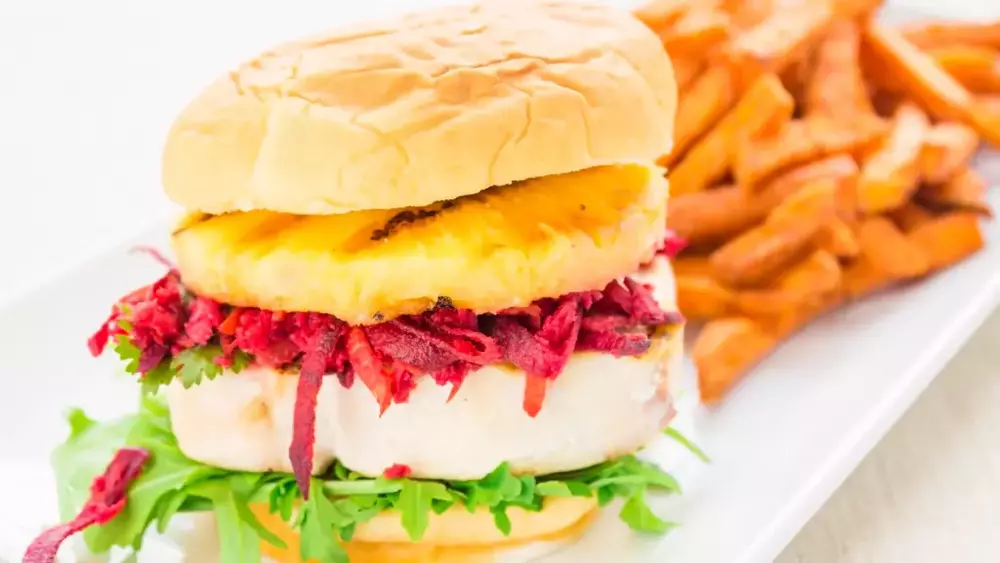 Thai tuna patties with a sesame, ginger, and soy flavor. These are a fantastic alternative to the all-beef patty, made with minced fresh tuna steaks. Serve with lettuce, tomato, and any other burger toppings you like.
Take a bite of this spicy Thai tuna burger, which is topped with fresh, peppery slaw and sriracha-laced mayonnaise.
9. Bulgur Veggie Burgers with Lime Mayonnaise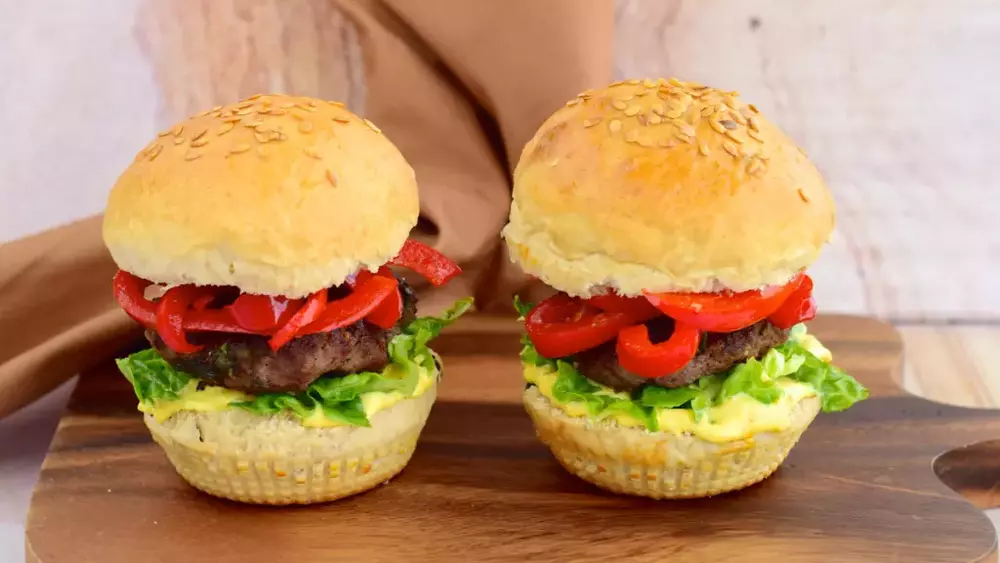 Since they're continuously attempting to be something they're not, most veggie burgers must have self-esteem issues. These bulgur burgers, on the other hand, don't try to hide their lack of meat, instead highlighting their grain-centric roots with a lovely texture and a tinge of Middle Eastern spice.
Related Read: https://couchpotatodelivery.com/different-types-of-mayonnaise/
10. Vietnamese Tuna Burger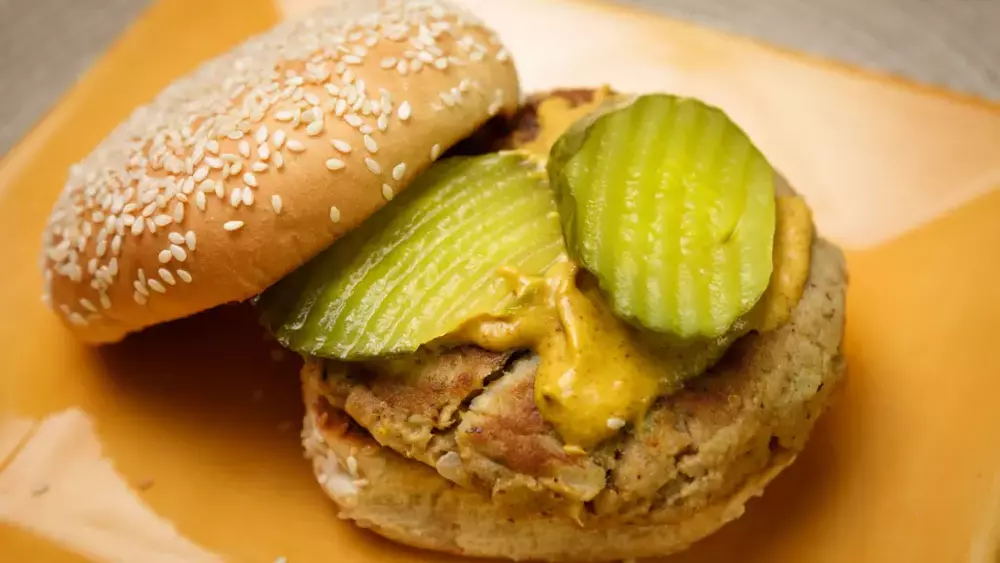 Crispy and savory tuna burger patties combine with crunchy lettuce and juicy tomatoes for a light but filling lunch. These burgers are very delectable! It's a terrific alternative to a regular hamburger because it's so easy to create.
11. Turkey–Spinach Burger
When everyone is weary of the same old hamburgers and hot dogs in the summer, these are a tremendous success. Serve with your favorite condiments and buns, if desired.
These are the finest Turkey Burgers I've ever had! They're made with ground turkey, spinach, feta cheese, and seasonings, and they're juicy and tasty.
12. Paleo Jalapeno Chicken Burgers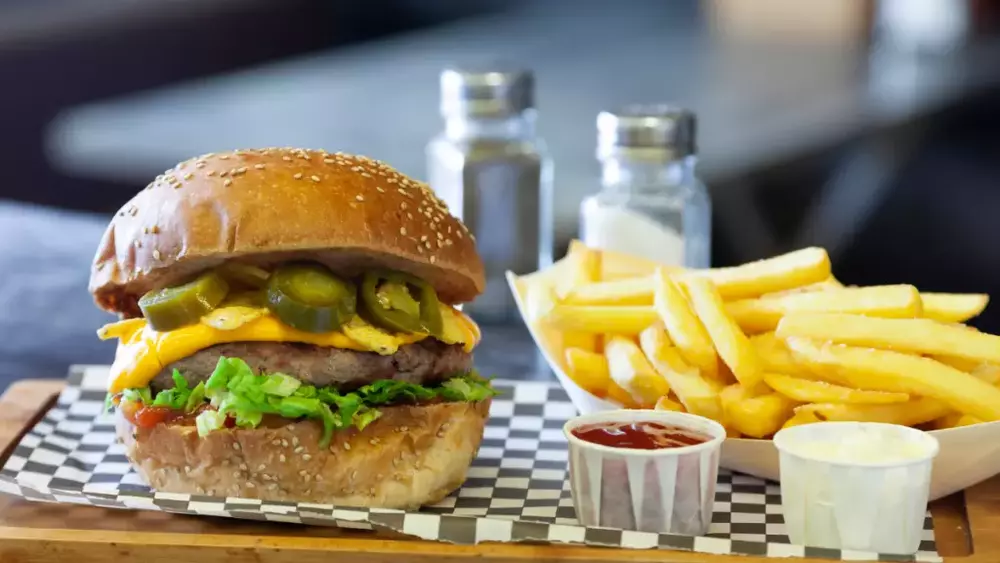 These Paleo Mexican Chicken Burgers are really flavorful! The cilantro, jalapeno, lime, and Mexican spices are packed into the chicken patties, which are served with salsa and guacamole. To make these burgers Whole30, Paleo, Grain-Free, Gluten-Free, and Keto, serve them on grilled butternut squash slices.
13. Coconut and Shrimp Patties with Avocado Mayo Dipping Sauce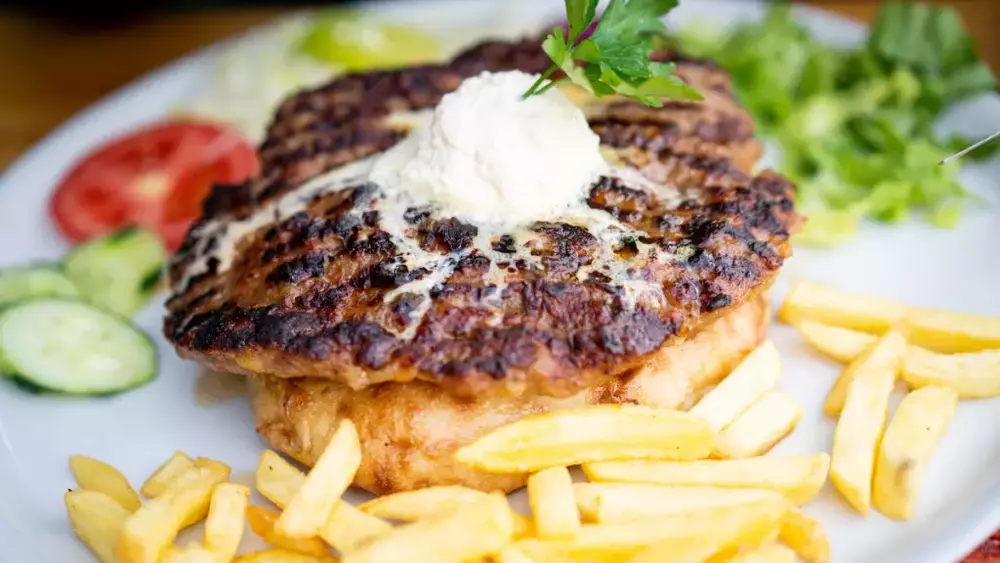 Crispy coconut panko-crusted shrimp patty, topped with mango coleslaw and served with sweet and spicy chili mayo, chunks of shrimp, and notes of fresh ginger and lime.
If you like crispy coconut shrimp, you'll go crazy for these burgers! With subtle notes of coconut, ginger, scallions, and lime, these shrimp burgers feature bits of shrimp packed into each bite.
14. Tempeh, Brown Rice, and Millet Veggie Burger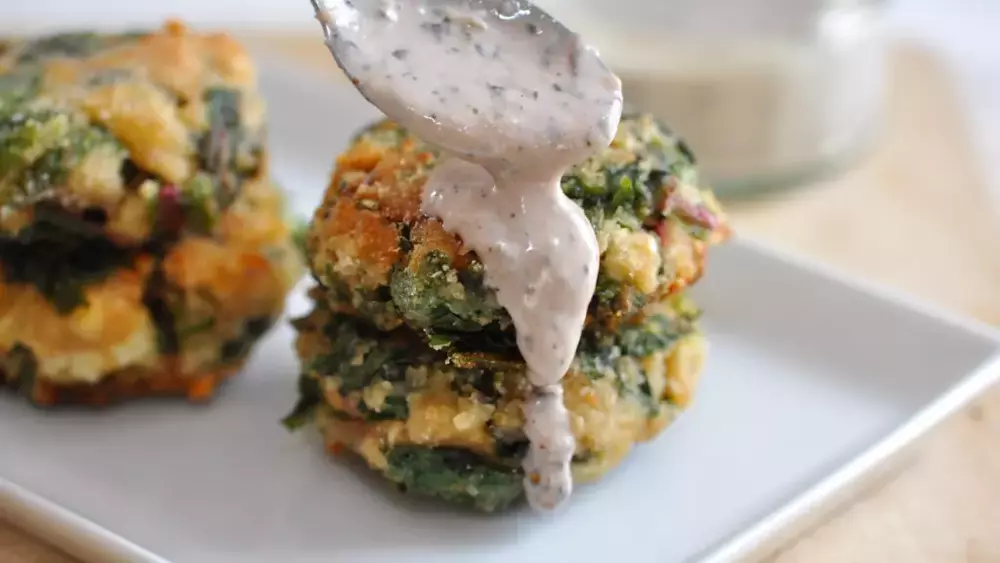 Tempeh, Brown Rice, and Millet Veggie Burgers are delicious and healthy alternatives to hamburgers. Millet Veggie Burgers are simple to make and tasty to eat. Also suitable for vegans.
15. Portobello Mushroom Burger with Asian Slaw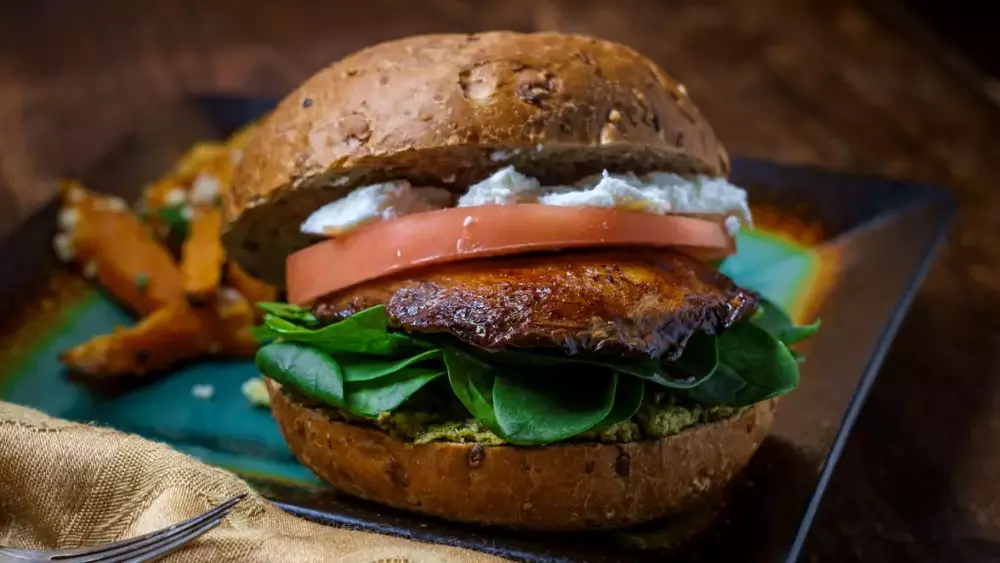 This vegan Portobello Mushroom Burger is cooked in an Asian manner and packed with umami flavor! It's topped with a refreshing cucumber ribbon salad and crunchy carrot slaw and drizzled with Asian-style guacamole. Healthy, tasty, and extremely gratifying. AND IT'S 100% VEGAN.
They're stacked with a Japanese-style cucumber ribbon salad, carrot slaw, and best part, a ginger-and-sesame-seasoned avocado spread for the buns. It's flavorful.
16. Salmon Burgers with Yogurt Dill Sauce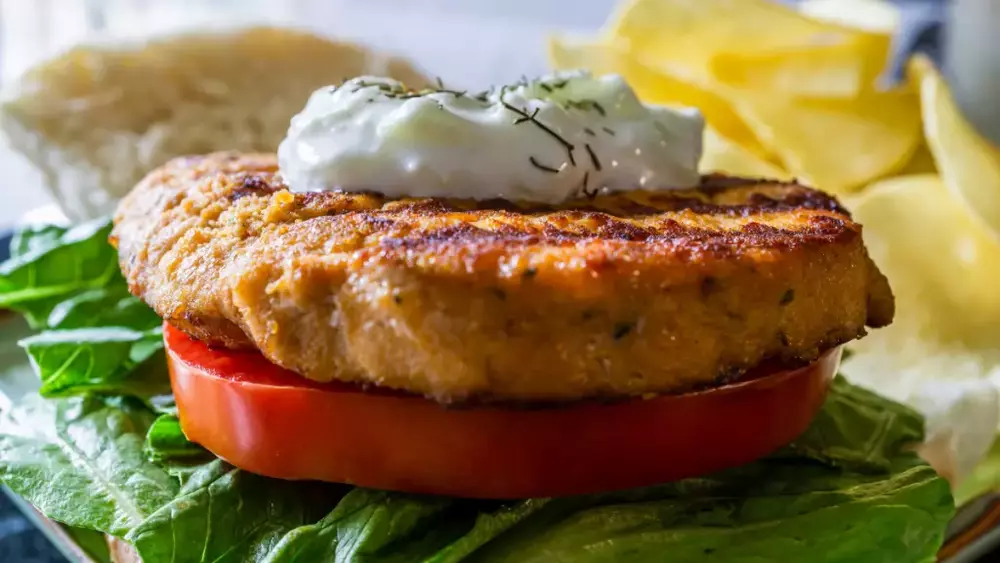 These omega-3-rich salmon patties are cooked to perfection and packed with protein. For a fresh touch on a summer burger, top the patties with a lemon dill yogurt sauce and colorful vegetables.
When grilling season arrives, these healthy salmon burgers are a welcome addition to the menu. You do not, however, need to wait till the weather is pleasant.
These patties may be cooked on the stovetop all year round! The dill and capers add small bursts of flavor to each bite. These burgers are more fresh and vivid thanks to the creamy lemon dill sauce and additional toppings!
Tip: Find the best salmon for salmon burgers in one of the seafood delivery services I reviewed.
17. Oat Cakes and Spinach with Horseradish Sauce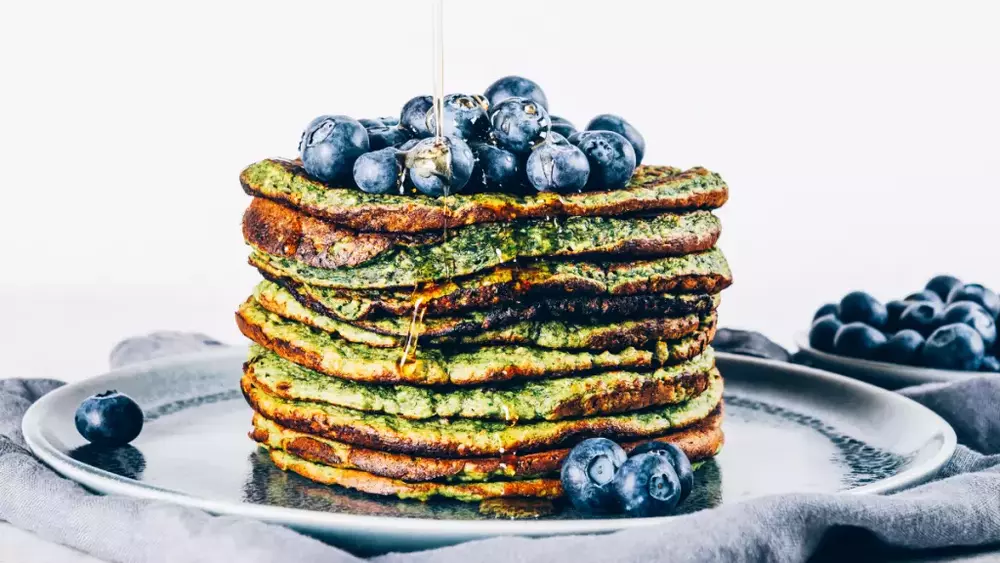 These crispy oat cakes may alter your perception of the grain. Because the dough is sticky, it's easier to make the cakes in the pan instead of by hand. For breakfast, try these crisp and healthful oat cakes with oats, horseradish, and cashews; All of this is accompanied by a creamy spinach sauce.
18. Chicken Burgers with Spicy Peanut Sauce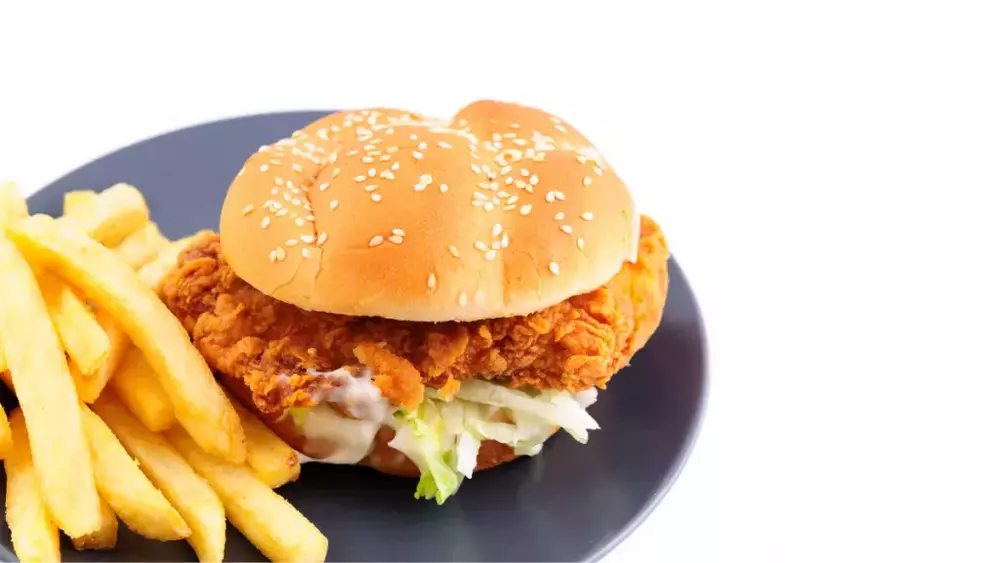 These Thai peanut chicken burgers are simple to make and definitely crave-worthy, with a simple salad and spicy peanut sauce on top. These burgers are cooked with ground chicken and a variety of fresh herbs, as well as peanut butter. Then a crispy peanut butter cabbage slaw was added on top.
19. Cumin-Spiced Red Lentil Burgers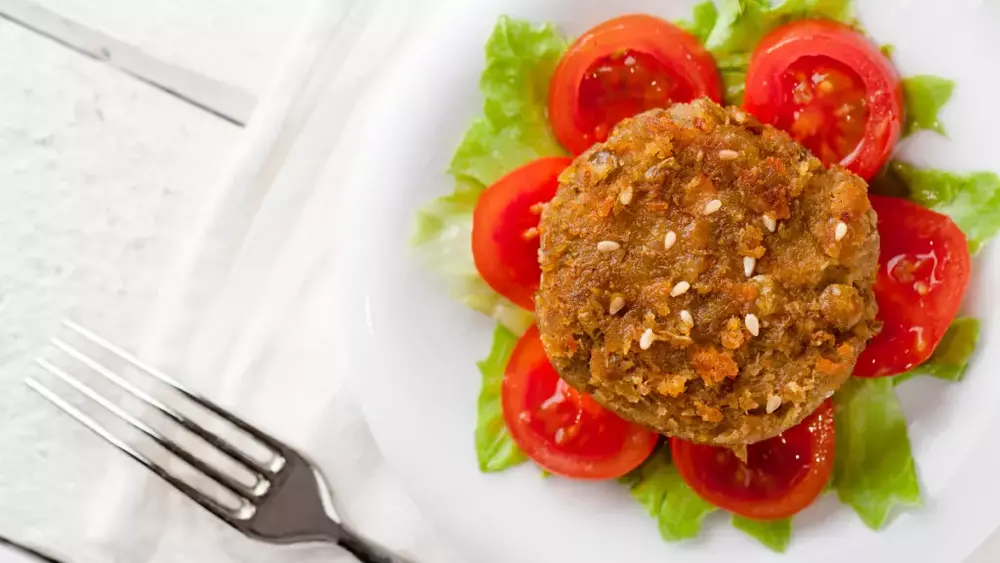 You won't miss the meat with these tasty lentil burgers! Sprouts, tomatoes, or your favorite vegetables can be added on top. The bold flavors of ginger, turmeric, coriander, and cumin will elevate your ordinary vegetarian burger. With cilantro chutney on top, these Indian-inspired lentil burgers will become a staple in your weekly menu.
20. Salmon and Spinach Cakes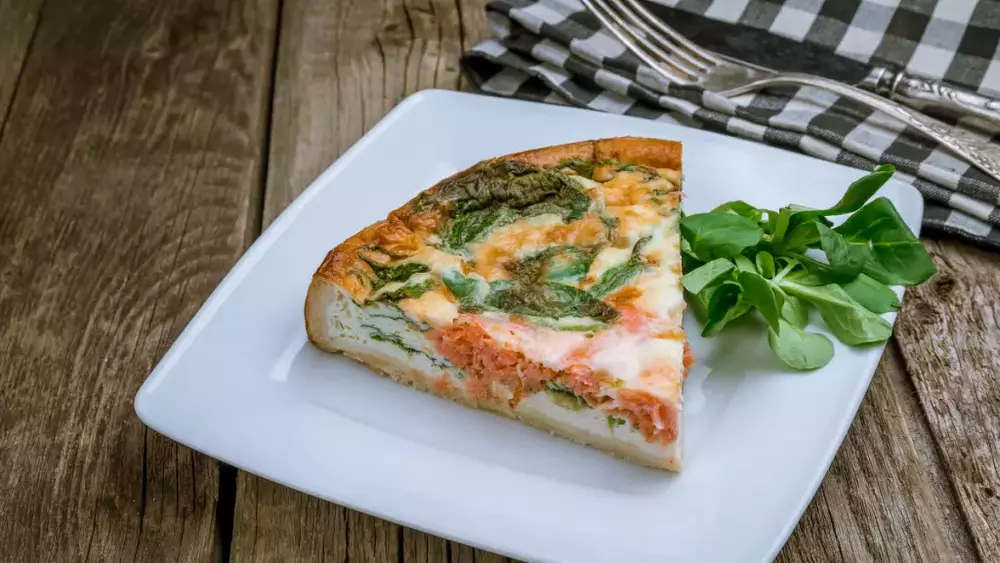 These salmon cakes with spinach and potato are a wonderful appetizer or main course, and their exquisite presentation is ideal for any special occasion meal. A trip to a Southern diner where a memorable fish patty was on the menu inspired these burgers. Mashed potatoes, of course, are the key to their soft, creamy texture. So here's an elegant recipe that uses up leftover mashed potatoes by mixing them with fish and spinach and covering it in bread crumbs. They turn out golden and crunchy, and they're packed with salmon.
What consists of hamburgers?
A hamburger is made up of a cooked ground meat patty sandwiched between two slices of bread. Lettuce, bacon, tomato, onion, pickles, cheese, and condiments like mustard, mayonnaise, ketchup, and relish are common toppings on hamburgers. There are numerous sorts of hamburgers, each with notable differences.
Difference between a hamburger and a burger
The filling is the main distinction between the two fast snacks. Both of them have two cut-round prohibitions, but their construction differs. In a burger, the filler is usually meat or vegetables sandwiched between the buns. Hamburgers, on the other hand, have a filling that is made up of ground meat. This is the primary distinction between the two widely consumed fast foods around the world.
| Parameters of Comparison | Burger | Hamburger |
| --- | --- | --- |
| Details | The burger is generally a patty served between buns. | A hamburger is also a type of burger that is served with a ground meat patty only. |
| Types | Veggie burgers, chicken burgers, mutton burgers, hamburgers, etc. | Based on the type of ground meat, hamburgers differ. |
| Patty | Veggie patty, mushroom patty, tofu patty, chicken patty, etc. | It comes with a slice of ground meat (beef, pork, etc.) |
| Famous food chains | Gourmet McDonald's, McDonald's, Sonic Drive-in, etc. | McDonald's, Burger King, Wendy's, etc. |
| Health benefits | Alternative healthy burger recipes are available. | Hamburgers are rich in protein but due to their fatty content, it is considered to be unhealthy. |
How to Make Your Hamburger Healthier?
While a hamburger isn't the healthiest option, it's also not the most unhealthy. You can make your burger healthier by doing a few things.
Cook Your Hamburger at Home
You can manage the portion quantity when you cook at home. The recommended serving size for beef, according to the American Heart Association, is merely three cooked ounces.
You can also alter the way of preparation to improve the nutritional value of your burger. To help bond the meat, some people use whole grains such as quinoa or bulgur in their burgers. These grains are sodium-free, high in fiber, and rich in vitamins and minerals.
Load Up the Veggies
Vegetables can be added to your hamburger patty. Spinach, onions, sliced peppers, and other vegetables give flavor, crunch, and nutrition to this dish. It may also assist you in reducing your meat consumption and increasing your fiber intake.
Go Grilled
A grilled burger is preferable to a fried burger, whether you dine out or cook at home. The fat from grilled meat flows away. When you cook a burger in a frying pan, the meat sits in the fat and absorbs a lot of it.
Shop for Leaner Meat
Look for 95% lean ground beef when buying ground beef for your burger at the grocery store or butcher to minimize calories and saturated fat. To preserve the beef flavor while reducing saturated fat and calories, mix lean ground beef with lean ground turkey or lean ground turkey.
Try It Topless
The majority of hamburger buns are high in calories, fat, and processed carbs. So, if you don't want the top of your bun, you can cut your count in half. Your burger will be a little messier to eat, but it will be a little healthier. If required, you can always use a fork and knife. Another option is to use a lettuce wrap instead of bread as a bun.
Scale Back on Salt
Many restaurant hamburgers have a high salt content. If you're attempting to minimize sodium from your diet, reduce the amount of salt you use when making burgers at home. Other seasonings, such as fresh onion or jalapeno, can be used to enhance the flavor.
Be Cautious With Condiments
On its own, the burger patty is heavy in calories. Toppings and condiments have the potential to increase your fat and calorie intake. If you want a burger with fewer calories, fat, and sugar, leave out the bacon, mayo, barbecue sauce, and even ketchup. Request condiments on the side while ordering a burger at a restaurant. Then keep your portions to a tablespoon or less.
Select Your Side Dish With Care
What food goes well with a juicy burger? If you're eating out, your meal will almost certainly include fries and possibly a milkshake. That meal's total calorie count will be in the thousands. If you're watching your weight, pair your burger with veggie sticks, a small salad, or a side of steamed vegetables. To quench your thirst, drink water or unsweetened iced tea.
Nutrition Facts of Humburger
The following Nutrition facts are provided by USDA for one hamburger with a single patty and no sauces (90g).
| | |
| --- | --- |
| Calories | 266 |
| Sodium | 396mg |
| Carbohydrates | 30.3g |
| Fiber | 1.1g |
| Sugars | 5.2g |
| Fat | 10.1grams |
Hamburger Alternatives – My Opinion
When you eat a hamburger, you're increasing your saturated fat intake. The main ingredient in a burger, ground beef, is heavy in saturated fat. Many individuals also add extra fat to their burgers, such as butter or oil.
Saturated fat has been related to an increased risk of heart disease. The Academy of Nutrition and Dietetics recommends that you consume no more than 10% of your total daily calories from saturated fat. ​
Even yet, a hamburger has some nutritional benefits. It's high in protein, iron, phosphorus, and a variety of other nutrients. If you use a whole grain bun for your hamburger, it may also deliver healthful, nourishing fiber.