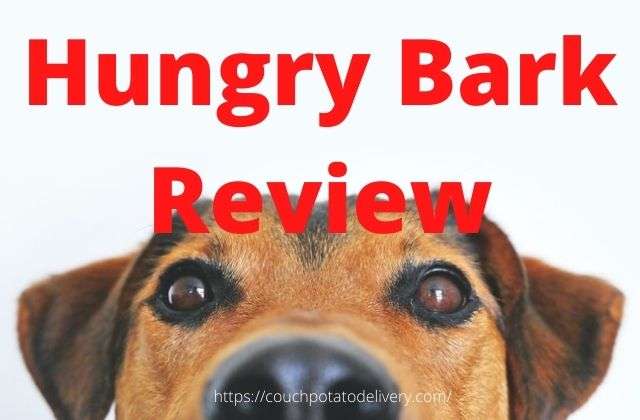 The reason I started this Hungry Bark review is that more people are looking at dog food that is of better quality.
As a dog owner, you are responsible for what is best for him or her and the Hungry Bark dog food is one of the ways to give them that.
Hungry Bark Dog Food Brand
The Hungry Bark reviews I did show that it started when Nick Molina turned the way he was eating around and soon realized that the two dogs he had could also benefit from eating better food.
Since he was not able to find what he thought was the best for them he decided to develop it himself and that was the start of the Hungry Bark brand. His goal was to come up with the best dog food.
What does Hungry Bark offer?
The Hungry Bark provides you with the opportunity to choose from a variety of dog food products that are approved by veterinarians.
Here is an overview of the Hungry Bark dog food you can order.

Hungry Bark dry food
There are 3 options in the dry food and here is a list of the Hungry Bark ingredients.
Superfood with lamb and turkey
This mix contains, as the package mentioned Lamb and Turkey meat and is grain free. It has the following nutritional values
Protein – 29 %
Fat – 17 %
Fiber 4 %
Moisture 10%
Calories – 418kcal/cup
Superfood with Turkey and Duck
The mix of Turkey and Duck is perfect for dogs that can not eat any beef or other types of meat. The values for this package are:
Protein – 29 %
Fat – 17 %
Fiber 4.5 %
Moisture 10%
Calories – 422kcal/cup
Superfood with Salmon
Salmon, as we know, has many advantages when it comes to health eating. This package has the following values.
Protein – 29 %
Fat – 17 %
Fiber 4.5 %
Moisture 10%
Calories – 423kcal/cup
Superfood with Chicken, Turkey, and brown rice
Besides the ingredients above this dry dog food contains also Pumpkin for essential vitamins and minerals.
Protein – 24.5 %
Fat – 174%
Fiber 4 %
Moisture 10%
Calories – 359kcal/cup
Hungry Bark Supplements
Just as we humans our dogs can also benefit from adding supplements to their diet. Hungry Bark supplements are developed for things that dogs can suffer from just as we do. They offer the following types.
Itchy and allergy
Whole health multivitamin
Probiotics for the belly
Joint health
Skin coat and heart health
Calming and chill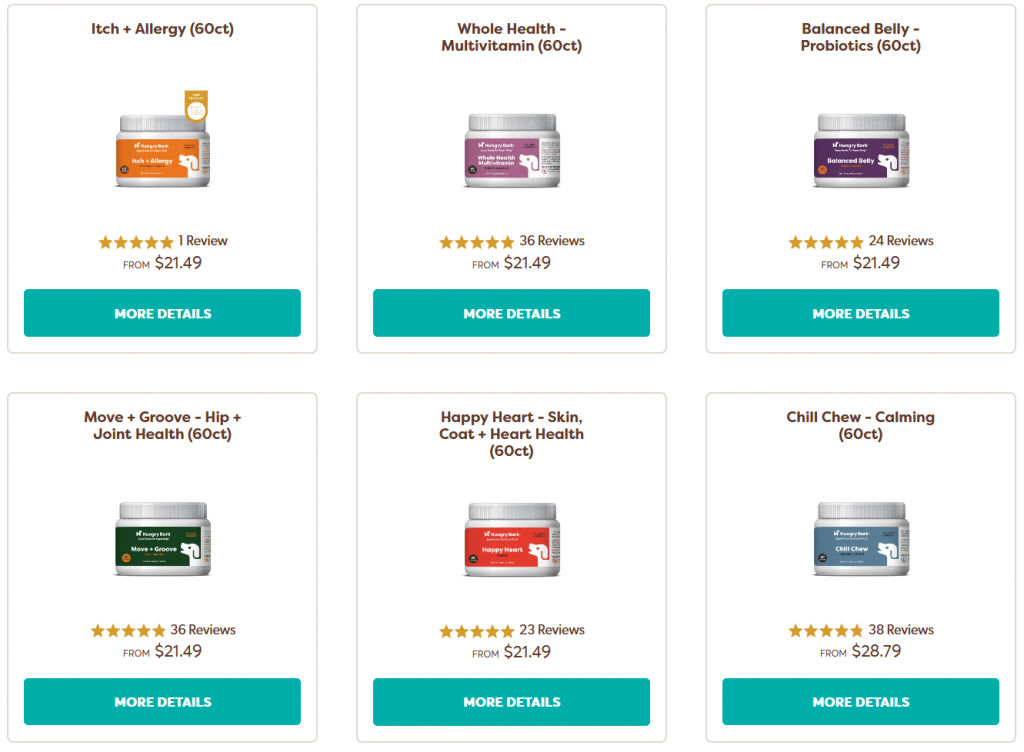 Hungry Bark Protein Mix
If your dog needs some extra protein in their food the Hungry Bark can help you with their mixes. They have 4 protein mixes for dogs in their shop/
Chicken protein mix
Salmon protein mix
Beef protein mix
They also offer these three dog protein mixes in a bundle so you can give them a different flavor every day.

Hungry Bark Dog Food Advisor
The Hungry Bark gives you basically two options to shop their website for dog food.
You can browse their website and pick the product and add it to your cart. However, if you are not sure what you need they have the Hungry Dog food advisor that you can use and this will help you by filling out a profile and developing a custom dog food meal plan.
All you have to fill out on the form is:
Dog's name and age
His or her sex and breed
Body weight
Activity level
Ingredients he does not like
Food allergies or sensitivities
You are also able to specify the health problems your dog might have and what you like to focus on in the Hungry Bark custom meal plan.
You can include things like skin and coat, mobility improvement, bone health, digestion and several more.
Hungry Bark Prices
At the Hungry Bark, your prices are very easy to find. At the moment of my writing this Hungry Bark review, they are as followed.
4 Pound bag – $21.49
12 Pound bag – $48.39
24 Pound bag – $61.99
Save money on Hungry Bark
You can save money when you opt for a custom meal plan. This will give you a 20% hungry bark discount on your two-week trial and 10% on regular deliveries every 4 weeks after that.
A subscription is available at a 10% discount, and you could call that a Hungry Bark coupon.
Hungry Bark pros and cons
There is no perfect dog food delivery and there is no one size fits all. Your dog is unique and can't be compared to any other dog in the world. Here are some pros and cons I found.
Pros for Hungry Bark dog food
Many options to shop and find the perfect food for your dog
Packaging keeps the food fresh
Package made for recycled materials
Quality food and ingredients
Cons for Hungry Bark dog food
Cost are a little higher than average dry dog food brands
Carbohydrates in the food are high.
No pre-portioned packages
Hungry Bark Review – My Opinion
After reading many reviews from dog lovers that have tried or are still using the Hungry Bark dog food I can only come to the conclusion that Hungry Bark is legit and received some very nice comments.
In other Hungry Bark dog food reviews, I read many times that after switching to this brand the overall health of the dog improved. The custom meal plan might be the better option for many dog lovers since it provides you with a balanced meal plan customized for our dog.
The Hungry Bark superfood bags are a perfect choice for many dogs since they come with everything your dog needs on a daily basis. You can order all three packages as a combo and this will give you a variety of food so your dog does not have to eat the same food day after day.
I read somewhere the question is Hungry Bark good dog food and I think that after doing my unbiassed review I can answer this question with YES.
This review is part of my attempt to find the best online pet food delivery for your pets. If you have a service that you like let me know and I can add it to the Couch Potato Delivery website.