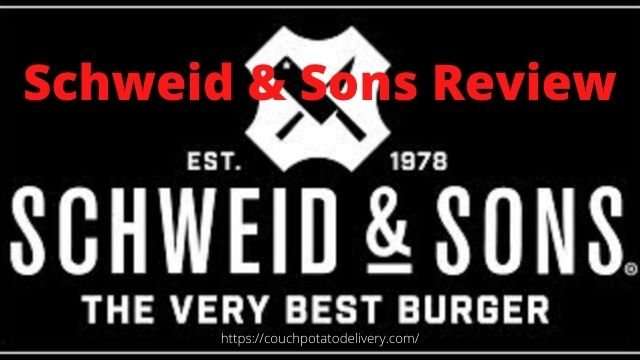 I am always on the lookout for new companies and that is the reason I did this Schwei & Sons review to see how their hamburger meat is.
What is Schweid & Sons
Schweid and Sons are selling meat. But not all the types of meat that other online butchers sell. They specialize in Hamburger meat.
A little history of that Harry Schweid started selling meat in the 1800s. David Schweid took their experience and started Schweid & Sons in 1978 and he focussed on one product. What are the Schweid & Sons burgers?
Schweid and Sons Burgers
Specializing in one type of meat gives you the opportunity to become the best and after doing this Schweid & Sons burgers review I think that might be true.
Never Frozen
The Schweid and Sons burgers will never be frozen and delivered fresh to your doorsteps Thanks to their ClimaCell packaging. (More about that later)
Curious About These Burgers? Click Here To See The Website
Where To Buy Schweid & Sons Burgers
Although you can buy the Schweid and Sons burgers in several stores like Krogers, Publix, and even Amazon, these stores are not always near anyone and that is why I focus on the Schweid and Sons online store.
Schweid and Sons Burgers You Can Order.
I had a good look at their website and all the hamburger blends you can order. Here is an overview.
All Angus Beef Signature Series
All Certified Angus Beef
All Natural Beef Bundle
All Beef Favorites in One
Signature Beef Blends
Beef Patty Sampler
Beef Sampler Pack
Very Best Burger Night
That is enough blends and options to choose from to be able to order your favorite burger. However., they are working on adding even more products.

Ready To Check The Prices? Click Here! (Use "BESTBURGER10" and get 10% off.)
Shipping
Shipping frozen meat is already a challenge and since the Schweid and Sons Burgers are Fresh and never frozen they had to come up with a very good shipping policy.
Processing your order takes 24 hours and will not be shipped until the next week.
Orders placed on Friday, Saturday, and Sunday will be shipped on Wednesday.
Orders placed on Monday, Tuesday, Wednesday, and Thursday will be shipped the following Monday.
All orders will be shipped within 2 days of FedEx express delivery. That is understandable through the perishable content.
The package is shipped in ClimaCell packaging (1) with enough internal ice packs to make sure it stays at an optimal temperature. It is, of course, still advised to bring it in and refrigerate it right after delivery.
They also offer free shipping on combo orders over $59.
Schweid and Sons Burger Taste Test
Here you can read some of the reviews I found on how the Schweid & Sons burgers tasted.
"I don't know if the market I shop at (Price Chopper in Taylor, PA) just started carrying this product, or I just hadn't noticed, but I just bought my second 4 pack in 3 days. The first pack was the "A.B.C." Best burger I ever placed in my decades old cast iron pan!!! Second pack is the "Chuck Brisket". Can these be better? Can't wait to see!!

"I was looking for a substitute for the ground sirloin burgers to which I am partial. These burgers are quite nice, good meat with no gristle, a nice mild flavor. It has a good deal more oily water than I am accoustomed to…about 1/4 cup to 2 patties; but the burger did not retain grease or taste greasy. It was perfect in a bun with all the condiments and extras and a very good price."
Schweid and Sons Burgers Review – My Opinion
I have not ordered them yet but it is on my list. After reading about them and finding out that they focus on only hamburgers I am expecting great quality.
From what I have been reading online is that most people love these Schweid and Sons burgers and talk very highly about the quality and taste.
It is impossible to please everyone but I found on average that about 85% of the buyers gave them a 5-star rating.
I am looking forward to ordering some of the brisket burgers since that sparked my curiosity.
I was searching for Schweid and Sons burgers recall information but although I found several other ones I was not able to find any recalls of their burgers.