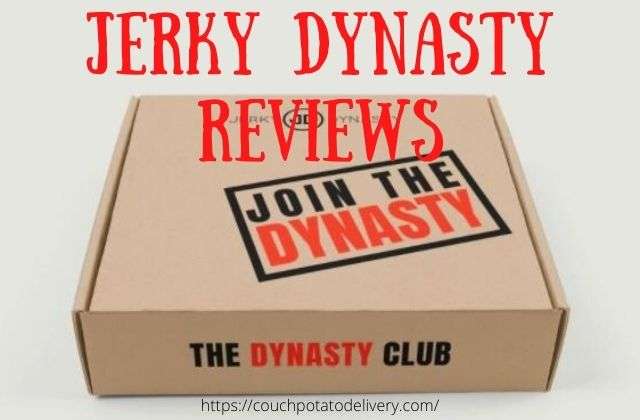 Who doesn't love a tasty piece of jerky from your favorite brand? It has been my staple, and I felt the urge to do a review. Luckily, I found an excellent jerky subscription which I'll discuss in this post.
I'd say I chose this subscription because they offer a wide range of jerky, particularly the exotic ones from kangaroo, and venison to alligator, and everything in between. For my Jerky Dynasty reviews, I'll look at the price plans, meal variety, and all that Jerky Dynasty has to offer.
So, Shall We Continue?
Jerky Dynasty Overview
Jerky Dynasty is a jerky distributor of all kinds like gourmet jerky, bacon jerky, exotic jerky, and jerky subscription boxes. The company initially started as a buffalo jerky supplier, but things quickly picked up, adding more flavors and brands.
Their jerky meat ranges in all kinds, including kangaroo, beef, bacon, alligator, venison, and more.
Essentially, most meat delivery services like the ones you can find on this page, need you to sign up and register, but Jerky Dynasty works like an online shop with a subscription option.
You can select any package of jerky and make a one-time purchase.
Unboxing
Before I dive deeper into all the options that Jerky Dynasty has to offer let us have a look at someone who opens his first box of jerky.
In A Hurry? Click Here To Go To The Jerky Dynasty Website!
Jerky Dynasty has one of the widest categories of jerky available in one company. It's easy to get lost going through the hundreds of jerky options. So, I'll try as much as I can to break down the jerky plans into digestible categories (see what I just did).
When you first log in to JerkyDynasty.com, you'll see a simple page with white and red theme colors and a couple of jerky categories.
Jerky
The Jerky section has everything split up into different jerky types. The ten jerky options include:
Variety packs
Keto/ Gluten Free
Exotic Jerky
Gourmet Jerky
Alcohol Jerky
Hot & Spicy
Jerky By The Bag
Old Fashioned Jerky
Wholesale Jerky
Seen enough? Click Here To Go To The Jerky Dynasty Website!
Jerky Meat Categories
Jerky is not all about the beef. If you don't believe this, check out the meat categories section of Jerky Dynasty.
They have up to 20 different types of meat to choose from in this section. The jerky includes meat from alligators, Angus, bacon, duck, pork, rabbit, snake, venison, ostrich, and the very expensive wagyu.
This section allows you to quickly choose your jerky according to the meat option without asking the company what kinds of meat are included in your pack.
Snacks & Spices
If you fancy nice rubs and seasoning, this category is for you. It has all sorts of sausages, spices, bacon, and such kinds of bitings. While there is no jerky in this section, you can be sure to enjoy the meaty snacks from a wide assortment.
Ready To See All The Options? Click Here For Jerky Dynasty !
Brands
Want to get jerky from your favorite brand? Here you'll find jerky from all kinds of supplies across the United States. Some top brands include Hunters Reserve, Jerky Dynasty Recipe, Oak Barrel Jerky, Indian Valley, and more.
Jerky Gifts
It's the holiday season, and you're not sure which jerky to treat your friends with. Jerky Dynasty has an exclusive section for holidays as they are carefully packed with love and precision. Some common jerky packs in this category include:
Stocking Stuffers
Valentine's Day Gifts
Easter Gifts
Father's Day Gifts
Corporate Gifts
Ammo Can Gifts
Variety Packs
Groomsmen Gift Packs
I must mention that Jerky Dynasty did a nice job packing up jerky into nice holiday packs. However, I would wish for a Thanksgiving Day gift pack. Hoping they'll give an update on this soon 🙂
Meal Subscription and Price: Dynasty Club
Find all the Subscription Options by Clicking Here!
You can add any of these meal plans to your cart and checkout without signing up. However, Jerky Dynasty offers a subscription option for customers willing to buy regularly. They decided to call this subscription, The Dynasty Club.
If you want to join the dynasty, hover to the Dynasty Section and click on "Choose Your Subscription." You'll find an option called the Dynasty Club Jerky of The Month. This subscription is divided into two; Dynasty Club Edition and Lite Edition.
Dynasty Club Edition
The Dynasty Club Edition is the first tier of the jerky delivery company, which consists of a mix of unique and exotic selections from its wide collection. Here, you will find 16-24 ounces of jerky which should be enough to satisfy your jerky craving all month.
The snacks include sausages, snack packs, jerky sticks, bags, and more. The monthly subscription for this edition is $49.99 per month.
Lite Edition
If you want a taste of jerky every once in a while, Jerky Dynasty still got you covered. The Lite Edition gets you 8-12 ounces of jerky but with the same jerky selections.
It is an ideal plan for those looking to save some bucks and still eat some jerky. The Lite Edition will cost you $29.99 per month.
If you don't prefer the subscription services, prices at Jerky Dynasty range from as little as $2 to $60 per item.
My Jerky Dynasty reviews show it has two more sections on its home page- "New" and "Sale." The pages are all about new stuff and what's on offer. Here, you can look at new stuff rolling on the site or items on sale. Jerky Dynasty also offers options for coupons. So, if you have a Jerky Dynasty Coupon, don't forget to input the code during checkout.
Pros
Free US Shipping and $10 to Canada
Wide array of jerkies
Awesome reviews from people
Cons
Seen enough? Click Here To Go To The Jerky Dynasty Website!
Jerky Dynasty Reviews – My Opinion
With so many options out there, Jerky Dynasty has done an excellent job bringing jerky lovers into one place. The variety of jerky is amazing and ranges from different types of meat.
The site is easy to navigate, and prices are affordable. While there are few options at the subscription level, Jerky Dynasty will surely surprise you with a blend of jerky, snack packs, or exotic sausages.
All in all, it is so exciting to try out new stuff,l especially when you get exotic options at your favorite jerky store.
Jerky Dynasty has all the wild and exotic selections with some pieces so unique; that you wouldn't find them in stores.
I suggest you give them a try. You can find the Jerky Dynasty website here.